The Manchester City football camp was our star program of 2018. Their incredible staff and excellent sports facilities have earned them the top spot as our highest rated program. The camp even offers two different program options for boys and girls – a more football-focused full-training program and a standard program for all levels that includes English classes.
Program highlights (both programs)
Training at the club's official facilities
For a young football fanatic, training on the same fields where the stars of Manchester City train is without a doubt a unique and incredible opportunity. Camp participants are always inspired by the idea of training in the same facilities as Manchester City's first men's team, the women's team, and all the Skyblue club's inferior teams. And, of course, the facilities are extremely well-cared-for with grass and artificial fields.
International participants from all over the world
Young soccer players from all over the world attend the Manchester City football camps. This allows participants the opportunity to meet other children from other cultures and practice communicating cross-culturally. They bond over their love for football and often become lifelong friends. These friendships help children learn about other cultures and also learn the importance of tolerance and open-mindedness.
Soccer program exclusively for girls
Manchester City is one of the few clubs that offers programs exclusively for girls. The girls get the incredible opportunity to meet the women's team – one of the most successful women's teams in the world.
Opportunity to meet the Manchester City first team
Although we can't guarantee a visit, we can say that in past years, participants were visited by the players in the last two weeks of August. Around this time, Manchester City players return to the facilities to begin training again after their summer vacation, and camp participants get a wonderful surprise.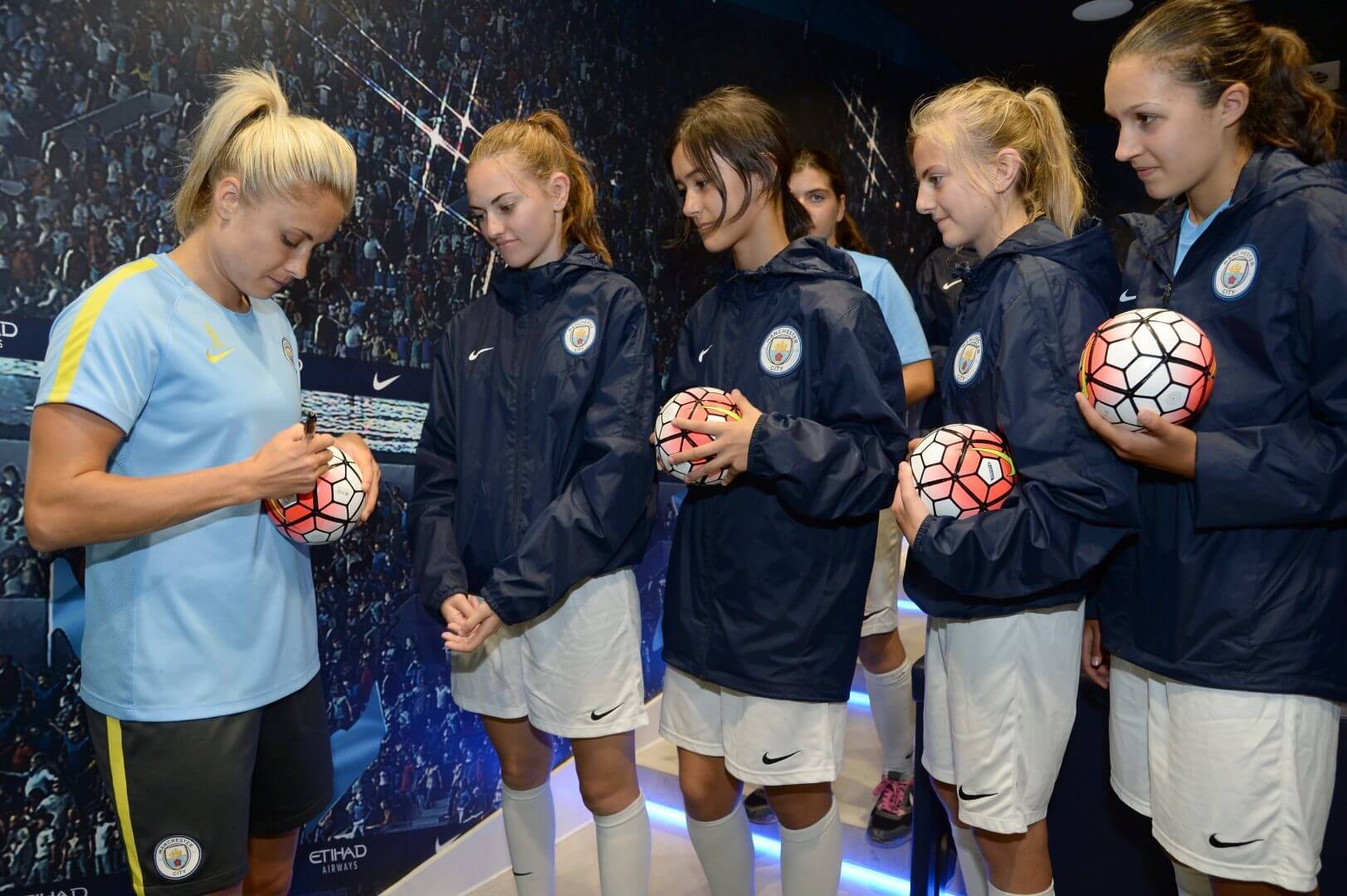 The best accommodation in England
In 2018, Manchester City selected the Salford residence to be the new student accommodation for their summer camp. This significant upgrade has put Manchester City above all other football camps in the UK in terms of accommodation.
The Manchester City summer program has established itself as the highest quality campus in England in 2019. Participants not only get the chance to train in the club's official facilities, but they also get to reside in a newly constructed residence that offers individual rooms with private restrooms and excellent lounge areas.
Standard program highlights
Language classes
Full-training program highlights
Intensive training program
Some negative points
Food
Food tends to be the biggest complaint at all summer camps. Home-cooked meals are surely better than any camp food, and improving the menu is always a challenge and objective for camps.
In 2018, the only complaints about the Manchester City programs were food-related. This year, the camp has changed all their kitchen staff and menu options to offer more balanced food that participants will enjoy.
No goalkeeper programs available
This is the greatest disadvantage. Although goalkeepers can participate in City programs, there is no training program specifically for goalies.
Transfers between facilities
The opportunity to train in the official training facilities of Manchester City comes with a price – Participants take a private bus to travel to and from the residence and training facilities.
Not recommended for elite training
Higher price than other programs
All the added value of these programs make them a bit pricier than other summer soccer programs. Sometimes it's better to spend a little more for a better and more complete experience.
Who do we recommend this camp to?
This is our favorite football camp in England. With excellent training facilities and accommodation, great monitors, and two training program options, Manchester City is the perfect option for all footballers (except for those who prefer elite training).
The standard program is perfect for boys and girls who are looking for linguistic emersion and also for Manchester City fans. The full-training program, on the other hand, is for boys and girls of intermediate to advanced skill level who'd be better off in a more intensive program. It's also ideal for boys and girls with a higher level of English because, although there are no English classes with the program, the students still practice English with full linguistic immersion.
Groups are organized by age (9 – 12 years old, 12 – 17 years old) and level so that students feel comfortable together and the level of group members is similar.
Feedback from our clients
Check out the feedback we received in 2018 about the Manchester City football camp. If you're looking for a high-quality football camp that surpasses all your child's expectations, don't pass up this opportunity!
It was a great experience for my son. He traveled from South Africa to attend the camp. Thanks to the trainings, my son has improved a lot in terms of game analysis and technique during matches.
Jesus loved the training facilities, learning more about football, and meeting other boys his age. The food was acceptable despite culinary differences. He's excited for next summer to be able to attend the camp for more time. Thanks for everything.
My son was very happy with the camp, and he's excited to go back next year. It was a great experience for him. He was truly impressed by the camp's sports facilities. The monitors were very good people, friendly, and trustworthy. Both my son and I are very satisfied. Celestino wants to go back next year. He rated everything with a 10 and would recommend the camp to anyone who wants to choose the right summer football camp.
My son, Alejandro, was very happy with the camp. He liked everything a lot. Maybe he suffered a little with the food. He's always been a picky eater. But, in general, everything was great. I hope he gets the chance to go back next year!
Diana has had a wonderful time. To her, it seems like time is flying by. She doesn't want it to end. They even selected her to attend a trial with the Manchester City women's football club, and she trained with them during her last week of camp. In regards to training at the camp, Diana speaks wonders about all the monitors, how they treat participants, and the constant attention they receive.
Eloi had a great time at the camp. He met a lot of friends, and some players from the first team even stopped by the camp to greet the players and take pictures with them. The only negative thing was the food, but we all know that English food isn't the best.
Prices and dates for 2019
Duration (weeks)
Manchester City
Full-training program
Standard program with English classes
2 weeks
3080 €
3200 €
3 weeks
4385 €
These courses are subject to a registration fee of 90€ charged by the camp.

The official price of the camp is determined in pounds which means the final cost in euros may vary based on fluctuations in the exchange rate.