Only for girls between 14 and 21 years old at advanced/elite levels of soccer.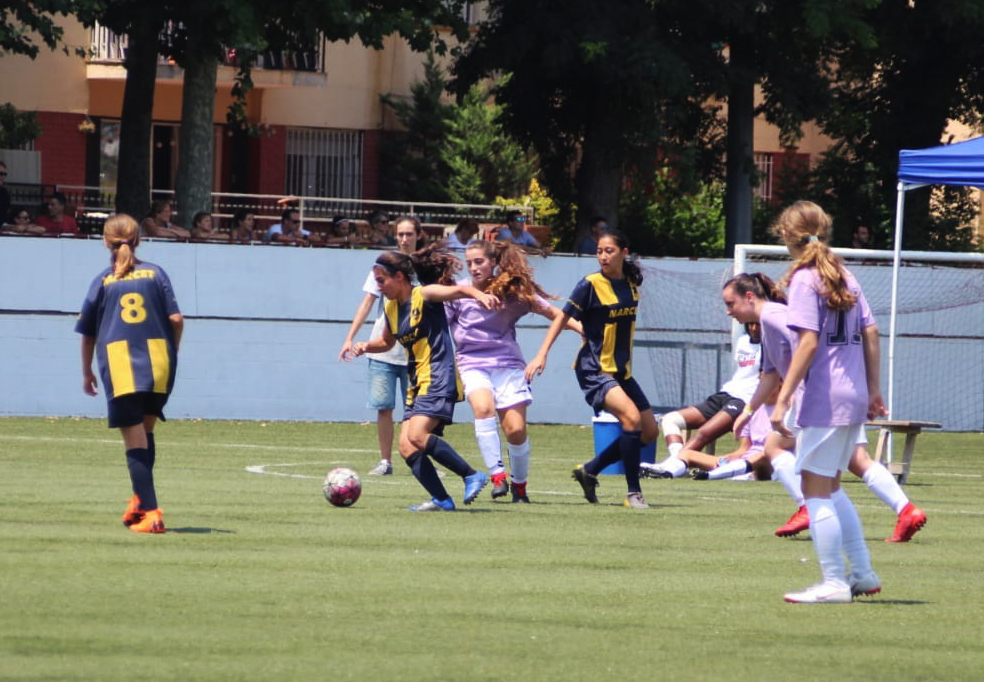 Overview
Location: Barcelona, Spain
Ages and genders: 14 - 21 years old (girls ONLY)
Levels: Advanced/Elite
The Barcelona High-performance Academy has officially opened a summer soccer camp exclusively for girls. The girls program features all of the same impressive benefits as the boys program - intensive, high-quality training, many hours per day on the pitch, video analysis, beach training, nutrition seminars, sports psychology seminars, and more. 

It's important for young girls to train alongside other girls for a number of reasons. Not only is training with other girls usually more comfortable and safer, but it's actually a more effective way for girls to improve. Girls have different body compositions and different strengths and weaknesses than boys. Styles of play also tend to be different on mens and womens teams to cater to the biological differences between the sexes. Girls who train with other girls get the most out of their training. That being said, girls shouldn't expect any less intensity at the Barcelona Academy. This program is sure to give them the intensity they're looking for.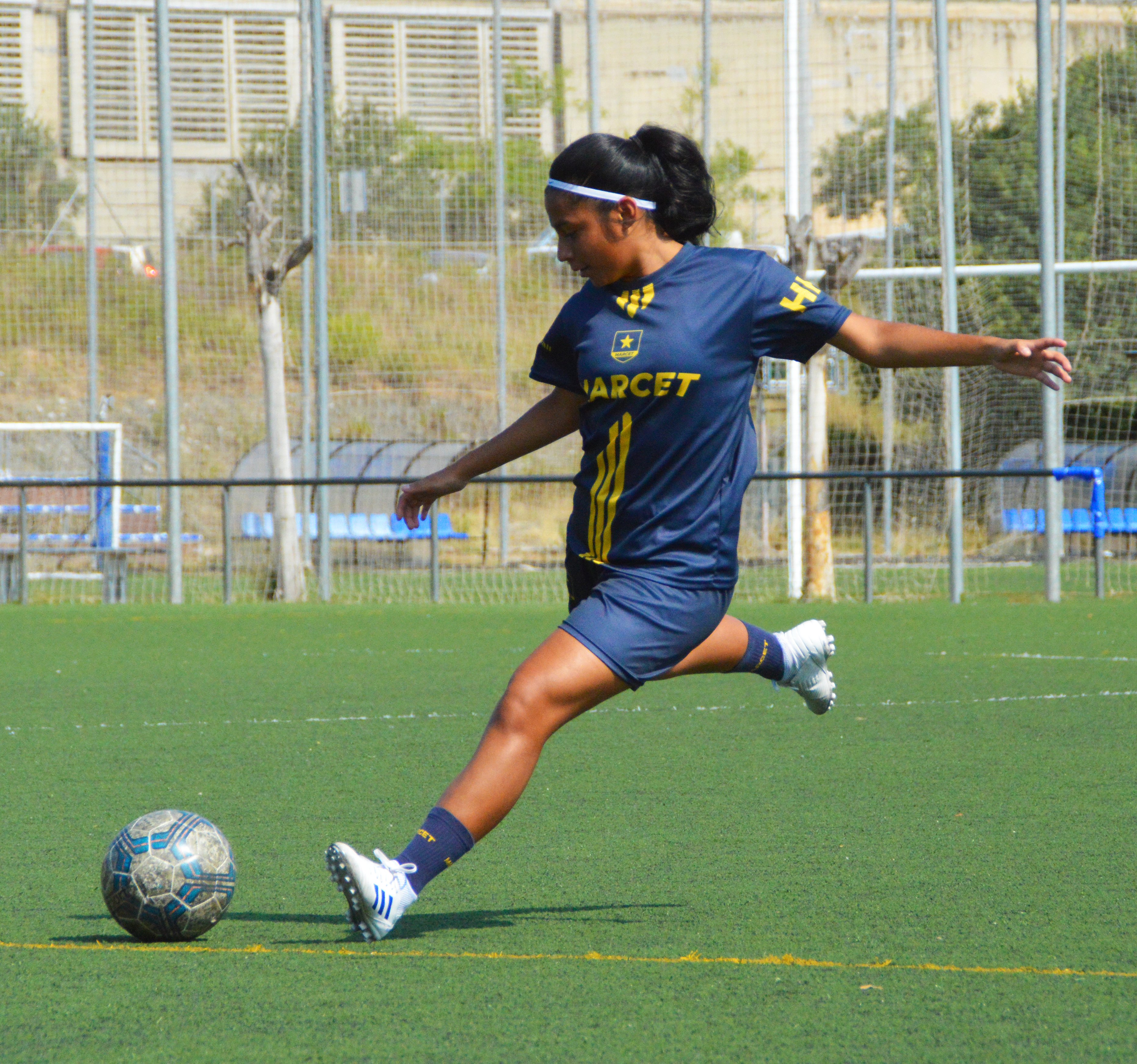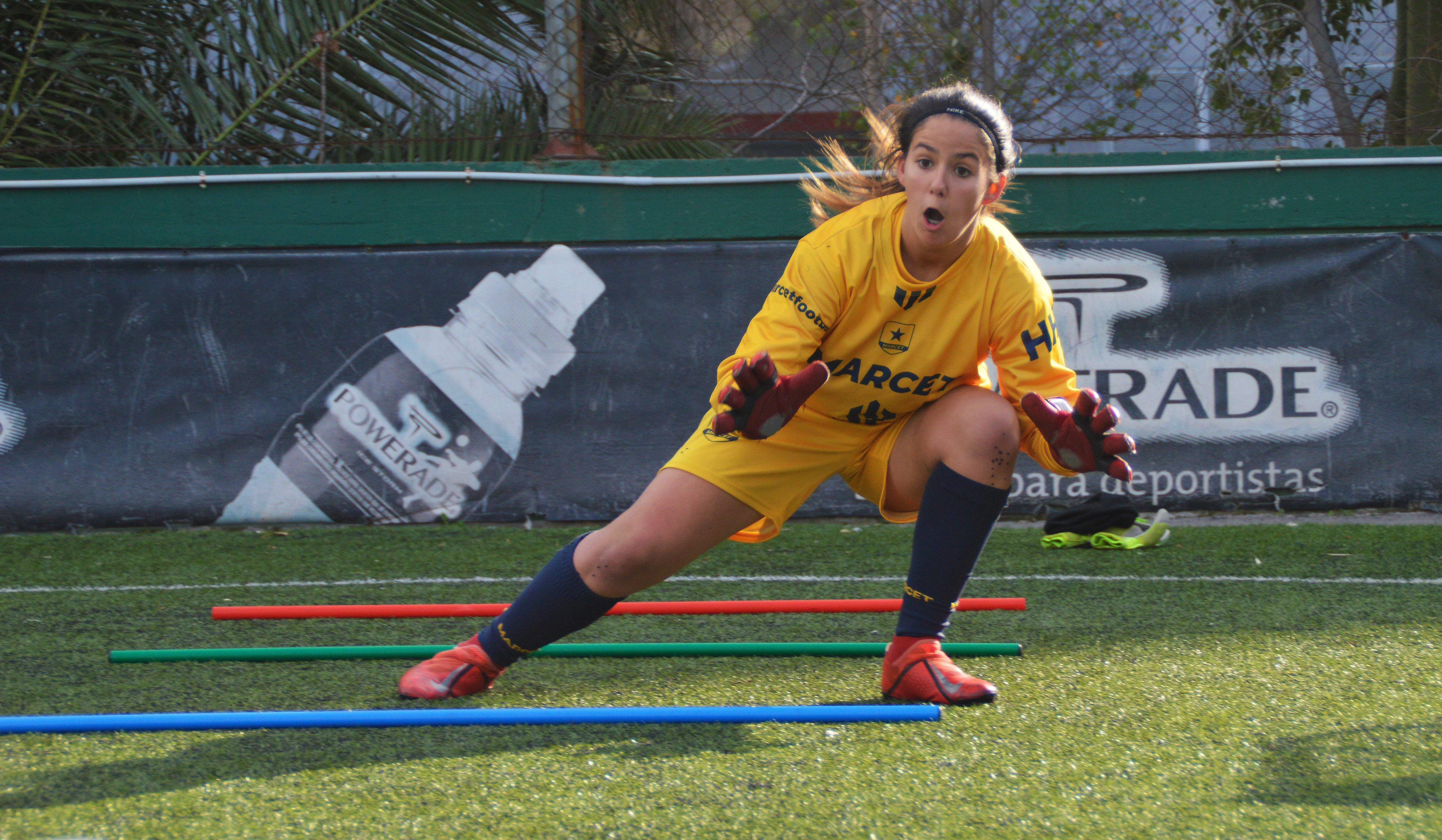 Program options
| | | | | | | | | |
| --- | --- | --- | --- | --- | --- | --- | --- | --- |
| Program | Program type | Training level | Training Intensity | Players level | Language classes | Accommodation quality | Training facilities quality | Price |
| High-performance women's football summer camp in Barcelona | Players or goalkeepers. (Mixed) | 5/5 | 5/5 | 5/5 | NO | 4/5 | 4/5 | |
Academy / Club history
The Barcelona High-performance Academy was founded in 1978 by the ex professional footballer, Francisco Javier Marcet, who played for major clubs like Real Madrid, FC Barcelona, and Espanyol, as well as the Spanish National Team. Marcet's ultimate goal was always to open his own academy where young athletes could learn to play without neglecting their education or their own personal development.

With over 40 years of experience, the Barcelona High-performance Soccer Academy has trained and prepared countless professional soccer players for success. Academy alumni include David Soria (goalkeeper of Getafe FC), Óliver Torres (central midfielder and forward for Sevilla FC), and Alvaro Fernández (goalkeeper for Málaga FC and the Spanish National team).
Training
Skill level: Advanced/Elite
Other soccer education features: Audiovisual training, New technologies
Students per training group: 10 - 12
Training language: Spanish
Training intensity: 5/5
Training at the Barcelona GIRLS High-performance Summer Soccer Camp is intensive and professional. The girls typically wake up at 7:00 in the morning and are on the field training by 8:00 AM. On average, they train four times a day.

During training, the girls work on their technique (passing, dribbling, shooting, and ball control) and their game intelligence (spatial awareness, tactical knowledge, and risk assessment).

They also partake in friendly matches which the academy records on camera so coaches can analyze the girls' performance later on. Video analysis is one of the best ways for soccer players to develop game intelligence, and the Barcelona High-performance Academy takes full advantage of this simple yet effective teaching method. The girls also work on their physical fitness while at the academy and even get the chance to train on the beach and use the sand for extra resistance. 

Lastly, girls at the Barcelona GIRLS High-performance Summer Soccer Camp are treated like professionals in all aspects. Just like professionals, they receive nutritional and psychological guidance so they can thrive both physically and mentally.
Training Facilities
Training surface: Natural and artificial
Additional training facilities: Gym, swimming pool
Quality: 2/5
The girls attend their training sessions on the academy's own training grounds which features several artificial soccer fields and one natural turf field. Training facilities also include a gym and a swimming pool which coaches use for additional off-field training.
Coaches
Licenses: UEFA pro license, Marcet coaching course certification
Coaching experience: FC Barcelona, Real Madrid, Mexico National Team, and other first division club teams around the world
Playing experience: Real Madrid, Boca Juniors, CF América, CF Atalante, and CD Toluca
Languages: Spanish (coaches speak basic English)
Coaches at the Barcelona GIRLS High-performance Summer Soccer Camp are well-qualified and experienced. Many have the highest coaching qualification in Europe known as the UEFA Pro License. This license is necessary for managing in the FA Premier League and UEFA competitions and for coaching all major European first division teams. Additionally, the Barcelona Academy itself has its own coaching certification course to teach all coaches the academy's famous pedagogical training method. Coaches at the academy are trained to identify the skills, knowledge, and values that professional soccer clubs will look for within the next 10 years and then develop these skills and values in their soccer players.
Camp Schedule
The following schedule demonstrates a typical day at camp. The exact camp schedule will most likely vary from day to day.
Girls High-Performance Program
Schedule:
8:00 AM Training session 1
9:30 AM Breakfast
10:30 AM Training session 2
12:00 PM Lunch
1:00 PM Break
3:00 PM Training session 3
4:30 PM Afternoon snack
5:00 PM Training session 4
6:00 PM Training session 5
7:00 PM Shower, games, rest
9:30 PM Dinner
10:00 PM Bedtime
Accommodation
Name of facilities: Ágora University Student Residence
Location: 15 minutes by foot from the training facilities
Type of rooms: 2 - 4 students per room in pull-out beds
Bathroom: Private
Quality of accommodation: 5/5
Participants at the Barcelona GIRLS High-performance Summer Soccer Camp find accommodation in the Ágora Student Residence of Ágora University. The residence is a comfortable, modern, and clean residence located 15 minutes by foot from the academy's training facilities.

The girls stay in double to quadruple rooms with one to three other roommates from the same program. The beds are single/individual beds, and each room has its own private bathroom to be shared among roommates.

In addition, the student residence has many common areas for the girls to enjoy and relax during their free time. Common areas include a lounge, a game room, a TV room, and a heated swimming pool. The residence also provides free Wi-Fi for the students. The student residence also has a dining hall that serves a delicious and nutritious breakfast for summer camp participants each morning.

The girls are safe and well taken care of while at the Ágora Student Residence. Monitors are always available for any questions and concerns the girls may have during their stay.
Safety
Safety is of the utmost importance to the Barcelona High-performance Academy especially when it comes to their students' physical health. The girls train intensively for many hours a day, so injuries are of course possible. The academy does everything they can to both prevent injury and promote a speedy recovery if injuries do occur. In fact, they have their own medical staff that includes physical trainers and physical therapists for injury prevention and recovery.

The academy is also concerned with the physical and mental health of their students. They employ nutritionists and sports psychologists to educate the students and offer guidance to ensure that they maintain healthy lifestyles as they work hard to improve their skills and achieve their dreams.
Prices and Dates
The official rate of this program is determined in EUROS so the final amount in other currencies may vary slightly due to currency fluctuation.
Starting Dates
Marcet High performace CHICAS
Barcelona alto rendimiento CHICAS
Improved booking conditions for all camps
This 2024 make your reservation more easily and with less risk
We´ve lowered the deposit required to reserve your camp to just 500€
Free cancellation until March 1st
Money-back guarantee within 10 days
Optional insurances

*Please note that if a visa is required to attend camp, it will be necessary to pay the total amount of the program

*Special conditions valid for all 2024 summer camp reservations except for the Barça USA camp, which will follow the general terms and conditions.
Extra Services
You can purchase one of the extra services below at an additional cost.
Camp Insurance

We offer two insurance options based on your needs:

Cancellation and Interruption Insurance: This option allows you to get your money back if you have to cancel or interrupt the camp for any justified reason, including injury or illness of participants both before and during the camp (the policy contains 35 different causes for justified cancellations).
Travel/Medical Insurance: With this insurance policy, you will be covered for medical assistance abroad and possible expenses caused by health-related issues, as well as other contingencies such as lost luggage or an unforeseen flight change.

Download the following PDF to learn more about each insurance options terms and conditions, coverage features, and price.

Camp Insurance


Transfer Service:

There are two types of transfer services available that we´ll detail for you below:

Standard transfer service: the camp offers an optional transfer service for participants who request it from the nearest airport to the residence (or vice versa). Check with Ertheo for schedules and prices for this service.
Special transfer with additional unaccompanied minor service: participants who fly to camp alone and have contracted the unaccompanied minor service with their airline must hire this special transfer with accompaniment so that the child isn´t left alone in the airport. Check with Ertheo for schedules and prices of this service.
Contact Ertheo for prices and additional information.
Nearest airport / train station:
Barcelona Airport—El Prat (BNC)
Sants Station
Transportation to the camp (flights/trains) is not included in the price of our programs.
This camp is for you if
You're interested in attending a full-time academy program at the Barcelona High-performance Academy.
You play at an advanced or elite level and are in top physical condition.
You're independent and responsible and don't require constant supervision.
You enjoy challenges and like the idea of pushing yourself to your limits for the purpose of improvement.
This camp is NOT for you if
You don't play at an advanced level and/or are not in top physical condition.
You are not interested in working hard and pushing yourself to your limit.
You don't speak any Spanish and are not interested in learning.
Other Programs at the Barcelona High-performance Academy
For advanced soccer players (boys and girls) from 6-21 years old. Students live, study, and train at the academy during the school year to prepare to play at a collegiate, semi-professional, or professional level. Click here for more information.
Click here for more info
Sign up
Clients who contact Ertheo before booking a camp or program are much more satisfied with their overall experience.
Option 1
(RECOMMENDED)*
1. Click Ask Ertheo if you have a question or would like to learn more about this program
2. Discuss your questions or concerns with one of our Sports Program Consultants via telephone or email
3. Select a program and receive a personalized quote
4. Make the first payment to start the enrollment process
Option 2
1. Click Sign up now to receive a personalized quote
2. Receive a personalized quote along with additional information about the program
3. Make the first payment to start the enrollment process