Football camp in Repton, England designed for outfield players and goalkeepers (boys and girls) who play football at a beginner, intermediate, or advanced level. The camp takes place during the month of July and starts at one-week programmes.

Are you interested in this program?
Download some information about this program and read it at anytime.
Overview
Location: Repton (Derbyshire), England
Ages and genders: Boys and girls between 9 and 17 years of age
Levels: Beginner, intermediate, or advanced
The Liverpool FC camp is held at Repton School, a huge venue located in a quiet residential area in Derby, which is in the heart of the United Kingdom.
Here, you will have the opportunity to learn the philosophy and style of play of one of the best football teams in the world, in the hands of an expert coaching staff that has been trained by the Liverpool FC Academy and has extensive experience teaching young players.
The camp features onsite student dormitories and sports facilities.
Starting at one-week programmes, the camp adapts to every skill level and offers different options for outfield players and goalkeepers (boys and girls) between 9 and 17 years of age.
This is the perfect camp for those looking for a safe environment with no daily transfers involved.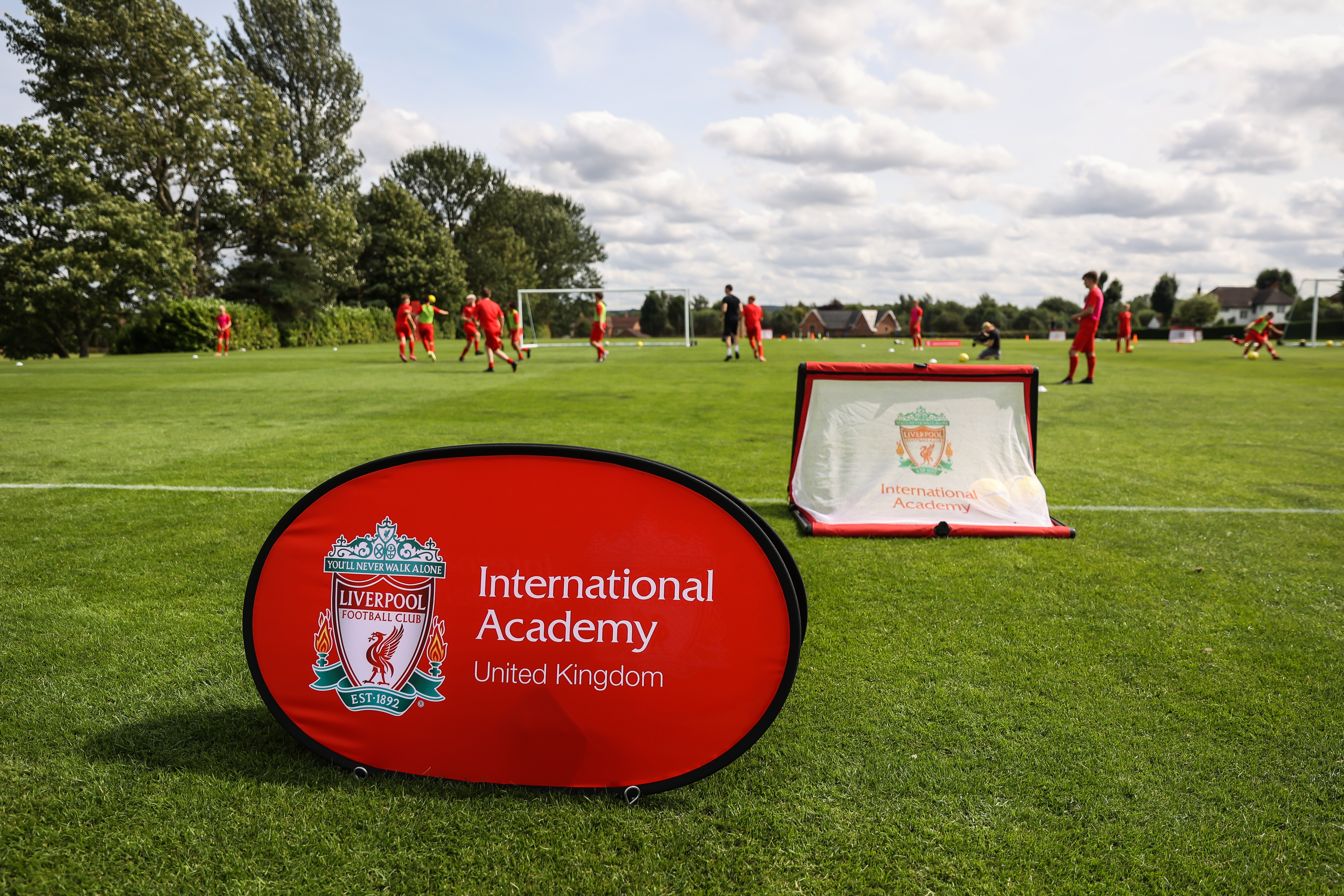 Program options
Program
Program type
Training level
Training Intensity
Players level
Language classes
Accommodation quality
Training facilities quality
Price
Liverpool F.C. Camp - Football + English Lessons (9 - 17 years)
Players or goalkeepers. (Boys or girls)
3/5
2.5/5
2/5
YES
3.5/5
3/5
from £ 1925
for 1 week
Liverpool F.C. Camp - Intensive Football (9 - 17 years)
Players or goalkeepers. (Boys or girls)
3/5
3.5/5
3/5
NO
3.5/5
3/5
from £ 1925
for 1 week
Academy / Club history
With over 125 years of history, Liverpool FC is one of the top football clubs in England and the world.
They are proud holders of 18 league titles, 6 Champions League titles, 3 UEFA Cups, and 4 Super Cups.
Forbes magazine ranks it as the sixth most important team in the world, with an estimated value of 882 million dollars.
Its 135-year-old Anfield stadium is home to world-renowned fans and iconic chants — their anthem, You'll never walk alone, can move anyone to tears.
With over 200 branches in more than 50 countries, Liverpool FC is a sensation across the world, and has fans everywhere.
Training
Skill level: Beginner, intermediate, and advanced
Additional Resources: Football workshops and seminars, gym and swimming pool recovery sessions
Students per training group: 16
Coaching Language: English
Intensity Level: 2.5/5 Standard Programme + English Course - 3.5/5 Intensive Programme
The camp welcomes players of all levels of expertise. The standard football programme with English lessons is designed for students who play at a beginner or intermediate level, whereas the intensive programme is more suitable for intermediate to advanced-level players.
The camp aims to provide a comprehensive football experience and pass on the values, philosophy, methodology, and habits of a professional Liverpool player.
The programme is divided into two parts: on-field and off-field training.
On the field, students work on specific football aspects such as shooting, dribbling, passing, defence, and agility, and they participate in several tournaments during the week to effectively implement what has been learned.
All training programmes include a theoretical part that consists of several lectures regarding technique, tactics, sports nutrition, and game analysis.
During the first days of the camp, students are evaluated and sorted into homogeneous training groups according to age and skill level. Each training group will consist of about 16 students.
At the end of the camp, students will receive feedback from the coaching staff and a participation certificate.
Training Facilities
Training surface: Natural grass
Additional training facilities: Indoor sports hall, swimming pool, gym
Quality: 3/5
Repton School features perfectly suited sports facilities to conduct all camp activities, including natural grass pitches located just a few metres from the student dormitories. On days of heavy rain, students train in the sports hall, which is also within walking distance.
Coaches
Licenses: UEFA A and UEFA B
Coaching experience: The coaching staff has been trained by the Liverpool FC Academy
Game experience: The staff includes former professional footballers
Languages: English
All camp coaches are trained at the Liverpool FC Academy, so that they can pass on the club's values, philosophy, and style of play to football players from across the globe.
These are highly-qualified coaches with UEFA A or B licences, and some are even former professional football players.
After finishing their training with Liverpool, these coaches travel throughout the year teaching young students from around the world, so they all have experience teaching and training young players who love football.
Language Lessons
Native teachers: Yes
Hours per week: 13
Quality of the classes: Medium
The English curriculum at the Liverpool FC camp is backed by years of research and experience in effective short course learning. Lessons are conducted by professional English teachers in reduced groups, engaging in football related topics to inspire students and encourage active participation and teamwork.
During their stay at the camp, students will be immersed in an all-English world 24/7, which considerably accelerates their learning process, increases their confidence, and improves their listening, reading, and writing skills. At the end of the camp, students will have an individual meeting with their teacher and receive a performance report and an English certificate to take home.
Camp Schedule
The following schedule is an example of what a regular day at camp would be like. The definitive schedule may change at any time.
Camp Schedule
Schedule:
07:30 Wake Up Call & Breakfast
09:30 English Lessons
12:12 Lunch
14:00 Football Workshop
16:00 Personalised Training
17:15 Dinner
19:00 Training Session
22:00 Masterclass
23:00 Bedtime
The camp programme includes a tour of Anfield Stadium and its museum for all participants.
For those staying longer than one week, there are also two additional field trips included in the price.
Accommodation
Accommodation Facilities: Repton School
Distance from Training Facilities: All sports facilities are onsite
Room Type: Single, double, or triple rooms
Bathroom Type: Shared bathrooms
Quality: 3.5/5
The camp takes place at Repton School, a vast venue located in Repton, Derby, the ancient capital of Mercia, which sits in the heart of the United Kingdom. The campus features student dormitories, an indoor sports hall, and lots of greenery.
Repton School was founded in 1557. It was established on the site of what was originally a 7th century Anglo-Saxon Benedictine abbey, and in the 12th century it became an Augustinian priory.
The school retains many of the original buildings, which gives it a distinctive appearance brimming with charm.
Students stay in single, double, or triple rooms equipped with single beds, a desk, and a closet. Bathrooms are shared between 6 students.
In addition to student dormitories, the camp's vast campus also features:
11 football pitches
A sports hall
Physical conditioning rooms
A swimming pool
Courts from other sports disciplines, including tennis and squash
Student dormitories include Wi-Fi, housekeeping, and laundry services (linen and towel change) throughout the stay.
Safety
The Liverpool FC camp is a relatively small, family-oriented camp with friendly and approachable staff. It works with official coaches appointed by the club, and is a great option for those looking to participate in their first camp abroad, as well as for underage players. It takes place in an enclosed venue, so students only leave the premises during field trips.
The intensive football programme has received great reviews from our clients in previous editions. It is also a great choice for those looking to improve their English level, as there are a lot of international students from around the world, and all activities are conducted in English.
Prices and Dates
The official rate of this program is determined in POUNDS so the final amount in other currencies may vary slightly due to currency fluctuation.
Starting Dates
Liverpool FC with English
Liverpool FC without English
Improved booking conditions for all camps
This 2024 make your reservation more easily and with less risk
We´ve lowered the deposit required to reserve your camp to just 500€
Free cancellation until March 1st
Money-back guarantee within 10 days
Optional anti-covid insurance

*Please note that if a visa is required to attend camp, it will be necessary to pay the total amount of the program

*Special conditions valid for all 2024 summer camp reservations except for the Barça USA camp, which will follow the general terms and conditions.
Extra Services
You can purchase one of the extra services below at an additional cost.
Camp Insurance

We offer two insurance options based on your needs:

Cancellation and Interruption Insurance: This option allows you to get your money back if you have to cancel or interrupt the camp for any justified reason, including injury or illness of participants both before and during the camp (the policy contains 35 different causes for justified cancellations).
Travel/Medical Insurance: With this insurance policy, you will be covered for medical assistance abroad and possible expenses caused by health-related issues, as well as other contingencies such as lost luggage or an unforeseen flight change.

Download the following PDF to learn more about each insurance options terms and conditions, coverage features, and price.

Camp Insurance


Transfer Service:

There are two types of transfer services available that we´ll detail for you below:

Standard transfer service: the camp offers an optional transfer service for participants who request it from the nearest airport to the residence (or vice versa). Check with Ertheo for schedules and prices for this service.
Special transfer with additional unaccompanied minor service: participants who fly to camp alone and have contracted the unaccompanied minor service with their airline must hire this special transfer with accompaniment so that the child isn´t left alone in the airport. Check with Ertheo for schedules and prices of this service.
Contact Ertheo for prices and additional information.
Nearest airport / train station:
Heathrow Airport
Manchester Airport
Transportation to the camp (flights/trains) is not included in the price of our programs.
Advice from Ertheo
The Liverpool FC Summer Soccer Camps are relatively small, and the friendly staff works hard to create a family-like environment for the campers. At the same time, coaches are highly qualified and training is quite intensive and effective. Given those two important camp features, we recommend this option to young soccer players who want to improve their skills and who would like to attend a summer soccer camp abroad for the first time. The safe environment and attentive camp staff also make this camp a great option for younger soccer players.

Lastly, the Liverpool FC Summer Soccer Camps are a great option for international students who want to improve their English language skills. Not only does the camp offer ESL classes, but they also offer a unique opportunity for English language immersion.
This camp is for you if
If you are looking for a safe and family-oriented camp with onsite facilities and no daily transfers.
If you are considering your first camp experience in England.
If you are a young football player (9-12).
If you are interested in a comprehensive and intensive football programme for intermediate-level players.
This camp is NOT for you if
If you wish to train at the club's official facilities.
If you are interested in a training programme for advanced or elite-level players.
Other Programs Available
Football programme for players of all levels from 12 to 17 years old. Available in two modalities: programme with English classes or intensive football programme (without English).
Click here for more info
Sign up
Clients who contact Ertheo before booking a camp or program are much more satisfied with their overall experience.
Option 1
(RECOMMENDED)*
1. Click Ask Ertheo if you have a question or would like to learn more about this program
2. Discuss your questions or concerns with one of our Sports Program Consultants via telephone or email
3. Select a program and receive a personalized quote
4. Make the first payment to start the enrollment process
Option 2
1. Click Sign up now to receive a personalized quote
2. Receive a personalized quote along with additional information about the program
3. Make the first payment to start the enrollment process