The AC Milan Summer Soccer Camps are suitable for intermediate soccer players (boys and girls) from 7 to 17 years old.

Are you interested in this program?
Download some information about this program and read it at anytime.
Overview
Location: 4 locations: Cortina d'Ampezzo, Asiago Mountain Plateau, Lignano Sabbiadoro y Jesolo Lido
Ages and genders: Boys and girls, 7 to 17 years old
Levels: Intermediate
The AC Milan Summer Soccer Camps are suitable for young soccer players (boys and girls) who train at an intermediate level.

The camps take place from mid-June until the beginning of August in four different locations in Italy. Two locations are mountainous regions in the Alps, while the other two locations are coastal regions in Venecia.

The training program at the AC Milan Summer Soccer Camps is entirely designed by official club coaches who are present during the entire camp to supervise the work of camp coaches.

The camp has more than 19 years of experience and hosts more than 1,000 young soccer players each year. About 60% of camp participants are Italian. The rest of the participants come from more than 50 different countries around the world. Italian and English are the official languages of the camp.

The main objective of the camp is to enjoy Italian-style soccer by learning from the philosophy and methodology of one of the most prominent Italian clubs. The camp also provides a great opportunity for young students to live an enriching international experience.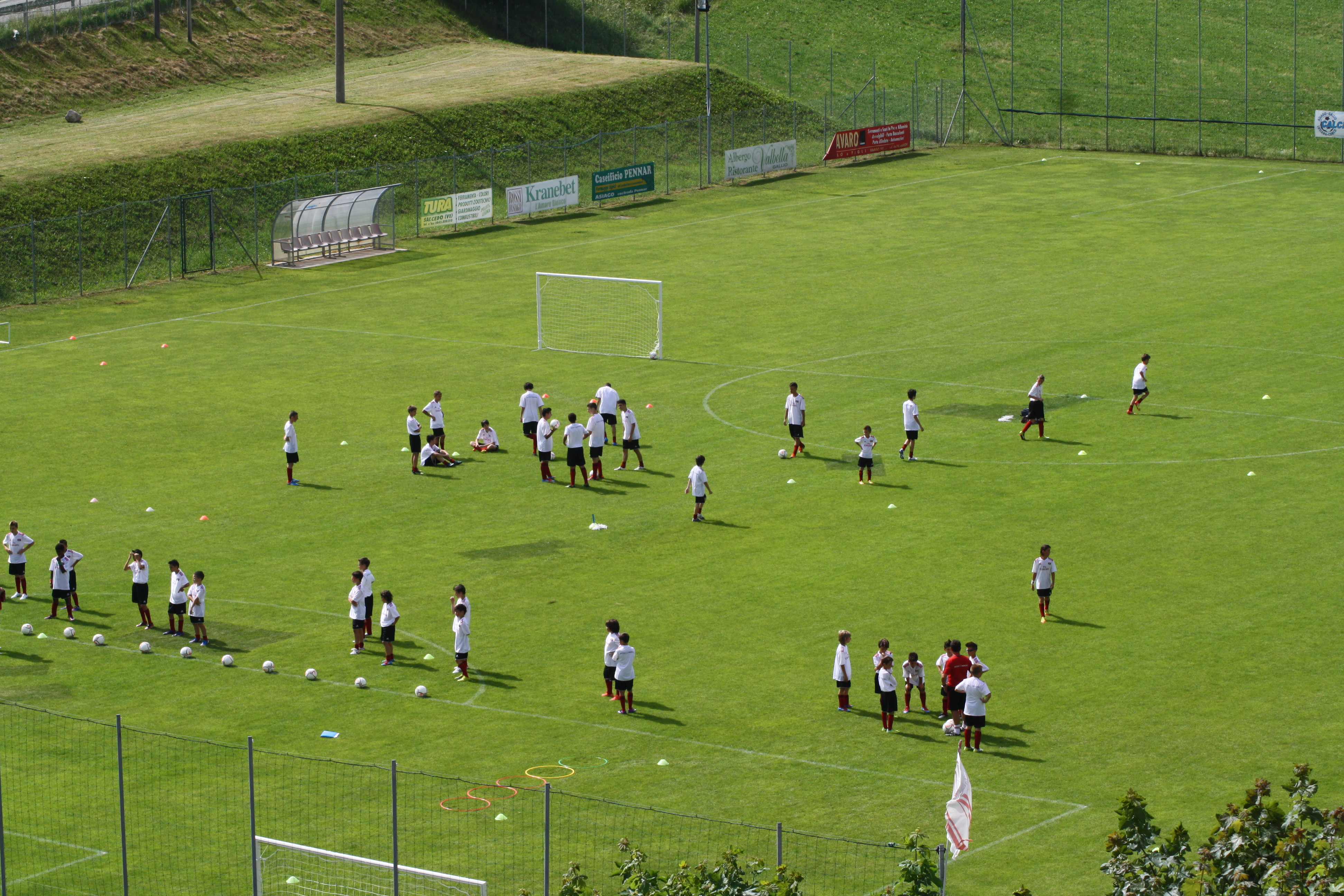 Program options
Program
Program type
Training level
Training Intensity
Players level
Language classes
Accommodation quality
Training facilities quality
Price
AC Milan Summer Football Camp (7 - 17 years old)
Players or goalkeepers (Mixed)
2.5/5
3/5
2/5
NO
3/5
3/5
from 1627 €
for 1 week
Academy / Club history
AC Milan is a club from the city of Milan founded in 1899. The club competes in the highest category of Italian soccer. Along with Inter and Juventus, this team is among the three greatest club's in Italian history.

Much of their success is due to the many prominent coaches they've had throughout their history. Some of the most famous and successful include Arrigo Sacchi, Cappello, and Ancelotti.

The club has more than 120 years of history and a long list of titles which earns them a position as one of the best clubs in the world. They've won 4 European Cups, 7 Champions League titles, 7 Super Cups, and they've been the Italian League Champion 18 times.
Training
Skill level: Intermediate
Students per training group: 15
Training language: Italian, English, and Russian
Training intensity: 3/5
The AC Milan Summer Soccer Camp training program is designed by professional coaches. In fact, some of the coaches who design the program have also played professionally for AC Milan in the past.

The objective of these camps is to improve the skills of each participant and also to make sure each participant enjoys a complete, international summer soccer camp experience. The program is designed for young soccer players who play at an intermediate level.

During the first few days of camp, participants are evaluated based on their age, physical fitness, and skill level so that they can be placed into age-appropriate and level-appropriate training groups. A coordinator evaluates the physical condition of the students each day to determine exactly what kind of training program they'll follow on that particular day.

Training is based on three key areas: technical and tactical improvement, athletic development, and psychological development. Participants train for about 20 hours per week. However, if the coordinator determines that the students need rest, they'll spend less time on the field that day and more time doing exercises to speed up their recovery. 

Each age group participates in different age-appropriate training exercises.
Ages 7 to 9 - Ball skills, dribbling, and shooting
Ages 10 to 13 - Ball skills, technical and tactical skills, 3v2 or 2v1 skills, zone defense, positioning with and without the ball)
Ages 14 to 17 - All aspects of technical and tactical training
Training Facilities
Training surface: Natural and Artificial Turf (depending on the location)
Additional training facilities: Swimming pool
Quality: 3/5
The AC Milan Summer Soccer Camps take place at four different locations in Italy. All of which have perfectly suitable training facilities for young soccer players who want to spend a few weeks of the summer improving their skills. The fields are mostly well-kept natural grass fields. Most of which are located just a couple kilometers from where the students find accommodation which means students usually travel to and from their training sessions by private bus. In Asiago, participants take advantage of the camp's swimming pool for recovery purposes.
Coaches
Licenses: UEFA A, UEFA B, UEFA C, and UEFA Pro Licenses
Coaching experience: Ex-professional soccer players
Playing experience: AC Milan and Atalanta Bergamasca Calcio
Languages: Italian (native), Russian (native), and English (intermediate)
At the AC Milan Summer Soccer Camps, the soccer training program is developed by an experienced team of coaches, supervisors, and technical trainers. In fact, many coaches have been professional players themselves.

All of the coaching staff works together to design the training sessions and adapt them to the levels and ages of each training group. Then, supervisors from AC Milan overlook their work to make sure that the training and supervision lives up to the philosophy, methodology, playing style, and values of the club.
Camp Schedule
The following schedule demonstrates a typical day at camp. The exact camp schedule will most likely vary from day to day.
Typical camp schedule
Schedule:
08:00 AM Breakfast
09:30 AM First training session (technical)
11:30 AM Shower, then back to the residence
12:30 PM Lunch
2:00 PM Free time for games and relaxation
3:30 PM Second training session and a friendly game
6:30 PM Shower, then back to the residence
7:30 PM Recreational Activities
10:30 PM Bedtime
Accommodation
Name of the facilities: 4 locations: Cortina d'Ampezzo, Belluno (mountainous region), Altiplano de Asiago, Vicenza (mountainous region), Lignano Sabbiadoro, Udine (coastal region), Lido de Jesolo, Venice (coastal region)
Location (distance from training facilities): 2 - 8 km between the training facilities and accommodation
Types of rooms: Triple and quadruple rooms in Asiago and Jesolo. Quadruple and quintuple rooms in Lignano and Cortina.
Bathrooms (private or shared): Private
Quality: 3/5
Cortina D'Ampezzo – Alps (Belluno)

Cortina D'Ampezzo is a touristic city in the north of Italy that's surrounded on all sides by the Dolomite Mountains (a declared UNESCO World Heritage Site since 2009). Participants who choose this location find accommodation in a 4-star hotel called Alaska located in the center of the city. Rooms are shared among 3 to 5 students. All rooms have a private bathroom, air conditioning, a telephone, and a TV. The hotel also provides a gym, a free laundry service, free Wi-Fi throughout the facilities.

Lido de Jesolo – Beach (Venice)

Lido de Jesolo is another touristic city located on the coast of the Adriatic Sea just 10 km from Venice (33 km from the airport). This location is popular among tourists for its beautiful beaches and therefore might be the most international of the four camp locations. Participants who choose this location find accommodation at Marzotto Village, located right next to the beach. Students reside in double and triple rooms, and each room has air conditioning, a TV, and free Wi-Fi.

Altopiano di Asiago – Alps (Vicenza)

Altopiano di Asiago is another popular tourist destination in the north of Italy located about two hours from Venice. Participants find accommodation at an excellent 4-star hotel called Gaarten and stay in comfortable triple or quadruple rooms.

Lignano Sabbiadoro – Beach (Udine)

Lignano Sabbiadoro is a popular beach destination located halfway between Venice and Trieste. Students at this location find accommodation in the Bella Italia Village and train at the Bella Italia Sports Center. The hotel consists of triple, quadruple, and quintuple rooms for the participants to share.
Safety
The AC Milan Summer Soccer Camps host more than 1000 participants each summer which means they have significant experience caring for and supervising young children. The camp is serious about supervision, and students are supervised 24/7 during their stay to make sure they are always safe and behaving properly. In fact, camp monitors perform three controls daily (at breakfast, lunch, and in the evening) to check the location and well-being of the campers. In most locations, students have to travel back and forth between the accommodation and training facilities, but they are always accompanied by monitors during their travel.
Prices and Dates
The official rate of this program is determined in EUROS so the final amount in other currencies may vary slightly due to currency fluctuation.
Starting Dates
Cortina d'Ampezzo
Jesolo
Gallio - Altopiano di Asiago
Lignano Sabbiadoro
Improved booking conditions for all camps
This 2024 make your reservation more easily and with less risk
We´ve lowered the deposit required to reserve your camp to just 500€
Free cancellation until March 1st
Money-back guarantee within 10 days
Optional anti-covid insurance

*Please note that if a visa is required to attend camp, it will be necessary to pay the total amount of the program

*Special conditions valid for all 2024 summer camp reservations except for the Barça USA camp, which will follow the general terms and conditions.
Extra Services
You can purchase one of the extra services below at an additional cost.
Camp Insurance

We offer two insurance options based on your needs:

Cancellation and Interruption Insurance: This option allows you to get your money back if you have to cancel or interrupt the camp for any justified reason, including injury or illness of participants both before and during the camp (the policy contains 35 different causes for justified cancellations).
Travel/Medical Insurance: With this insurance policy, you will be covered for medical assistance abroad and possible expenses caused by health-related issues, as well as other contingencies such as lost luggage or an unforeseen flight change.

Download the following PDF to learn more about each insurance options terms and conditions, coverage features, and price.

Camp Insurance


Transfer Service:

There are two types of transfer services available that we´ll detail for you below:

Standard transfer service: the camp offers an optional transfer service for participants who request it from the nearest airport to the residence (or vice versa). Check with Ertheo for schedules and prices for this service.
Special transfer with additional unaccompanied minor service: participants who fly to camp alone and have contracted the unaccompanied minor service with their airline must hire this special transfer with accompaniment so that the child isn´t left alone in the airport. Check with Ertheo for schedules and prices of this service.
Contact Ertheo for prices and additional information.
Nearest airport / train station:
Venice Tessera Marco Polo Airport (VCE)
Treviso Airport (TSF)
Transportation to the camp (flights/trains) is not included in the price of our programs.
This camp is for you if
You're a fan of Italian soccer
You're looking for Italian linguistic immersion. More than 60% of camp participants are italian.
This camp is NOT for you if
If you're looking for intensive high-performance soccer training. Ask us about your options.
If you're looking for a camp where you know you won't have to travel back and forth between the residence and the training facilities
If you're looking for top-quality training facilities and accommodation options
Sign up
Clients who contact Ertheo before booking a camp or program are much more satisfied with their overall experience.
Option 1
(RECOMMENDED)*
1. Click Ask Ertheo if you have a question or would like to learn more about this program
2. Discuss your questions or concerns with one of our Sports Program Consultants via telephone or email
3. Select a program and receive a personalized quote
4. Make the first payment to start the enrollment process
Option 2
1. Click Sign up now to receive a personalized quote
2. Receive a personalized quote along with additional information about the program
3. Make the first payment to start the enrollment process