Manchester City summer football camp with and without English classes, standard or intensive performance camps and a special program for girls. Training in the most exclusive sports city in the world (Manchester City official facilities).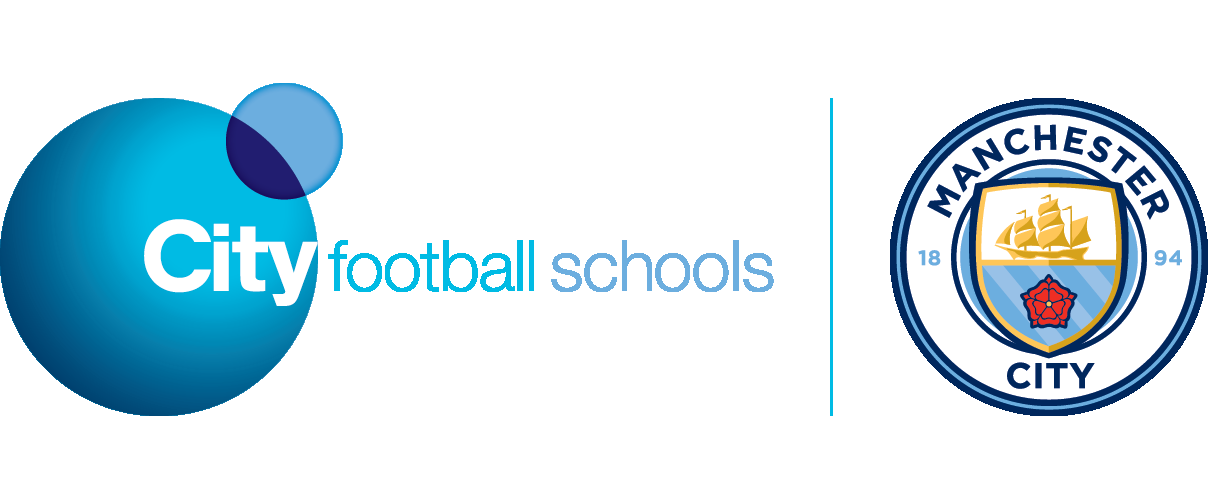 Are you interested in this program?
Download some information about this program and read it at anytime.
Overview
Location: Manchester
Ages and genders: 9 - 17 years old (boys and girls)
Levels: All levels (recommended for intermediate to advanced)
The Manchester City Soccer Camp is held in the city of Manchester, England. Participants get the opportunity to learn the philosophy and methodology of their favorite club and train like their favorite stars at the official training grounds of Manchester City.

The club offers two program options - a Soccer + English Program and an Intensive Soccer Program.
The Intensive Program focuses exclusively on soccer, while the Soccer + English Program dedicates half the time to soccer and the other half to language lessons.
Most camp students play soccer at an intermediate level. While the Soccer + English Program is available for all levels, an intermediate level is required to access the Intensive Program so as to ensure students have the necessary technical and tactical knowledge.
Both programs are available for boys and girls from 9 to 17 years old.
Would you like to feel like a Manchester City FC player? Sign up for a Manchester City Summer Soccer Camp to learn from official Manchester City coaches and train at the same training grounds as your favorite players.
Contact Ertheo to find out if this program is the best option for you.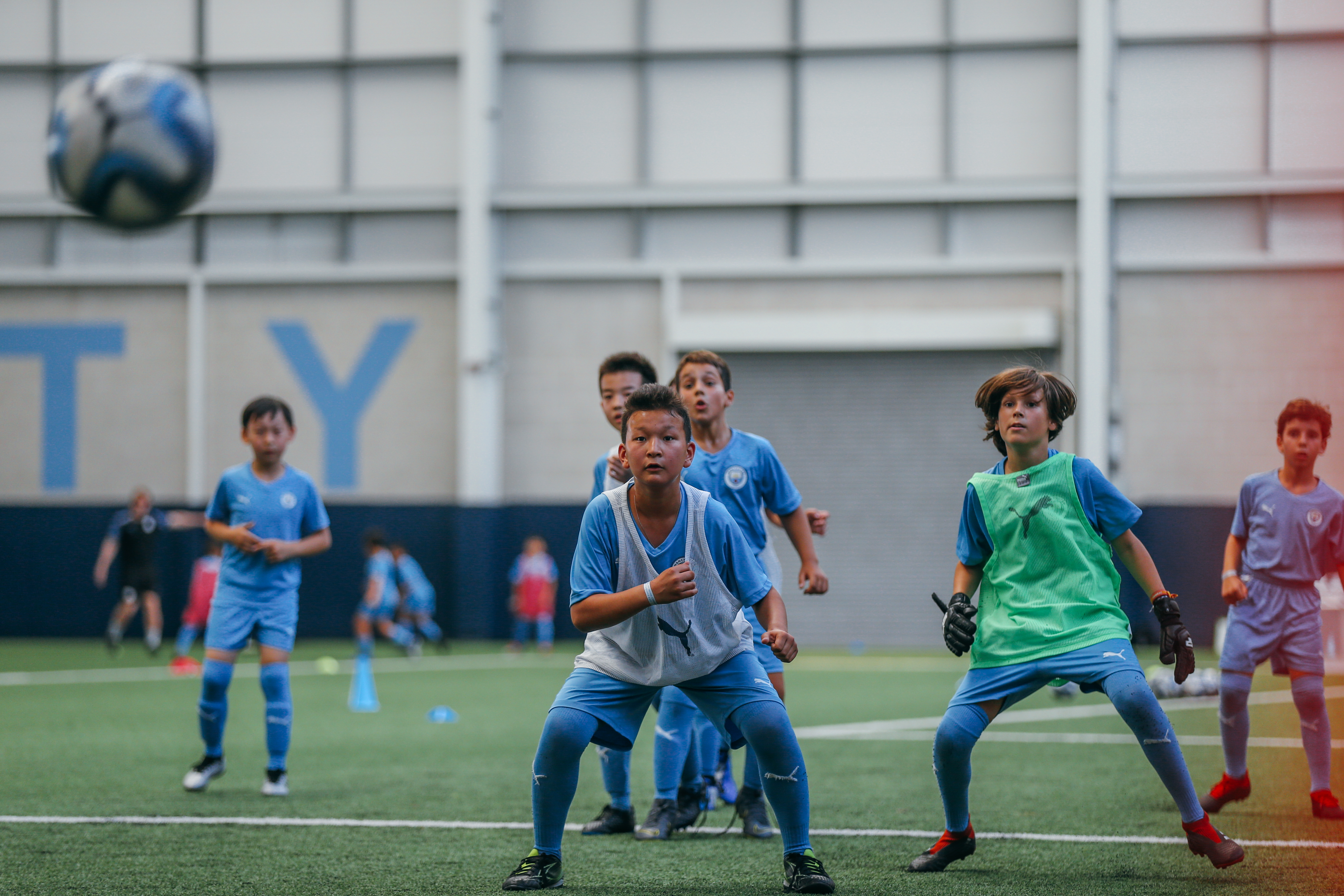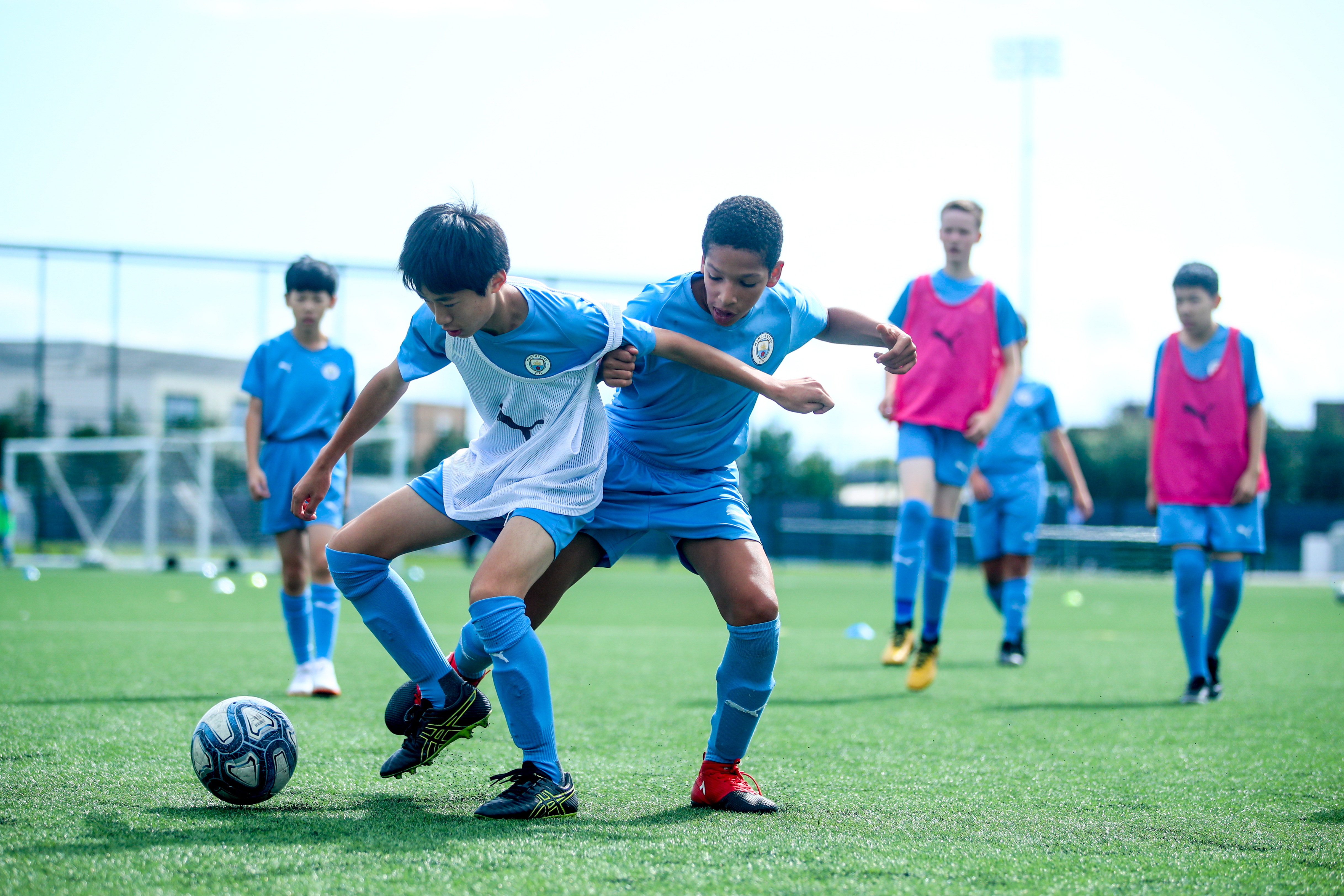 Summer camp program options
Program
Program type
Training level
Training Intensity
Players level
Language classes
Accommodation quality
Training facilities quality
Price
Manchester City Camp - Football + English Lessons (9 - 17 years)
Female and Male Players
3/5
2/5
2/5
YES
4/5
5/5
from £ 1785
for 1 week
Manchester City Camp - Intensive Football (9 - 17 years)
Female and Mixed Players
3/5
3.5/5
3/5
NO
4/5
5/5
from £ 1785
for 1 week
Academy / Club history
Manchester City FC was founded in 1880 and is one of the oldest teams in England. It's currently among the top 3 most important English clubs. The club also has an impressive fanbase known as the Cityzens.
Etihad Stadium has been the club's home field since 2003. The City Football Academy is located just next to the stadium. The training facilities at the City Football Academy are among the most modern and complete football facilities worldwide. In fact, academy students aren't the only athletes who train there. The City Football Academy also hosts the men's first team and the women's first team for their training.
The team's manager, Pep Guardiola, is considered one of the greatest soccer managers of all time. His teamwork philosophy and fluid playing style have led to a lot of success for Manchester City.
Training
Skill level: All levels (recommended for intermediate/advanced)
Other soccer education features: The intensive program includes classes on subjects such as nutrition, fitness, training session analysis, tactics, etc.
Students per training group: Maximum of 16
Training language: English
Training intensity: 2.5/5 Soccer + English Program, 3.5/5 Intensive Program
The objective of this camp is to offer a complete soccer experience to all participants and to make them feel like a real Manchester City player for a couple of weeks.
Both Manchester City Soccer Camp programs provide participants with global learning opportunities where they improve so much more than just their soccer skills. They also learn about nutrition, mental toughness, and many other values that can lead to their success both on and off the field.
Soccer + English Program
Participants who choose this program dedicate half of the day to English classes and the other half to training.
This program adapts to players of any level, from beginners to advanced. Students attend two training sessions per day and work on many different skills including ball control, team play, defensive tactics, offensive tactics, etc.
Intensive Soccer Program
This program for young soccer players who train at an intermediate or a bit more advanced levels. Participants should have experience and prior knowledge of technique and tactics. Participants should also be in good physical condition since training can be quite intensive and physically demanding.
Students attend two training sessions per day and also attend classes and seminars to learn about nutrition, hydration, sports psychology, soccer theory and tactics, etc. They also participate in extra physical conditioning sessions.
Training Facilities
Training surface: Artificial turf
Additional training facilities: Hydrotherapy pool, gym, indoor soccer field
Quality: 5/5
Camp participants train at the Manchester City FC Football Academy, the club's official training facilities. The Academy is a large sports complex with all the facilities necessary to train professional teams and host impressive summer camps.
Artificial turf fields
Indoor soccer field
Fitness center
Multimedia classrooms
Stadium with capacity for 6,000 people
Technology rooms where physical tests are performed
Hydrotherapy pool
Physiotherapy rooms, etc.
Coaches
Licenses: UEFA license
Coaching experience: Coaches are trained by the club to inspire young athletes and convey the philosophy and methodology of the Manchester City game
Languages: English
Manchester City F.C. is very involved in its youth development team and their football camps. All coaches have a UEFA license and are qualified to train young athletes according to the club's philosophy, methodology, and playing style.
These inspirational coaches teach more than just soccer skills to camp participants. They also teach campers the values and healthy lifestyle habits that will help them become successful in soccer and in other areas of life.
All coaches speak fluent English, and all training sessions are conducted in English.
Language Classes
Native teachers: 80% of teachers are native speakers
Hours per week: 15 hours of class per week
Quality of the classes: 4/5
The Soccer + English Program program includes 15 hours of language classes per week. British Study Centres is responsible for the educational program and for teaching the classes. The objectives of the English program are to improve English through soccer and to motivate the students to want to learn English. Teachers prepare dynamic, fun, and motivating classes and activities to engage the students and encourage their interest in learning.
Additionally, to keep the students engaged, classes don't always take place in classrooms. Depending on the day's lesson, classes may take place on the training field, press room, locker room, in the conference room, etc.
*These English classes aren't available in the intensive program.
Camp Schedule
The following schedule demonstrates a typical day at camp. The exact camp schedule will most likely vary from day to day.
Typical camp schedule
Schedule:
8:00 AM Breakfast
8:45 AM Team meeting to talk about the activities for the day
9:00 AM English class / training
10:30 AM Training
12:00 PM Lunch
1:00 PM English class / training
3:00 PM Training
5:00 PM Dinner
7:30 PM Entertainment activities
Excursions are scheduled during the weekends. The one-week program includes a tour of Etihad Stadium and a visit to the Manchester City FC official store. The two-week program typically includes a tour of the Etihad Stadium, a visit to the National Football Museum in Manchester, and a visit to the Alton Towers theme park.
Accommodation
Name of the facilities: Salford University Residence
Location (distance from training facilities): 15 minutes by bus to the training facilities
Types of rooms: Individual
Bathrooms (private or shared): Private
Quality: 4/5
Camp participants stay at the Salford University Residence located about 15 minutes by bus from the Manchester City sports facilities where the athletes train.
This residence has a modern, cheerful, and energetic design. All rooms are individual (one student per room), and each room has its own private bathroom. The rooms are spacious and bright with a lot of exterior light. Each room has a king-size bed, a desk, a bookshelf, a closet, and a mirror.
The residence is located inside a large complex in a quiet area surrounded by gardens. The residence has several common rooms for the participants to enjoy including a movie theater and recreational rooms. The complex includes many different sports facilities, a shop, a cafeteria, and a large dining room.
The camp menu is buffet style. Participants have breakfast and dinner at the residence. Lunch is served at Connell College, a building adjacent to the football fields that is part of the official facilities of Manchester City. Language classes take place at Connell College as well.
Safety
The residence is located on a university campus in a very quiet and safe area. The campus is large, but much of the campus consists of gardens for the students to enjoy. There are a few roads passing through the campus, but traffic is very light.
Camp monitors supervise the participants 24 hours a day.
For younger students, supervision is much stricter than for older students. Older students are given some freedom to walk around as they please. Anytime students want to visit the store or the dining hall, they are required to do so in a group.
Consult one of our Sports Program Consultants if you'd like more information about camp safety.
Prices and Dates
These courses are subject to a registration fee of £ 130 / 165 € / $ 176 charged by the camp.
The official fee for this camp is determined in POUNDS so the final amount in EUROS/DOLLARS may vary slightly due to the fluctuation of both currencies.
The 2-week program combining 1 week of soccer with English and 1 week of intensive soccer is only available for 9 to 13 year olds.
The 3-week program combining 2 weeks of soccer with English and 1 week of intensive soccer is only available for boys 14 to 17 years old.
Girls can choose between 2 weeks of soccer with English or 1 week of intensive soccer.
Starting Dates
Manchester City Football Camp – Dates available for 1 week program
*On August 13 it is only possible to start the intensive soccer program.
Manchester City Football Camp – Dates available for 2 or 3 week programs
Manchester City Football Camp – Specific dates for girls only programs
2 week soccer program with English (only for girls 14-17 years old)
1 week intensive soccer program for girls ages 9 to 17 years old
Improved booking conditions for all camps
This 2024 make your reservation more easily and with less risk
We´ve lowered the deposit required to reserve your camp to just 500€
Free cancellation until March 1st
Money-back guarantee within 10 days
Optional anti-covid insurance

*Please note that if a visa is required to attend camp, it will be necessary to pay the total amount of the program

*Special conditions valid for all 2024 summer camp reservations except for the Barça USA camp, which will follow the general terms and conditions.
Extra Services
You can purchase one of the extra services below at an additional cost.
Camp Insurance

We offer two insurance options based on your needs:

Cancellation and Interruption Insurance: This option allows you to get your money back if you have to cancel or interrupt the camp for any justified reason, including injury or illness of participants both before and during the camp (the policy contains 35 different causes for justified cancellations).
Travel/Medical Insurance: With this insurance policy, you will be covered for medical assistance abroad and possible expenses caused by health-related issues, as well as other contingencies such as lost luggage or an unforeseen flight change.

Download the following PDF to learn more about each insurance options terms and conditions, coverage features, and price.

Camp Insurance


Transfer Service:

There are two types of transfer services available that we´ll detail for you below:

Standard transfer service: the camp offers an optional transfer service for participants who request it from the nearest airport to the residence (or vice versa). Check with Ertheo for schedules and prices for this service.
Special transfer with additional unaccompanied minor service: participants who fly to camp alone and have contracted the unaccompanied minor service with their airline must hire this special transfer with accompaniment so that the child isn´t left alone in the airport. Check with Ertheo for schedules and prices of this service.
Contact Ertheo for prices and additional information.
Nearest airport / train station:
Manchester Boston Regional Airport (MHT)
Manchester Piccadilly Train Station
Transportation to the camp (flights/trains) is not included in the price of our programs.
Advice from Ertheo
Manchester City is one of the best-rated camps by our clients. Staff attention and service are superior, and their facilities (both training facilities and accommodation) are among the best in England.
Participants get to train at the official sports facilities of Manchester City, an incredibly inspirational experience, especially for young City fans. At this camp, training is effective, and English classes are fun, innovative, and inspirational.
Do you want to know if this camp is the best option for you? Contact one of our Sports Program Consultants without obligation.
This camp is for you if
If you want to improve your abilities with an intensive program for intermediate to advanced soccer players
If you want to feel like a player of Manchester City and train in the same facilities as your favorite soccer stars
If you're looking for a soccer camp that includes interactive, fun and motivating English classes
If you're looking for high-quality accommodation
This camp is NOT for you if
If you are a goalkeeper and looking for position-specific training. This camp accepts goalkeepers but does not include specific training sessions for this position.
This camp is very large and not recommended for very young athletes who've never participated in a camp abroad.
Not recommended if you have an elite level and are looking for high-performance training offered by professional football academies.
Sign up
Clients who contact Ertheo before booking a camp or program are much more satisfied with their overall experience.
Option 1
(RECOMMENDED)*
1. Click Ask Ertheo if you have a question or would like to learn more about this program
2. Discuss your questions or concerns with one of our Sports Program Consultants via telephone or email
3. Select a program and receive a personalized quote
4. Make the first payment to start the enrollment process
Option 2
1. Click Sign up now to receive a personalized quote
2. Receive a personalized quote along with additional information about the program
3. Make the first payment to start the enrollment process