The IMG Academy Soccer Camp offers an intensive soccer program or a combination of soccer and English classes for boys and girls ages 9 to 18 during the summer months.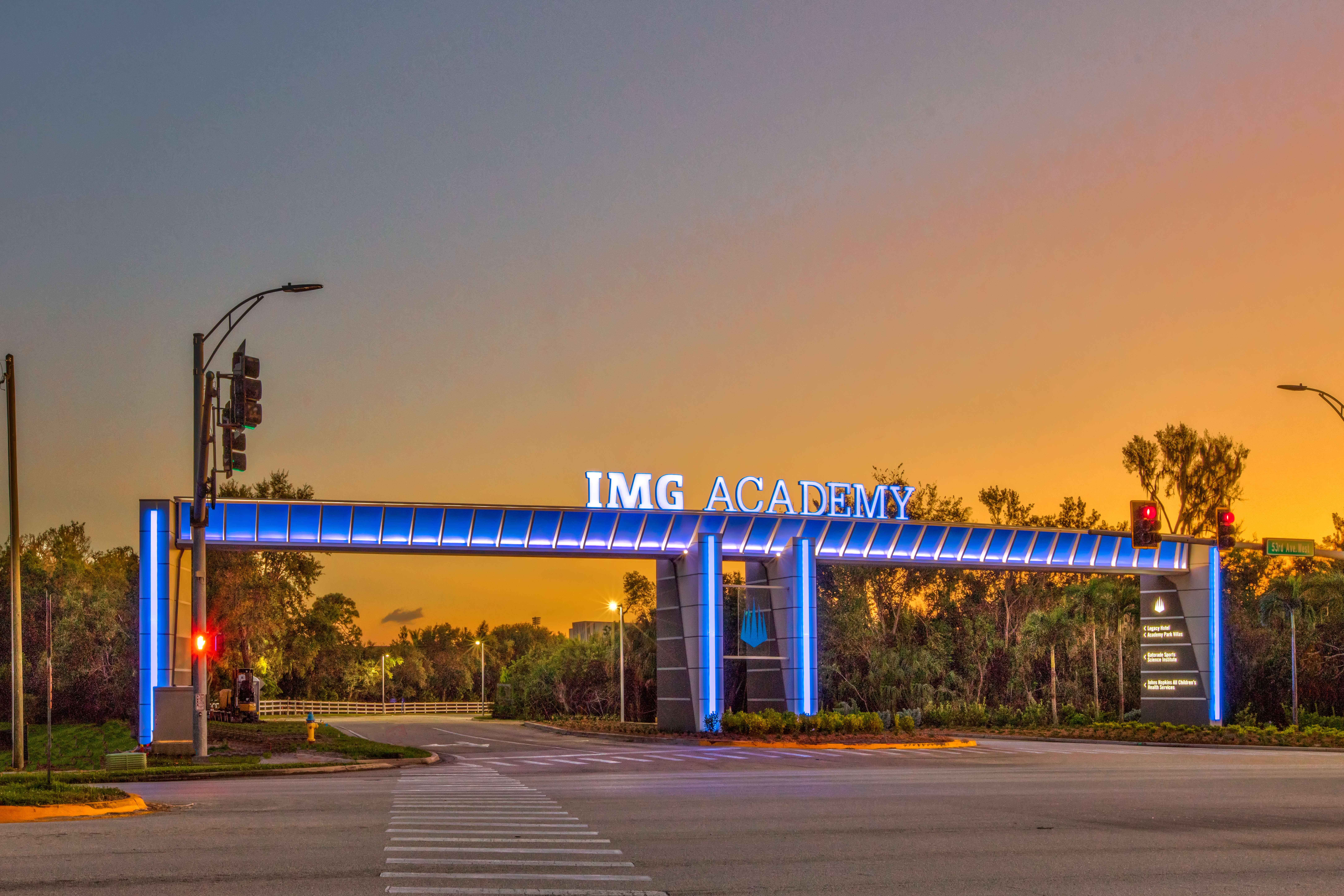 Overview
Location: Bradenton, Florida
Age and gender: Boys and girls ages 9 to 18 years old
Skill level: Intermediate, advanced or elite
The IMG Soccer Camp is an intensive program that takes place at their academy in Bradenton, Florida. This academy specializes in training elite athletes in different sports disciplines and has its own large complex that includes a residence, classrooms and sports facilities, etc., all on the same campus.
During the year IMG provides sports and academic training to athletes from all over the world and in the summer, it organizes camps for international players who want to experience how a high performance academy operates.
This soccer program has a very wide duration, from one week to the whole summer, and is aimed at field players or goalkeepers between 9 to 18 years old with intermediate, advanced or elite skill levels (field players and goalkeepers).
It's possible to include language classes to create a program that combines soccer with learning English.
It also includes different leisure activities that usually take place on the weekends.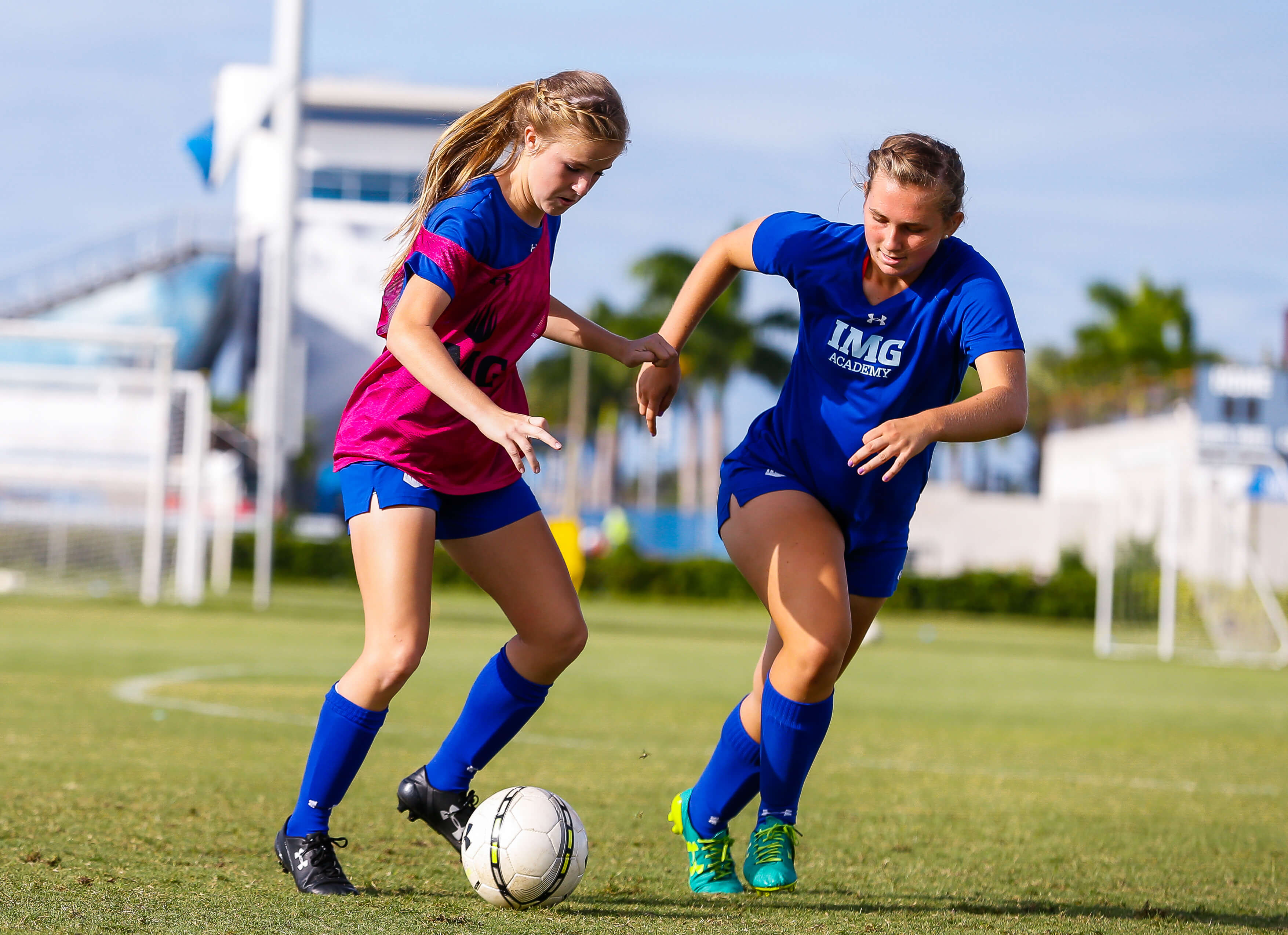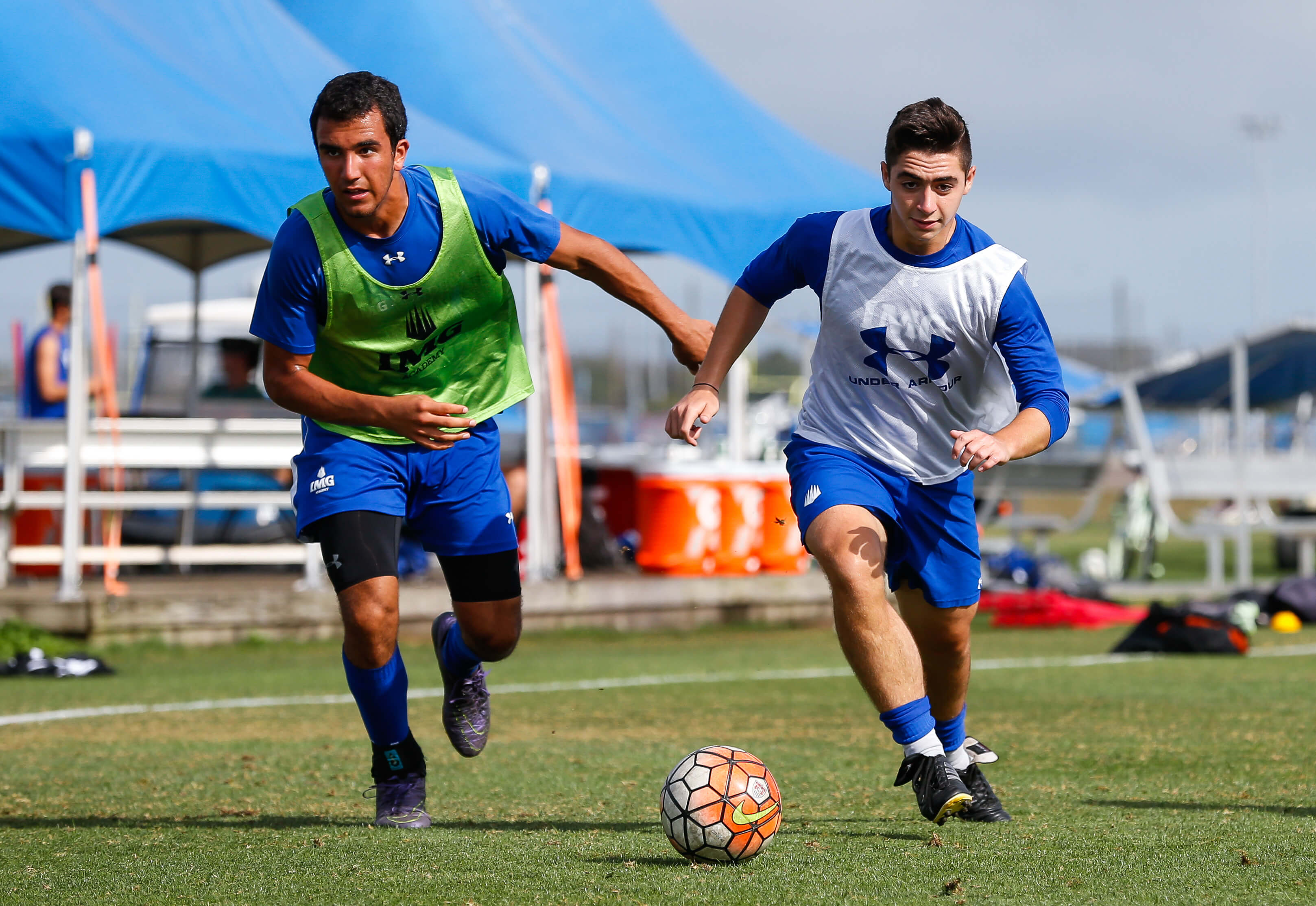 Available Programs
| | | | | | | | | |
| --- | --- | --- | --- | --- | --- | --- | --- | --- |
| Program | Program type | Training level | Training Intensity | Players level | Language classes | Accommodation quality | Training facilities quality | Price |
| IMG Florida Intensive Soccer Summer Camps (9-18 Years) | Players or Goalkeepers (Boys or Girls) | 4/5 | 5/5 | 3/5 | Optional: ENGLISH | 4/5 | 4/5 | |
Academy / Club history
IMG is an institution known around the world for the high performance educational and sports training it provides to young athletes who want to reach the top in their sports but also continue with their studies.
It was founded by Nick Bollettieri in 1978 as a tennis academy and later grew and incorporated more sports to become the global phenomenon it is today, training elite athletes from all over the world.
The academy annually attracts hundreds of teams, groups and events to train and compete.
Its goal is to help young people reach their full potential in both academics and sports.
Training
Skill level: Intermediate, advanced or elite
Other soccer education features: Skills testing, individual development plan, game strategy, video analysis, physical conditioning and mental conditioning
Participants per training group: 15
Training language: English
Training intensity: 4/5
The camp is aimed at boys or girls of intermediate, advanced or elite levels. The high performance program is rigorous and includes exercises such as:
Technical training: shooting, ball control, dribbling, passing, etc.
Tactical training: practice attacking and defensive positions
Physical training: work on speed, agility, endurance, etc..
Strategic training: speed of play, pressing, team play, etc..
Mental training: routines, preparation, emotional control in adverse situations, etc.
Position training: angles, spaces, blocks, etc.
The training groups consist of 15 players per coach and participants are divided by age and skill level.
There are different training program modalities to choose from that offer higher or lower intensity and a variety of different training sessions.
Training Facilities
Training grounds: Academy's soccer fields
Quality of facilities: 4.5/5
Participants at IMG's soccer camp train on the artificial and natural grass fields located within the academy.

IMG's sports facilities cover more than 440 acres and include numerous tennis courts, basketball courts, gymnasium, sports center, golf courses, physiotherapy and recovery rooms, etc.
Coaches
Coaching experience: Many years of experience coaching college and professional level athletes
Playing experience: Some coaches are also former professional soccer players
Languages: English
The team that´s responsible for sports training at the academy is made up of soccer coaches, nutritionists, sports psychologists, physical conditioning technicians, etc.
Many coaches have played soccer at the professional level and also have years of experience training soccer players at the college and professional level.
They're experts in working on physical conditioning to help players reach the high performance level.
Language Classes
Native teachers: Yes
Hours per week: 5
Quality of the classes: 4/5
Participants have the option of adding language classes to their soccer camp. IMG has an English as a Second Language (ELS) course that is taught by native teachers from the academy. There are 5 hours of classes per week.
Students are tested upon arrival at the camp to assess their level and are then assigned to their corresponding class. The focus of the class includes reading, writing, listening and grammar.
All classes and other camp activities are conducted in English. The large number of nationalities living together at the academy also encourages the use of English as a common means of communication among participants.
Camp Schedule
*This timetable is indicative and subject to last minute changes.
Typical camp schedule
Schedule:
08:00 AM Breakfast
08:45 AM Team chat to discuss the day's activities
09:00 AM English classes / training
10:30 AM Training
12:00 PM Lunch
13:00 PM English classes / training
15:00 PM Training
17:00 PM Dinner
19:30 PM Entertainment activities
Weekend excursions are scheduled.
The camp offers optional weekend excursions that can be arranged separately. It also includes some recreational activities both on and off campus.
Accommodation
Name of the facilities: Ascender Hall IMG Academy Residence
Location: 5 minutes walking distance to the sports facilities (inside the IMG Academy campus)
Rooms: Quadruple rooms
Bathrooms: Private bathroom
Quality: 5/5
The residence is located within the academy's campus, just 5 minutes walking distance from the sports facilities where training sessions are held.
IMG has 3 residential buildings. One building houses the older boys, another houses the younger boys, and the third one houses female participants.
The rooms are quadruple rooms. Participants sleep in bunk beds and there is a bathroom in each room. The decor is simple and modern.
The academy also has recreation rooms, classrooms, a conference room, etc.
Meals are served in the campus dining room. The academy has special menus to suit the needs of its participants such as gluten-free, lactose-free, vegetarian menus, etc.
Safety
This camp has all the necessary facilities located within the academy grounds, so participants don't need to leave the facilities, except when there is an off-campus excursion or leisure activity.
The IMG Academy is located just outside of Bradenton, Florida, about an hour from the Tampa airport. It's in a quiet and safe location, surrounded by nature.
Since it's a private campus, only students or employees can access the facilities.
In addition, participants are supervised 24 hours a day. There's a ratio of one monitor for every 15 students.
Prices and Dates
* 2 week summer program available from 3.500€
The prices of this programme vary according to a number of factors, such as the demand for places and the age of the participant. Please indicate the approximate start date you are considering and we will contact you as soon as possible with the prices and dates which are available.
Improved booking conditions for all camps
This 2024 make your reservation more easily and with less risk
We´ve lowered the deposit required to reserve your camp to just 500€
Free cancellation until March 1st
Money-back guarantee within 10 days
Optional insurances

*Please note that if a visa is required to attend camp, it will be necessary to pay the total amount of the program

*Special conditions valid for all 2024 summer camp reservations except for the Barça USA camp, which will follow the general terms and conditions.
Extra Services
You can purchase one of the extra services below at an additional cost.
Camp Insurance

We offer two insurance options based on your needs:

Cancellation and Interruption Insurance: This option allows you to get your money back if you have to cancel or interrupt the camp for any justified reason, including injury or illness of participants both before and during the camp (the policy contains 35 different causes for justified cancellations).
Travel/Medical Insurance: With this insurance policy, you will be covered for medical assistance abroad and possible expenses caused by health-related issues, as well as other contingencies such as lost luggage or an unforeseen flight change.

Download the following PDF to learn more about each insurance options terms and conditions, coverage features, and price.

Camp Insurance


Transfer Service:

There are two types of transfer services available that we´ll detail for you below:

Standard transfer service: the camp offers an optional transfer service for participants who request it from the nearest airport to the residence (or vice versa). Check with Ertheo for schedules and prices for this service.
Special transfer with additional unaccompanied minor service: participants who fly to camp alone and have contracted the unaccompanied minor service with their airline must hire this special transfer with accompaniment so that the child isn´t left alone in the airport. Check with Ertheo for schedules and prices of this service.
Contact Ertheo for prices and additional information.
Nearest airport / train station:
Tampa Airport (TPA)
Transportation to the camp (flights/trains) is not included in the price of our programs.
Advice from Ertheo
The IMG Academy has been training elite athletes for over 40 years. It's a perfect option if you're looking for a physically demanding program that will allow you to improve your soccer level and physical conditioning in a short period of time. It's also ideal if you're seeking  a scholarship to study and compete at a university in the United States. It's not suitable for amateur soccer players who aren't accustomed to intense physical activity.
This camp is for you if
If you're looking for a high-performance academy where you can train as an elite athlete
If you want to get a scholarship to study and compete at a university in the United States
If you're looking for a high performance program focused on improving physical conditioning
If you're looking for a safe camp with top-quality facilities
This camp is NOT for you if
If you're looking for a budget-friendly program
If you're looking for a camp with lots of leisure activities
If you're looking for a European level soccer program
Sign up
Clients who contact Ertheo before booking a camp or program are much more satisfied with their overall experience.
Option 1
(RECOMMENDED)*
1. Click Ask Ertheo if you have a question or would like to learn more about this program
2. Discuss your questions or concerns with one of our Sports Program Consultants via telephone or email
3. Select a program and receive a personalized quote
4. Make the first payment to start the enrollment process
Option 2
1. Click Sign up now to receive a personalized quote
2. Receive a personalized quote along with additional information about the program
3. Make the first payment to start the enrollment process