For young Barca fans (all levels, boys and girls, 11 to 17 years old). Recommended only who train at a beginner/intermediate level.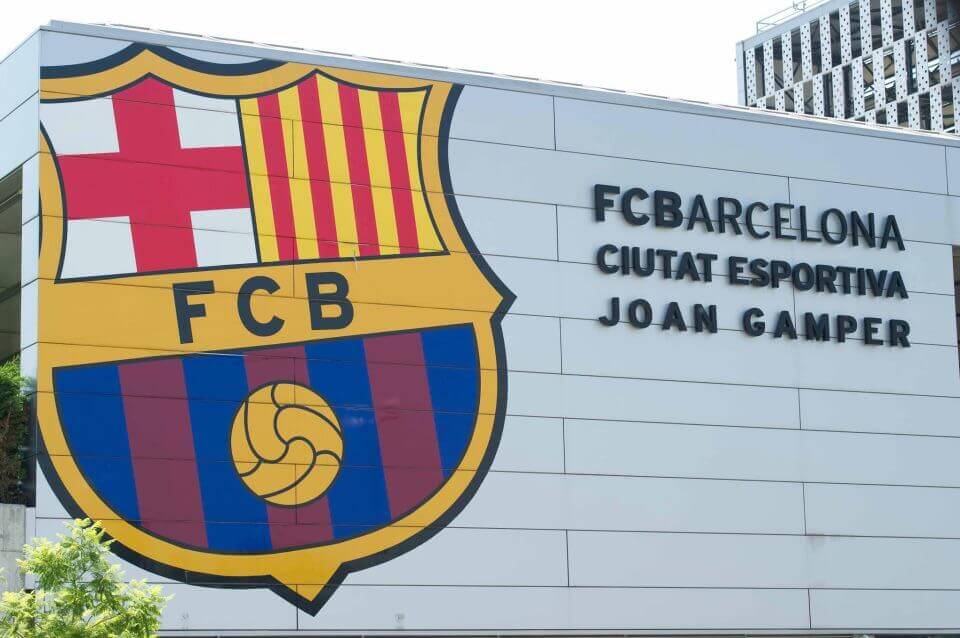 Overview
Location: Barcelona
Ages and genders: Boys and girls between 11 and 17 years old
Levels: Advanced, Intermediate, Beginner
---
Ertheo has a collaborative agreement with Summerfuel, the official sponsor of the official FCB Escola camp.
---
This program gives young footballers between 11 and 17 years of age a fantastic opportunity to attend a summer football camp hosted by the world famous FC Barcelona. Students get to train at the club's Ciudad Deportiva Joan Camper complex, which as well as being home to La Masia (Barcelona's famous youth academy) also hosts the first team's training sessions.
The facilities are equipped with nine top quality football pitches where students train under the guidance of FC Barcelona's official coaching team. During their stay, the children will learn how to play football in the style of Barcelona's youth academy.
In addition to the football training, participants will attend classroom sessions where the theory of football is explored in further detail along with other important topics such as sports psychology and nutrition.
The FCB Escola in Barcelona also arranges a range of entertainment activities to allow the students to have some fun, get to know each other better and get the best out of their stay at the academy. Activities may include a tour of the Camp Nou stadium and club museum as well as trips to other symbolic places in this fascinating city.
During their stay, participants are accommodated at the Sarria Residence, a modern facility equipped with all the amenities that young people could want. As well as comfortable rooms, the students are provided with breakfast, lunch and dinner every day, and also have access to its other facilities. Each night, a program of leisure and entertainment activities are also hosted at the residence.
Hundreds of young people take part in the summer camp each year. However, we also offer high performance training programs in Barcelona throughout the rest of the year.
The participants are accommodated at the same location as the sports complex, providing extra security for the students and reassurance for their parents.
The camp attracts young people from all over the world who live together in shared rooms of 4-6 students per room. As a result, the young people at the camp enjoy a rich cultural experience, growing and developing as individuals not just as footballers.
Available Programs
| | | | | | | | | |
| --- | --- | --- | --- | --- | --- | --- | --- | --- |
| Program | Program type | Training level | Training Intensity | Players level | Language classes | Accommodation quality | Training facilities quality | Price |
| FCB ESCOLA summer football camp (6-13 years old) | Players or goalkeepers (Mixed) | 5/5 | 5/5 | 5/5 | NO | 4/5 | 4/5 | |
| FCB ESCOLA summer football camp (14-16 years old) | Players or goalkeepers (Mixed) | 5/5 | 5/5 | 5/5 | NO | 4/5 | 4/5 | |
Training
Training Languages:
Levels of training: Advanced, Intermediate, Beginner
Number of children per group: 15
Football training at the Barcelona summer camp is based on three basic pillars:
Practical training sessions on the pitch
Theoretical workshops
On-field discussions
During the week, from Monday to Friday, the students take part in two practical training sessions per day on the field - one in the morning and another in the afternoon - where they will learn to play in the style of La Masia academy.
There are a total of four hours of physical and tactical training each day, led by official coaches from FC Barcelona, all of whom have wide experience in training players throughout the minor categories of this great club.
Initially, the training groups are organised according to age. However, once the coaches have had the chance to analyse the abilities of each player, they will then be arranged into groups of equal ability.
The camp's Head Coach will hold theoretical and practical workshops where the young people will learn themes such as: strategy, match analysis, psychology and sports medicine.
Additionally, before each training session, technical discussions are held on the field to motivate the players and establish the objectives of the day.
For part of the day, students on the goalkeeper's program will take part in training sessions away from the main group with a specialist coach. Once these sessions shave been completed, they will continue training with the rest of the group.
Camp Schedule
Although football training is the main focus of the program, the FC Barcelona summer camp also offers a full agenda of activities to ensure that students get maximum the enjoyment of their stay.
Aside from the daily training schedule, the camp organizes additional training activities and excursions to local places of interest including the Camp Nou stadium, shop and museum.
Activities
A day at the FCB Escola summer camp in Barcelona starts early as students wake up, wash, get dressed and have breakfast before heading by bus to FC Barcelona's training grounds for the first training session of the day.
At around 12.30pm, the students return to the residence for lunch and recuperation in readiness for more football training in the afternoon. Once the afternoon session has been completed, they return to the residence to freshen up in preparation for an evening of activities.
The evening activities may take place at the residence or outside of the complex in the city of Barcelona itself. One of the aims of the camp is to ensure that the youngsters get a chance to get to know the city where they are residing.
At 9:00pm, the students will have time to relax, call their families, chat with their companions or play table tennis, until it's time to go to bed and get some rest in preparation for the next day.
Excursions
All the students will get the chance to enjoy excursions away from the camp. This will give them the chance to get to know some of the most important and interesting cultural sights that the city has to offer.
Typical excursions may include trips to the following places of interest:
Barrio Gótico (centre of Barcelona's old town)
The Sagrada Familia (Gaudi's famous cathedral)
Montjuic (large park located high above the city)
Las Ramblas (Barcelona's famous central boulevard)
El Parc Güell (impressive public park designed by Gaudi)
In addition, the students will get a chance to socialise with their companions by experiencing a "noche de tapas" (tapas night) or "noche de hamburguesa" (hamburger night).
At the weekends, two further outings will be organised. On Saturday, the students will head to the beach for a day, while on Sunday, they can have fun at the nearby Waterworld aquatic park.
Of course, no summer camp in Barcelona would be complete without a trip to the Camp Nou Stadium and Barça's football museum. There, the children will get to know all about the history and many successes of this great club.
On their final night at the camp, the students will attend a farewell dinner in a venue outside the residence.
Weekly timetable Barcelona Soccer Camp
Schedule:
07: 00h Wake up
07: 00h - 09: 00h Breakfast
09: 00h - 10: 00h Preparation and transfer to training
10: 00h - 12: 00h Morning training
12: 00h - 12: 30h Transfer to the Residence
12: 30h - 14: 30h Lunch and siesta at the Residence
14: 30h - 15: 30h Conference with the technical director
16: 30h - 18: 00h Afternoon training
18: 30h - 20: 00h Training activities
20: 30h - 21: 30h Dinner
21: 30h - 22: 30h Break
22: 30h - 23: 00h Bedtime
Accommodation
Accommodation type: Residence
Room type: Double
Bathroom type: Private
Youngsters who attend the FC Barcelona camp are accommodated in the modern facilities of the Sarriá residence, situated close the city centre and only 10 minutes from the training grounds
The students are housed in double rooms which are all equipped with private bathrooms, air conditioning and Internet connection. They also have free access to the rest of the facilities which include a swimming pool, games room and private cinema.
Participants can also make use of a sports club located next to the residence, where they can exercise, swim or simply relax.
Accommodation is offered on a full-board basis with breakfast, lunch and dinner included in the price. For added peace of mind, it should be noted that the residence halls are are under 24-hour supervision.
Prices and Dates
Duration (Weeks)
FCB ESCOLA Soccer Camp
Summer Soccer Camp high standard residence
The official rate of this program is determined in US DOLLARS so the final amount in other currencies may vary slightly due to currency fluctuation.
Starting Dates
This camp isn´t available this year
Improved booking conditions for all camps
This 2024 make your reservation more easily and with less risk
We´ve lowered the deposit required to reserve your camp to just 500€
Free cancellation until March 1st
Money-back guarantee within 10 days
Optional anti-covid insurance

*Please note that if a visa is required to attend camp, it will be necessary to pay the total amount of the program

*Special conditions valid for all 2024 summer camp reservations except for the Barça USA camp, which will follow the general terms and conditions.
Extra Services
You can purchase one of the extra services below at an additional cost.
Camp Insurance

We offer two insurance options based on your needs:

Cancellation and Interruption Insurance: This option allows you to get your money back if you have to cancel or interrupt the camp for any justified reason, including injury or illness of participants both before and during the camp (the policy contains 35 different causes for justified cancellations).
Travel/Medical Insurance: With this insurance policy, you will be covered for medical assistance abroad and possible expenses caused by health-related issues, as well as other contingencies such as lost luggage or an unforeseen flight change.

Download the following PDF to learn more about each insurance options terms and conditions, coverage features, and price.

Camp Insurance


Transfer Service:

There are two types of transfer services available that we´ll detail for you below:

Standard transfer service: the camp offers an optional transfer service for participants who request it from the nearest airport to the residence (or vice versa). Check with Ertheo for schedules and prices for this service.
Special transfer with additional unaccompanied minor service: participants who fly to camp alone and have contracted the unaccompanied minor service with their airline must hire this special transfer with accompaniment so that the child isn´t left alone in the airport. Check with Ertheo for schedules and prices of this service.
Contact Ertheo for prices and additional information.
Transportation to the camp (flights/trains) is not included in the price of our programs.