The France High-Performance Soccer Camp is open to male athletes 13-19 years old with intermediate to elite skill levels. The program lasts two weeks and takes place in July. It also offers specific training for goalkeepers.

Are you interested in this program?
Download some information about this program and read it at anytime.
Overview
Location: Evian, France
Age and Gender: Males, 13-19 years old
Skill level: Intermediate, advanced or elite
The France High Performance camp is held at the Evian Professional Soccer Academy in France, very close to the Swiss border (it's located just 40 minutes from the center of Geneva).
During the summer, when its full-time players are on vacation, the academy organizes a two-week intensive soccer program, open to boys, players or goalkeepers, ages 13-19 with intermediate, advanced or elite soccer levels.
The France High Performance Academy has huge, modern accommodation and sports facilities to provide participants with everything they need without having to leave the campus.
In addition to high performance soccer training, physical preparation and high-tech sessions, some recreational activities are also included in the program so that the participants can take advantage of their time off to have fun and get to know the area.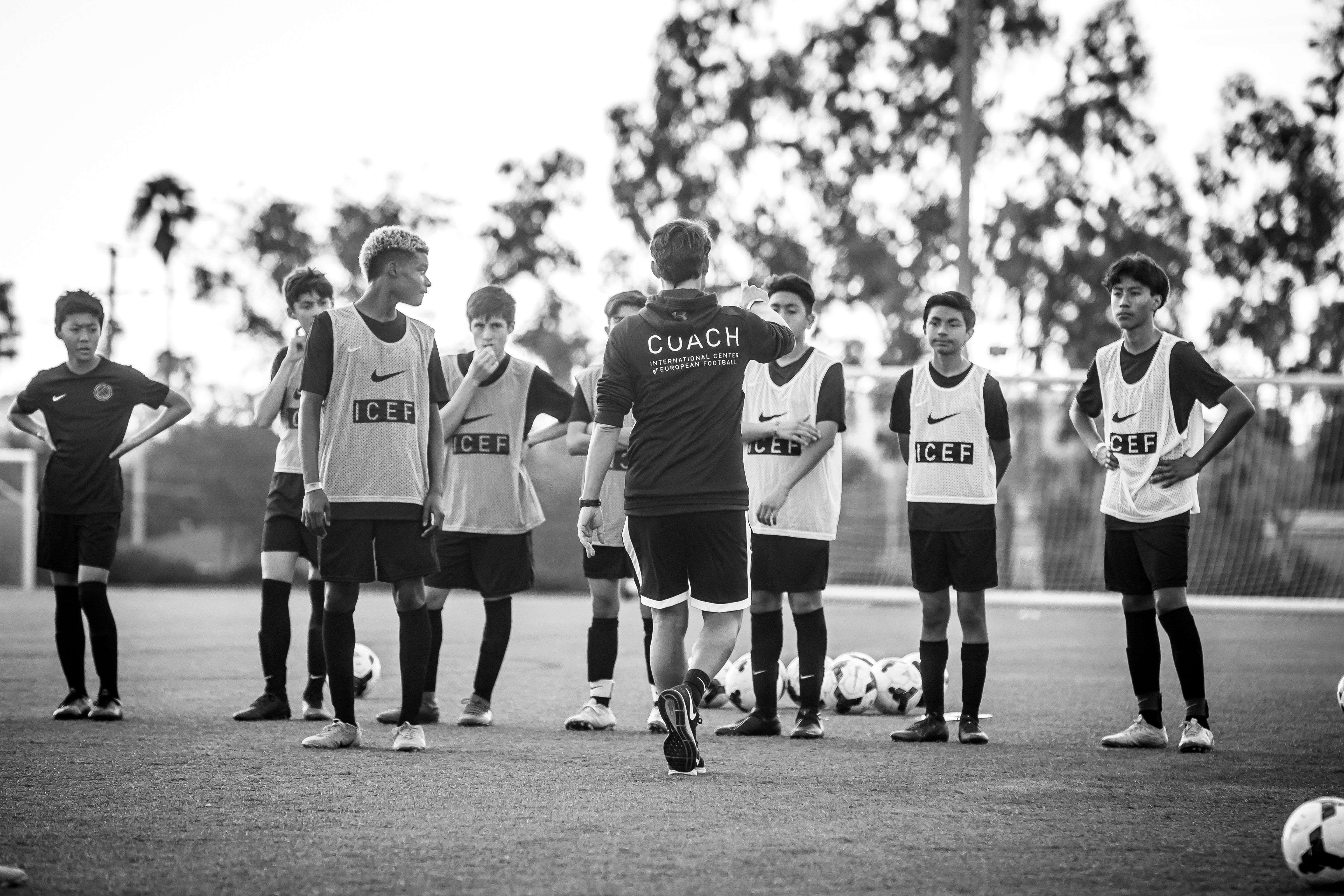 Available Programs
High Performance Summer Soccer Camps (males, 13-19 years old)
These intensive summer soccer camps are for males, field players or goalkeepers, from 13 to 19 years old who want to learn and improve their soccer skills. This program is suitable for intermediate, advanced or elite levels and has a duration of two weeks.
10-month Pro Residency Soccer Program (males, 13-23 years old)
A high performance professional training program for high-level soccer players with potential and future projection. This program has a duration of 10 months and is fully residential. It includes soccer training, academic training and accommodation. To be eligible to participate in this full-time program, players should first participate in a short-term program where they are pre-selected.
Academy / Club history
This academy has its own professional soccer team, named Thonon Evian Grand Genève FC, which has players from the U8 level all the way up to those playing in the highest level of national competition in the FFF (French Football Federation).
For the last 20 years, this academy has been creating strong professional connections in European soccer. Their project unites Geneva's men's and women's clubs and integrates their yearly players into these teams to allow them to compete at the highest level.
Training
Skill level: Intermediate, advanced or elite
Other soccer education: Nutrition, injury prevention, video analysis, strength and recovery
Students per training group: 10-15
Training language: English
Training intensity: 2.5/5
The France High Performance Academy training program provides its participants with an immersion into a professional soccer environment at the highest European level.
Players develop physical, tactical, technical, mental and emotional aspects to improve their skill set as much as possible in a short period of time.
Training is conducted in English, although there are coaches who are fluent in Spanish, Italian and French.
In addition to the training sessions on the field, there are also activities on different topics related to the health and maintenance of high-level athletes: nutrition, injury prevention, video analysis, recovery, strengthening, etc.
Athletes who want to be part of the full-time academy attend this camp to have an opportunity to get to know the day-to-day life at the academy, as well as to show they have the necessary potential to be pre-selected as an applicant for the academy's long-term program.
Training Facilities
Training surface: The academy´s own artificial turf and natural grass fields
Quality: 4.5/5
The France High Performance Academy has 24,000 square meters of facilities, including several professional natural grass and artificial turf fields used for training sessions. It also has a gymnasium, a spa (hydrotherapy and massage room), video analysis rooms and professional locker rooms.
Coaches
Licenses: UEFA Pro, UEFA A, UEFA B, and FFF (BMF – BEF)
Coaching experience: 20 years of experience coaching high-level teams in European leagues
Playing experience: Some coaches are also former professional players from clubs such as Olympique Lyon, and Thonon Evian Grand Geneve FC
Languages: English, Spanish, French, Italian
Julien Bernard is the camp´s head coach and technical director. Julien has many years of coaching experience and is also a former professional player.

He has collaborated in the soccer development of many players, such as:
Hamza Rafia - Juventus FC U23 and the Tunisia national team
Marvin Tshibuabua - AS Saint-Etienne and the U17 French national team
He's in charge of preparing the classes, training and matches, as well as supervising the camp´s coaching staff.

The academy has a French-style methodology based on rigor, dedication, work ethic, and of course, perfecting the technical and tactical aspects of the game. His goal is to create intelligent players with great vision and technical perfection.
Camp Schedule
*This schedule is indicative and subject to last minute changes.
Typical camp schedule
Schedule:
08:00 am Breakfast
09:00 am 1st training session
12:00 pm Lunch
01:00 pm Rest
02:00 pm Language classes
04:00 pm 2nd training session
06:00 pm Recovery sessions
07:00 pm Dinner
08:00 pm Entertainment activities
10:00 pm Bedtime
During their free time, participants can make use of facilities such as:
Video Game room
Foosball tables
Ping pong tables
Study rooms
TV rooms
Pool, etc.
During the weekends there are different leisure activities are scheduled, such as:
Sightseeing tour of the city of Evian
Hiking trip
Accommodation
Name of the facilities: Academy´s on-campus residence
Location: On the same campus as training facilities
Type of rooms: Double rooms
Bathrooms: Two large bathrooms with 6 private showers per floor
Quality: 4/5
The France High Performance Camp has its own on-campus residence to accommodate its summer participants.
All rooms are doubles, have air conditioning, and high speed Wi-Fi connection. A laundry service is offered twice a week, with daily housekeeping service and weekly linen and towel change service.

There are two large bathrooms on each floor of the residence, each having 6 private showers.
As for meals, the camp offers an organic menu perfectly balanced according to the nutritional needs of young athletes. They use local organic ingredients whenever possible to create healthy and balanced dishes that are usually traditional to French gastronomy. The academy has adaptable menus for vegetarians or for individuals with gluten or lactose intolerance. It's also possible to adapt to a Halal menu as long as this need is notified well in advance.

There are also large common areas that participants can use during their free time that include:
Foosball tables
Ping pong tables
Cable television
Videogames
Lounges
Study rooms
Gardens
Safety
This high performance professional soccer academy is located on French soil but only 40 minutes from the center of Geneva. It's a very touristic region, known worldwide for its seaside resort of Evian-Les-Bains.

Despite being located in the French Alps, the closest airport to reach the academy is Geneva International Airport.

The academy´s fantastic location provides a safe and quiet environment for the young players allowing them to focus 100% on soccer.
The residence is supervised 24 hours a day by the team of monitors who speak several languages.
Prices and Dates
Duration (Weeks)
High Performance Academy France
High Performance Academy France
Starting Dates
High Performance Academy France
Improved booking conditions for all camps
This 2023 make your reservation more easily and with less risk
We´ve lowered the deposit required to reserve your camp to just 500€
Free cancellation until March 1st
Money-back guarantee within 10 days
Optional anti-covid insurance

*Please note that if a visa is required to attend camp, it will be necessary to pay the total amount of the program

*Special conditions valid for all 2023 summer camp reservations except for the Barça USA camp, which will follow the general terms and conditions.
Extra Services
You can purchase one of the extra services below at an additional cost.
Anti-Covid Insurance

We have different insurance options with special anti-covid coverage, so you can insure your camp reservation according to your needs:

Cancellation and Interruption Insurance: cancellation and interruption insurance allows you to recover your payment if you cancel or interrupt the camp for a justified cause (including illness from COVID-19 and 35 other causes)
Travel/Medical Insurance: with this insurance policy, you´ll be covered for medical assistance abroad and possible expenses caused by situations resulting from COVID-19, such as needing to extend your stay up to 40 days, as well as other general situations such as loss of luggage, unforeseen ticket changes, etc.

Download the following PDF for more information about anti-covid coverage, the general terms & conditions, and prices of each insurance policy.

Anti-Covid Insurance


Transfer Service:

There are two types of transfer services available that we´ll detail for you below:

Standard transfer service: the camp offers an optional transfer service for participants who request it from the nearest airport to the residence (or vice versa). Check with Ertheo for schedules and prices for this service.
Special transfer with additional unaccompanied minor service: participants who fly to camp alone and have contracted the unaccompanied minor service with their airline must hire this special transfer with accompaniment so that the child isn´t left alone in the airport. Check with Ertheo for schedules and prices of this service.
Contact Ertheo for prices and additional information.
Nearest airport / train station:
Ginebra Airport GVA
Transportation to the camp (flights/trains) is not included in the price of our programs.
Advice from Ertheo
This camp offers excellent soccer training. It's organized by one of the best soccer academies in Europe and its training program has been designed by Julien Bernard, a very experienced coach who has trained many professional players and who knows European soccer to perfection.

In addition, the program also includes leisure activities during the weekends for participants to disconnect from training and have fun in the purest style of a summer camp.

It's a perfect option to discover the day-to-day life of a high-performance soccer academy before moving on to a long-term program.
This camp is for you if
If you´re looking for a program for high-level players in France
If you´re looking for premium quality sports facilities and accommodation
If you´re looking for a camp in a quiet and safe location
If you aspire to be part of the academy´s full-time program, please contact us for more info
This camp is NOT for you if
If you´re looking for a very intensive training program (more than 30 hours per week)
If the participant is a beginner level player
If you´re looking for a program that lasts more than two weeks during the summer
Sign up
Clients who contact Ertheo before booking a camp or program are much more satisfied with their overall experience.
Option 1
(RECOMMENDED)*
1. Click Ask Ertheo if you have a question or would like to learn more about this program
2. Discuss your questions or concerns with one of our Sports Program Consultants via telephone or email
3. Select a program and receive a personalized quote
4. Make the first payment to start the enrollment process
Option 2
1. Click Sign up now to receive a personalized quote
2. Receive a personalized quote along with additional information about the program
3. Make the first payment to start the enrollment process