High-performance summer soccer camps for advanced/elite soccer players from 10 - 17 years old who'd like to spend a couple of weeks of the summer in sunny Arizona, USA learning to play according to the famously successful methodology of FC Barcelona.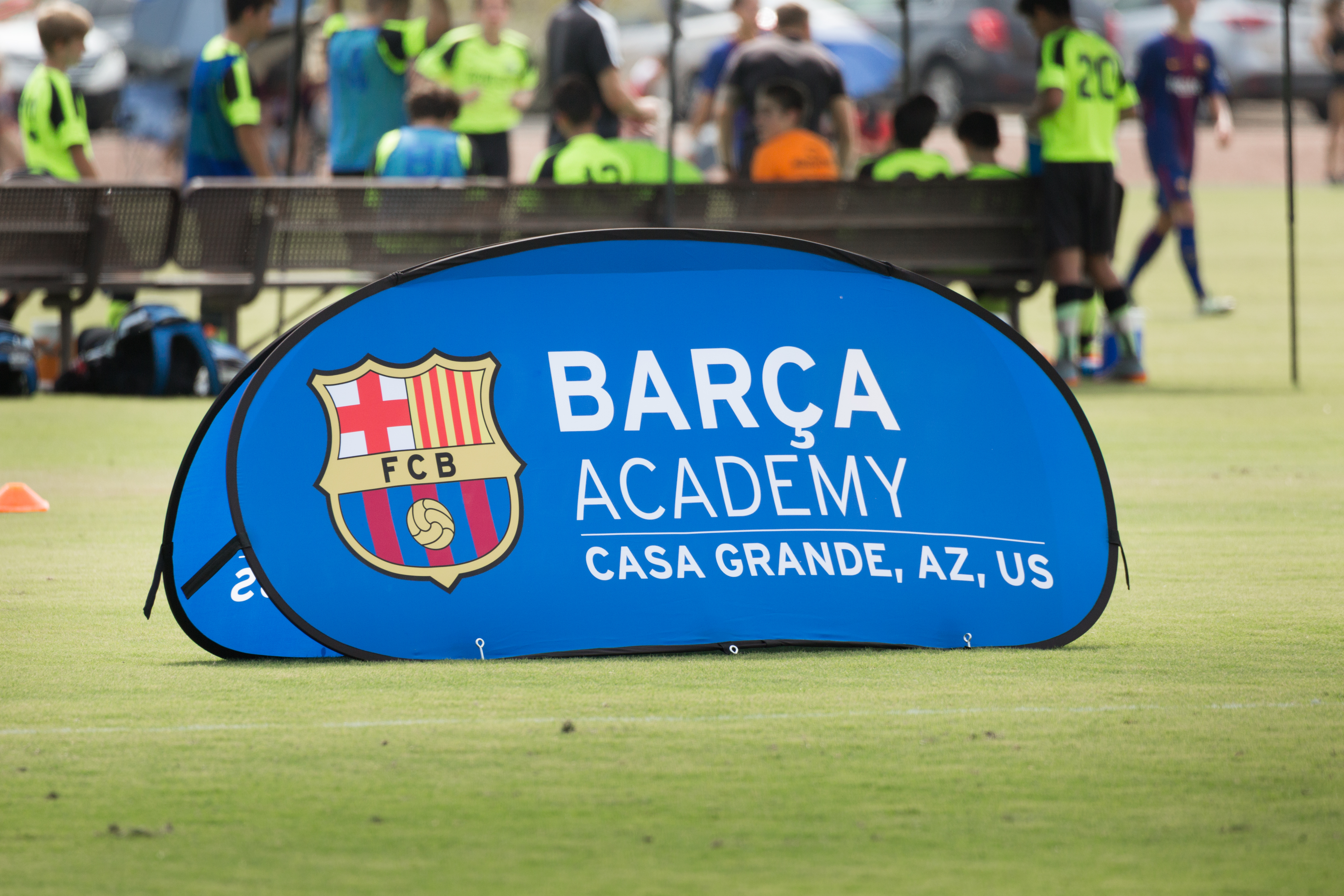 Are you interested in this program?
Download some information about this program and read it at anytime.
Overview
Location: Casa Grande, Arizona, USA
Ages: 10 - 17 years old (program options for boys and girls)
Levels: Advanced/elite
The FC Barcelona High-performance Summer Soccer Camps take place in Casa Grande, Arizona one of the most successful residential soccer academy in the USA. In fact, it's the only full-time residential US Soccer Development Academy (USSDA) in the US partnered with a top international professional team, FC Barcelona. Every full-time student who has passed through the academy has earned a scholarship or a professional contract.
The high-performance summer soccer camps at the FC Barcelona Academy in Arizona are designed for advanced/elite soccer players who'd like to spend one or more weeks of the summer learning to play following the philosophy of FC Barcelona. Coaches come straight from La Masía youth academy in Barcelona to teach the students about the club's famously successful methodology. The academy's summer soccer camps are also the perfect opportunity to try out for the academy's full-year program. Would you like to learn FC Barcelona's secret formula for success?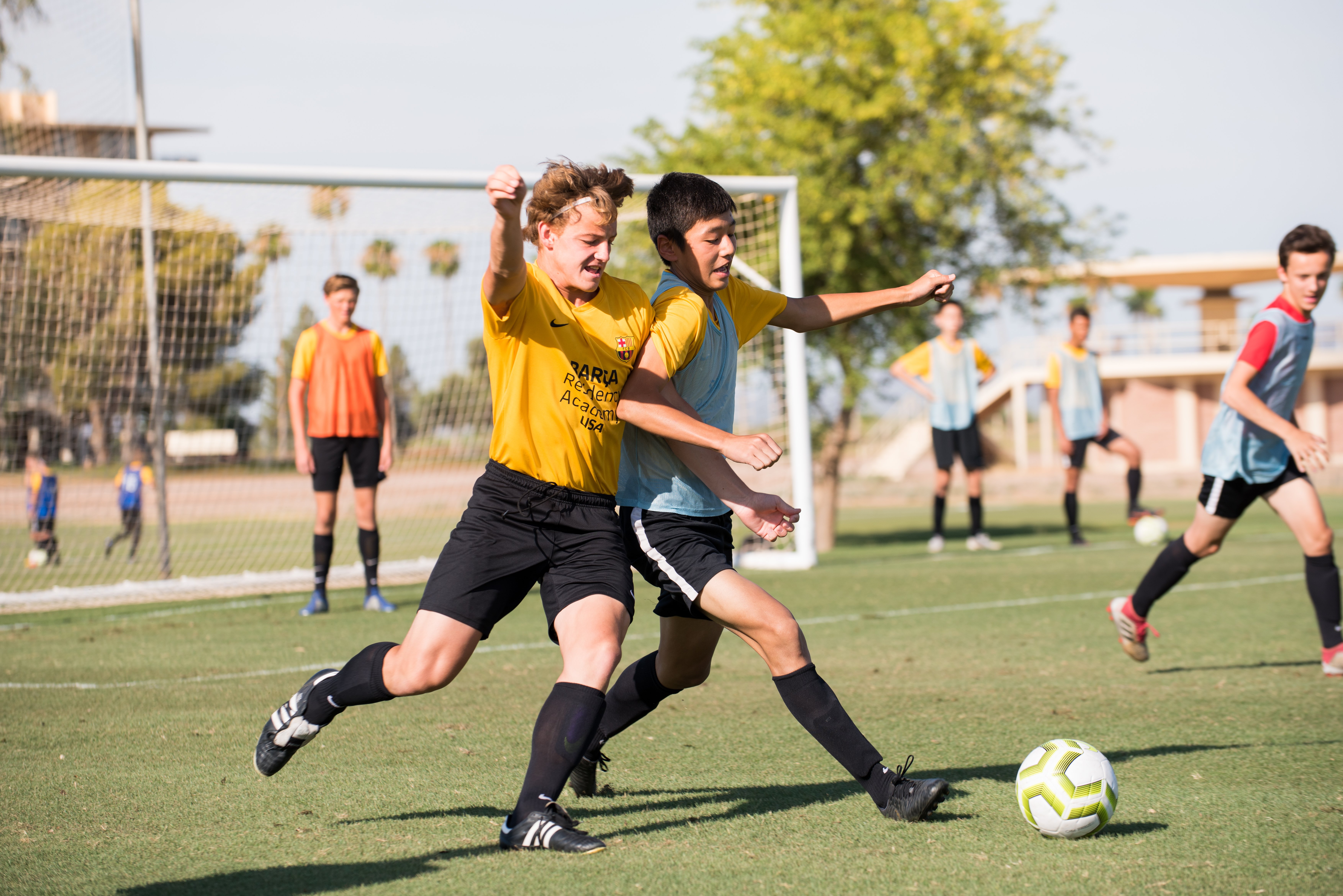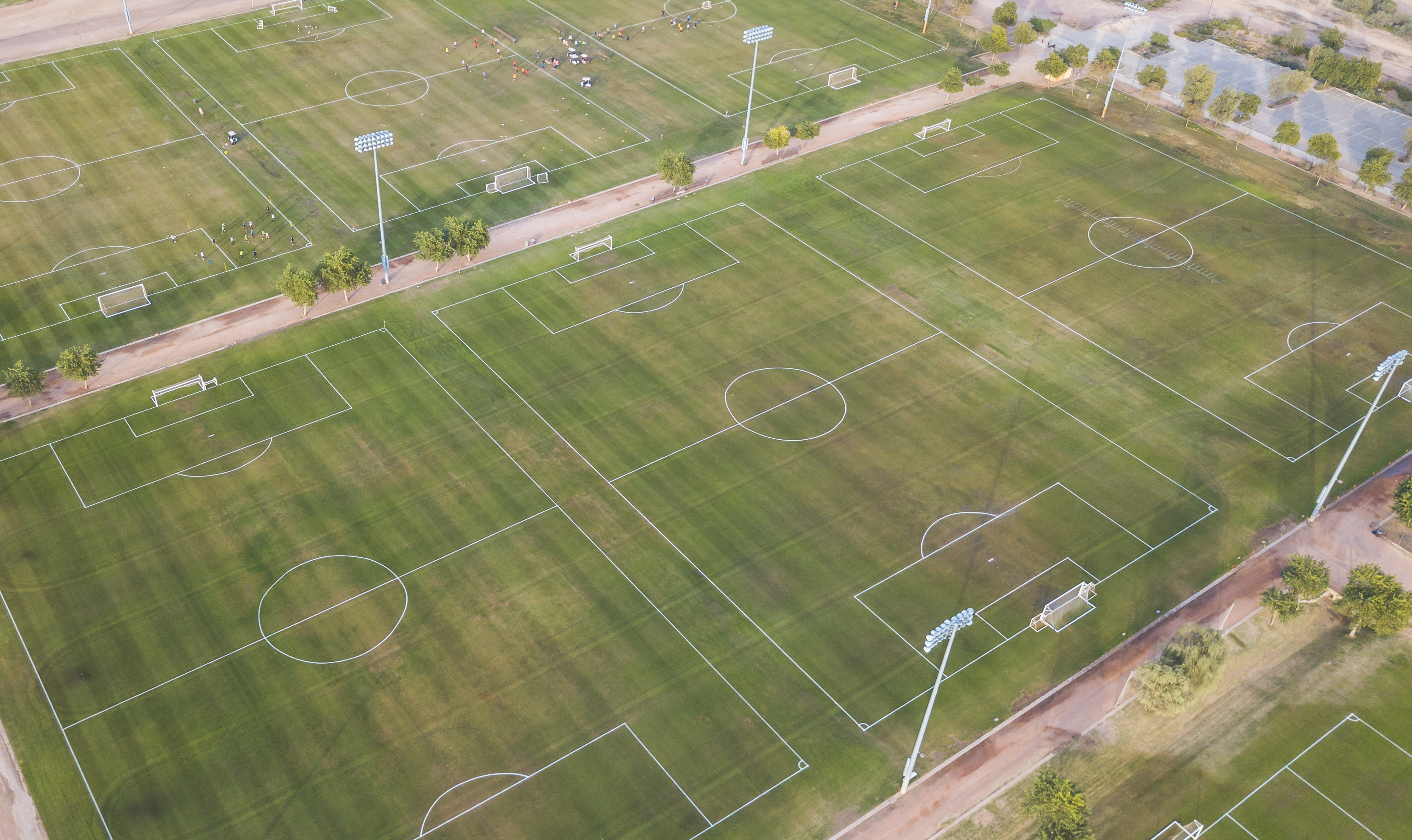 Primary Summer Camp Programs
Program
Program type
Training level
Training Intensity
Players level
Language classes
Accommodation quality
Training facilities quality
Price
FC Barcelona High Performance Summer Soccer Camp in Arizona (USA)
Players or goalkeepers (Boys only)
5/5
4/5
3/5
NO
5/5
5/5
from $ 3001
for 1 week
Academy / Club history
The FC Barcelona High-performance Academy is the result of a partnership between FC Barcelona, one of the greatest soccer clubs in the world, and the Grande Sports Academy of the United States Soccer Development Academy (USSDA). It's the only full-time residential academy in the US partnered with a top international soccer club.
Since the Grande Sports Academy was established in 2010, they've celebrated incredible success. Every alumnus to pass through the academy has either earned a scholarship to compete on a US collegiate team or signed a professional contract. Their success has earned them a stellar reputation with collegiate coaches and professional coaches throughout the country. If you'd like to build your resume to further your soccer career in the US, the FC Barcelona High-performance Academy in Arizona is the right choice for you.
Training
Skill level: Advanced/Elite
Other soccer education features: Same training regime as students at La Masia, Personal evaluation at the conclusion of camp
Students per training group: 16 - 20 students
Training language: Training is always in English (Some coaches speak Spanish)
Training intensity: 4/5
Training at the academy is entirely based on FC Barcelona's highly successful methodology and philosophy. In fact, academy coaches come directly from La Masía to teach participants FC Barcelona's secret formula for success. The High-performance Summer Soccer Camps at the academy present the perfect opportunity for young, talented soccer players to learn what makes the club so successful.
Summer camp participants work on their technique, game intelligence, and physical fitness and practice the same drills and methods as full-time students at La Masía. They practice on exceptionally well-kept grass fields and use the academy's indoor training gym to work on technique during the hotter hours of the day. Coaches also organize didactic scrimmages to develop the participants' game intelligence and help them see the field through the eyes of an FC Barcelona soccer player.
After a couple of weeks of intensive training with FC Barcelona coaches alongside some of the country's most talented young athletes, participants greatly improve their technique, vision, game intelligence, physical fitness, and speed of play.
Training Facilities
Training surface: Natural turf
Additional training facilities: Performance center (open space for training and gym equipment for physical conditioning), Hot and cold plunge pools, Physical therapy center, Professional caliber locker rooms
Quality of training facilities: 5/5
The training facilities at the FC Barcelona High-performance Academy are among the best in the country. In fact, US Soccer has named them the "Best training facilities" three years in a row. The participants practice on beautiful, well-groomed grass fields and make use of the academy's 58,000 square foot state-of-the-art performance center for technical training and conditioning.
Coaches
Licenses: A USSF (US Soccer Federation) Licence, UEFA (Union of European Football Associations) Pro License
Coaching experience: 8+ years coaching youth FC Barcelona teams at La Masía, 10+ years coaching America's best youth teams
Playing experience: Professional playing experience
Languages: English and Spanish
The coaching staff at the FC Barcelona High-performance Academy includes both official US Soccer Development Academy (USSDA) coaches and official FC Barcelona coaches. The coaches affiliated with the USSDA have over 10 years of experience coaching America's best youth soccer teams. The official FC Barcelona coaches have over 8 years of experience coaching youth teams at La Masía.
All coaches teach according to FC Barcelona's methodology and philosophy. In fact, official club directors visit the academy twice a year to make sure the coaches are following the club's guidelines.
Camp Schedule
The following schedule demonstrates a typical day at camp. The exact camp schedule will most likely vary from day to day.
Typical camp schedule
Schedule:
6:45 AM - 7:30 AM Dining Commons for breakfast
7:30 AM Locker room to change for training
8:00 AM - 9:30 AM Field training - Creating/Occupation of space class
10:00 AM - 11:30 AM Field training
11:30 AM - 12:30 AM Dining Commons for lunch
1:30 AM Mandatory rest in assigned rooms
2:00 PM - 4:00 PM Performance center for soccer tennis
4:30 PM - 5:30 PM Mandatory rest in assigned rooms
5:30 PM Locker room to change for training
6:00 PM - 7:30 PM Field training - Ball movement class
8:00 PM Dining Commons for dinner
9:00 PM Assigned rooms - Lights out
Accommodation
Name of the facilities: Francisco Grande Hotel and Golf Resort
Location (distance from training facilities): Adjacent to the fields (balcony view of training fields) - on the same campus
Types of rooms: Double rooms (each with 2 queen beds) - 2 students per room
Bathrooms (private or shared): Private
Quality of accommodation: 4.5/5
The participants find accommodation at the Francisco Grande Hotel and Golf Resort - a nine-story, tower-style hotel located adjacent to the academy's training fields and golf course.
During the academy's high-performance summer soccer camps, the academy reserves a couple of floors exclusively for camp participants. They stay in comfortable and spacious double rooms which include two queen-size double beds, a flat-screen TV, closet space, and a beautiful private bathroom with marble countertops. Each room in the tower also has a spacious, inviting balcony with expansive views of the soccer fields, golf course, and Arizona mountains.
Common areas in the residence include the hotel lobby, an outdoor swimming pool (in the shape of a baseball bat), a restaurant and dining area, and various conference rooms.
While at camp, the participants enjoy nutritious and delicious buffet-style dining. All meals are specially prepared with young athletes in mind to make sure they get the energy they need to perform their best. The academy also accommodates various special menu options such as vegetarian, gluten-free, vegan, etc.
Safety
The academy's location is one of it's strongest assets in terms of safety. The campus is located 5 miles outside of the city of Casa Grande, and all of the facilities are located on the same campus. The training sessions are just a few minutes walk from the residence. In fact, they can see the training fields from their hotel room balcony.
The FC Barcelona High-performance Academy takes safety seriously. They employ 135 staff members (with required background checks) to look after the participants during their stay. Monitors perform room checks every night and call roll every morning so they know where the participants are at all times.
The academy also makes sure an athletic trainer and a physical therapist are on-site as the participants train. That way they can attend to injuries quickly. In the event of serious injury or illness, the nearest hospital is located just 8 miles away.
Prices and Dates
These courses are subject to a registration fee of $ 100 (101 € or £ 87).
The official rate of this program is determined in US DOLLARS so the final amount in other currencies may vary slightly due to currency fluctuation.
Starting Dates
Summer Soccer Camp
Improved booking conditions for all camps
This 2024 make your reservation more easily and with less risk
We´ve lowered the deposit required to reserve your camp to just 500€
Free cancellation until March 1st
Money-back guarantee within 10 days
Optional insurances

*Please note that if a visa is required to attend camp, it will be necessary to pay the total amount of the program

*Special conditions valid for all 2024 summer camp reservations except for the Barça USA camp, which will follow the general terms and conditions.
Extra Services
You can purchase one of the extra services below at an additional cost.
Camp Insurance

We offer two insurance options based on your needs:

Cancellation and Interruption Insurance: This option allows you to get your money back if you have to cancel or interrupt the camp for any justified reason, including injury or illness of participants both before and during the camp (the policy contains 35 different causes for justified cancellations).
Travel/Medical Insurance: With this insurance policy, you will be covered for medical assistance abroad and possible expenses caused by health-related issues, as well as other contingencies such as lost luggage or an unforeseen flight change.

Download the following PDF to learn more about each insurance options terms and conditions, coverage features, and price.

Camp Insurance


Transfer Service:

There are two types of transfer services available that we´ll detail for you below:

Standard transfer service: the camp offers an optional transfer service for participants who request it from the nearest airport to the residence (or vice versa). Check with Ertheo for schedules and prices for this service.
Special transfer with additional unaccompanied minor service: participants who fly to camp alone and have contracted the unaccompanied minor service with their airline must hire this special transfer with accompaniment so that the child isn´t left alone in the airport. Check with Ertheo for schedules and prices of this service.
Contact Ertheo for prices and additional information.
Nearest airport / train station:
Phoenix Sky Harbor International Airport (PHX)
Transportation to the camp (flights/trains) is not included in the price of our programs.
Advice from Ertheo
This program presents the perfect opportunity for advanced/elite young soccer players to learn FC Barcelona's secret formula for success. Coaches, monitors, and teachers expect the young soccer players in their programs to demonstrate respect, discipline, hard work, sportsmanship, and leadership and work hard to instill these values in the students. The academy is safe and professional and features state-of-the-art training facilities and accommodation. Are you looking for a stellar program and an inspiring experience to take your game to the next level? This program is for you.
This camp is for you if
You're a fan of FC Barcelona and want to learn more about their philosophy, methodology, and style of play
You're interested in attending a full-time program at the FC Barcelona High-performance Academy
You're ideal summer vacation would be playing soccer all day at what US Soccer calls "the best training facilities in the nation"
You train at an advanced level and are used to practicing at least three times a week
This camp is NOT for you if
You are not used to training for many hours a day and/or don't play at an advanced level
You have no interest in learning according to the methodology of FC Barcelona
Other Programs Available
The academy is open all year round for their full-time students. Full-time students live, train, and study at the academy as they prepare to compete at a collegiate, semi-professional or professional level.
Click here for more info
Sign up
Clients who contact Ertheo before booking a camp or program are much more satisfied with their overall experience.
Option 1
(RECOMMENDED)*
1. Click Ask Ertheo if you have a question or would like to learn more about this program
2. Discuss your questions or concerns with one of our Sports Program Consultants via telephone or email
3. Select a program and receive a personalized quote
4. Make the first payment to start the enrollment process
Option 2
1. Click Sign up now to receive a personalized quote
2. Receive a personalized quote along with additional information about the program
3. Make the first payment to start the enrollment process