For young athletes (intermediate/advanced/elite, boys, 12 to 21 years old). Intensive 2 week summer soccer camps with coaches of the very best standard. Recommended only for physically fit, dedicated athletes.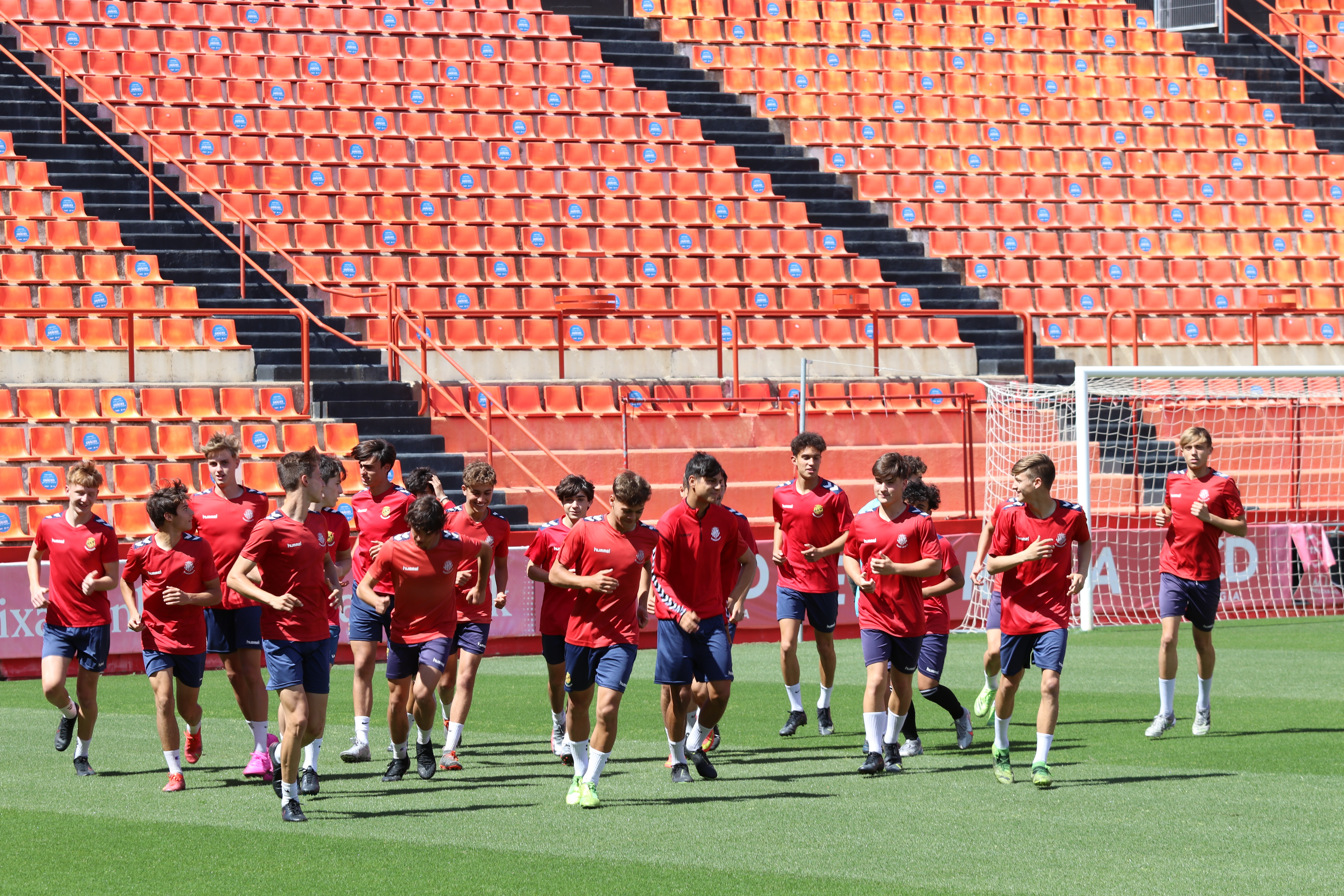 Are you interested in this program?
Download some information about this program and read it at anytime.
Overview
Location: Catalonia, Spain
Age range: From 12 to 21 years of age
Levels: Intermediate, advanced, or elite
This international camp is developed by the Catalonia High-Performance Academy and designed for outfield players and goalkeepers between 12 and 21 years of age who play at an intermediate, advanced, or elite level.
It is a highly-demanding camp that provides an integral and comprehensive training programme for those who are looking to take their football skills to the next level. You can choose from two or four-week programmes.
Students will be staying in a quiet and safe location just 40 minutes from El Prat Airport, but away from all the hustle and bustle.
The camp also offers recreational activities and field trips for students to make the most out of their free time, as well as an optional English or Spanish language course.
Moreover, the Catalonia High-Performance Academy offers long-term programmes for students who wish to continue their academic and football training once the camp is over.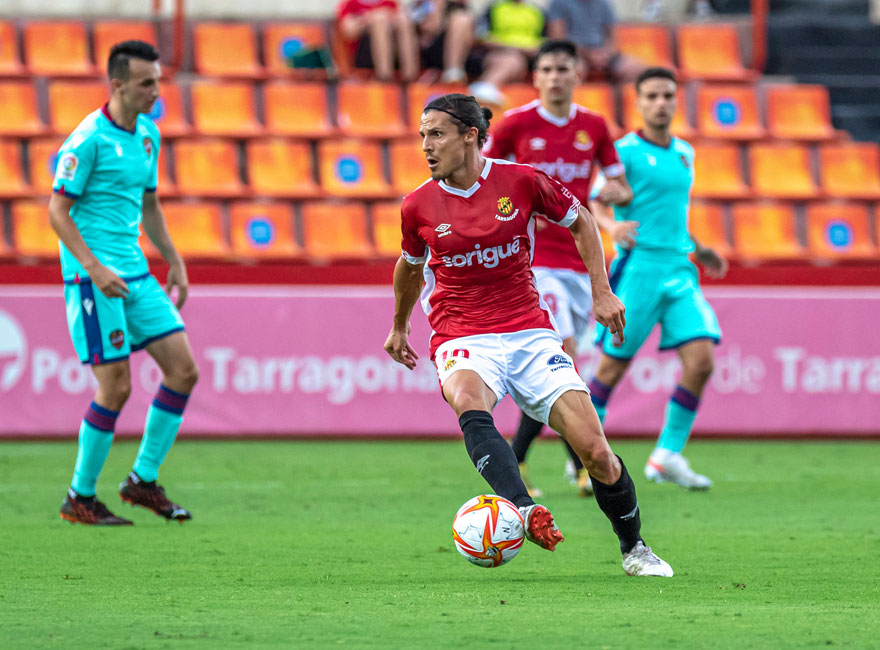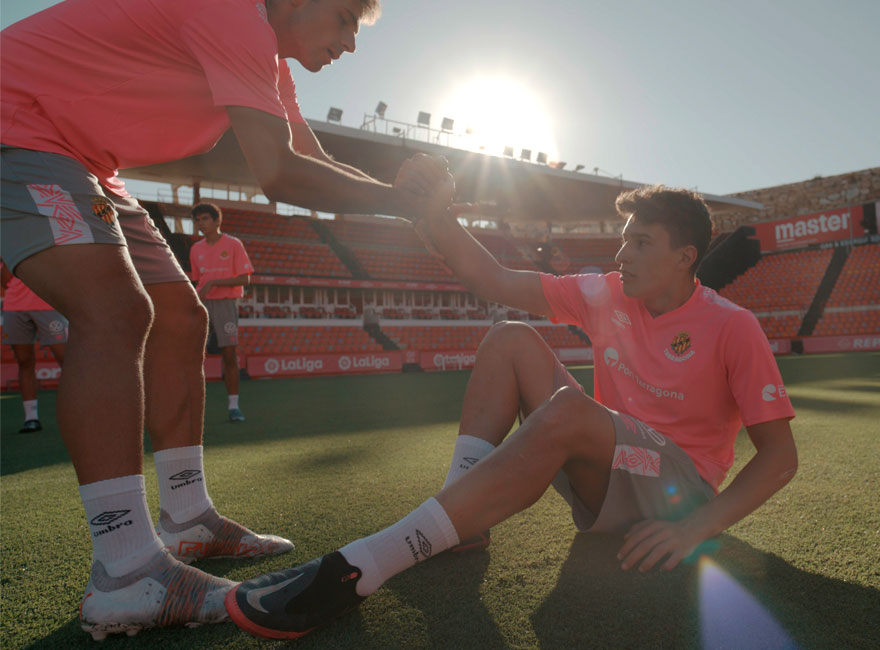 Primary Summer Camp Programs
| | | | | | | | | |
| --- | --- | --- | --- | --- | --- | --- | --- | --- |
| Program | Program type | Training level | Training Intensity | Players level | Language classes | Accommodation quality | Training facilities quality | Price |
| High performance football camp Catalonia (14 to 21 years old) | Players or goalkeepers (Only boys) | 3/5 | 3/5 | 3/5 | Optional: ENGLISH or SPANISH | 4.5/5 | 4/5 | |
Academy / Club history
The Catalonia High-Performance Academy works in close collaboration with the historic Nástic Tarragona, the third most important football club in Catalonia and one of the oldest in the country, founded in 1886.
Both entities are largely concerned with providing football training to young players, and recognize the vital importance of academic and personal development for athletes to be able to forge a solid professional career and increase their chances of success in the future.
Their teaching methodology and sports programmes, adapted to Spanish League gameplay, prepare football players for the highest level of competition, tactically, physically, and mentally.
Training
Skill level: Intermediate, advanced, or elite
Other soccer education features: Seminars, competitions, recovery sessions, and injury prevention practices
Students per training group: Up to 15
Training language: Spanish
Training intensity: 4/5
The Catalonia camp offers a professional high-performance training programme that is intensive, demanding, and tailored to students' needs.
This innovative programme combines the most successful educational methods of European football taught by a professional coaching staff, with the physical and mental conditioning systems adopted by top-level university athletes in the United States.
Although a certain level of fitness and skill is required, what we value most is a positive attitude, willingness to listen and learn from our coaches, as well as a relentless dedication to improvement.
This is an extremely demanding programme that constantly forces our players to break out of their comfort zones and face new physical and mental challenges in order to surpass themselves. Here you will learn how to train, think, focus, eat, and rest in the way professional football players do.
Our training sessions consist of technical, tactical, and strategic exercises together with fitness, recovery, and injury prevention practices. We also hold in-house tournaments to effectively implement what has been learned.
Training Facilities
Training surface: Artificial grass
Additional training facilities: Gym, video-analysis room, and conference room
Quality: 4/5
Training sessions are carried out daily at the campus' sports facilities. On occasion, some may be held at the beach or at the official facilities of Nástic Tarragona.
The onsite sports facilities have been specially designed for high-performance athlete training. They feature a UEFA-size training pitch, a gym, a medical office, a physiotherapy room, swimming pools (indoor and outdoor), video-analysis rooms, and a running track.
There are also paddle courts, a cafeteria, and different communal areas for students to use during their free time.
In 2021, the academy invested around 2 million euros and underwent a major renovation project to update and improve both the accommodation and the sports facilities.
Coaches
Licenses: UEFA
Training language: Spanish
Language spoken by the coaches: Native Spanish speakers with an intermediate level of English
The coaching staff at the Catalonia High-Performance Academy is made up of an expert team of UEFA certified professionals who have extensive experience training the youth ranks of Nástic Tarragona, one of the most important and historic clubs in Catalonia. Their main goal is to provide a professional and demanding work environment in which players can further develop their football skills and reach their full potential.
The academy also works with a sports coordinator who is a coach with significant experience training top-level university athletes in the United States. He is responsible for complementing students' football training with a first-class physical conditioning programme to improve their athletic performance and get them to competition level.
Language Classes
Native teachers: Yes
Hours per week: 7.5 hours per week
Quality of the classes: 3,5/5
The Catalonia High-Performance Football Camp offers optional English or Spanish lessons.
Students who choose to take the optional language course will have 1.5-hour lessons every day, taught by native teachers.
These language classes are mainly focused on improving students' communication skills (speaking and listening comprehension).
Every lesson will be football-oriented to ensure a successful learning experience, attracting the interest of students and encouraging their participation.
Camp Schedule
The following schedule demonstrates a typical day at camp. The exact camp schedule will most likely vary from day to day.
Typical camp schedule
Schedule:
8:00 Wake Up Call
8:30 Breakfast
9:30 1st Training Session
13:30 Break
14:00 Lunch
15:00 Language Lessons
17:00 Break
17:30 2nd Training Session/Football Workshops
20:00 Break
20:30 Dinner
21:30 Leisure Time
23:00 Bedtime
Field Trips
The two-week programme includes two full-day and two half-day scheduled field trips:
Visit to the Port Aventura Amusement Park
Visit to a water park
Visit to Camp Nou
Visit to the Nástic Tarragona facilities
Accommodation
Name of the facilities: Camp Joliu Residence
Location (distance from training facilities): All facilities are onsite
Types of rooms: Shared rooms (doubles or triples)
Bathrooms (private or shared): One shared bathroom for every 4/6 students
Quality: 4/5
The Catalonia High-Performance Academy is located at the Camp Joliu campus, which is one of the most important international schools in the region. It is a quiet and secluded location surrounded by extensive fields. Although it's situated away from the hustle and bustle, it is still strategically close to Barcelona, just 40 minutes from El Prat Airport and from the city center.
The campus provides an excellent learning environment, specially designed for personal growth and competitive, high-performance athletic development. All camp facilities are onsite. The residence can accommodate up to 100 students in double and triple rooms, which were refurbished in 2021. It also features a UEFA-size football pitch, a school, two swimming pools, paddle courts, a cafeteria, a restaurant, video-analysis rooms, and communal areas, among other facilities.
Safety
The camp takes place in a very quiet and safe location in Catalonia, surrounded by countryside and away from large urban areas.
All camp facilities are onsite, including training sessions and language classes. There is no need for transfers! Students will only leave the premises to attend scheduled field trips, where they will be accompanied by the supervision team responsible for ensuring everyone's safety.
On the campus, students are monitored 24/7.
On the first and the last days, the academy offers an optional transfer service for students who are travelling alone and wish to be accompanied by a supervisor.
Prices and Dates
Improved booking conditions for all camps
This 2024 make your reservation more easily and with less risk
We´ve lowered the deposit required to reserve your camp to just 500€
Free cancellation until March 1st
Money-back guarantee within 10 days
Optional anti-covid insurance

*Please note that if a visa is required to attend camp, it will be necessary to pay the total amount of the program

*Special conditions valid for all 2024 summer camp reservations except for the Barça USA camp, which will follow the general terms and conditions.
Extra Services
You can purchase one of the extra services below at an additional cost.
Camp Insurance

We offer two insurance options based on your needs:

Cancellation and Interruption Insurance: This option allows you to get your money back if you have to cancel or interrupt the camp for any justified reason, including injury or illness of participants both before and during the camp (the policy contains 35 different causes for justified cancellations).
Travel/Medical Insurance: With this insurance policy, you will be covered for medical assistance abroad and possible expenses caused by health-related issues, as well as other contingencies such as lost luggage or an unforeseen flight change.

Download the following PDF to learn more about each insurance options terms and conditions, coverage features, and price.

Camp Insurance


Transfer Service:

There are two types of transfer services available that we´ll detail for you below:

Standard transfer service: the camp offers an optional transfer service for participants who request it from the nearest airport to the residence (or vice versa). Check with Ertheo for schedules and prices for this service.
Special transfer with additional unaccompanied minor service: participants who fly to camp alone and have contracted the unaccompanied minor service with their airline must hire this special transfer with accompaniment so that the child isn´t left alone in the airport. Check with Ertheo for schedules and prices of this service.
Contact Ertheo for prices and additional information.
Transportation to the camp (flights/trains) is not included in the price of our programs.
Advice from Ertheo
This camp is perfect for players who are committed to improvement and are willing to leave their comfort zone and give their best to take their football skills to the next level.
It provides an excellent football training programme and fosters the values of discipline and hard work necessary to cultivate talent and turn it into future success.
The camp is run by an amazing team of highly experienced professionals, with close ties to the renowned Nástic Tarragona.
There are also long-term programmes available for students who wish to continue their academic and football training at the academy.
This camp is for you if
If you are looking for high-performance football training with advanced-level players
If you are looking for a long-term academy to develop your skills as a footballer
If you wish to prepare yourself to study and compete at an American university
If you want to live a unique experience of personal growth
This camp is NOT for you if
If you are still at a beginner level or you only play football as a hobby
If you are looking for a camp with lots of leisure and recreational activities
Sign up
Clients who contact Ertheo before booking a camp or program are much more satisfied with their overall experience.
Option 1
(RECOMMENDED)*
1. Click Ask Ertheo if you have a question or would like to learn more about this program
2. Discuss your questions or concerns with one of our Sports Program Consultants via telephone or email
3. Select a program and receive a personalized quote
4. Make the first payment to start the enrollment process
Option 2
1. Click Sign up now to receive a personalized quote
2. Receive a personalized quote along with additional information about the program
3. Make the first payment to start the enrollment process