For young athletes (intermediate/advanced, boys and girls, 9 to 13 years old). Less intensive high-performance soccer camps. Ideal for young, serious athletes.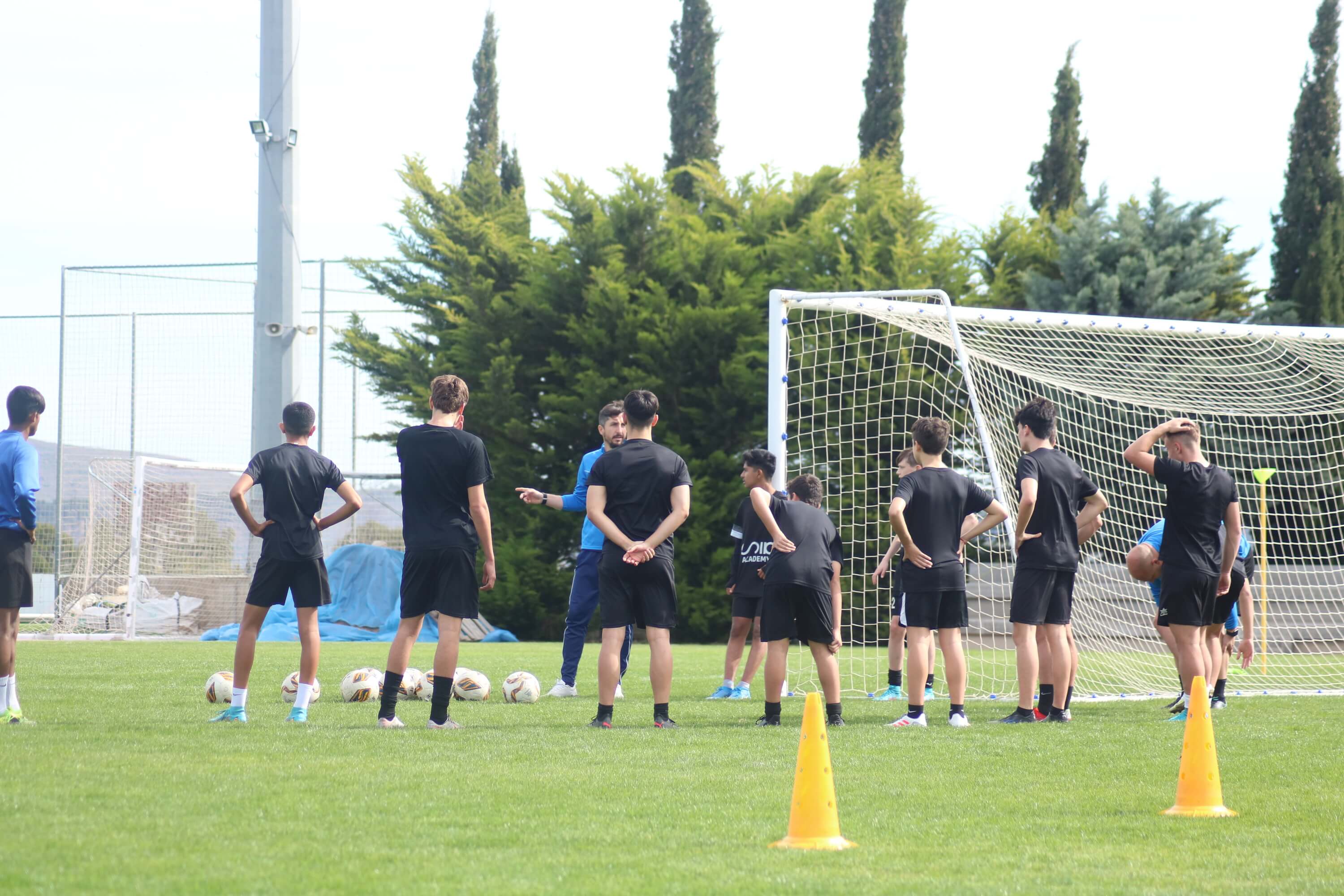 Overview
Location: Enguera, Valencia, Spain
Ages and genders: 9 - 13 years old, boys and girls
Levels: Intermediate/Advanced
The FC Porto Valencia High-performance Summer Soccer Camps take place in Enguera, Valencia, Spain from late June to early August. The academy offers boys and girls from 9 - 13 years old the chance to experience professional-style training and learn the methodology and philosophy of the world-famous Portuguese soccer club.

These high-performance summer soccer camps in Enguera, Valencia present the perfect opportunity for intermediate and advanced soccer players to take advantage of their summer vacation to improve their skills. Camp participants work on their individual skills, technique, precision and power of shots, progression of passing skills, as well as match preparation.

Participants also learn about proper nutrition and sports psychology. Not to mention, the FC Porto Valencia High-performance Academy features state-of-the-art facilities fit for professional soccer clubs. In fact, FC Porto along with other prestigious clubs use the facilities to train while they're on the road. Do you want to train like a pro?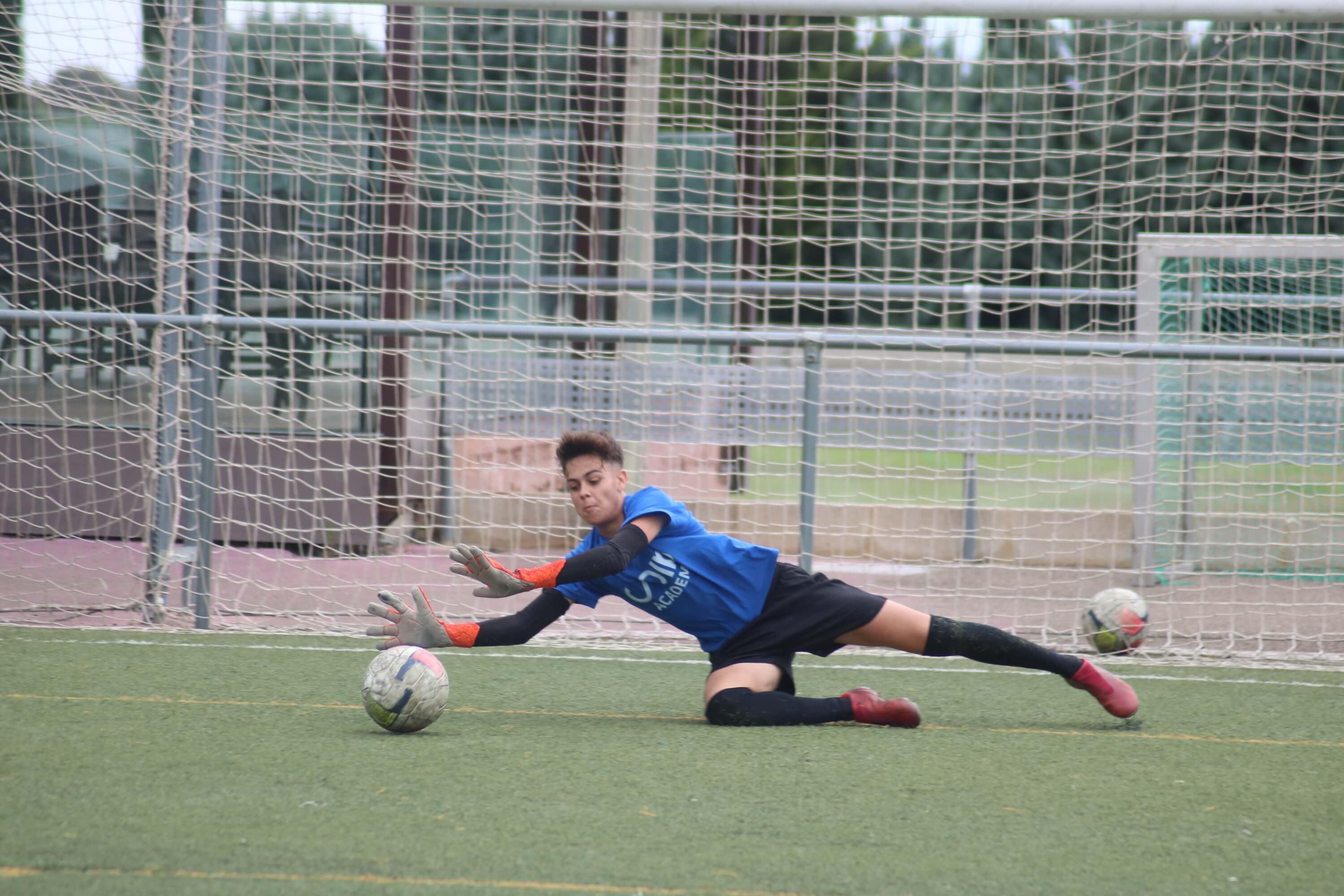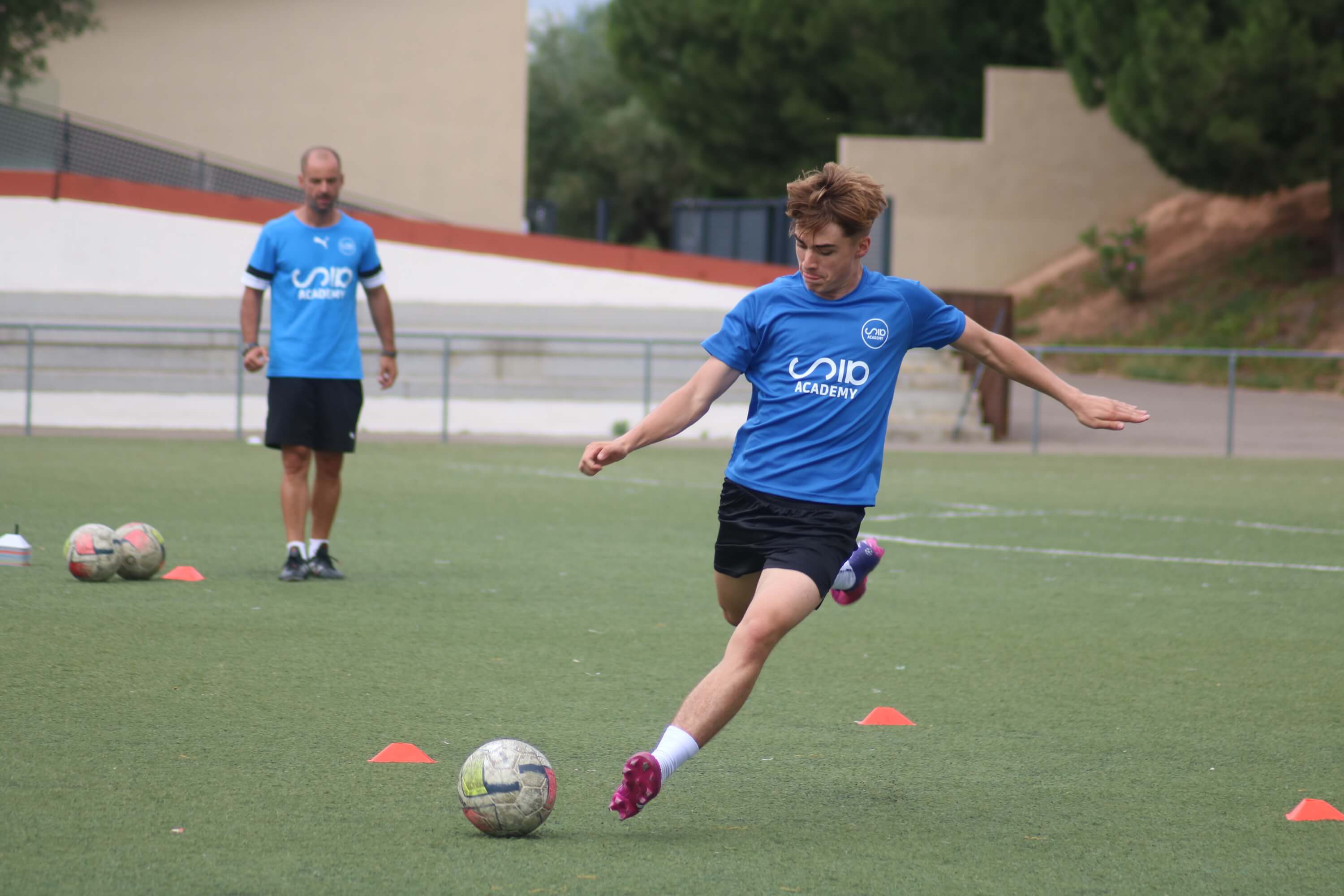 Primary Summer Camp Programs Options
Program
Program type
Training level
Training Intensity
Players level
Language classes
Accommodation quality
Training facilities quality
Price
FC Porto Valencia high performance football summer camps (12-21 years)
Players or goalkeepers. (Mixed)
4/5
4/5
4/5
NO
4.5/5
4/5
from 1405 €
for 1 week
Academy / Club history
The FC Porto Valencia High-performance Academy stands out for its affiliation with FC Porto, a top-flight Portuguese team. All coaches at the academy are official coaches from the club and teach according to the FC Porto methodology. Additionally, the academy provides FC Porto try-out opportunities for their full-year students - a great opportunity for soccer players interested in eventually playing professionally.

Full-time students at the academy compete on the academy's youth team called FC Porto Dragon Force, a project started by FC Porto to support the growth and development of youth players.

The academy features stellar facilities fit for professional football clubs. In fact, FC Porto and other world-renowned football clubs use the academy for training and a place to stay while on the road. Would you like to train in facilities fit for a pro?
Training
Skill level: Intermediate to advanced
Other soccer education features: Video Analysis, Nutritional Seminars, Sport Psychology Workshops
Students per training group: 15 students per group on average
Training language: Spanish, English, and Portuguese
Intensity of training: 4/5
Training at the FC Porto Valencia High-performance Summer Soccer Camps is suitable for intermediate to advanced players who are dedicated to improving their skills.

Official FC Porto coaches teach the participants according to their methodology called Tactical Periodization. With Tactical Periodization, participants learn according to different phases of match play - attacking, defending, and transitioning from offense to defense and vice versa.

The methodology was created by Vitor Frade, a retired professor from the Universidad de Oporto and the current Director of Methodology at FC Porto. Many successful coaches teach according to the Tactical Periodization methodology including José Mourinho of Manchester United, Rui Faria of Qatari Al-Duhail SC, and André Villas-Boas of Olympique de Marseille.
The FC Porto Valencia High-performance Academy also stands out for their personalized approach to training. All participants receive their own performance training reports outlining their strengths and weaknesses along with a plan for improvement.

Would you like to learn about your strengths and weaknesses so you can become a better player? Would you like to train at some of the best training facilities in the world? Contact Ertheo to find out whether the FC Porto Valencia High-performance Summer Soccer Camps are a good choice for you.
Training Facilities
Training surface: Natural and artificial turf
Additional training facilities: Gymnasium, Locker room, Physical therapy center, Medical clinic
Quality: 4/5
Training facilities at the FC Porto Valencia High-performance Academy are top-of-the-line facilities fit for professional clubs. They include a full-size natural grass field that meets FIFA's official measurements for international competitions, a full-size artificial field with 3G synthetic surface technology, and a small natural grass field for goalkeeper training and for technical training sessions.
Coaches
Licenses: UEFA Pro License and other sport and fitness certifications
Coaching experience: Experience coaching FC Porto and the FC Porto Dragon Force youth academy
Playing experience: Some coaches have played for FC Porto
Languages: Spanish (native), English (intermediate), Portuguese (native)
Coaches at the FC Porto Valencia High-performance Academy are all trained by FC Porto, a world-renowned Portuguese soccer club. They have experience training the academy's full-time students and coaching the academy's FC Porto youth team known as FC Porto Dragon Force. Some of the coaches' most successful alumni include Rubén Neves of Wolverhampton Wanderers FC and Andre Silva of AC Milan.

Additionally, all coaches (with the exception of two) speak excellent English. Many coaches also speak Portuguese, French, and Valencian in addition to Spanish and English. The academy also has nutritionists and dieticians on staff to educate the participants about healthy eating habits for young athletes and to prepare healthy meals for them during their stay at the academy.
Camp Schedule
The following schedule demonstrates a typical day at camp. The exact camp schedule will most likely vary from day to day.
Typical camp schedule
Schedule:
09:00 AM Warm-up
09:30 AM Shooting on goal
10:00 AM Friendly training scrimmage
10:30 AM Snack
11:30 AM Video analysis
12:00 PM Competition training
1:30 PM Lunch
3:00 PM Nutrition / psychology training
4:00 PM Language learning activity
5:00 PM Passing training
5:30 PM Competition training
7:00 PM Shower
8:00 PM Dinner and rest
Accommodation
Name of the facilities: FC Porto Valencia High-performance Academy Student Residence
Location (distance from training facilities): 1 minute by foot
Types of rooms: Double or triple rooms (sleeps 2 - 3 students), Single/twin bed for each participant.
Bathrooms (private or shared): One private bathroom per room.
Quality: 4/5
Participants at the FC Porto Valencia High-performance Summer Soccer Camps find accommodation at the academy's own student residence which is located right next to the training facilities. Participants can wake up, get dressed, and walk straight to the training fields.

They stay in comfortable, air-conditioned double or triple rooms with private bathrooms. The rooms have closet space for the participants to store their belongings as well as desk space for them to complete any assignments they might have during their stay.

Common areas in the residence include a lounge with a TV and a game room which includes a Ping-Pong table, billiards, and a video game console for the participants' enjoyment. The residence also has free Wi-Fi so they can use their personal laptops and/or contact their families during their free time.

Participants enjoy buffet-style meals served on-site. All meals are carefully prepared for them by qualified dieticians.

Lastly, residence staff is available at all times to assist the participants with anything they might need while at the residence.
Safety
The academy's location is one of its strongest assets in terms of safety. It's located in Enguera, Valencia, Spain. Spain is considered a safe country, ranked 17 out of 162 on Safe Around's Country Safety Index. Enguera is a small town outside of Valencia, Spain with just under 5,000 inhabitants. The academy's location is quiet and peaceful.

All of the facilities at the FC Porto Valencia High-performance Academy are located on the same campus which means the participants don't need to travel to and from their training sessions.

Finally, the academy also employs athletic trainers and physical trainers for the participants in the event of injury. They have their own medical clinic and physical therapy center.
Prices and Dates
The official rate of this program is determined in EUROS so the final amount in other currencies may vary slightly due to currency fluctuation.
Starting Dates
Valencia High Performance (12-21 years old)
Improved booking conditions for all camps
This 2024 make your reservation more easily and with less risk
We´ve lowered the deposit required to reserve your camp to just 500€
Free cancellation until March 1st
Money-back guarantee within 10 days
Optional anti-covid insurance

*Please note that if a visa is required to attend camp, it will be necessary to pay the total amount of the program

*Special conditions valid for all 2024 summer camp reservations except for the Barça USA camp, which will follow the general terms and conditions.
Extra Services
You can purchase one of the extra services below at an additional cost.
Camp Insurance

We offer two insurance options based on your needs:

Cancellation and Interruption Insurance: This option allows you to get your money back if you have to cancel or interrupt the camp for any justified reason, including injury or illness of participants both before and during the camp (the policy contains 35 different causes for justified cancellations).
Travel/Medical Insurance: With this insurance policy, you will be covered for medical assistance abroad and possible expenses caused by health-related issues, as well as other contingencies such as lost luggage or an unforeseen flight change.

Download the following PDF to learn more about each insurance options terms and conditions, coverage features, and price.

Camp Insurance


Transfer Service:

There are two types of transfer services available that we´ll detail for you below:

Standard transfer service: the camp offers an optional transfer service for participants who request it from the nearest airport to the residence (or vice versa). Check with Ertheo for schedules and prices for this service.
Special transfer with additional unaccompanied minor service: participants who fly to camp alone and have contracted the unaccompanied minor service with their airline must hire this special transfer with accompaniment so that the child isn´t left alone in the airport. Check with Ertheo for schedules and prices of this service.
Contact Ertheo for prices and additional information.
Nearest airport / train station:
Valencia Airport (VLC)
Transportation to the camp (flights/trains) is not included in the price of our programs.
Advice from Ertheo
The FC Porto Valencia High-performance Summer Soccer Camps are perfect for passionate young soccer players who train at an intermediate to advanced level and are dedicated to improving their skills. While training is not particularly intensive, participants spend many hours of the day learning about soccer both on the field and in the classroom.

These camps are also perfect for young soccer players who would enjoy training in state-of-the-art facilities fit for professional athletes. Not to mention, the academy actually hosts professional teams, which means students at the FC Porto Summer Soccer Camps reside in comfortable, luxurious rooms designed to accommodate professional athletes.
This camp is for you if
You're a fan of FC Porto and want to learn more about their philosophy, methodology, and style of play
You're interested in attending a full-time academy program at the FC Porto Valencia High-performance Academy
You train at an intermediate to advanced level and would like to practice in training facilities fit for the pros
You're an international student and would appreciate coaches being able to speak many different languages
This camp is NOT for you if
You're looking for an intensive training program suitable for advanced/elite soccer players
You have no interest in learning according to the methodology of FC Porto
Other Programs Available
The academy is open all year round for their full-time students. Full-time students live, train, and study at the academy as they prepare to compete at a collegiate, semi-professional or professional level.
Click here for more info
FC Porto Valencia High-performance Intensive Winter Programs
For intermediate to advanced soccer players (boys and girls) from 9 - 13 years old. Spend one to six weeks of the school year training alongside full-time academy students at the FC Porto High-performance Academy in Valencia. Click here for more information.
The academy is open all year round for students in the annual programme. These students live, train and study at the academy while preparing to compete at university, semi-professional or professional level.
Click here for more info
Sign up
Clients who contact Ertheo before booking a camp or program are much more satisfied with their overall experience.
Option 1
(RECOMMENDED)*
1. Click Ask Ertheo if you have a question or would like to learn more about this program
2. Discuss your questions or concerns with one of our Sports Program Consultants via telephone or email
3. Select a program and receive a personalized quote
4. Make the first payment to start the enrollment process
Option 2
1. Click Sign up now to receive a personalized quote
2. Receive a personalized quote along with additional information about the program
3. Make the first payment to start the enrollment process