Our high intensity soccer camps
If your child is good soccer player, plays on a local team and is looking for a high intensity soccer camp where he/she can improve and have a great time, don´t choose just any camp; choose a program that meets his/her needs.
The majority of training programs offer summer camps for kids of all levels and only a few high intensity camps offer a specialized program for experienced boys and girls allowing them to improve their level of play.
Differences between a high intensity camp and a standard one
The main difference between one program and another is the kid's level of participation. In this standard program many kids have a high soccer level and partake in the sport as a hobby or need to make friends as they practice their favorite sport. At the high intensity camps, all the players are federated thus having previous knowledge and a medium to high level of play.
Bellow are the three key factors that differentiate the technical training programs:
Training Intensity
The high intensity camps are more demanding for boys and girls who play on a local team, are used to exercising several hours a week and are used to an active lifestyle. So the physical daily exercises are more intense than the standard soccer programs.
Level of training
Since participants have previous strategic knowledge on how to move on a field, they have technical and strategic concepts and can better understand coaching instructions so they learn faster and effectively. This is a plus during the sessions so coaches can teach them new soccer concepts without worrying about them understanding basic tactics.
Training sessions
Training sessions at the high intensity camps are usually much longer because boys and girls are interested in soccer and don´t wish to dedicate much time to other activities. The training sessions are combined with theory workshops, which involve game visualization, and strategic workshops where they learn theory to apply in the training sessions.
What camps offer a development program?
In Spain
The Real Madrid summer soccer camp offers a high intensity program for ranked kids and the option to take language classes (English or Spanish) during part of the day.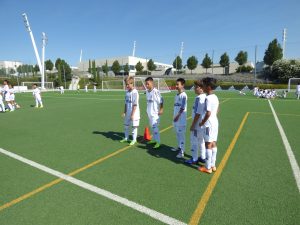 This camp takes place in Madrid and is for federated boys and girls between the ages of 10 and 17 years of age. The facilities where this camp takes place are:
Housing: At the European Madrid University.
Sports Facilities: Municipal campus in Villaviciosa de Odón and the European Madrid University Facilities.
– Training characteristics:
5 hours of training a day (from Mon. – Fri.) guided by professional Real Madrid Foundation Coaches
Groups are divided depending on age and level of play
Training is divided in three blocks: field sessions, sports education and individual improvement tests.
5 fundamental pillars of teaching: technical-tactical, physical motor skills, sports health, values and motivation.
Specific training program for goalkeepers.
To complete the experience, participants tour the Bernabeu and visit Madrid. If you think this is a good option for summer, you can check prices and dates here.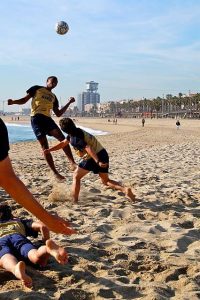 Barcelona also offers the option to participate in a high intensity camp during the summer.
The Barcelona soccer academy, is an expert in shaping players to get their best potential so they can become professional players. The program is very intense and is available for boys and girls between the ages of 6 and 21 years.
The academy has their own housing to lodge participants in their excellent sports facilities.
Training program characteristics:
To achieve fast learning and effective results, coaches create homogeneous groups in order to achieve a more personalized training. The education techniques focus on establishing daily goals so kids can improve day after day and learn the value of sacrifice and hard work in soccer. During the 40 hours of weekly training they learn to:
Improve concentration
Make decisions
Have more technique knowledge
Perceive plays and team positioning against the competition
Get rhythm and high European game intensity
As you know, the city of Barcelona is one of the most important in the world of soccer, so if this high intensity camp is something you are interested in click on the following link.
In England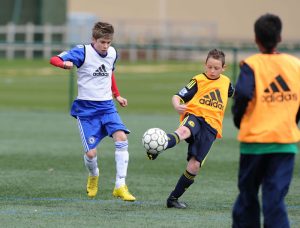 London is also offered as a high intensity camp at the Chelsea FC Foundation, which offers a summer training program for advanced soccer players. This program also has the advantage of choosing language classes for part of the day. The hours for training depend on whether language classes are chosen.
Those who choose the language class option receive 12 hours of weekly training and those who don´t choose English classes have a lighter schedule and can train up to 20 hours a week.
– General training characteristics:
Training at the Chelsea FC´s sports facilities in Cobham, Surrey.
Qualified UEFA coaches.
Intensive training.
Only for federated players.
Specific training for goalkeepers.
The experience is even better when they visit Stamford Bridge, the stadium where the Chelsea FC plays. For further information about this camp click on the following link.
Conclusion
These are all the options we offer to improve your soccer level with high-level coaches. As parents, when we send our children to a camp, we want them to learn about soccer. We search for experiences away from home that strengthen their personalities and their social interactions so they can make decisions on their own. Without a doubt, this experience is quite fulfilling in this sense.
In addition, if your child has strong objectives to improve his/her soccer level, he/she must know that the quality of training isn´t the only contributing factor, a good attitude, motivation, effort, a healthy diet and a good relationship with the rest of the group and the personnel is key.
These high intensity soccer camps work hard to create a great environment and instill values in kids to grow as soccer players and as individuals.