Ertheo Education & Sports
Football is the world's most beloved sport. As such, football boasts the most passionate fans and the most impressive sports arenas in the world. To support the sport's crazed fans and growing crowd, every team's football stadium is getting bigger and better. Each year, renovated football stadiums include more seats, better technology, and more modern and iconic infrastructures which provide fans with an overall better experience.
Ertheo presents 11 of Europe's most renowned football stadiums included the largest, most impressive, most modern, and of course, the strangest.
2 Largest Stadiums (by capacity)
Official FCB Escola Football Camp
Train with official FC Barcelona coaches & Visit Camp Nou.
Find out more about this opportunity for footballers from 11 to 17 years old to train with FC Barcelona coaches and visit Camp Nou Stadium
Capacity: 99,354 seats
Location: Barcelona, Spain
Team: FC Barcelona
Interesting facts: Camp Nou football stadium has the highest capacity in Europe with 99,354 seats. Before standing places were removed, the stadium's capacity reached over 122,000 fans.
Recent/future renovations: Camp Nou will undergo reconstruction of the first tier resulting in a steepier tier with better views. The top tier will soon extend over the whole stadium. A roof will be added to cover all seats. All the football stadium facilities will be renovated. Capacity increase slightly as the renovated stadium will have a little over 105,000 seats. Expected completion date – 2021.
2. Signal Iduna Park (Westfalenstadion)
Ertheo Sports and Education Agency
Dedicated to empowering young athletes to reach their full potential.
Discover all our football camps and programs. Click for more info.
Capacity: league capacity of 81,360 (standing and seated), international capacity of 65,829 (seated only)
Location: Dortmund, North Rhine-Westphalia, Germany
Team: Bundesliga club Borussia Dortmund
Interesting facts: Westfalenstadion football stadium holds the European record for average fan attendance. The South Bank is the largest terrace for standing spectators in European football with a capacity of 24,454 spectators.
Recent/future renovations: The newest renovations were made to prepare the stadium for the 2006 FIFA World Cup. The south stand became the largest free-standing grandstand in Europe. Fans call it "The Yellow Wall" because the home team's supporters gather wearing yellow, of course. Additionally, new under-soil heating made winter matches possible.
3 Notably Impressive Football Stadiums
AC Milan Junior Camp
Train with official AC Milan coaches in Italy.
Find out more about this opportunity for young footballers ages 7 - 17 to train like AC Milan.
Capacity: 80,018 seats
Location: Milan, Italy
Team: AC Milan and FC Internazionale
Interesting facts: It hosted six games at the 1990 Fifa World Cup and four European Cup finals including one recently in 2016. Renovation plans in the 1940s included plans to expand capacity to 150,000. Those plans fell through. San Siro is considered impressive for its size and architectural design. The cylindrical towers added in the 90s make San Siro look like some kind of spaceship.
Recent/future renovations: After the 1990 World Cup, San Siro football stadium was in need of an upgrade. Renovations included the construction of a new tier, a roof to cover all seats, and eleven cylindrical concrete towers around the stadium to support the new roof and tier.
Liverpool Football Camp
Train with official Liverpool FC coaches & VISIT ANFIELD STADIUM
Find out more about this opportunity for young footballers ages 12 - 17 to train like Liverpool.
Capacity: 54,074 seats
Location: Anfield, Liverpool, England
Team: FC Liverpool
Interesting facts: Anfield football stadium is famous for its legendary atmosphere and die-hard Liverpool fans. Liverpool's longest unbeaten streak at Anfield stadium is 85 games extended from January 1978 to January 1981. During that period, Liverpool scored 212 goals and conceded 35. Liverpool's worst losing streak at Anfield is three games.
Recent/future renovations: Most recent renovations consist of expanding the stadiums capacity.
Real Madrid Foundation Football Camp
Train with official Real Madrid coaches
Find out more about this opportunity for young footballers ages 9 - 17 to train like Real Madrid.
Capacity: 81,044 seats
Location: Madrid, Spain
Team: Real Madrid
Interesting facts: The Santiago Bernabeu football stadium is the 4th largest stadium in Europe (by capacity) and the first stadium in Europe to host both a UEFA European Championship and a FIFA World Cup final.
Recent/future renovations: The Santiago Bernabeu is currently under renovation. By 2020, the stadium will grow 10 meters in height and a roof will be added. The newly renovated stadium will have more restaurants, a shopping center, and a hotel. Some rooms will even have a view of the pitch.
3 Most Modern Football Stadiums
Capacity: 75,000 seats
Location: Munich, Bavaria, Germany
Team: FC Bayern Munich
Interesting facts: Allianz Arena is the first stadium in the world with a full color changing exterior. The panels are lit red for Bayern Munich matches, blue for TSV Buchbach matches, and white for the German national football team matches. The stadium can also display other colors and multicolor interchanging lighting schemes. Unfortunately, such displays have been known to distract drivers and cause accidents on the A9 Autobahn nearby. Therefore, the Munich Police strongly insists on using a single-colour lighting scheme.
Recent/future renovations: The Allianz Arena contains all the latest innovations. The entrance to the underground dressing rooms disappears into the ground, the stands have heating and air conditioning, and there are fantastic facilities for disabled fans. The Allianz Arena is relatively new with its first match being in 2005. Since then, 9,000 seats have been added by creating extra space at the top of the upper tier.
Capacity: 53,000 seats
Location: Bilboa, Basque Country, Spain
Team: Athletic Bilboa
Interesting facts: At the stadium's opening ceremony, various members of Athletic Bibloa's men's team, women's team, and youth academy formed a human chain and carried a piece of turf and a brick from the old stadium to the new stadium.
Renovations & Innovations: One of the key features of the San Mamés football stadium is its exterior lighting system which is similar to that of the Allianz Arena in Munich, Germany. When a goal is scored, the whole stadium lights up with flashing colors. On the outside of the stadium, a giant video screen shows a view of The Pozas which is a street running from the heart of the city to the stadium. This street is a popular walking route for fans on matchdays and is lined with bars supporting Athletic Bilboa.
8. Arena AufSchalke (Veltins-Arena)
Capacity: 62,271 (standing and seated) for league matches and 54,740 (seated only) for international matches
Location: Gelsenkirchen, North Rhine-Westphalia, Germany
Team: FC Schalke O4
Interesting facts: Two mine shafts of coal-mines run directly beneath this field at a depth of 800 meters. These mine shafts have the potential to cause unwanted shifts in the ground which could compromise the structural integrity of the stadium. To avoid these distruptions, the pitch was rotated from a North-South alignment to a Northeast-Southwest alignment so that the arena ran parallel to the mines reducing the chances of shifts and distruptions.
Renovations & Innovations: The Veltins-Arena features a slide out pitch which means that the playing field can be moved in and out of the stadium within 4 hours. This means that the grass can grow in normal natural conditions and that it doesn't suffer any damages when the stadium is used for other events such as concerts.
3 Strangest Football Stadiums in Europe
9. Ottmar Hitzfield Gspon Arena - Zermatt Switzerland
The Ottmar Hitzfeld Stadium was built right in the middle of the Alps. To be more specific it's located right on the edge of the mountains near the Swiss town of Zermatt. The ground is 2,000 metres above sea level and can only be reached by cable car.
10. Igralište Batarija Football Stadium – Trogir, Croatia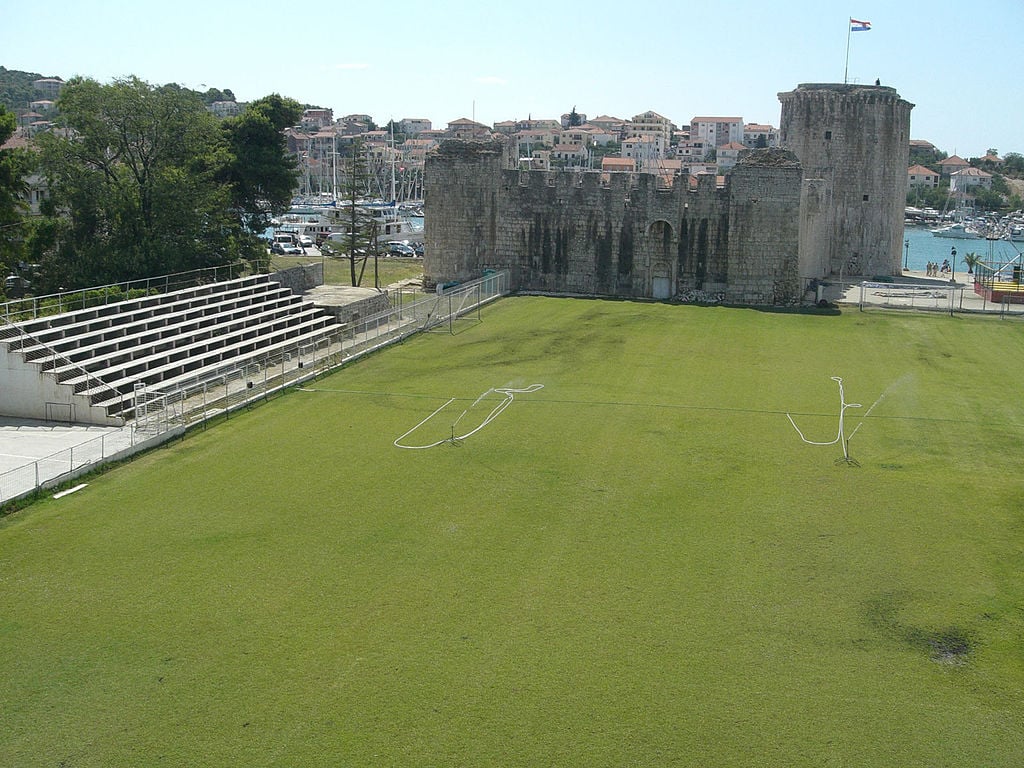 The Igralište Batarija football stadium is located between two UNESCO World Heritage sites, the Kamerlengo Castle and tower of St. Marco.
11. Municipal Stadium of Braga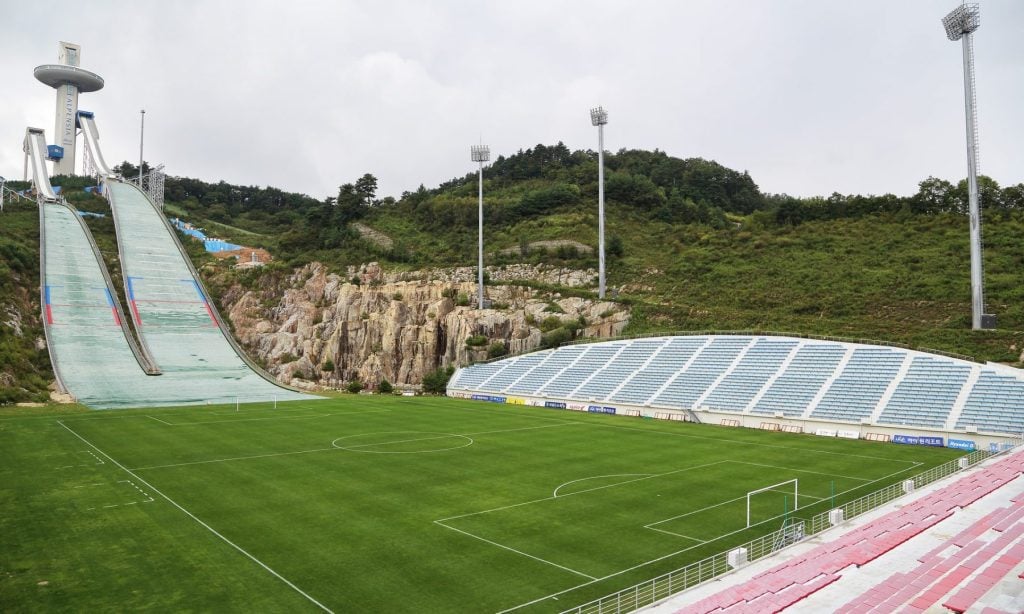 Another unusual football ground is the Municipal Stadium of Braga which was built against the side of the quarry from which the granite to build the stadium was obtained. This great idea came from the architect Eduardo Souto de Moura who, thanks to his creation won the Pritzker prize for architecture in 2011. In spite of having only two stand sections, the stadium can accommodate 30,154 spectators.
Ertheo is a sports and education agency that not only offers various different camps and programs of different kinds, but also offers expert advice to help you choose the right camp for your child according to their specific needs.
Our team is available to answer all of your questions and offer expert advice.
Call us at (+44) 203 769 94 43 or (+34) 902 750 359.