The Barcelona soccer academy is offering young stars the opportunity to attend an Easter soccer camp during Easter break 2023.
This is an exclusive opportunity to experience high-performance training at one of the best residential soccer academies in Europe. Student will train with qualified, professional coaches on the same training grounds as full-time students in the elite full year program.
The academy is offering two programs for their Easter soccer camp. Their full training program is for younger children from 6 – 13 years old, and their high-performance program is a highly competitive program for older athletes from 14 – 21 years old.
Are you interested in high-quality training that will take your camp to the next level? Learn more about the training programs at Barcelona academy's Easter soccer camp.
An academy adapted for modern football
During the last decade, soccer training has changed drastically. The incorporation of GPS technology in football along with new filming technology has changed the way teams perform analysis on an individual level and in teams. The Barcelona academy has implemented this new technology in their training programs to boost their students' chances of success as soccer players.
Students at the Barcelona academy's Easter soccer camp train using the latest technological devises in sport which help coaches analyze player performance on a deeper level. Then, they attend video analysis sessions where coaches discuss plays and decision-making on the pitch. Ultimately, coaches aim to improve players' game intelligence so they leave as smarter, more confident footballers.
Full training program (6 - 13 years olds)
The full training program at the Barcelona academy's Easter soccer camp was designed to develop young players' game intelligence and individual technical skills to get them ready for high-level competitions.
Many young players have a lot of natural talent which boosts their confidence and leads to success at a young age. These young, talented players, however, must undergo reliable tactical training from qualified coaches to ensure that their talent is developed and accompanied by great game intelligence. Coaches at the Barcelona academy are dedicated to teaching young students the tactics and strategies that will help them win competitions.
At the end of the week, students at the academy's Easter soccer camp compete in a friendly tournament where they have the opportunity to practice everything they learned during training.
9:00 Training session 1
10:30 Mid-morning snack
11:00 Training session 2
12:30 Technical training
13:30 Evaluation of technique
14:30 Lunch
15:15 Audiovisual training
16:00 Training session 3
17:00 Friendly, didactic match
18:00 Shower & afternoon snack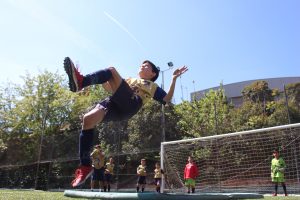 High-performance program (14 - 21 years old)
The high-performance training program at the Barcelona academy's Easter soccer camp was designed for 14 to 21 year old boys who already have quite a bit of experience competing at an intermediate to advanced level. Students attend this program to refine their skills and fine-tune their game intelligence.
The high-performance program's principal objectives include: learning to dominate the time/speed of play, learning to make decisions quickly, learning when to take risks, and learning proper position without the ball.
8:00 Training session 1
9:30 Breakfast
10:30 Training session 2
12:00 Lunch
13:00 Break
15:00 Training session 3
16:30 Afternoon snack
17:00 Training session 4
18:00 Training session 5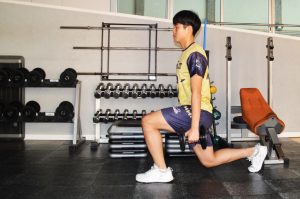 On-site residence hall and training center
The students at the Barcelona academy's Easter soccer camp have a busy Schedule. Fortunately, students at the Barcelona academy sleep and train on the same campus. That means they don't waste a minute commuting from the residence halls to the training centers.
In addition to the 16 soccer fields of slightly different characteristics, students will have access to a gymnasium and a heated pool available all year round. Students share rooms which accommodate 4 – 6 campers. Rooms have private bathrooms, heat, and a private locker for each participant where they can store their belongings.
Prices & dates
These courses are subject to a registration fee of 95 charged by the camp
Easter program Full Training (8-13 years old)
Easter program High Performance (14 -21 years old)
DATES
April 15 – 21, 2023
*The nights of the 14th to the 15th  and the 21st to the 22nd are included in the price.
Extra services
Transfer service  : 50€ one way

Video analysis  : 360€/course

Structural analysis  : 200€/course

New technology **: 200€/course
New technology
Students at the Easter soccer camp also have the opportunity to take a course about new technology in sports. In each session, they learn about a new device and its use.
Session 1 : Telemetric system or Technical Analysis
Session 2 : BioException or Autofollow Registration
Session 3 :Technique training
**This new technology helps improve player performance by providing quantitative data for each player in every given moment. By studying the data and results, students can learn to make better decisions on the pitch.
Included in the price

Sports kit(jersey, shorts, socks, T-shirt, and sweatshirt)
Full room and board
Player development
Training activities
Not incluided in the price

Tranfer service (50€ each way)
The flight is not included in the price. Parents must search for and pay for their child's flight.
Cancellation insurance ( More information here. )
Travel insurance ( más información aquí )
Transfer service
This academy offers a transfer service in which a camp monitor takes the student from the airport to the academy. At the camp's close, the monitor is also responsible for taking the child back to the airport in time for their flight. This additional service costs 50€ for trip which totals 100€ for the service.

Insurance

We offer two types of insurance through a company called CareMed:

Cancellation or interruption insurance

If you purchase cancellation insurance, and as a result of unforeseen circumstances, your child is unable to attend the camp, you'll receive a refund. + información aquí

Travel insurance

We also offer medical and travel insurance for 8€ per week for EU citizens and 15€ per week for non-EU citizens. Find out more about coverage here.