This camp is designed for boys and girls between 11 and 17 years who would like to spend a few weeks during the summer playing rugby, learning English and, above all, having fun.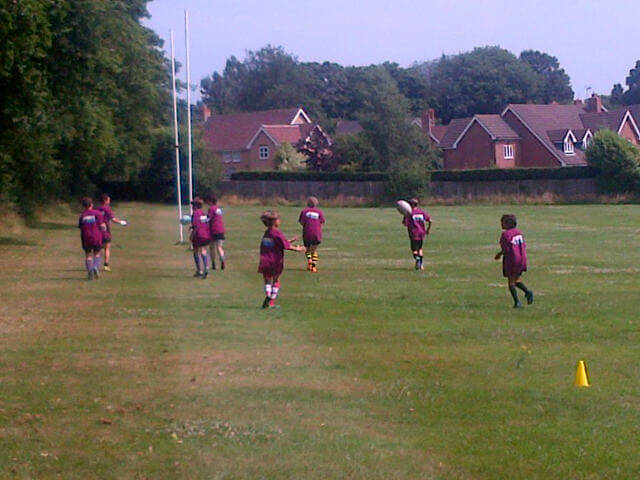 Overview
Allowed ages: Children between 11 and 17 years old
Location: University of Leicester, UK
Language classes: English
The young people stay in residential accommodation at the campus of the University of Leicester in the UK.
This is without doubt a great opportunity for your son or daughter to spend an unforgettable summer playing sport and sharing a fantastic experience with other young people from all over the world.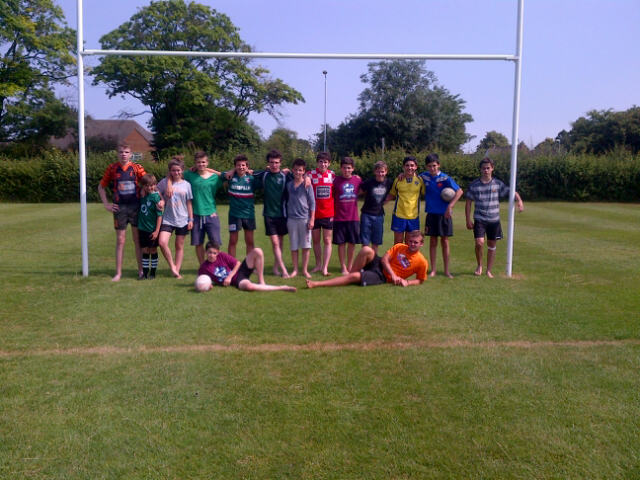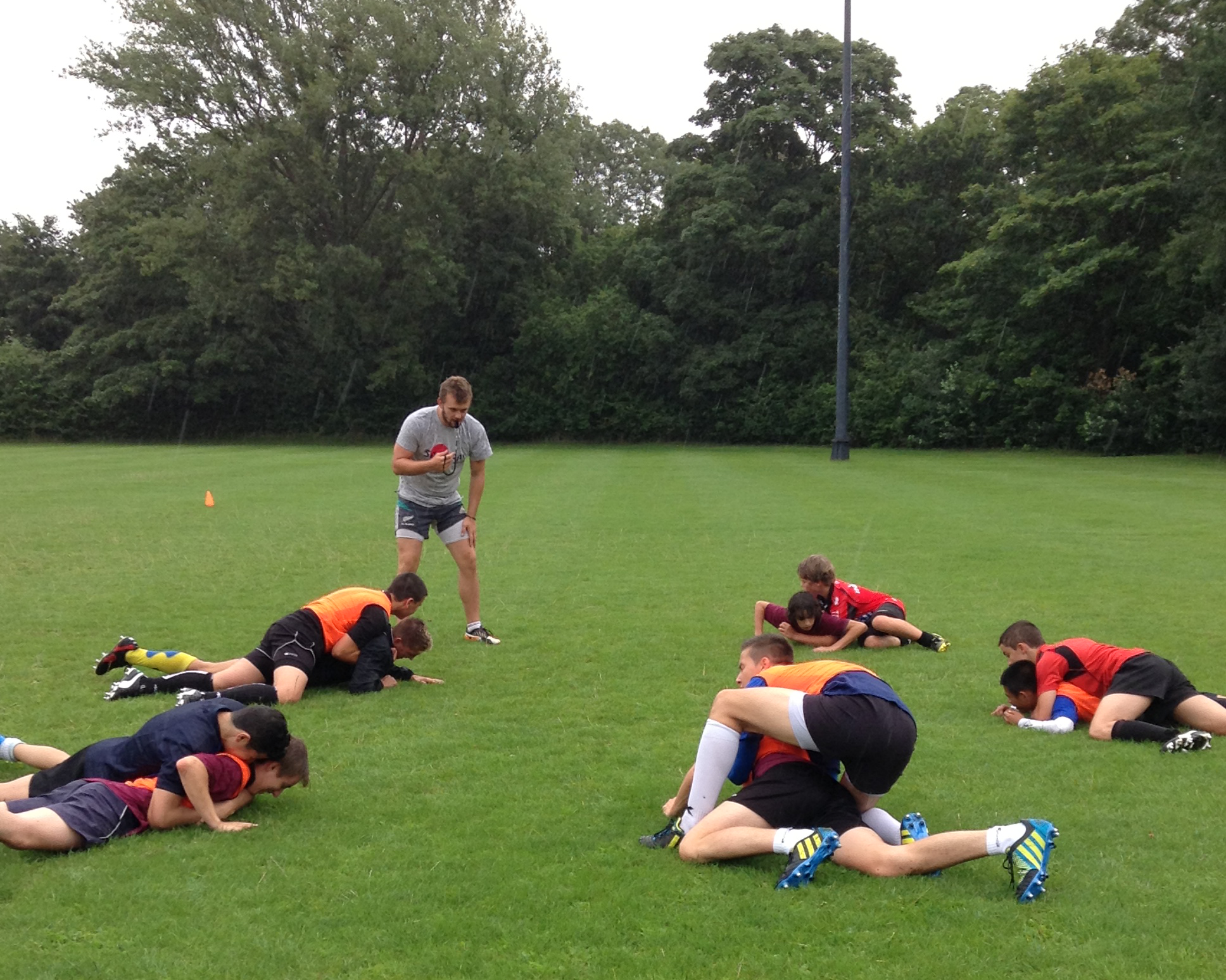 Available Programs
Rugby Camp in Leicester - England 2022
This is a unique opportunity to spend an unforgettable summer practicing sports.
Training
Training: 12 hours of rugby per week
Accepted levels: All
How are the groups organized?: By age and then by skill
The camp includes 12 hours a week of rugby coaching led by a qualified trainer. The coaching comprises physical training, designed to develop strength and speed. Participants will learn the techniques of passing, line out, scrums and tackling.
The camp is open to young people of all abilities. Groups are organised firstly by age and then by ability (participants do an initial assessment). The training takes place at the campus facilities, located 5 minutes' walk from the residence.
Language Classes
2 week camp class hours: 27 hours of class / week
3-week camp class hours: 36 class hours / week
Students per student group: Between 12 and 14 students
The language study groups comprise 12-14 students (16 maximum). Participants take a test on arrival to evaluate their level of English. The lessons are focussed on spoken and written English, together with grammar. The classes explore a range of themes and there is a communicative focus, encouraging the practical application of the language learned. All teachers are native English speakers.
Participants at the two week camp will receive 27 hours of lessons, while those in the three week camp will receive 36 hours. At the end of the course, students receive their learning materials and a course certificate.
Camp Schedule
Apart from the rugby coaching and English, the camp organises other fun activities for the participants during the afternoons. Participants can, among other activities, play football, rugby, tennis, go swimming, play snooker, pool and table tennis. There are also disco nights. The social programme begins at 7.30pm and the end time varies according to the age of the participant.
Excursions
Every week the camp organises a full day excursion which is included in the price. Destinations include London and Oxford.
Accommodation
Accommodation type: University Campus
Rooms: Single Rooms
Bathrooms: Shared on each floor
Facilities
The camp takes place at the University of Leicester, United Kingdom. The sports complex has football, rugby and cricket pitches, tennis, volleyball and basketball courts, track and field areas, indoor sports hall and dance studio. There is also a swimming pool close by, to which the participants have access.
Rooms are individual and bathrooms with shower are shared between three students. The residence has WiFi, TV room and study room.
The residence is located in the university campus which has surrounding gardens and sports facilities. The residence has security measures in place and there is one monitor for every 12 students.
Students receive three hot meals (breakfast, lunch and dinner) as well as snacks throughout the day.
Location
The camp is located at the University of Leicester (University Road, Leicester. LE1 7RH, England). It is in the East Midlands region, within the county of Leicestershire about 160 km north of London. The city is known for its universities, cathedral and sports facilities, as well as being home to Leicester City Football Club who, against all odds, became Premier League champions in the 2015/2016 season.
Prices and Dates
The prices of this programme vary according to a number of factors, such as the demand for places and the age of the participant. Please indicate the approximate start date you are considering and we will contact you as soon as possible with the prices and dates which are available.
Improved booking conditions for all camps
This 2022 make your reservation more easily and with less risk
We´ve lowered the deposit required to reserve your camp to just 500€
Free cancellation until May 1st
Money-back guarantee within 10 days
Optional anti-covid insurance

*Please note that if a visa is required to attend camp, it will be necessary to pay the total amount of the program

*Special conditions valid for all 2022 summer camp reservations except for the Barça USA camp, which will follow the general terms and conditions.
Extra Services
You can purchase one of the extra services below at an additional cost.
Anti-Covid Insurance

We have different insurance options with special anti-covid coverage, so you can insure your camp reservation according to your needs:

Cancellation and Interruption Insurance: cancellation and interruption insurance allows you to recover your payment if you cancel or interrupt the camp for a justified cause (including illness from COVID-19 and 35 other causes)
Travel/Medical Insurance: with this insurance policy, you´ll be covered for medical assistance abroad and possible expenses caused by situations resulting from COVID-19, such as needing to extend your stay up to 40 days, as well as other general situations such as loss of luggage, unforeseen ticket changes, etc.

Download the following PDF for more information about anti-covid coverage, the general terms & conditions, and prices of each insurance policy.

Anti-Covid Insurance


Transfer Service:

There are two types of transfer services available that we´ll detail for you below:

Standard transfer service: the camp offers an optional transfer service for participants who request it from the nearest airport to the residence (or vice versa). Check with Ertheo for schedules and prices for this service.
Special transfer with additional unaccompanied minor service: participants who fly to camp alone and have contracted the unaccompanied minor service with their airline must hire this special transfer with accompaniment so that the child isn´t left alone in the airport. Check with Ertheo for schedules and prices of this service.
Contact Ertheo for prices and additional information.
Transportation to the camp (flights/trains) is not included in the price of our programs.