We are always looking for top soccer training tips and advice for young players. After all, it is our quest to help budding players, parents and coaches to understand the many challenges they may face on the road to becoming a professional.
For our latest words of wisdom we turned to Aaron Conniff-Broome, Head Coach at ACB Football Coaching. Aaron is currently an FA Level 2 and FA Youth Module 3 qualified Coach, and as well as running ACB Football Coaching in West Sussex, England, he is also the coach of Sussex University Ladies 2nd team.
ACB Football runs a variety of sessions for local young players including 1-2-1 training, team training, and school clubs. In the future, the aim is to help develop the next generation of players all over the South East of England.
The company also records parts of their training sessions to share with other coaches and to show players and parents exactly how they operate. As a Head Coach, Aaron gains great pleasure from watching young players develop and become more confident.
Here are some soccer training tips from Aaron: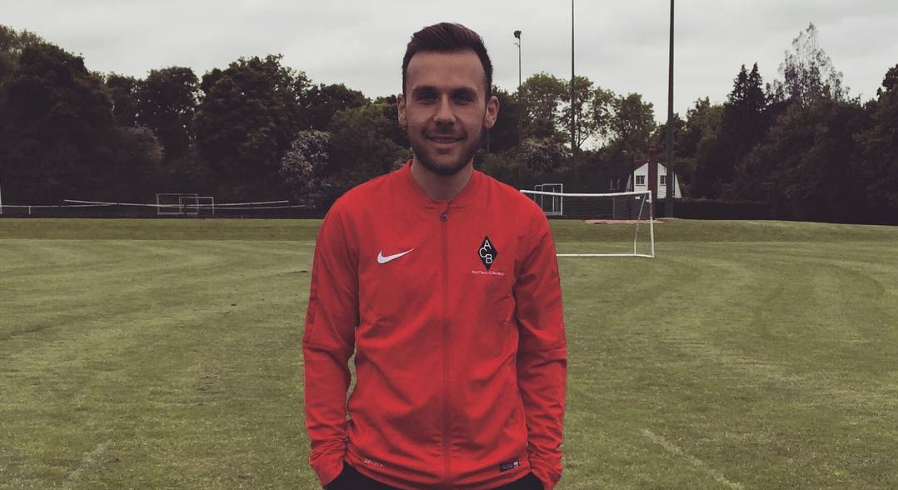 ? Hi Aaron, what advice can you give to any coaches or players out there looking to develop their passing game?
For beginners out there, the biggest tip a coach can offer is not to pass the ball with your toes! This can result in injury and also reduces your accuracy.
Additionally, a player should not just pass the ball and then stand back and admire their work! They should be encouraged to move into a new space or look for a return pass – this helps to create better team play.
To give you an example, take a look at this video from our morning football club session, where the girls were put into small groups in an area with scattered cones. They start by standing near a cone, and have to move to a new cone after passing the ball. This drill encourages movement and awareness:
? And what about defending? What tips can you give to new players to help them stop the opposition in their tracks?
Defence is possibly considered the least favourite position among many young players but we try to give the position much more praise and attention. After all, making a game-winning tackle or being first to the ball should give a player a real sense of achievement.
Our advice to any young defender would be to try and stay on your feet for as long as possible when in a 1 v 1 situation. Once you hit the deck, there isn't much chance of you catching the player and you are effectively out of the game. Try to force the opposing player into making a mistake by being patient and watching the ball, not the feet.
In this video of our 2 on 1 coaching session, we look at attack v defence situations:
? We all know that young players love to score goals but it takes lots of hard work and practice to finish well, so what soccer training tips can you give to budding young strikers?
The most important attribute a striker can possess is self-confidence. Without believing that you can score, you will find it much harder to do. If you look at the world's best attacking players such as Aguero, Messi, Ronaldo, they all possess great confidence in their own shooting ability.
Similar to our passing tip, we advise players to avoid using their toes to shoot where possible. You may get more power, but you lose control of your accuracy.
The following video shows an exercise designed to work on open body finishing. This technique gives you plenty of accuracy when aiming for goal:
? One of the toughest thing for a young player to learn is to dribble effectively, so what advice can you give to get them on the right track?
Practice, Practice, Practice! We can't say it enough, but the more you get used to having the ball at your feet, the better you will get. We like to encourage players to take a lot of small touches when they are dribbling between cones. Why? Because they will get a very good feel for the ball without worrying about speed. Young players often imagine a dribbling exercise being all about pace and although it will become important later, speed is not something that they need to worry about while they are developing at a young age.
Check out our dribbling video which gives young players an idea of how they can boost your confidence on the ball:
And finally, what general advice could you give to any young player serious about become a pro?
For any young player aspiring to have a career in football, it is how you apply yourself to the game that counts. You need to have the right attitude for training and be prepared to continue developing throughout your whole career – not just the first few years. Your coaches are there to help you in the pathway to success so don't be afraid to ask them questions if there is something you don't understand. Learn Today, Play Tomorrow guys!
You can watch more videos from ACB Coaching on their YouTube channel or follow them on Twitter here.
For an international coaching experience, we offer year-round soccer camps all over the world. Just give us a call today on (+44) 203 769 94 43 or (+34) 902 750 359. You can also contact us via email: [email protected].