The Exsportise Rugby Camp, which takes place every July in the UK is designed for young people of all abilities in the sport, except for beginners.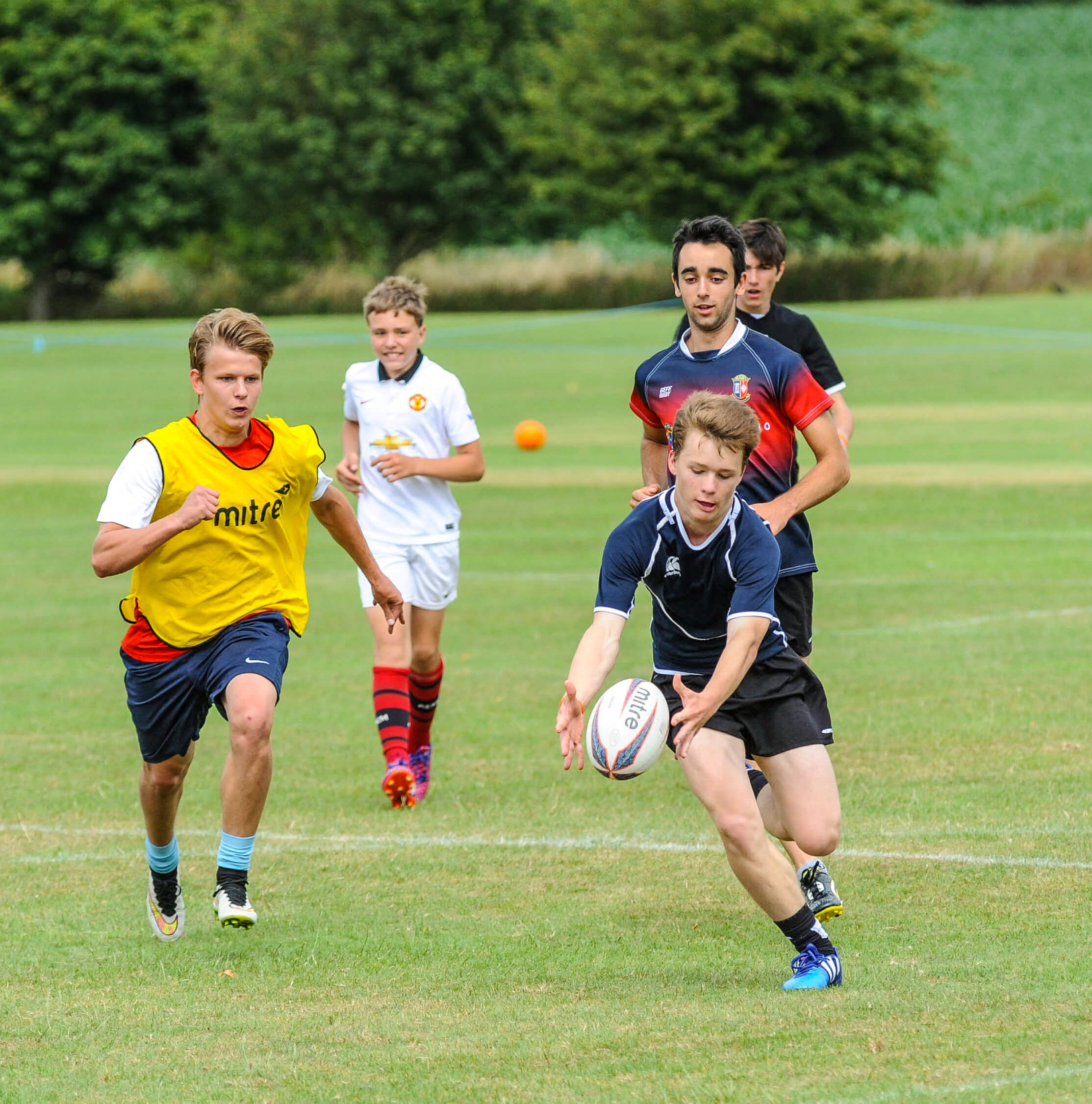 Overview
English Classes: 15 lessons / week
Accommodation Type: Clayesmore Residence
One of the main aims of this camp is for participants to develop their team spirit, acquire a sense of discipline and improve their self-confidence.
Exsportise receives students from all around the world and this mix of nationalities is key to the success of the camp. The number of students from the same nationality is limited, thus ensuring that English is the principal language spoken. Last year Exsportise hosted students from 65 different countries.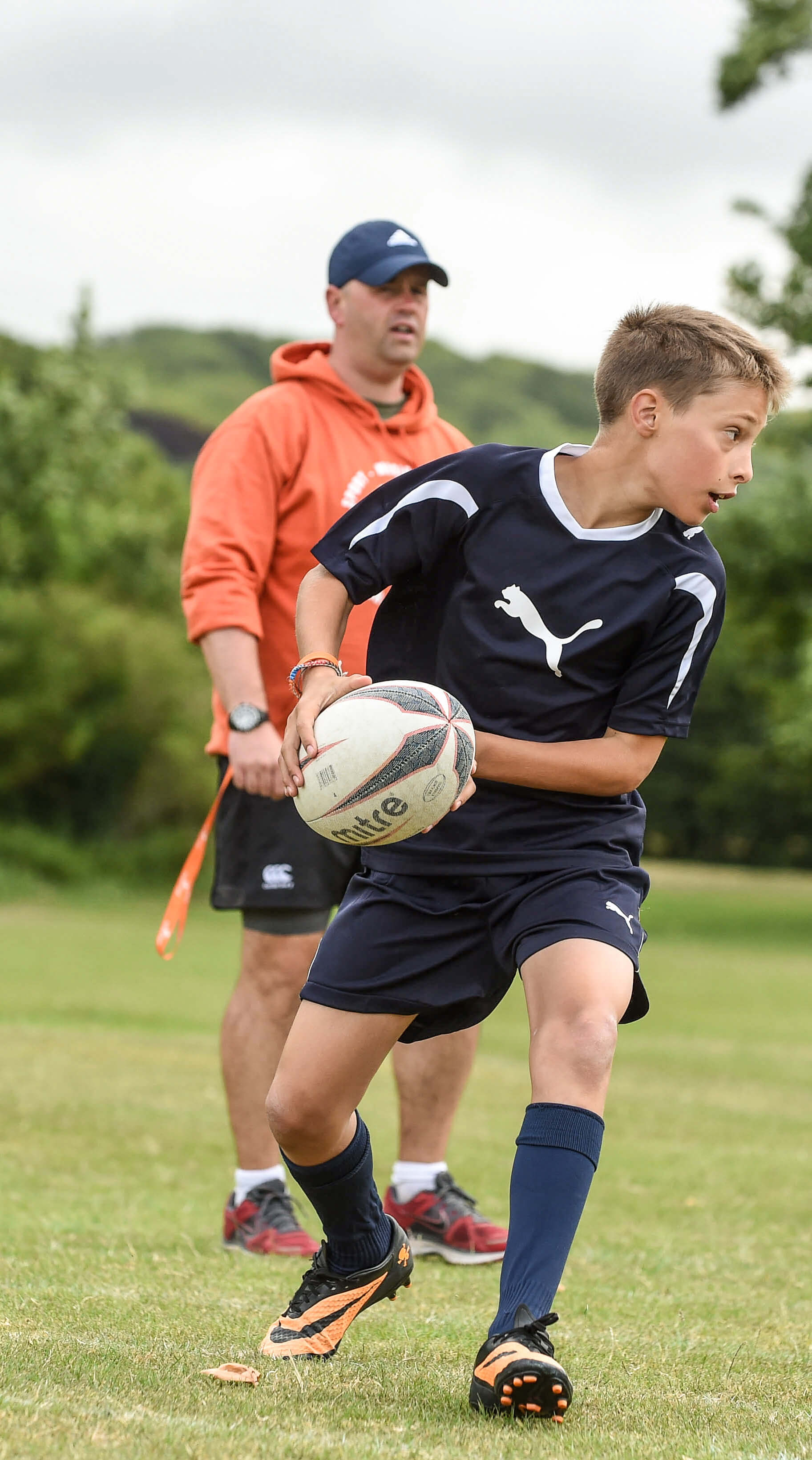 Available Programs
Rugby camp in England
This camp is suitable for all skill levels except beginners.
Training
Groups: Small groups
Training: Physical and technical skills
At the beginning of the summer camp the participants are evaluated and grouped according to their ability. Groups are small, with an average of 10 participants for each trainer.
During coaching, as well as working on physical and technical skills, there is a focus on the psychological aspects - decision making, leadership and mental strength. The physical techniques covered include attack, defence, speed, general fitness etc.
In terms of technique, participants work on the areas of strategy, team working and communication.
Language Classes
Available language: English
Classes per week: 15 hours / week
The camp includes 15 hours per week of English classes. On arrival students take a test to assess their level and this determines which group they are placed in. Classes are small, with around ten students to a group.
As well as participating in sport every day of the week, they will also be practising their English in the context of their training sessions.
Camp Schedule
After a full day of sport and lessons at the Exsportise Rugby Camp, the activities continue in the evenings, with a varied social programme.
Activities
To complete a full day of activities, a varied and fun social programme is provided. The Exsportise entertainment team plans a range of activities, such as talent shows, movies, team games, treasure hunts, dodgeball, discos and competitions. This gives participants a fantastic opportunity to get to know their camp mates outside the sport coaching and English classes. Students are supervised by staff at the camp at all times.
Leisure facilities
The camp headquarters has pleasant common rooms with television and a range of indoor amenities, as well as WiFi connection. There is also a swimming pool, supervised by qualified life guards. There are ample outdoor recreation areas in which the students can relax with their new friends and play sports like tennis, football, volleyball and table tennis. They also have access to the sports equipment.
Excursions
Each weekend the camp organises a full day excursion to major British cities like Bath, Brighton, Oxford or Cambridge. The students will have the chance to experience the historic culture of Britain as well as its attractive nature and important landmarks. Students can relax, enjoy themselves and buy souvenirs.
There are also excursions to theme parks such as Thorpe Park or Chessington World of Adventures. A fantastic way for the young people to relax and enjoy their new friendships. All the excursions are fully supervised by the Exsportise staff. A packed lunch is provided to students on the day of the trip.
There are also excursions to London available at an additional cost, subject to availability.
Accommodation
The Clayesmore residence is located in the town of Iwerne Minster in Dorset, in the south west of England. It is the only centre that admits participants of 9 years old and offers a relaxed and pleasant atmosphere. It has tennis courts, football and rugby pitches, a theatre and a sports hall, as well as an indoor swimming pool. Rooms are shared and have capacity for between 3 and 10 participants.
As well as rugby, this centre is also host to other sport/activity camps such as football, tennis, horse riding, singing and dancing. This means that at any time there are girls and boys of different nationalities living together in the residence, apart from when they are taking part in their chosen sport or activity.
In terms of location and travelling to the camp, the airports and railway stations nearest to Clayesmore are:
London Heathrow – 160 km – 2 hours, 30 minutes
London Gatwick – 200 km – 2 hours, 30 minutes
Eurostar London – 190 km – 3 hours
Location
The closest cities are:
Blandford Forum – 12 km
Bournemouth – 42 km
Bath – 61 km
Prices and Dates
These courses are subject to a registration fee of 99 € ( $106 ) .
The official rate of this camp is determined in POUNDS, so the final amount in EUROS may vary slightly due to the fluctuation of both currencies.
Starting Dates
Rugby Worth (Sport and English)
Improved booking conditions for all camps
This 2022 make your reservation more easily and with less risk
We´ve lowered the deposit required to reserve your camp to just 500€
Free cancellation until May 1st
Money-back guarantee within 10 days
Optional anti-covid insurance

*Please note that if a visa is required to attend camp, it will be necessary to pay the total amount of the program

*Special conditions valid for all 2022 summer camp reservations except for the Barça USA camp, which will follow the general terms and conditions.
Extra Services
You can purchase one of the extra services below at an additional cost.
Anti-Covid Insurance

We have different insurance options with special anti-covid coverage, so you can insure your camp reservation according to your needs:

Cancellation and Interruption Insurance: cancellation and interruption insurance allows you to recover your payment if you cancel or interrupt the camp for a justified cause (including illness from COVID-19 and 35 other causes)
Travel/Medical Insurance: with this insurance policy, you´ll be covered for medical assistance abroad and possible expenses caused by situations resulting from COVID-19, such as needing to extend your stay up to 40 days, as well as other general situations such as loss of luggage, unforeseen ticket changes, etc.

Download the following PDF for more information about anti-covid coverage, the general terms & conditions, and prices of each insurance policy.

Anti-Covid Insurance


Transfer Service:

There are two types of transfer services available that we´ll detail for you below:

Standard transfer service: the camp offers an optional transfer service for participants who request it from the nearest airport to the residence (or vice versa). Check with Ertheo for schedules and prices for this service.
Special transfer with additional unaccompanied minor service: participants who fly to camp alone and have contracted the unaccompanied minor service with their airline must hire this special transfer with accompaniment so that the child isn´t left alone in the airport. Check with Ertheo for schedules and prices of this service.
Contact Ertheo for prices and additional information.
Transportation to the camp (flights/trains) is not included in the price of our programs.