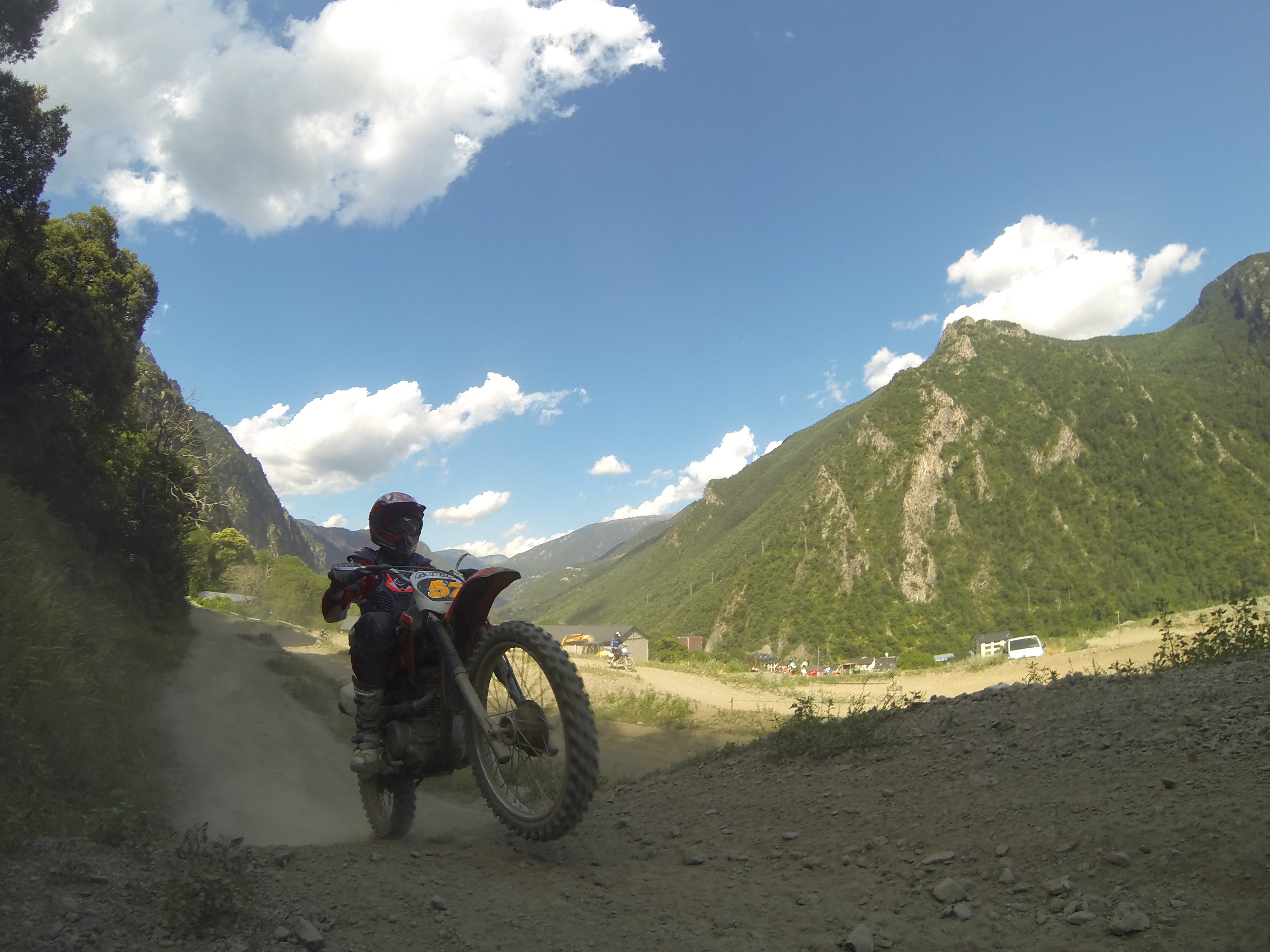 If you love adrenaline then this is the camp for you! Camp Rialp organizes a Motocross camp for boys and girls between the ages of 8 and 16 years in The Principality of Andorra. Your level doesn't matter since beginners and advanced kids can participate.
You can enjoy different circuits in a natural privileged environment and learn from great professionals such as Ferran Casas and Christian España.
Are you interested in this camp?
Download some information about this camp and read it at anytime. If you have already made your mind up, Sign up now!
Would you prefer it if we called you?
Camp details
English Classes:
15 lessons / week
---
Positive Values
A lot of workshops and social activities

The camp is original and exclusive
Negative Values
Excursions are not included in the price

Participants need to travel daily to the training grounds
Spend between two to four weeks enjoying Motocross in the middle of nature with colleagues with different nationalities.
The program includes 3 hours of training a day, 3 hours of English or Spanish class and many workshops and entertaining activities for having a great time. Camp Rialp uses the Euroski Hotel exclusively during the summer to house boys and girls who go to Andorra and want to enjoy a unique experience.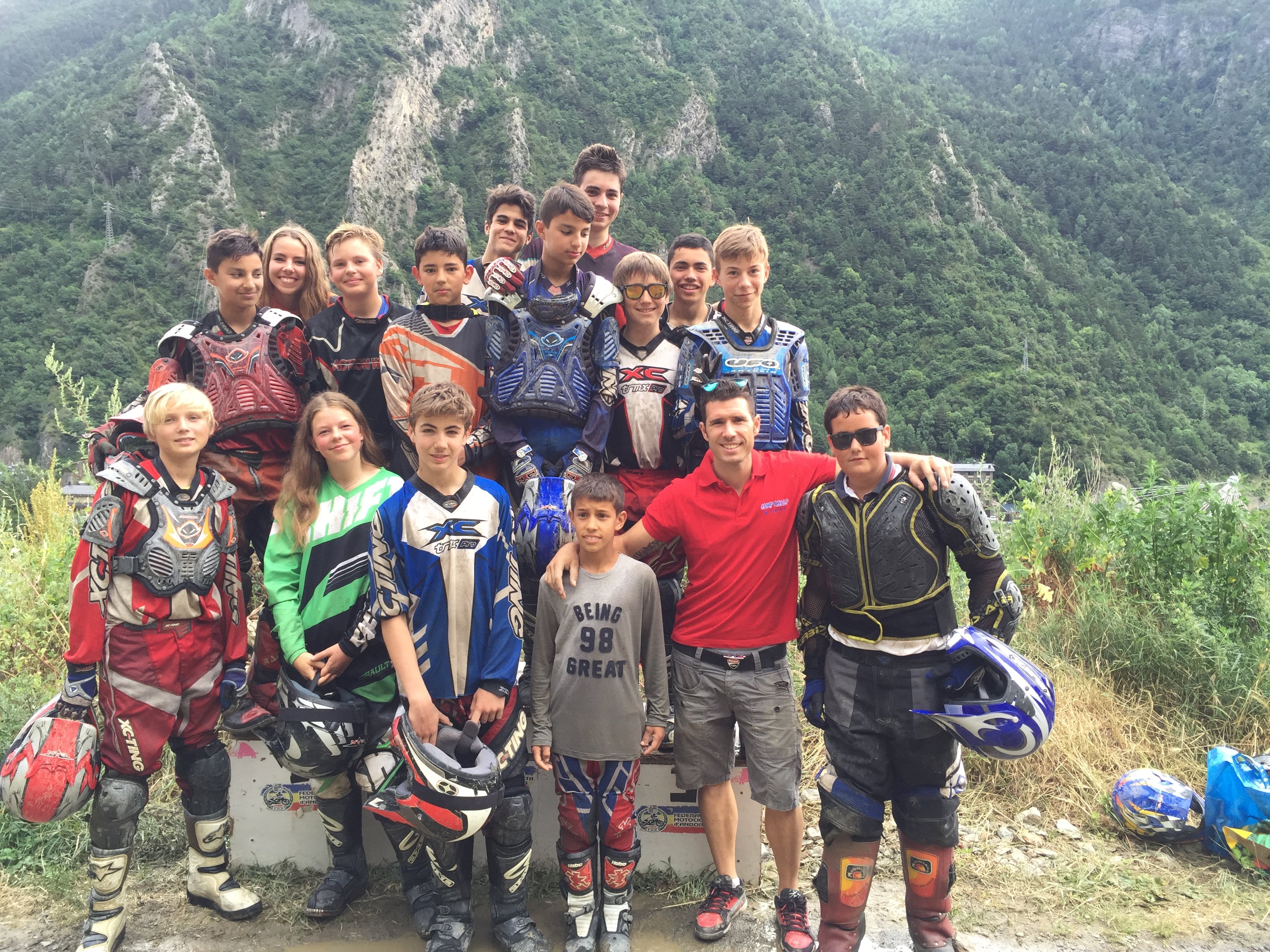 Training. Motocross Camp in Andorra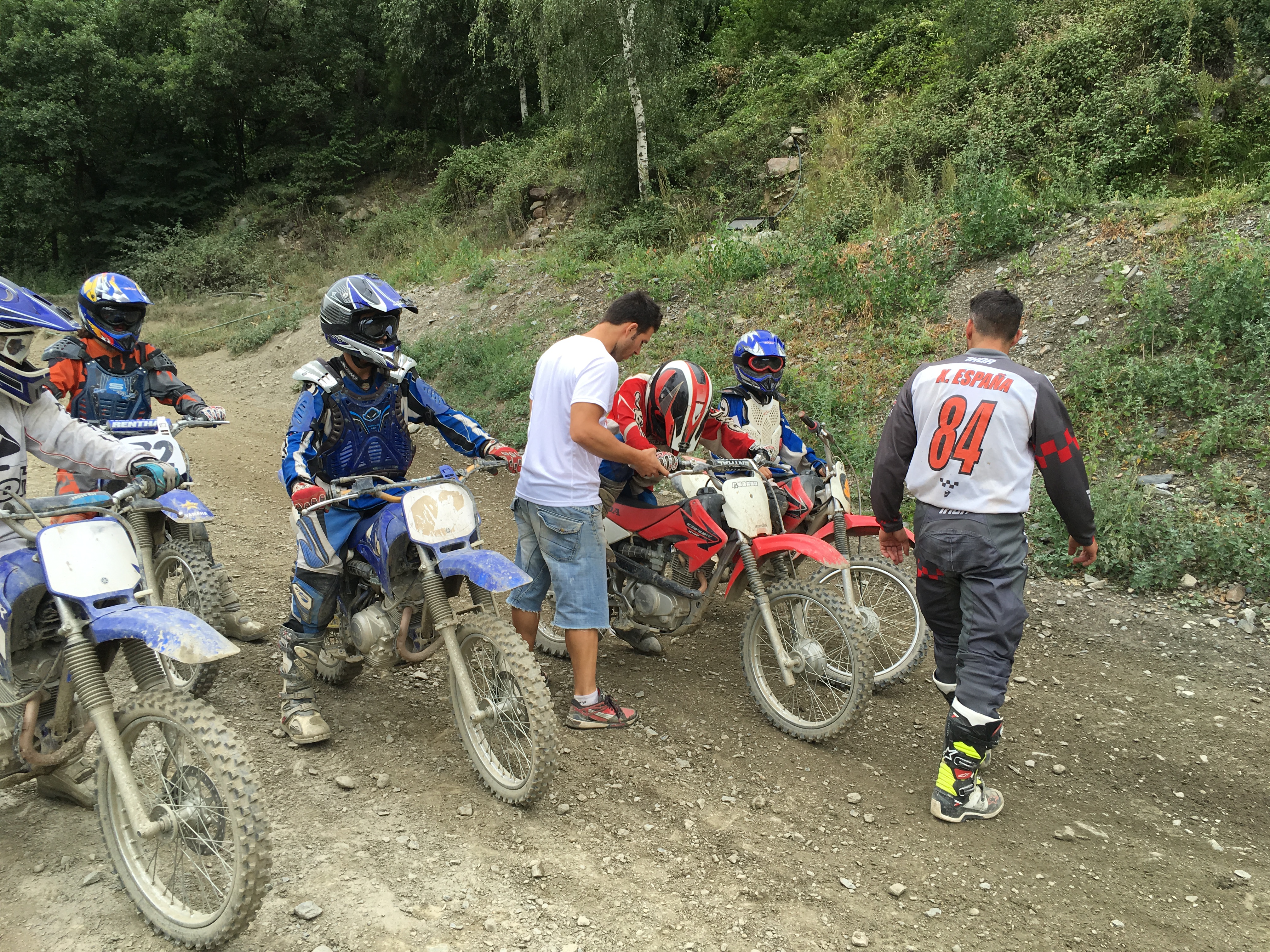 During 3 hours a day, from Monday to Friday, participants practice motocross on circuits designed by Christian España, expert pilot of Raids and Dakar and one of the instructors of the camp with Ferran Casas (speed racing pilot) who teach the kids to apply different motorcycle techniques:  
Operation and use of the motorcycle
Dirt-track
Enduro
Security techniques
Etc.
First they perform warm up exercises and then verify the equipment so they can start to practice programed exercises for that day.
Each participant must bring their own equipment to the camp or rent it. The equipment consists of:  
Boots
Helmet
Gloves
Pants
Enduro t-shirt
Knee pads and protective armor
Participants use a Honda CRF 100cc or a Yamaha TTX 125cc.
Smaller children use an automatic Honda CRF 50cc.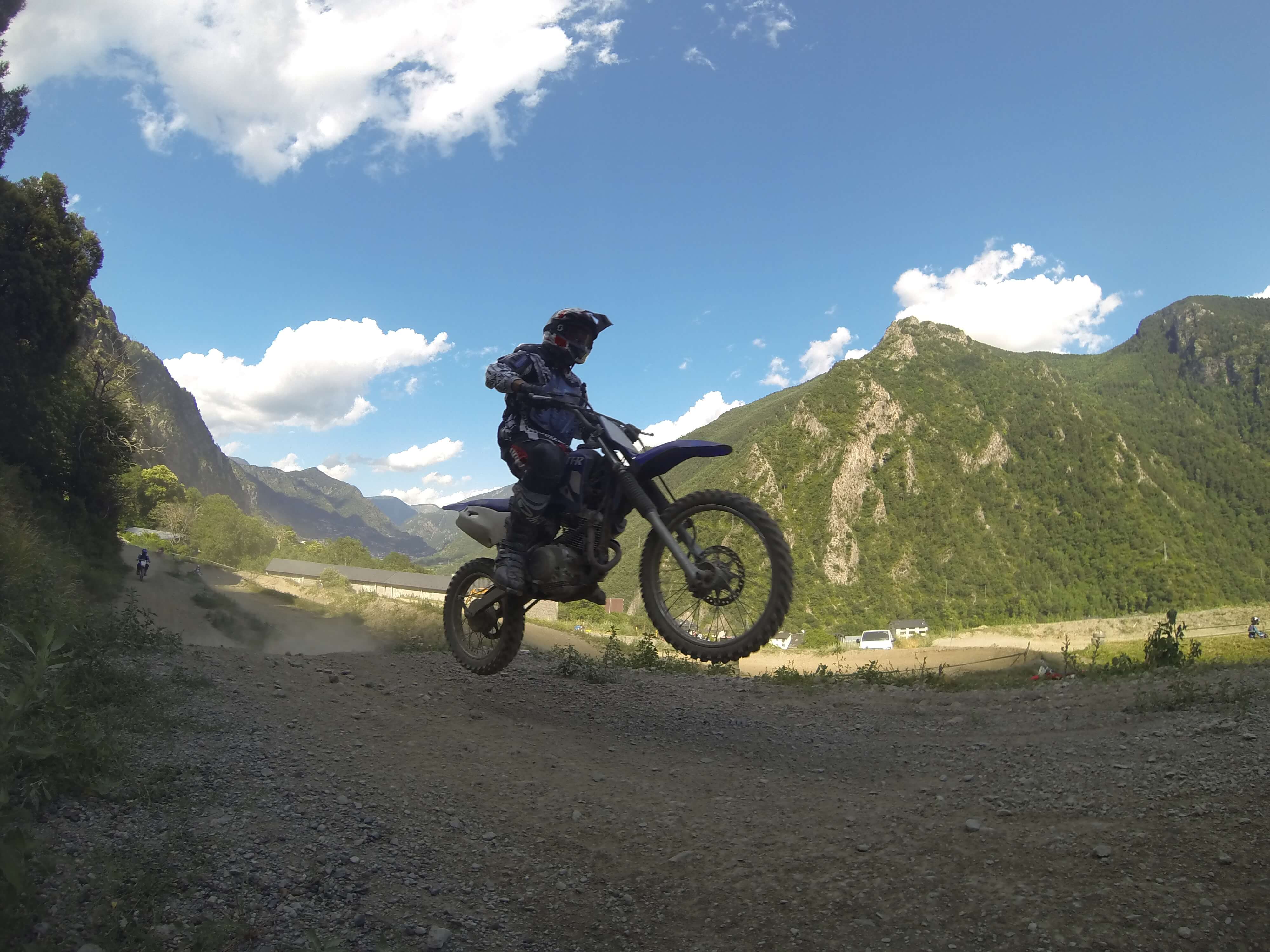 Language classes. Motocross Camp in Andorra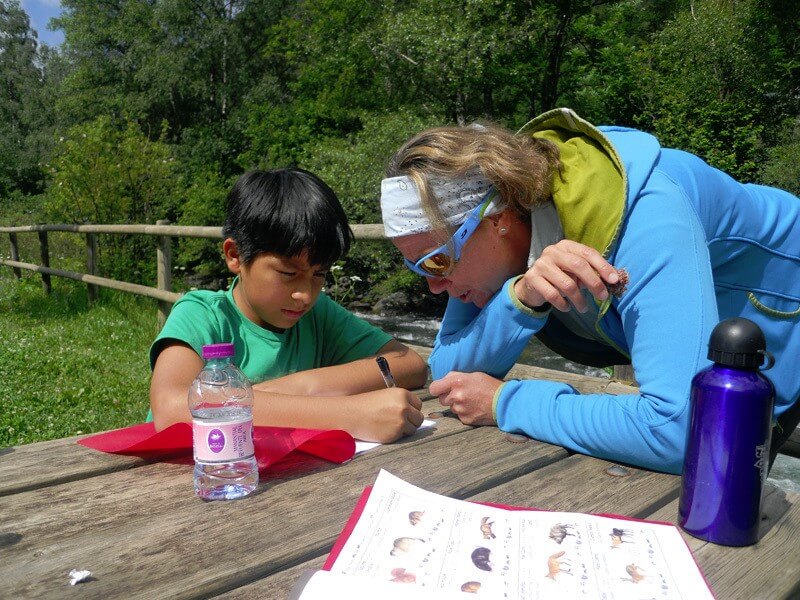 Camp Rialp offers 15 hours of English or Spanish class a week with titled professors. Kids take a level test on their first day to place them in their corresponding class and take an exam at the end of each week to make sure they are in the right class.
Language classes at Other sports camp
Participants attend class in the morning and in the afternoons they go to their special motocross class. In addition to these classes, kids are in an international environment since all the instructors speak to them in English. 25% of the kids are international fostering the communication in this language.
During the motocross training a mix of English and Spanish is used in order to ensure that all the students understand the professors instructions perfectly.
The classes take place at the hotel, in designated rooms. Each class has a maximum of 15 students.  
At the end of the program, students receive a certificate of attendance as well as the material they have worked on.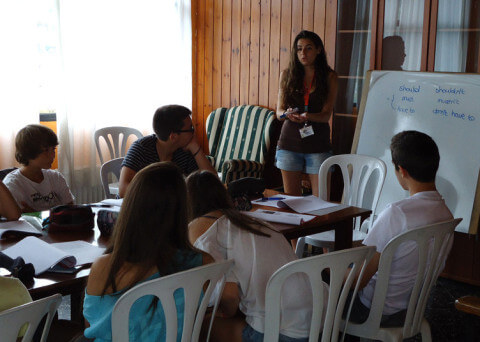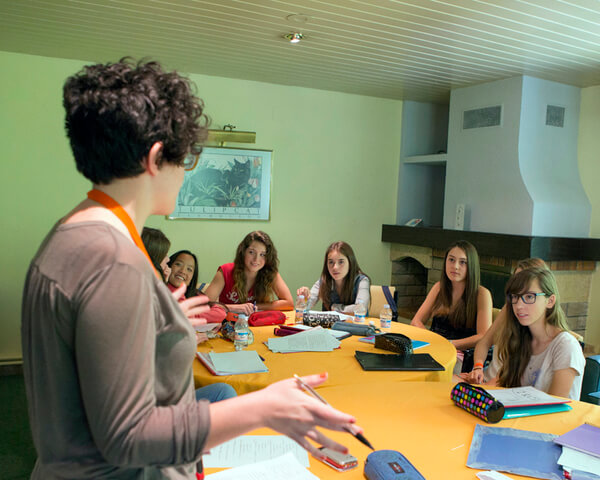 Programme and activities. Motocross Camp in Andorra
Fun is assured at this camp. In addition to motocross, Camp Rialp organizes many camps for various disciplines so many boys and girls stay at the hotel. Once classes are finished, instructors organize many workshops and entertainment activities so the kids have a great time.
It is also possible to use the hotel´s facilities to practice a sport (soccer, volleyball, badminton, Ping-Pong, etc.), rest or watch a movie. These are some of the organized activities:
Movies
Play in the recreational rooms
Play board games (Parcheesi, goose, chess, trivial, etc.)
Watch TV
Talk with the family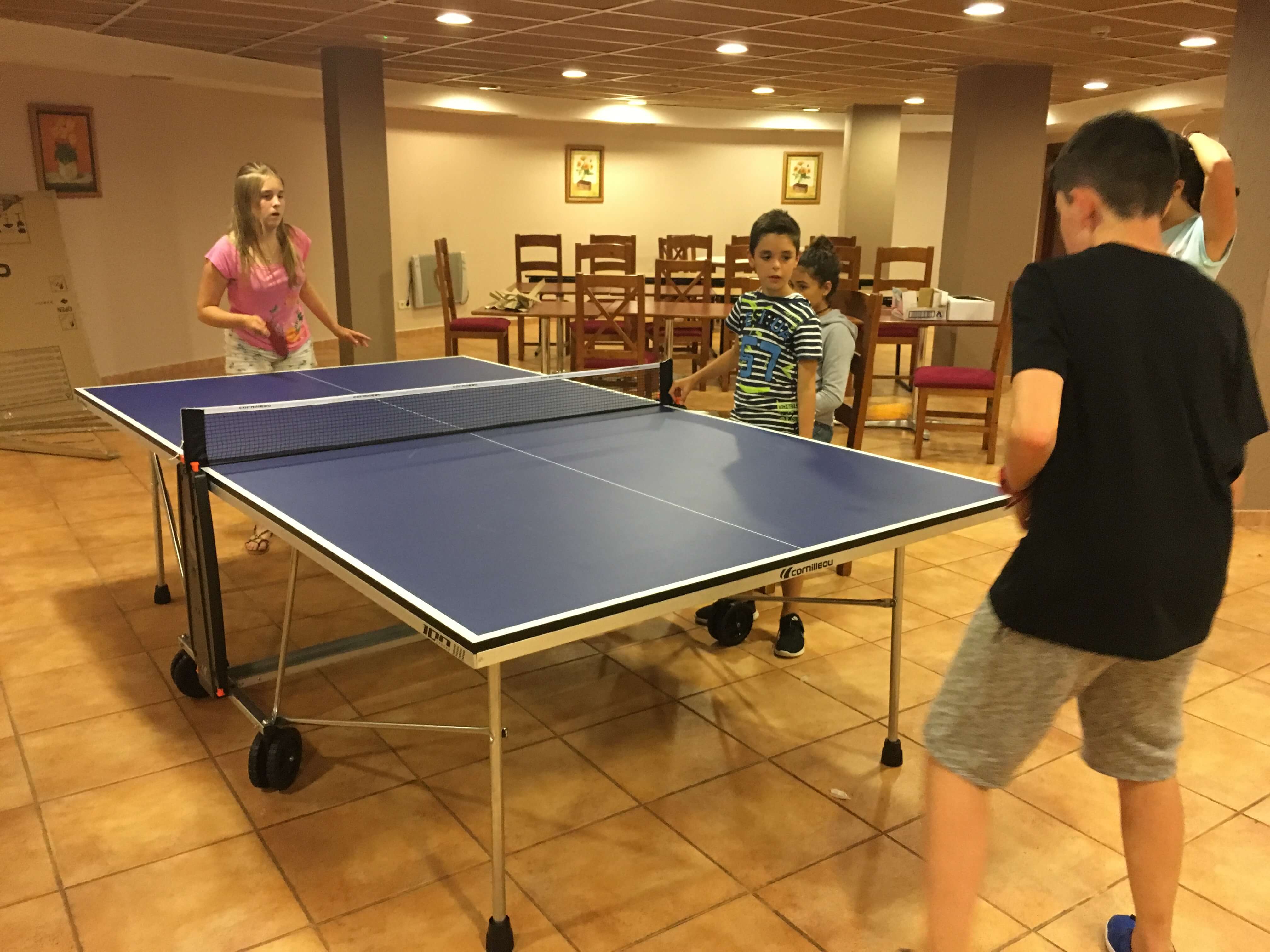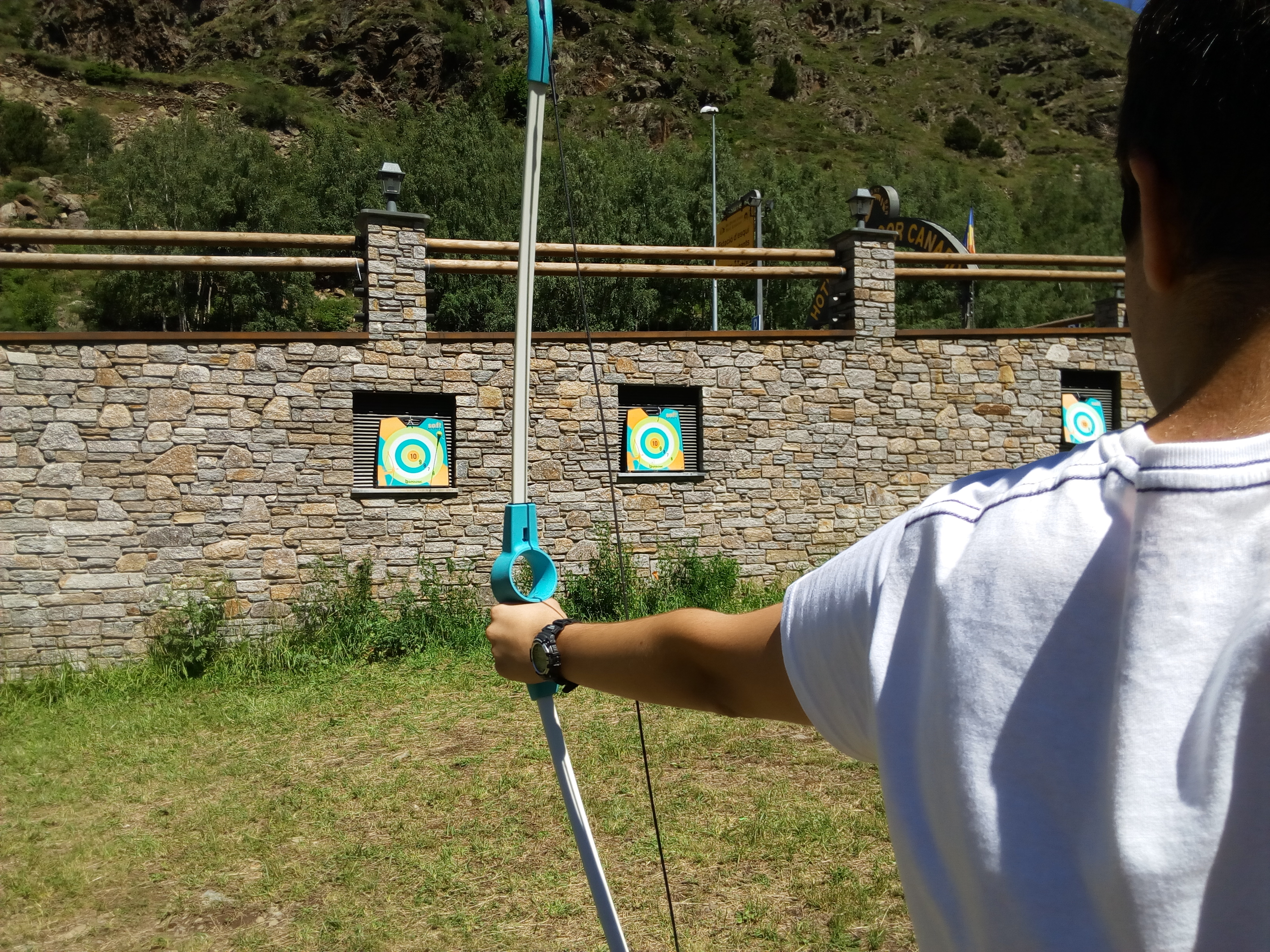 Field Trips and Weekends
Workshops are available during the weekend as well as entertainment activities so the kids have great fun:
Sports

Go shopping in Andorra

Workshops (karaoke, DJ, Photography, video, dance, magic, cooking, etc.)
Camp Rialp also offers the option of field trips during the weekend for an additional cost. The options are:
Option 1 - Port Aventura Visit: includes round trip transportation, ticket for the park, lunch and snack. Price: 85€.
Option 2 - Barcelona Experience Tour: visit the most important monuments in Barcelona, Camp Nou, swim at the beach, visit the aquarium and shopping. The price is 95€ and includes round trip transportation, ticket for the Barcelona stadium, ticket for the Aquarium, breakfast, lunch and snack. 
Accommodation and monitors. Motocross Camp in Andorra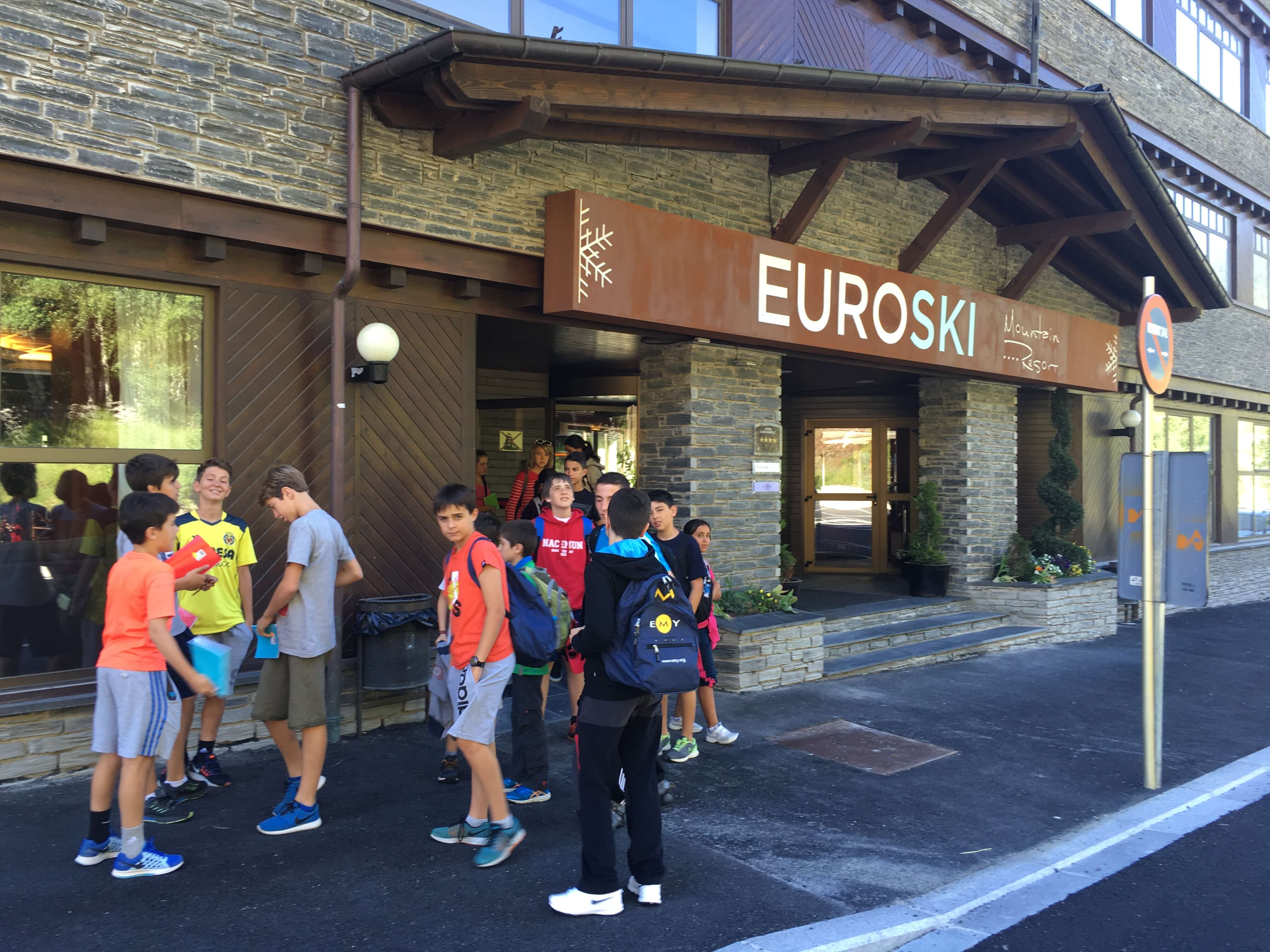 Camp Rialp is located at the 4 star Hotel Euroski, in Incles, a beautiful spot of the Principality of Andorra surrounded by nature. Camp Rialp uses this hotel exclusively and houses the personnel as well as the boys and girls who participate in the different camps offered during the summer. 
Motocross Camp in Andorra 2022 camp Accommodation
Sports Facilities
The motocross takes place on a racetrack designed by Christian España. The circuit adapts perfectly to all levels so kids from beginners to experts can practice without any problems.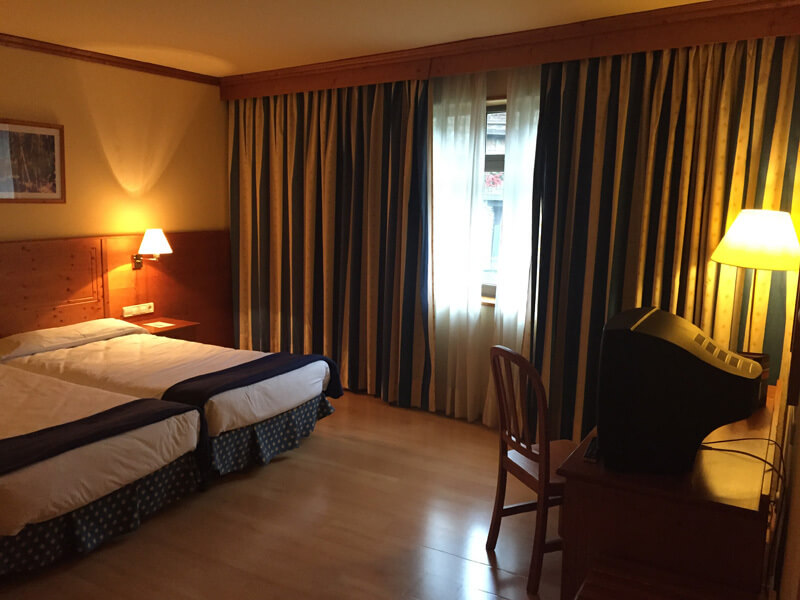 Housing
The Euroski hotel offers rooms shared by 2, 3 or 4 people with full bath, daily cleaning service and towel change. Each room has Internet connection, refrigerator, air conditioning, safety deposit box and satellite TV. Laundry service is available once a week.
Wi-Fi is available throughout the hotel and the kids can use it during their free time:
Restaurant
Heated Pool
Game room (with soccer tables, Ping-Pong and a multitude of board games, etc.)
2 Movie rooms
Playing fields: soccer, volleyball, badminton, mini-golf, etc.
The hotel also has a private dance club. 
Location
The exact address for the hotel is the following:
Carretera General s/n, AD100 Vall Incles, Andorra
Prices and dates. Motocross Camp in Andorra
These courses are subject to a registration fee of 150 € ( $186 ) .
Starting Dates
Moto Cross Camp
Included in the price
Practice and Motocross education
Housing with daily bed sheet and towel change service
Full board
Entertainment activities and shopping field trip to Andorra
Daily transportation to the motocross circuit
Language classes, materials and diploma
Free use of the hotel facilities
Laundry service available once a week
Medical insurance
Not included in the price
Transfer service to the camp
Optional field trips to Port Aventura or the Barcelona Tour
Travel insurance
Cancelation insurance
Transfer Service
Camp Rialp offers transfer service from different parts of the peninsula. The most common is the pick up service at the Prat airport but it also provides train transportation from:
And a pick up bus service from:
Barcelona
Lérida
San Sebastián
Bilbao
The transfer from the Prat airport has a cost of 60€ each way. Arrivals must be before 10:00AM and departures must be between 3:30PM and 6:30PM.
*Consult prices, times and availability if you prefer a transfer service from one of the previous destinations.
The price includes commuting from the camp with instructors or with an accompanying driver.
If you are going to take your child to the entrance and/or exit of the camp:
You must take your children and pick them up at the Eroski hotel lobby. It is prohibited to go to the rooms.
Arrivals: must be from 12:30PM to 2:00PM
Departures: from 10:30AM to 12:00PM
*For departures on July 28th, parents must pick up their children at 9:30AM since this is the end of the season and the camp closes.
Insurance Services
Through an international insurance company, we offer two different types of insurance:
Camp cancellation insurance
If you want to rest assured that you can recover your money in the event that your child is unable to attend the camp because of unforeseen circumstances - our cancellation insurance policy may be of interest to you. More information here
Travel insurance
We also offer a travel insurance policy that also includes medical assistance. Details of the full policy coverage can be found here
Steps to make a reservation for the camp
Step 1: Make a payment of 50% of the total cost of the program. (If you reserve after May 31st, you must pay 100% of the cost of the program to reserve.)
Step 2: Turn in the required documents duly completed.
Once you have completed steps 1 and 2, we'll send you a confirmation of your reservation.
Once you have received the confirmation, you can buy your transportation tickets. If you have reserved the transfer service, be sure to send us an email regarding the details of your trip so we can successfully transport you to the camp.
Photos & videos. Motocross Camp in Andorra
Why choose us?
1
Expert and transparent advice
3
More than 15 years of experience