If you love adrenaline then this is the camp for you! Camp Rialp organizes a Motocross camp for boys and girls between the ages of 8 and 16 years in The Principality of Andorra. Your level doesn't matter since beginners and advanced kids can participate.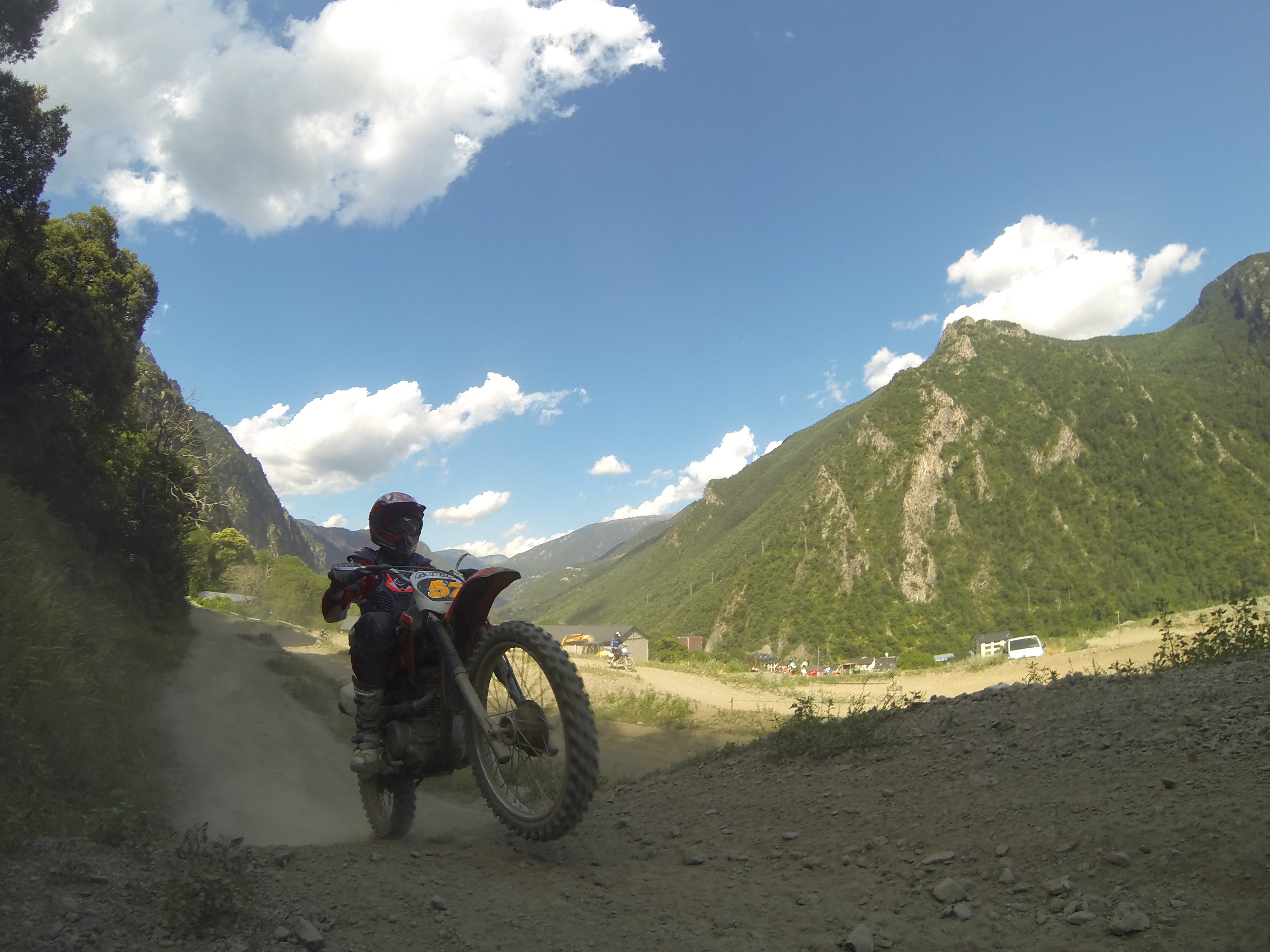 Overview
Location: Principality of Andorra
Allowed age: Boys and girls between 8 and 16 years old
Training: 3 hours a day from Monday to Friday
English classes: 15 hours of English classes per week
You can enjoy different circuits in a natural privileged environment and learn from great professionals such as Ferran Casas and Christian España.
Spend between two to four weeks enjoying Motocross in the middle of nature with colleagues with different nationalities.
The program includes 3 hours of training a day, 3 hours of English or Spanish class and many workshops and entertaining activities for having a great time. Camp Rialp uses the Euroski Hotel exclusively during the summer to house boys and girls who go to Andorra and want to enjoy a unique experience.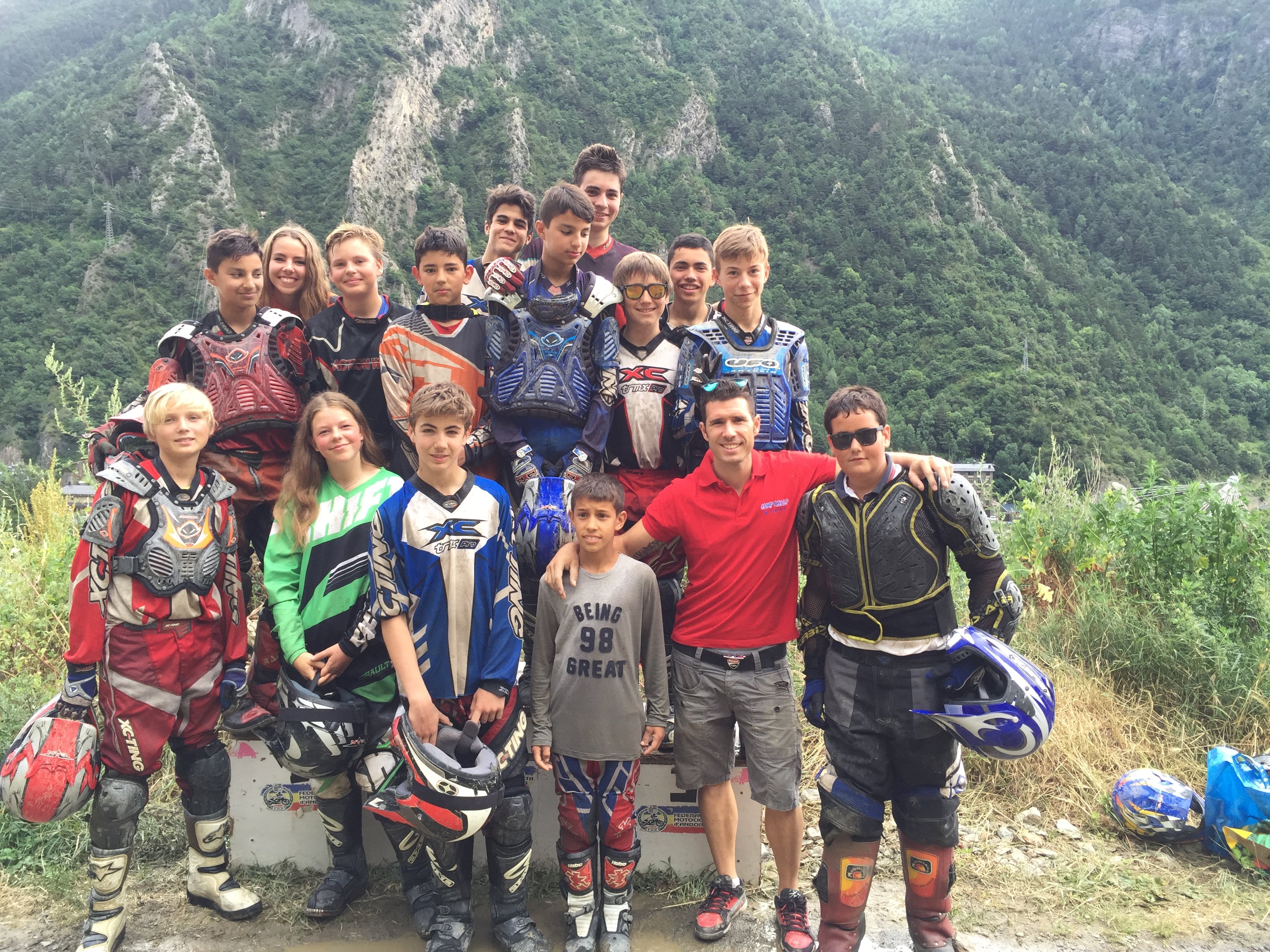 Available Programs
Motocross Camp in Andorra
Original and exclusive camp. With language classes, workshops and recreational activities.
Training
Training hours: 3 hours a day (Monday to Friday)
Available motorcycles: Honda CRF 100cc or Yamaha TTX 125cc
Motorcycles available for the little ones: Honda CRF 50cc automatic
During 3 hours a day, from Monday to Friday, participants practice motocross on circuits designed by Christian España, expert pilot of Raids and Dakar and one of the instructors of the camp with Ferran Casas (speed racing pilot) who teach the kids to apply different motorcycle techniques:  
Operation and use of the motorcycle
Dirt-track
Enduro
Security techniques, etc.
First they perform warm up exercises and then verify the equipment so they can start to practice programed exercises for that day.
Each participant must bring their own equipment to the camp or rent it. The equipment consists of:  
Boots
Helmet
Gloves
Pants
Enduro t-shirt
Knee pads and protective armor
Participants use a Honda CRF 100cc or a Yamaha TTX 125cc.
Smaller children use an automatic Honda CRF 50cc.
Language Classes
Available languages: English or Spanish
Class hours per week: 15 hours/week
Organization of groups: By level and age
Camp Rialp offers 15 hours of English or Spanish class a week with titled professors. Kids take a level test on their first day to place them in their corresponding class and take an exam at the end of each week to make sure they are in the right class.
Participants attend class in the morning and in the afternoons they go to their special motocross class. In addition to these classes, kids are in an international environment since all the instructors speak to them in English. 25% of the kids are international fostering the communication in this language.
During the motocross training a mix of English and Spanish is used in order to ensure that all the students understand the professors instructions perfectly.
The classes take place at the hotel, in designated rooms. Each class has a maximum of 15 students.  
At the end of the program, students receive a certificate of attendance as well as the material they have worked on.
Camp Schedule
Fun is assured at this camp. In addition to motocross, Camp Rialp organizes many camps for various disciplines so many boys and girls stay at the hotel. Once classes are finished, instructors organize many workshops and entertainment activities so the kids have a great time.
It is also possible to use the hotel´s facilities to practice a sport (soccer, volleyball, badminton, Ping-Pong, etc.), rest or watch a movie. These are some of the organized activities:
Movies
Play in the recreational rooms
Play board games (Parcheesi, goose, chess, trivial, etc.)
Watch TV
Talk with the family
Field Trips and Weekends
Workshops are available during the weekend as well as entertainment activities so the kids have great fun:
Sports
Go shopping in Andorra
Workshops (karaoke, DJ, Photography, video, dance, magic, cooking, etc.)
Camp Rialp also offers the option of field trips during the weekend for an additional cost. The options are:
Option 1 - Port Aventura Visit: includes round trip transportation, ticket for the park, lunch and snack. Price: 85€.
Option 2 - Barcelona Experience Tour: visit the most important monuments in Barcelona, Camp Nou, swim at the beach, visit the aquarium and shopping. The price is 95€ and includes round trip transportation, ticket for the Barcelona stadium, ticket for the Aquarium, breakfast, lunch and snack.
Accommodation
Accommodation: Hotel Euroski 4*
Types of rooms: Shared rooms for 2, 3 or 4 people
Monitors: 24 hours/day
Camp Rialp is located at the 4 star Hotel Euroski, in Incles, a beautiful spot of the Principality of Andorra surrounded by nature. Camp Rialp uses this hotel exclusively and houses the personnel as well as the boys and girls who participate in the different camps offered during the summer.
Housing
The Euroski hotel offers rooms shared by 2, 3 or 4 people with full bath, daily cleaning service and towel change. Each room has Internet connection, refrigerator, air conditioning, safety deposit box and satellite TV. Laundry service is available once a week.
Wi-Fi is available throughout the hotel and the kids can use it during their free time:
Restaurant
Heated Pool
Game room (with soccer tables, Ping-Pong and a multitude of board games, etc.)
2 Movie rooms
Playing fields: soccer, volleyball, badminton, mini-golf, etc.
The hotel also has a private dance club
Location
The exact address for the hotel is the following: Carretera General s/n, AD100 Vall Incles, Andorra
Prices and Dates
These courses are subject to a registration fee of 150 € ( $173 ) .
Starting Dates
Moto Cross Camp
Improved booking conditions for all camps
This 2022 make your reservation more easily and with less risk
We´ve lowered the deposit required to reserve your camp to just 500€
Free cancellation until May 1st
Money-back guarantee within 10 days
Optional anti-covid insurance

*Please note that if a visa is required to attend camp, it will be necessary to pay the total amount of the program

*Special conditions valid for all 2022 summer camp reservations except for the Barça USA camp, which will follow the general terms and conditions.
Extra Services
You can purchase one of the extra services below at an additional cost.
Anti-Covid Insurance

We have different insurance options with special anti-covid coverage, so you can insure your camp reservation according to your needs:

Cancellation and Interruption Insurance: cancellation and interruption insurance allows you to recover your payment if you cancel or interrupt the camp for a justified cause (including illness from COVID-19 and 35 other causes)
Travel/Medical Insurance: with this insurance policy, you´ll be covered for medical assistance abroad and possible expenses caused by situations resulting from COVID-19, such as needing to extend your stay up to 40 days, as well as other general situations such as loss of luggage, unforeseen ticket changes, etc.

Download the following PDF for more information about anti-covid coverage, the general terms & conditions, and prices of each insurance policy.

Anti-Covid Insurance


Transfer Service:

There are two types of transfer services available that we´ll detail for you below:

Standard transfer service: the camp offers an optional transfer service for participants who request it from the nearest airport to the residence (or vice versa). Check with Ertheo for schedules and prices for this service.
Special transfer with additional unaccompanied minor service: participants who fly to camp alone and have contracted the unaccompanied minor service with their airline must hire this special transfer with accompaniment so that the child isn´t left alone in the airport. Check with Ertheo for schedules and prices of this service.
Contact Ertheo for prices and additional information.
Transportation to the camp (flights/trains) is not included in the price of our programs.