The Catalonia Tennis Resort sports academy organises an annual summer tennis camp at its facilities in Gerona. The camp is open to young tennis players between 10 and 18 years old.

Are you interested in this program?
Download some information about this program and read it at anytime.
Overview
Location: Gerona
Ages and genders: Young tennis players between 10 and 18 years old
Levels: Advanced, Intermediate, Beginner
The Catalonia Tennis Resort sports academy organises an annual summer tennis camp at its facilities in Gerona. The camp is open to young tennis players between 10 and 18 years old, although we also accept girls and boys as young as 8 years of age as long as they are accompanying an older brother or sister, or another older relative or friend.
There are 20 hours a week of intensive tennis coaching sessions which take place between Monday and Friday. There are two possible training programmes: perfecting technique and competition.
The camp also offers the option to take one hour a day (5 hours a week) of language classes (English or Spanish).
Catalonia Tennis Resort has two fantastic accommodation options to choose from. These are: apartments in the academy or a 4-star hotel situated near the academy which has individual, double, triple or quadruple rooms. The sports complex has 14 tennis courts with a range of different surfaces.
This summer camp also offers the chance to attend as an external student. Students interested in attending a day camp can participate in the same programme of activities in a programme which runs from 9.00 in the morning until 6.00 in the evening.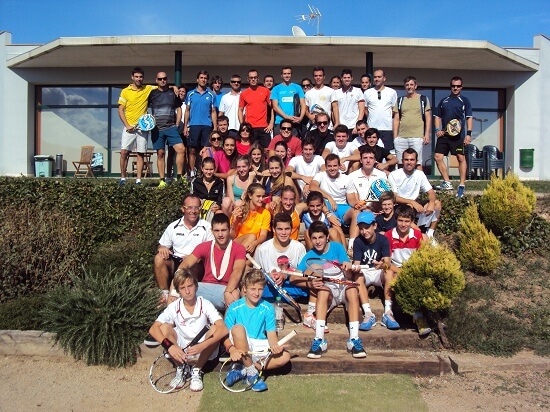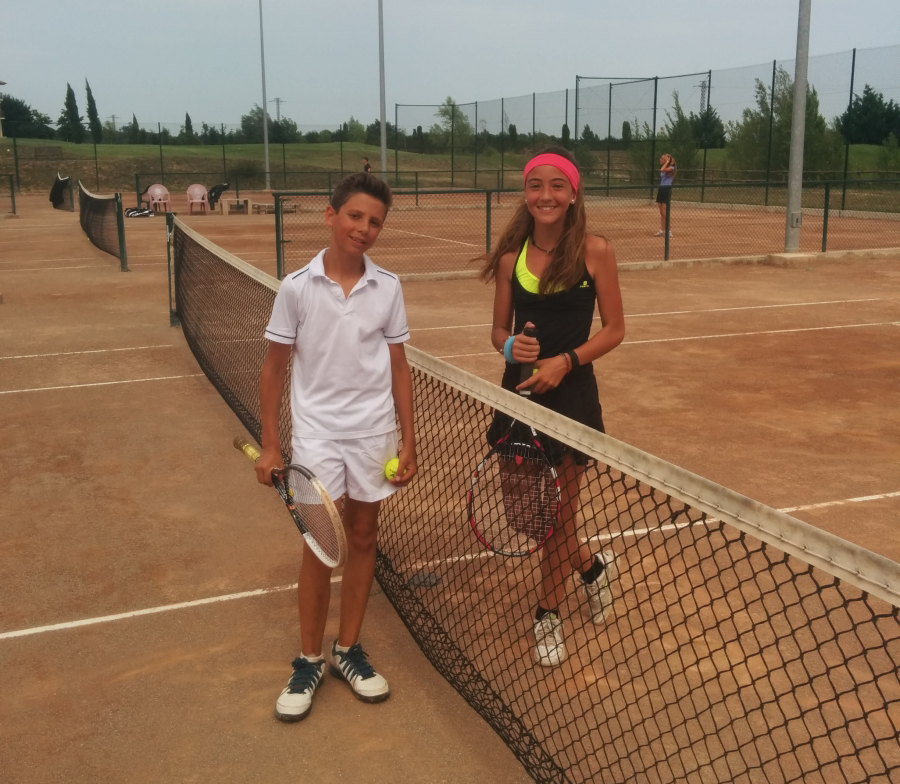 Available Programs
Gerona Tennis Camp 2021
The Catalonia Tennis Resort runs all year round. If you would like more information about our annual programme, please get in touch with us.
Tennis programme: 20 hours a week.
Tennis programme + languages (English or Spanish) 20 hours per week of tennis + 5 hours of language classes.
Programme for external students: same schedule as the internal programme - daily from 9am to 6pm.
Training
Hours of training per week: 20 h / week
Number of children per group: 4 children
The camp offers intensive and personalised training designed to help young players improve their standard of play within a short period of time.
The prestigious head coach, Felix Riba, is in charge of leading the technical sessions. Participants are placed into groups according to age and level. There are two available programmes, perfecting technique and competition.
Training sessions take place from Monday to Friday for a total of 20 hours per week. The aim of these sessions is not just to improve the players' technique but also their mental aptitude on court.
On Mondays, Wednesdays and Fridays the content of the sessions is based on basic techniques (rallies, footwork, consistency, cross court shorts and passing shots). On Tuesdays and Thursdays, classes focus on the attacking game (skills, approach shots, volleys and smashes). We also practice the serve on a daily basis.
In the afternoons from 4 to 6pm participants take part in league matches which are organised each week at the camp and also in personalised training sessions, where each player chooses a part of their game they want to practice.
Language Classes
Hours per week: 5 h / week
Children per group: 8 children
Young people who wish to can take English or Spanish classes. These are held for one hour a day (a total of 5 hours a week). Students will improve the level of their chosen language while sharing the learning experience with classmates from a range of different nationalities. There are 6 children in each class.
English or Spanish classes incur an additional cost of 50 Euro per week.
Camp Schedule
Taking into account the essence of this summer camp, as well as the training activities or language classes, the Catalonia Tennis Resort offers a wide variety of activities to keep the young people entertained and engaged the whole day.
Every day, from Monday to Friday, at least an hour and a half each day is devoted to providing fun activities for the young people to enjoy as they relax after their tennis coaching to help them integrate with the other camp participants. They can enjoy swimming in the pool, playing cards or other board games, or they can simply spend time with the new friends they will make at the camp.
Excursions
At weekends students are taken on excursions outside the camp. They will visit cities in the local area, go to the beach, cinema, shopping or a local water park.
Weekly agenda Tennis + Languages Gerona 2021
Schedule:
08:00 Wake up
09:00 At tracks
11:00 Rest + snack
11:20 Technical training
12:30 Recreational pool
13:00 Lunch
14:00 Free time
15:00 Language classes
16:00 Game + Training on demand
18:00 Shower
18:30 Return home
18:45 Free time
20:00 Dinner
20:30 Recreational activities
23:00 To bed
* This programme is subject to change.
Accommodation
Number of children per monitor: 8 children
Accommodation type: Apartment
The camp offers two options for accommodation: apartments at the academy, where there is continual supervision by monitors who live with the participants, or a 4-star hotel located near the academy. Hotel rooms are individual, double, triple or quadruple.
The sports complex provides excellent facilities there are 14 tennis courts (8 clay courts, 4 of synthetic resin and 2 of artificial turf). There are also 4 paddle tennis courts, a 7-a-side football pitch and three outdoor swimming pools.
Monitors
The camp's team of monitors provide constant supervision of the young participants. The monitor: student ratio is 1:8.
The tennis camp is located in Santa Coloma de Farners, which is a town in the province of Gerona. It is about an hour and a quarter from Barcelona's city centre and the airport (Aeropuerto del Prat).
Prices and Dates
Duration (Weeks)
CTR Tennis Academy
Tennis camp
Starting Dates
Tennis camp
Extra Services
You can purchase one of the extra services below at an additional cost.
Anti-Covid Insurance - New for 2021!

We have different insurance options with special anti-covid coverage, so you can insure your camp reservation according to your needs:

Secure Booking Insurance: we offer secure booking insurance which allows you to recover the cost of your reservation if you have to cancel the camp, before its start, for any cause (including border closure, quarantine, or any situation outside of camp)
Cancellation and Interruption Insurance: cancellation and interruption insurance allows you to recover your payment if you cancel or interrupt the camp for a justified cause (including illness from COVID-19 and 35 other causes)
Travel/Medical Insurance: with this insurance policy, you´ll be covered for medical assistance abroad and possible expenses caused by situations resulting from COVID-19, such as needing to extend your stay up to 40 days, as well as other general situations such as loss of luggage, unforeseen ticket changes, etc.

Download the following PDF for more information about anti-covid coverage, the general terms & conditions, and prices of each insurance policy.

Anti-Covid Insurance


Transfer Service:

There are two types of transfer services available that we´ll detail for you below:

Standard transfer service: the camp offers an optional transfer service for participants who request it from the nearest airport to the residence (or vice versa). Check with Ertheo for schedules and prices for this service.
Special transfer with additional unaccompanied minor service: participants who fly to camp alone and have contracted the unaccompanied minor service with their airline must hire this special transfer with accompaniment so that the child isn´t left alone in the airport. Check with Ertheo for schedules and prices of this service.
Contact Ertheo for prices and additional information.
Transportation to the camp (flights/trains) is not included in the price of our programs.