Fun and learning are guaranteed at the Andorra Basketball Camp. This is an international camp attended by boys and girls aged between 8 and 16 years of age from all parts of the world.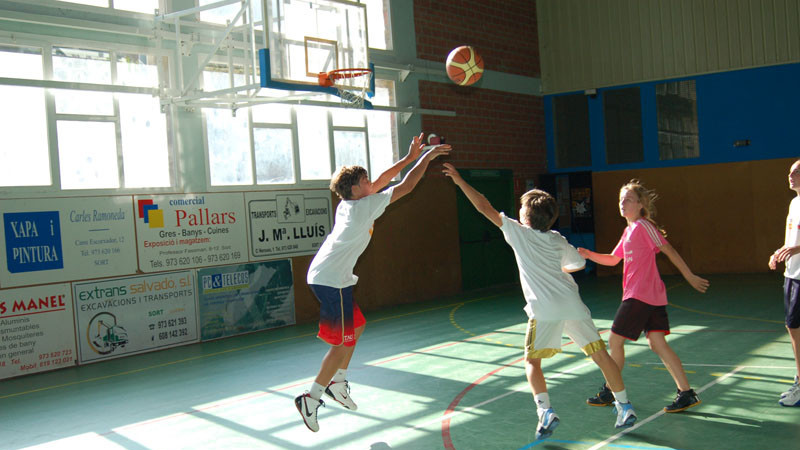 Overview
Location: Incles Valley, Andorra
Allowed age: 10 to 16 years
Training: 15 hrs/week
English classes: 15 lessons/week
The base for the camp is the Hotel Euro Esqui, a complex located in one of the most attractive valleys of the Principality of Andorra.
This includes also the language classes and recreational activities. One of the most important components of the camp is that apart from enjoying basketball, the young people will also be improving their English or Spanish skills by means of daily three hour lessons from Monday to Friday.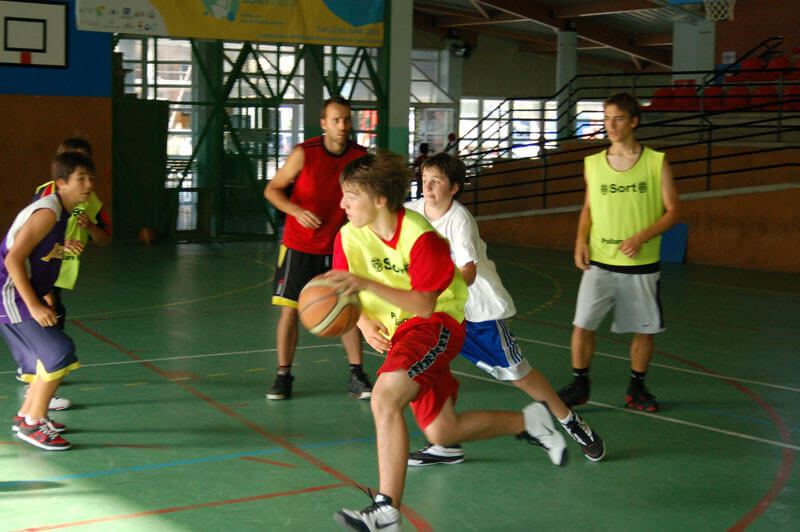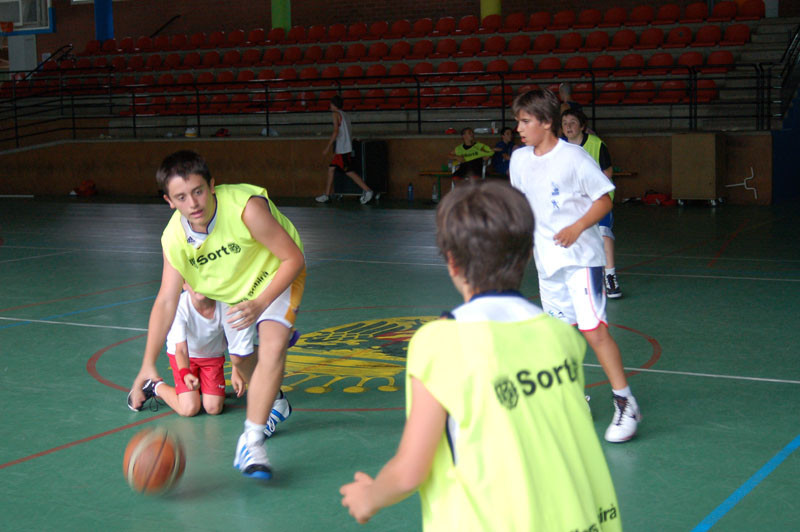 Available Programs
Basketball Camp in Andorra
Language and basketball classes for boys and girls between 8 and 16 years old. Many workshops and entertainment activities. Quality accommodation.
Training
Training hours: 3 hours a day (Monday to Friday)
Surface: Regulation basketball court
Groups: 6 children per group
Training levels offered by the camp: Advanced, Intermediate, Beginner
The main objective of the methodology of the sports coaching used at the Andorra Basketball Camp is that participants work on improving their technique while playing the sport. The coaching comprises theory classes with dynamic exercises and drills to help the young people get the most out of this fantastic sport and also to develop their physical fitness.
The basketball camp takes place on a regulation basketball court. Students do 3 hours of basketball coaching from Monday to Friday. The coaching is led by specialist trainers and monitors and comprises technical, theoretical and physical instruction.
Participants do not need to bring any equipment as the camp supplies everything that is required.
Language Classes
Available languages: English and Spanish
Hours per week: Monday to Friday, from 10 a.m. to 1:15 p.m.
Organization of groups: By level and age
Language immersion is one of the main aims of this camp. Students can take classes in English or Spanish from Monday to Friday from 10.00am to 1.15pm. Students are placed in classes according to their age and level. Each lesson is based on the curriculum of Trinity College London. Teachers are qualified and experienced and the students are continually assessed.
On the first day students do a level test so they can be placed in a group corresponding to their ability. Over the following days they are assessed to ensure the class they have been placed in is the right one for their level and, if necessary, they will be transferred to a different group. Learning materials are provided in the context of the lessons.
At the end of the course students are given their completed work, a certificate of attendance with the final result and a diploma.
In addition, those participants who wish can also take the official examination of Trinity College, London.
Camp Schedule
At weekends the camp programme is less intensive. Participants enjoy a social programme, with workshops, activities, sports, competitions, gymkhanas, games, swimming, movies, discos and excursions to Andorra La Vella for shopping trips.
The camp also organises optional excursions for an additional cost of 95€. Examples of outings include Port Aventura and the Barcelona Experience Tour.
The camp organisers try to ensure that the young people at the camp use every moment to enjoy themselves and that they also have the chance to learn about the culture of the place where they are staying.
As part of the social programme the camp also runs workshops. These include karaoke sessions, DJ skills, photography and video production, dance, magic skills, make up and cookery. Please note that the workshops are organised subject to demand and some may be changed or cancelled, depending on numbers.
Accommodation
Accommodation: Euro Ski Hotel 4*
Rooms: Multiple rooms of 2, 3 or 4 rooms with bath or shower
Laundry: Yes
The camp is located in Hotel Euro Esqui, a 4 star complex located in Incles, one of the prettiest valleys in the Principality of Andorra, specifically in the ski area of Soldeu-El Tarter.
The complex is surrounded by mountains and rivers, making it an ideal place to spend the summer enjoying the nature and open air, learning English or Spanish in a communicative style, practising all types of sports, making friends from many different countries and generally having a wonderful time.
The hotel has a buffet-style restaurant, bedrooms which sleep 2, 3 or 4 people, with bathroom, shower and a towel changing and cleaning service. There are also lots of common areas where the young people can get together and enjoy, for example table football, pool, table tennis and other games. Discos are held at weekends. The hotel also has a heated swimming pool and hot tub and sun terrace with bar.
Prices and Dates
These courses are subject to a registration fee of 150 € ( $173 ) .
Starting Dates
Improved booking conditions for all camps
This 2023 make your reservation more easily and with less risk
We´ve lowered the deposit required to reserve your camp to just 500€
Free cancellation until March 1st
Money-back guarantee within 10 days
Optional anti-covid insurance

*Please note that if a visa is required to attend camp, it will be necessary to pay the total amount of the program

*Special conditions valid for all 2023 summer camp reservations except for the Barça USA camp, which will follow the general terms and conditions.
Extra Services
You can purchase one of the extra services below at an additional cost.
Anti-Covid Insurance

We have different insurance options with special anti-covid coverage, so you can insure your camp reservation according to your needs:

Cancellation and Interruption Insurance: cancellation and interruption insurance allows you to recover your payment if you cancel or interrupt the camp for a justified cause (including illness from COVID-19 and 35 other causes)
Travel/Medical Insurance: with this insurance policy, you´ll be covered for medical assistance abroad and possible expenses caused by situations resulting from COVID-19, such as needing to extend your stay up to 40 days, as well as other general situations such as loss of luggage, unforeseen ticket changes, etc.

Download the following PDF for more information about anti-covid coverage, the general terms & conditions, and prices of each insurance policy.

Anti-Covid Insurance


Transfer Service:

There are two types of transfer services available that we´ll detail for you below:

Standard transfer service: the camp offers an optional transfer service for participants who request it from the nearest airport to the residence (or vice versa). Check with Ertheo for schedules and prices for this service.
Special transfer with additional unaccompanied minor service: participants who fly to camp alone and have contracted the unaccompanied minor service with their airline must hire this special transfer with accompaniment so that the child isn´t left alone in the airport. Check with Ertheo for schedules and prices of this service.
Contact Ertheo for prices and additional information.
Transportation to the camp (flights/trains) is not included in the price of our programs.