For us, training in grassroots football is more than just achieving results, or passing on technical knowledge. It is the path to a better world.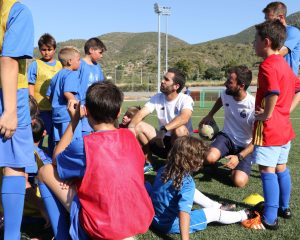 What could be the greatest dream of a person who wants to make a career in football? The options are so many that it seems impossible to list them all: making your debut in the First Division, playing for your country's national team, scoring a goal in a final, swapping shirts with your childhood idol, winning a title as a coach… endless, in short. And yet, is any of them more beautiful, more comforting than training in grassroots football?
We don't think so. Because training in grassroots football means being a model, seeing players grow up under your guidance. It means being the mentor of boys and girls, who become teenagers who become adults – and, sometimes, professional football players as well. Being a grassroots football coach is, in short, a unique experience, in which you not only help to become a better player, but also a better person. In terms of personal fulfilment, we think that there is no comparable experience.
And no: contrary to popular belief, being a grassroots coach is not a job that just anyone can do. It requires a philosophy, requirements, knowledge, and methods that no one achieves through science, but through hard work, study and experience.
This article is going to cover all this, and other aspects of what it means to be a grassroots coach.
What is a grassroots football coach?
If you want to do it right, coaching in grassroots football is not a hobby, nor a leisure activity, nor a way to occupy the time of idle parents. Being a youth coach in any sport, including football, is a job, but above all else, it is a commitment.
Beyond the effort involved in studying the necessary qualifications and knowledge, beyond the preparation of training sessions and the patience needed to deal with minors, being a youth coach requires being a reference. In fact, although it is sometimes overlooked, the social responsibility of this position is gigantic. The coach spends many hours a week with his pupils and does so while being in charge of what they love most: the ball, the perfect method for training.
Atlético de Madrid's youth coach, Alberto Ruiz, said it in an interview published in our blog: "The impact [of the coach] on the person and the player is very high. You push them, you help them, you see them grow. Being a training football coach is not just about planning training sessions and making line-ups, it goes much further. You have to be a trainer.
A trainer of people, a transmitter of the values of sport to future citizens of our society, who will end up having their rights and obligations. That is what a good grassroots football coach is. What is the difference from what a teacher does in a school? Well, the coach does it with a ball at his feet.
Requirements for training in grassroots football
The importance of the job of training in grassroots football means that certain qualifications or accreditations are necessary. In this sense, there are two ways to obtain the necessary credentials: the one offered by the official Spanish education system and the UEFA-approved qualification.
Spanish official education pathway
The Spanish education system has its own qualifications for accrediting coaches at grassroots level. There are two of them, and they belong to the field of vocational training:
the intermediate level training cycle of football sports technician.
and the higher-level training cycle of higher sports technician in football.
Both have academic and professional validity, are internationally recognised, and can be attended in both public and private centres. The intermediate level allows you to train any team up to the youth category, while the advanced level offers the ability to train in any category of national football.
UEFA-approved qualifications
UEFA, for its part, has its own qualifications, which are taught at the coaching courses of the authorised football associations and federations. These are divided into:
Level C: the course required to coach in grassroots football – i.e. pre-benjamin, benjamin, juvenile, child and cadet categories.
Level B: compulsory to coach a youth team. You need to have a C license and six months' experience.
Level A: allows you to coach any football team, except those in the professional category. A Licence B and one year's experience are required to take this course.
Pro Level: the course to become a professional football coach. As in all the previous ones, you need to have the previous licence (A), plus one year's experience as a youth, senior or assistant coach in a professional club.
Principles of a grassroots football coach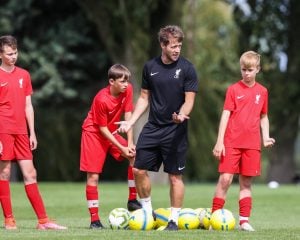 As for the principles that govern the coaching profession, it must be said that they are relative. You only must watch a team led by Simeone play against a team with Guardiola on the bench to see that there are indeed very different ways of coaching, but that they can all be excellent.
However, especially when it comes to coaching grassroots football, it is clear to us that there are certain principles and values that must be complied with. Mainly, four of them.
The result is not the most important thing
The first objective of grassroots football, at least as we see it, is to develop people. Therefore, nothing could be further from our values than to think that anything is valid, that the only thing that counts is the result and that the end justifies the means.
To sum it up in a few words, our vision of coaching in grassroots football is that the how is much more important than the what.
Growing as a person and as an athlete go hand in hand
In fact, we believe that there is no point in being the best, the top scorer, the one who stands out the most on the pitch match after match, if that football growth is not accompanied by personal growth.
Because the development of a person is a long-term investment. And because there are very few footballers who can make a living from it for the rest of their lives, but there are millions of people who are grateful for having been trained as children through sport.
The transmission of collective values
In the training of grassroots sport, especially in collective disciplines such as football, there is one subject that stands out above all others: the values of a collective, of the group. No principle is more important – whether in dealing with people, in the business world, or in any other facet of life – than group values, than respect for teammates and opponents.
That, too, is a fundamental pillar of coaching in grassroots football.
It is not only the players who learn
And finally, a principle that is not often talked about: it is not only the players who evolve, but a coach can also learn a lot from his pupils.
Our way of conceiving training in grassroots football is that of a more horizontal than vertical relationship, in which a trainer can also, in turn, be trained while training, soaking up the wisdom of the youngest players. We believe that there is no healthier way to approach the profession of youth coaching than this.
Functions of the grassroots football coach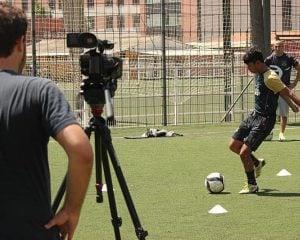 So, based on all this, we believe that the main functions of a grassroots football coach are five:
To feel that the position goes far beyond being a hobby or a job, but that it is a real commitment to society to form better people.
Transmit the values of teamwork, mutual support and the common good of a collective.
To remember that we are not only training future football players, but, above all, future adult citizens.
To live in a process of constant training, and to know all the techniques and methodologies necessary to carry out the work in the best possible way.
And, finally, to be up to date with the latest technological advances and tools.
Conclusion
This is, in summary, our vision of what being a football grassroots coach means: a mixture of the demands of a coach at the highest level with the ability to train, lead and serve as a positive reference for the youngest players. A job that is often more complex and more important for society in general than that of a Champions League coach.
If you are one of those who share this same way of seeing grassroots sport, or if you simply want more information about our latest projects or football camp offers, do not hesitate to contact us.