Silvia Gutiérrez, also known as Silvia Diets on her blog, earned her degree in Human Nutrition and Dietetics at the University of Barcelona. After this great accomplishment, she earned a title as an expert in Nutritional Coaching. After working for five years creating menus for institutions and communities, she opened her own private practice where she helps her clients eat healthy and meet their nutritional goals.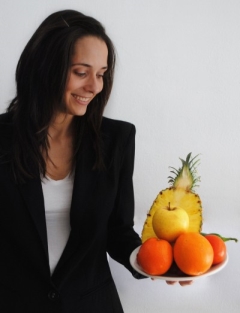 Advice for young athletes
Thanks to her experience creating menus for school cafeterias, Silvia Diets has put together 5 pieces of advice for parents of young athletes:
Use extra virgin olive oil to cook and marinate whenever possible. Other acceptable fat sources include: avocado, and nuts and seeds.
Consume fresh produce in abundance: fruits, vegetables (seasonal), legumes, nuts and seeds.
Consume wheat and whole grain products to avoid refined grains.
Limit consumption of highly processed foods such as: pizzas, processed meats, soft drinks, white bread, store bought juice, potato chips, cookies, pastries, sugary cereals and cereal bars, ice cream, sugary dairy products, etc.)
The main drink so be water. Drink according to thirst. Natural fruit juices should be consumed occasionally.
"In general, there shouldn't be a big difference between the diet of an infant and that of an adult. Every day, I see families that cook different foods because they adapt the preparation of the food to different family members. They believe that children should eat differently just because they're children."