Superstitions are commonplace in football. Plenty of players, coaches and fans strive to achieve some kind of spiritual sanctuary before a game by performing various bizarre rituals.
Here is a rundown of the 20 funniest soccer superstitions.
Real Madrid
When Real Madrid re-located to their new stadium in 1912, they did not win a trophy for 5 years. To break the "curse," they took the unusual step of burying a clove of garlic under the centre circle and went on to win the Copa del Rey that season.
Pepe Reina
When he was at Liverpool, the Spaniard admitted to a whole range of pre-match rituals including having cheese and ham toasties and a glass of wine the night before a game, and making sure his car was full of petrol on match day.
Vincent Tan
When the Malaysian businessman took charge of Cardiff City he revealed to his board of Directors that he would prefer to sign players with the number 8 in their date of birth.
Giovanni Trapattoni
The legendary Italian Coach is deeply superstitious and used to take holy water to matches when he was boss of the national team. The water was provided by his sister, who just happened to be a nun.
Adrian Mutu
The controversial Romanian striker often shocked the football world with his off-field antics but on the pitch he ensured success by wearing his underpants inside out.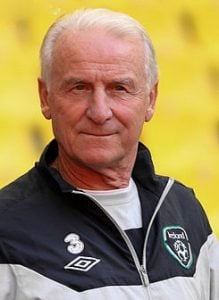 Roberto Mancini
If you ever have dinner with Mancini, whatever you do, do not pass him the salt. Instead, the salt pot should be pushed across the table like a chess piece.
Romeo Anconetani
Salt is not a problem for the former President of Italian club Pisa. In fact, he loves it and would throw some on the pitch before every game. For more important games a larger amount of salt would be required.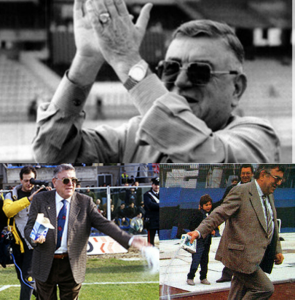 Kevin Keegan
The former European Player of the Year would remain bare-chested in the dressing room until everyone else had put their kit. Sometimes he was still dressing as he ran onto the pitch.
Raymond Domenech
It was claimed by some players that the former France national team coach would consult the horoscopes before making his team selection. Players even claimed to have been dropped because the alignment of the stars was against them.
Barry Fry
The former Manager of Birmingham City believed that there was a curse at their St. Andrews stadium and decided that the best way to remove it was to urinate on the corners flags. However, it wasn't until Fry himself was removed from his role that their fortunes started to improve.
Winfried Schafer
During the 2002 African Cup of Nations, the Cameroon coach was arrested, along with his assistant Thomas Nkono, for trying to place a voodoo charm on the pitch before the game.
Tony Sylva
In the same tournament two years earlier, the Senegalese goalkeeper was accused of hiring a witch doctor to smear his goal posts with a magic ointment. After the alleged treatment, Sylva went 448 minutes without conceding a goal.
Rene Higuita
In a desperate bid to improve the form of his team, the Atletico Nacional goalkeeper once visited a fortune teller with his teammate Carlos Perea. She advised them that, in order to change their fortunes, the whole squad should wear blue belts and underpants. After following her advice they went on to win the Copa Libertadores.
Malvin Kamara
The former Wimbledon and MK Dons midfielder has bravely revealed his strange habit of watching the movie Willy Wonka and the Chocolate Factory before every game to help him relax.
Iker Casillas
Ronaldo's ex-teammate has had many rituals over the years including cutting the sleeves off all his goalkeeping shirts and wearing his socks inside out. When he was dropped by Jose Mourinho in 2012, he gave up the sock habit and eventually worked his way back to No. 1.
Cristiano Ronaldo
The Real Madrid forward and four-time Ballon d'Or winner has many rituals that he adheres to religiously for each game. One of the strangest is his halftime habit of changing his hairstyle.
Paolo Di Canio
When he was playing for Premier League side West Ham, the maverick Italian always had to put his left boot on first. Before one game, he accidently put his shorts on back to front but refused to change them. He went on to score twice as West Ham beat Arsenal for the first time in 14 years.
Steven Gerrard
Like many Liverpool players over the years, the former club and country captain always had to touch the famous This Is Anfield sign on his way out to the pitch. The original sign had been replaced by a more modern version in 1998 but when manager Brendan Rodgers arrived in 2012, he insisted that the old sign was re-fitted after it was found in a cupboard.
Paul the Octopus
During the 2010 World Cup finals, Paul, a psychic octopus from England predicted the match results with an 85% success rate. He would choose between two boxes containing food, each marked with the flag of a competing team.
Holly the Hamster
In the 2013/14 season, Middlesbrough's improved league form coincided with the arrival of a chubby-cheeked mascot at the club's training ground. Holly the Hamster was a Christmas gift from an unnamed player and was given permanent residence at the northeast club's facilities.
What are you sport superstitions? Get in touch with us via twitter: @ertheo_eng