Passionate about basketball? Get in the shoes of your favourite players! Take part in the Basketball camp in England in July. Available from one to four weeks.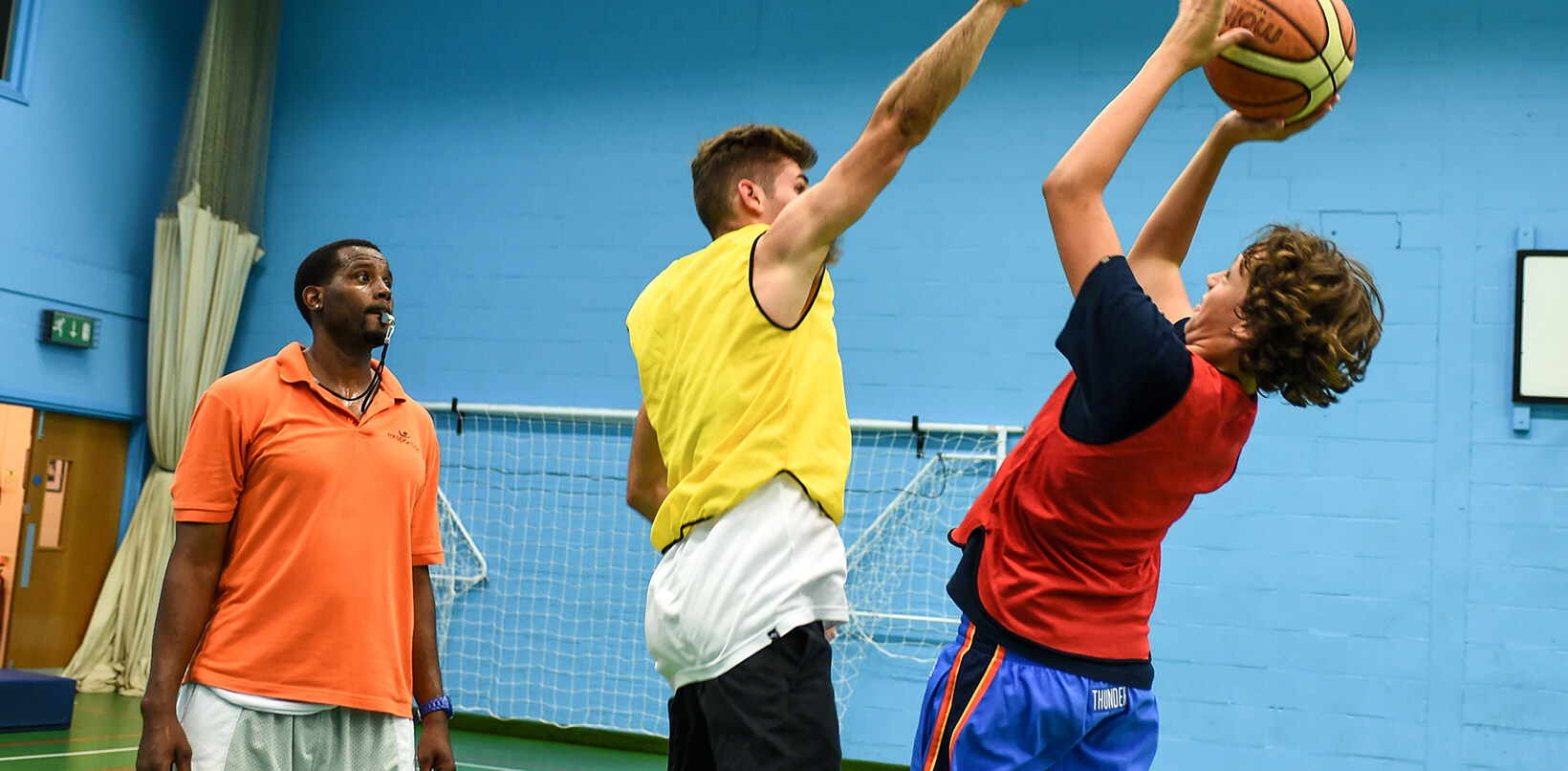 INTRODUCTION
Is your child looking to improve his or her dunks, free throws and three-point baskets? Offer your budding basketball player an unforgettable sports camp with English classes! This camp takes place in England during the month of July and is open to girls and boys of all levels. The camp includes basketball sessions, accommodation, fun activities during the stay and English lessons.  
The organisers of the Basketball camp have been running sports camps in England since 1988, making it one of the most experienced camp organisers in the industry. These programs offer an international, friendly, fun and safe environment. Therefore, young people can easily improve their sports, language and confidence skills.
The programme welcomes participants of different nationalities. In order to make the most of the language immersion, the number of students of one nationality is limited and the language spoken throughout the day is English. In addition to this, English classes are also taught during the course by qualified and experienced teachers.
Available Programs
The Basketball Camp in England is suitable for girls and boys of all levels who want to live their passion to the fullest in a privileged setting alongside other enthusiasts, alternating their days between English lessons and fun activities.
Basketball camp in England
Good quality of English classes. Lots of variety of nationalities in the camp.
Other programmes are also available on campus:
Training
What is the training level?
Whether you want to learn or improve, the main goal is to have a great time with participants from all over the world, around a single passion: Basketball. The course is not considered intensive, the objective being above all to have fun, create new friendships with participants from other countries while improving your English.
 What are the topics covered?
The sporting objective of this camp in England is to ensure a real progression in basketball thanks to the guidance of qualified coaches. Individual and group exercises based on the technical and tactical aspects of the game will be used during the training sessions. Basic skills such as dribbling, shooting, passing and rebounding, as well as the importance of teamwork will also be covered.
What is the level of the players?
This camp is suitable for girls or boys of all levels who enjoy playing basketball and want to improve their skills. At the beginning of each week, all players are evaluated and placed in groups according to their abilities, to ensure optimal progress.
What is the level of the instructors?
Thanks to the highly qualified coaches who are passionate about basketball, beginners or experienced players will be able to quickly learn or improve the basics and techniques of the game that will be useful during games.
Training Facilities
The campus has large outdoor natural grass pitches, a sports hall and tennis courts, perfect for training young people in the best conditions. There is also a common room with sofas, a television, board games and magazines where young people can discuss and relax in a comfortable environment.
ENGLISH COURSE
In addition to the sports sessions in English, the Basketball camp offers language lessons in the morning or afternoon. This camp is an ideal way to learn English in a fun way with qualified teachers with extensive experience in the field. At the end of the camp, students receive a report indicating the level of English they have achieved during their stay. What could be better than learning English in England?
Camp Schedule
A typical day during the course
Every morning, the students meet in the dining hall to have a good balanced breakfast. They then go to their English classes or to basketball practice. After lunch, they go back to class or training depending on the activity they did in the morning.
Once the training and lessons are over, the participants have free time to spend with other young people on campus who have chosen another sport or activity such as football, tennis, music or rugby. After dinner, they all take part in evening events and workshops organised by the counsellors in order to encourage new encounters and create group cohesion. The participants then go to bed to rest and be in good shape the next morning.
This programme is given as an indication. It may be modified or changed according to technical criteria, safety requirements or weather conditions.
Excursions
The course organizes excursions for young people who stay two weeks or more. During the weekend, the participants, accompanied by their counsellors, enjoy various activities such as: a visit to an amusement park, a cultural and/or tourist visit with a shopping session at the end of the day.
Accommodation
The participants of the Basketball camps stay in a very comfortable English university residence. The accommodation, sports facilities and dining hall are all located in the same place, so the students do not need to leave the campus. They only leave the campus when they go on excursions with their counsellors at the weekend.
Accommodation
Participants stay in double, triple or quadruple rooms with single or twin beds. The bathrooms and showers are located outside the rooms and are shared between four and six students.
Prices and Dates
These courses are subject to a registration fee of £ 85 (106 € or $ 113).
The official rate of this program is determined in POUNDS so the final amount in other currencies may vary slightly due to currency fluctuation.
Starting Dates
Basketball Oundle School (Sport and English)
Improved booking conditions for all camps
This 2023 make your reservation more easily and with less risk
We´ve lowered the deposit required to reserve your camp to just 500€
Free cancellation until March 1st
Money-back guarantee within 10 days
Optional anti-covid insurance

*Please note that if a visa is required to attend camp, it will be necessary to pay the total amount of the program

*Special conditions valid for all 2023 summer camp reservations except for the Barça USA camp, which will follow the general terms and conditions.
Extra Services
You can purchase one of the extra services below at an additional cost.
Anti-Covid Insurance

We have different insurance options with special anti-covid coverage, so you can insure your camp reservation according to your needs:

Cancellation and Interruption Insurance: cancellation and interruption insurance allows you to recover your payment if you cancel or interrupt the camp for a justified cause (including illness from COVID-19 and 35 other causes)
Travel/Medical Insurance: with this insurance policy, you´ll be covered for medical assistance abroad and possible expenses caused by situations resulting from COVID-19, such as needing to extend your stay up to 40 days, as well as other general situations such as loss of luggage, unforeseen ticket changes, etc.

Download the following PDF for more information about anti-covid coverage, the general terms & conditions, and prices of each insurance policy.

Anti-Covid Insurance


Transfer Service:

There are two types of transfer services available that we´ll detail for you below:

Standard transfer service: the camp offers an optional transfer service for participants who request it from the nearest airport to the residence (or vice versa). Check with Ertheo for schedules and prices for this service.
Special transfer with additional unaccompanied minor service: participants who fly to camp alone and have contracted the unaccompanied minor service with their airline must hire this special transfer with accompaniment so that the child isn´t left alone in the airport. Check with Ertheo for schedules and prices of this service.
Contact Ertheo for prices and additional information.
Transportation to the camp (flights/trains) is not included in the price of our programs.