If you're looking for a memorable and rewarding experience for your son or daughter, then why not thinking about sending them to a basketball camp with English lessons in the UK.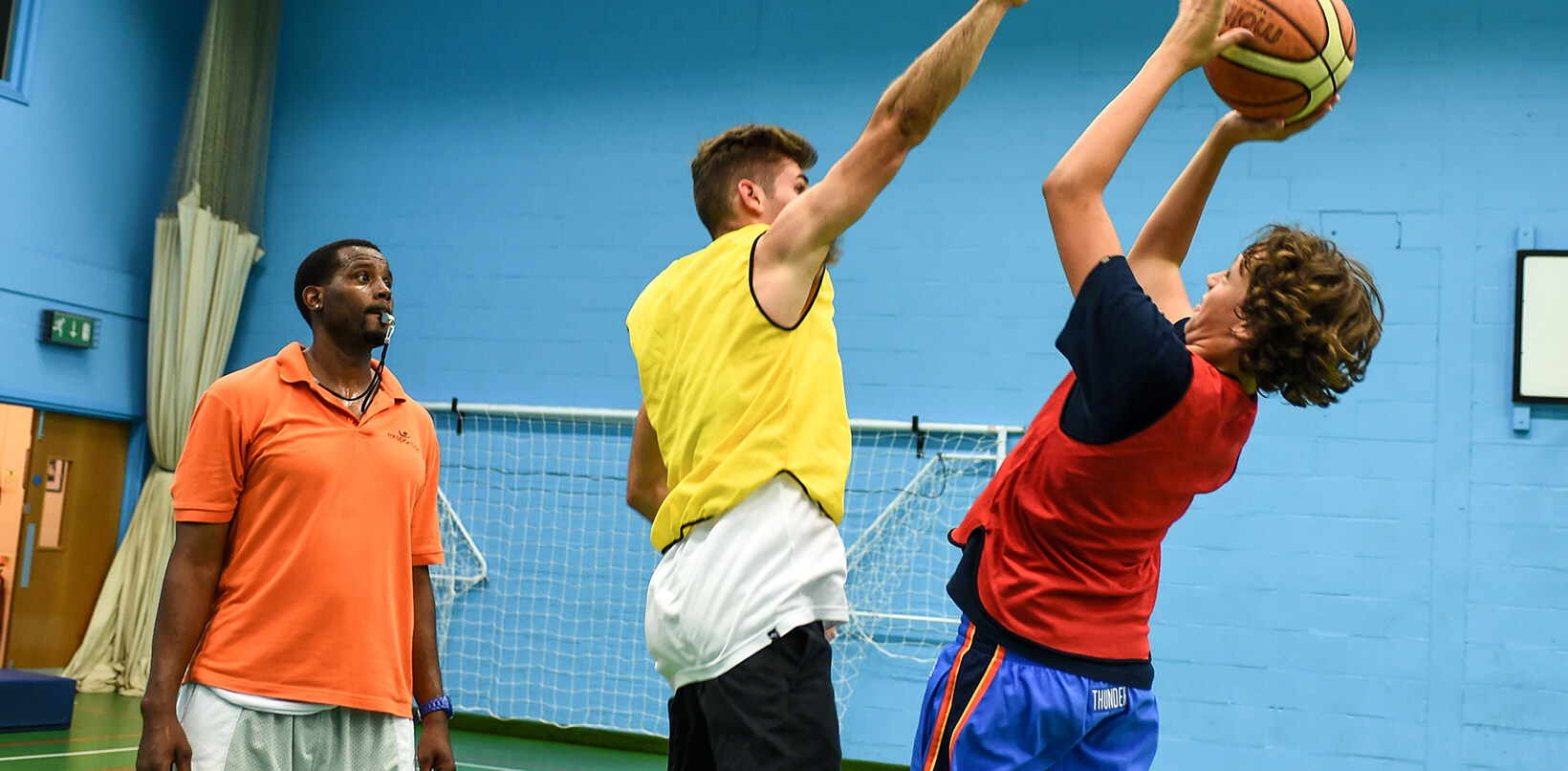 Overview
Training: 15 h/week
English classes: 15 lessons/week
Allowed age: 11 to 17 years
Our goal is to provide children with enough skills and abilities so that they know their favorite sport in depth and, in addition, acquire a complete knowledge of English, it is the perfect tandem.
And if you don't want English classes, you can opt for the basketball-only program that doesn't include English classes and dedicates more hours to training.
By focusing on a single sporting activity, the youth also show their progress in that activity during their stay at the camp.
All this in a safe environment and with very close supervision. This camp has been held in England for almost 30 years and is a unique experience of cultural exchange and personal development for young people. That is undoubtedly the key to its success and this, added to the international environment, immersion in the language and the coexistence of hundreds of young sports lovers, makes it a perfect plan for the summer.
Available Programs
Basketball camp in England
Good quality of English classes. Lots of variety of nationalities in the camp.
Training
Hours of training per week: 15 h/week
Languages spoken by coaches: English
Training levels offered by the camp: Advanced, Intermediate, Beginner
Number of children per group: 10
Our basketball programme is designed for students who are passionate about this sport and want to improve their skills. This includes beginners to the sport.
The Exsportise coaches are experienced professionals who love their sport as much as the people they train. The coaching focuses on physical fitness, agility and learning the required skills. The coaching takes place from Monday to Friday, for three hours a day.
Through theoretical and practical sessions, students will acquire a comprehensive knowledge of basketball techniques and tactics. Each week the students will be assessed in order to track their progress.
Language Classes
Class hours: 3 hours/day
Class days: Monday to Friday
Organization of groups: By level
During their stay at Exsportise, students combine basketball coaching with English classes. They attend three hours of English lessons per day, Monday to Friday.
One of the great advantages of this camp is its international nature. Students come from a wide range of countries and so outside the basketball coaching and language lessons, the young people can also practise their English with their campmates. The English classes are accredited by the British Council, which guarantees the high quality of the teaching.
Before the camp begins, students take an online test so that their level of English can be assessed. The test consists of a questionnaire, written exercise and a comprehension test.
In addition, during their first English class, students take an oral test to determine their level of fluency which the teacher will use to determine which group they will be placed in.
For students who do not take the online test, they can do this on their first day at the camp. In this way the teachers will have all the information they need to ensure the child is put into a group which best meets their language learning needs.
Camp Schedule
A typical day at the Exsportise camp begins as follows. At 7.30am the students get up. Breakfast is from 8.00, and at 9.00 they join their classmates in the meeting room to get into groups and go to their English lessons which begin at 9.15. Classes go on until 12.45 and lunch is at 1.00pm. After the meal there's a period of free time until 2.15pm, which is when the afternoon coaching session begins. At 6.00pm students have dinner and after that and until 9.00pm-10.30pm (depending on the student's age) the young people are free to relax and enjoy themselves with their campmates.
The camp organises two full day excursions each weekend. The most popular days out are to theme parks, where students have a fantastic time full of thrills on the rides and roller coasters or just enjoying the company of their new friends.
There are also excursions organised to nearby towns and cities such as Brighton, Oxford or Cambridge, in this way the young people can discover more about the British culture.
All outings are supervised by camp staff and the young people are given a packed lunch on their days out of camp.
Accommodation
Accommodation: Oundle School, near Peterborough
Rooms: Shared
Age of students: Between 11 and 17 years old
Students are accommodated in Oundle School, a building located in the heart of the town of Oundle, close to Peterborough. Boys and girls sleep in separate sections, to protect their privacy.
Oundle School has wonderful facilities for sport. There are extensive playing fields and two indoor sports halls. There are also artificial football pitches with floodlights, tennis courts and an indoor swimming pool.
The bedrooms are shared. The residence has a capacity for 180 students aged between 11 and 17 years.
With regard to travelling to the camp location, the closest airport is London-Heathrow. It is also possible to arrive by train, via London St Pancras Station. The camp offers a collections service for unaccompanied minors at the station of arrival, whereby they will be met by a member of staff and taken on to the camp.  
Prices and Dates
These courses are subject to a registration fee of 101 € ( $117 ) .
The official rate of this camp is determined in POUNDS, so the final amount in EUROS may vary slightly due to the fluctuation of both currencies.
Starting Dates
Basketball Oundle School (Sport and English)
Improved booking conditions for all camps
This 2022 make your reservation more easily and with less risk
We´ve lowered the deposit required to reserve your camp to just 500€
Free cancellation until May 1st
Money-back guarantee within 10 days
Optional anti-covid insurance

*Please note that if a visa is required to attend camp, it will be necessary to pay the total amount of the program

*Special conditions valid for all 2022 summer camp reservations except for the Barça USA camp, which will follow the general terms and conditions.
Extra Services
You can purchase one of the extra services below at an additional cost.
Anti-Covid Insurance

We have different insurance options with special anti-covid coverage, so you can insure your camp reservation according to your needs:

Cancellation and Interruption Insurance: cancellation and interruption insurance allows you to recover your payment if you cancel or interrupt the camp for a justified cause (including illness from COVID-19 and 35 other causes)
Travel/Medical Insurance: with this insurance policy, you´ll be covered for medical assistance abroad and possible expenses caused by situations resulting from COVID-19, such as needing to extend your stay up to 40 days, as well as other general situations such as loss of luggage, unforeseen ticket changes, etc.

Download the following PDF for more information about anti-covid coverage, the general terms & conditions, and prices of each insurance policy.

Anti-Covid Insurance


Transfer Service:

There are two types of transfer services available that we´ll detail for you below:

Standard transfer service: the camp offers an optional transfer service for participants who request it from the nearest airport to the residence (or vice versa). Check with Ertheo for schedules and prices for this service.
Special transfer with additional unaccompanied minor service: participants who fly to camp alone and have contracted the unaccompanied minor service with their airline must hire this special transfer with accompaniment so that the child isn´t left alone in the airport. Check with Ertheo for schedules and prices of this service.
Contact Ertheo for prices and additional information.
Transportation to the camp (flights/trains) is not included in the price of our programs.