Spain have produced some of the best football players in history but it has only been in recent years that they have enjoyed regular success at international level.
The Spain national football team was considered the best in the world between 2008 and 2012 when they won two European Championships and a FIFA World Cup. They began that era under Coach Luis Aragonés and ended it under the guidance of Vicente del Bosque. The latter left the job in 2016 with a 76.32% win ratio.
But which players from days gone by would have made it into the national team had they played during this recent golden period? The Spain national football team won their only other major trophy at the European Championships back in 1964, so that might be a good place to start. However, there are other contenders who may not have picked up any silverware while representing their country but are still in contention for a Spain National Football Team Best XI.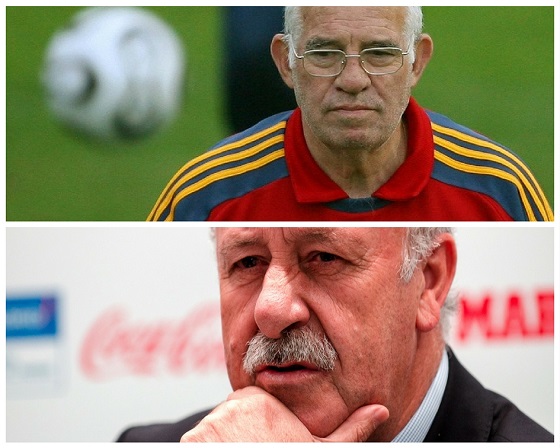 Goalkeeper
This was perhaps the most difficult choice as there were two main contenders for the No. 1 shirt.
First up was former Athletic Bilbao, Barcelona and Valencia stopper Andoni Zubizarreta. During his 19-year career, the Basque-born legend notched up close to 100 appearances for club and country.
He won consecutive league titles with Athletic Bilbao in 1983 and 1984 before moving to Barcelona where he gained international fame. He claimed another four La Liga titles in Catalonia, along with four Copa del Reys, two Spanish Supercups, a European Cup, a UEFA Cup Winners Cup and a UEFA Super Cup.
He also made 126 appearances for Spain and represented them in seven major tournaments including four World Cups. He also captained the side on numerous occasions.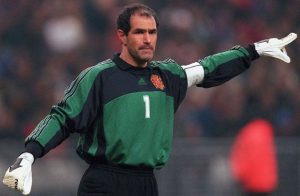 Unfortunately, the Spain national football team did not enjoy any success during this period and he was left empty-handed at international level.
Our second contender, Iker Casillas was known as the 'Saint' during his time at Real Madrid and by the age of 31, he had won every possible trophy at both club and international level.
He first played for "Los Blancos" at the age of 16 and during his time in the capital he bagged five La Liga titles, three Champions Leagues, two Copa del Reys, four Spanish Super Cups, two UEFA Super Cups and one Intercontinental Cup.
He became captain of Spain at the age of 27 and led the national team to two European Championships and a World Cup, the country's first major trophies in 44 years. No Spanish goalkeeper has ever made more appearances for the national side.
Despite Zubizarreta's brilliance, Casillas just gets the nod in the Best XI.
Defenders
With so many contenders for the centre-back positions Sergio Ramos nearly missed out but the defender made it onto the list thanks to his versatility. The Real Madrid man can play anywhere across the backline and his achievements at national level meant we had to find a place for him in the team. He currently has 143 caps for Spain and has won a FIFA World Cup and two UEFA European Championships.
Ramos slotted in at right back to make way for Carles Puyol, although either could have filled that role. The Catalan defender spent his entire career at Barcelona where he picked up an incredible 20 trophies including six league titles and three Champions Leagues.
He made 100 appearances for Spain and was an integral part of the 2010 FIFA World Cup and the 2008 UEFA European Championship winning squad.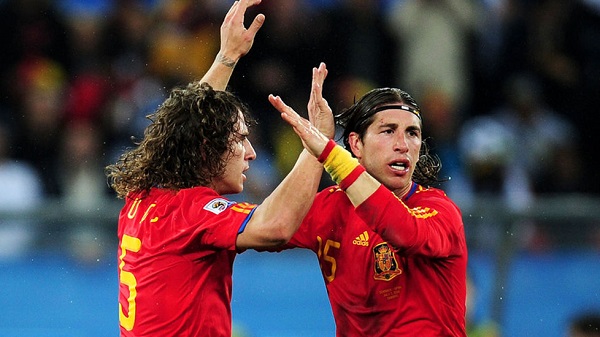 Partnering Puyol in the centre of defence is Fernando Hierro. During his career, the centre-back netted 109 league goals and added a further 29 at international level. He was born and raised in Malaga but spent most of his senior career playing for Real Madrid where he won 16 cups including five league titles and three Champions Leagues. His range of passing, defensive prowess and goal-scoring abilities ranks him amongst the best defenders to have ever played the game.
Unfortunately, despite Hierro's best efforts, his career coincided with a lean spell for the Spain national team. But few defenders can match his record of 29 international goals in just 89 appearances and for that reason, he is impossible to leave out.
Taking up the left-back position is Jose Antonio Camacho. The defender notched up an incredible nine La Liga title during his 15 year spell at Real Madrid along with 10 other major trophies including two UEFA Cups.
At international level, he was less successful but did play a crucial part in Spain's run to the final of the 1984 European Championships, where they eventually lost to France.
Midfielders
The first midfielder on the list will come as no surprise as Xavi Hernandez is known to football fans all over the world as one of the greatest ever midfielders.
His record with Barcelona alone is staggering with 25 titles picked up over a 17-years period including eight league titles, four Champions Leagues, six Spanish Super Cups and three Copa del Reys. Add to that his international haul of one World Cup and two European Championships in the space of four years and you have a resume that few players can ever hope to achieve. Unless of course your name is Andres Iniesta.
The second midfielder on our list, Iniesta is still playing for Barcelona and has already pipped ex-teammate Xavi with his 28-trophy haul, while equalling his senior international record. What's more, ha also has two U-21 European Championship titles to his name.
The next man to make the list is Luis Suarez. The former butcher's son from La Coruna made his name playing for Barcelona in the late 1950s before he moved to Italy (for a world-record transfer fee) where he spent 12 years, becoming an Inter Milan legend in the process.
His goal-scoring record was incredible considering he was a midfield player. He netted 115 times in 458 league games and added 14 in 32 appearances at international level. He represented Spain at two World Cups and was part of the legendary team that won the 1964 European Championships. In 1960, Suarez became the only Spanish-born player to be awarded the Ballon d'Or.
Attacking players
On the right of out attacking trio is Amancio Amaro. The former Real Madrid player won nine La Liga titles between 1962 and 1976 and also bagged a European Cup winner's medal in 1966. On top of all that, he was also part of the 1964 European Championship winning side and scored the crucial winning goal in the semi-final match against Hungary. He was also named in the team of the tournament (alongside Luis Suarez).
Very few strikers are as prolific throughout their careers as our next front man, David Villa. The Asturias-born striker has so far signed for six clubs and has won trophies everywhere he has been. In 2010, after a five-year spell at Valencia, he made the big move to Barcelona where he played a crucial role in the Pep Guardiola revolution. In 2011, he scored from 25-yards out in the 2010/11 Champions League victory over Manchester United.
He made his international debut in 2005 and featured in four major tournaments, winning UEFA Euro 2008 (where he finished top scorer) and the 2010 FIFA World Cup.
He became the first Spanish player to break the 50 international goal barrier and remains top scorer for the Spain national football team. In August 2017, at the age of 35, he was called up for the national team after three years.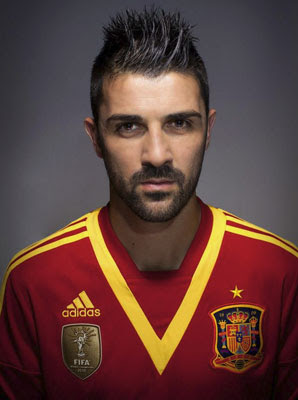 Last but not least in our Spain national team best XI is Paco Gento. No player in the history of the game has won more Spanish league titles (12) and more European Cups (6) than Francisco "Paco" Gento Lopez. The left winger signed for Real Madrid aged just 19 and spent 18 years at the club. In that time, he notched up 128 goals in a total of 438 appearances.
Remarkably, he scored 30 goals in 89 European Cup career matches playing from a wide left position. He also featured for Spain in the 1962 and 1966 World Cups but surprisingly, a change of tactics meant that he was left out of the final matches of the 1964 European Championships despite having played a crucial role in qualifying.
Gento is regarded as one of the most gifted wide players to have ever graced the game and would probably be granted a place in most expert's World XIs. Therefore, he deserves a place in our Spain national team best XI.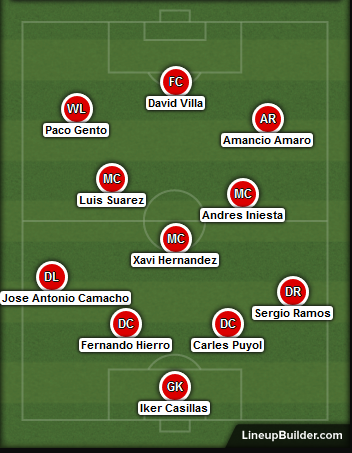 So there we have it, our Spanish national team all-time XI. Do you agree with our choice? Who would you have included? And who would you have left out to make way for your pick?
Let us know on twitter at @ertheo_eng.
Just give us a call today on (+44) 203 769 94 43 or (+34) 902 750 359. You can also contact us via email: [email protected].