For natural grass, for artificial pitches, for futsal, or for concrete pitches. For strikers or for centre-backs. No matter what kind of football you play, nowadays you have a football boot made to measure for you.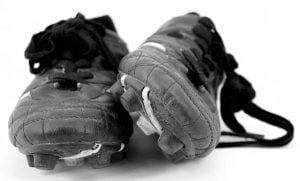 Which football boots are the best for a natural grass pitch, and to prevent injuries, is it possible to use the same footwear to play a futsal match as an artificial grass pitch? These and many other questions are the ones that come up every year in the heads of parents of the youngest football players, eager to know what kind of football boots they should buy for their sons and daughters to have fun with the ball.
In this regard, the first thing we want to clarify is a key concept: it all depends, and there is no such thing as a perfect boot. Each model is better suited to a particular pitch and style of play, and not only that: each person, each child, will feel more comfortable with one model or another. And that's something that we at High Performance Football Camps know all too well.
So, to help anyone who wants to renew football boots or buy the first model for the youngest of the house, we present here our particular guide to football footwear, where we introduce all our knowledge derived from years of experience. A summary of options with the different terrains, specialities, types of soles, playing styles and positions.
But don't forget the maxim: everyone is different, what counts most is how comfortable you feel in a shoe. And more than any characteristic or material, the only infallible method to find the perfect boot is to try as many as possible.
Is your type of play important when choosing a boot? And the position?
Sport in general, and football in particular, has changed a lot in the last decades. Any old hand will say that the boot doesn't matter, that they're all the same, that it's how you play the game that matters, not what you wear. But that is a half-truth. The truth is that boots matter and matter a lot. And each type is better suited to a type of game or a position on the pitch.
Although it may not seem like it, the position that each player occupies on the pitch, as well as the characteristics of his game, are a factor to take into account when choosing which boots to wear. For example, players with touch, talent and play in small spaces like Pedri —who uses Adidas Copa Sense+ —, will look for footwear that transmits that sensitivity in the treatment of the ball. On the other hand, other more physical players such as Kylian Mbappé or Romeru Lukaku, who base their football on the power of their runs and changes of direction, need a different kind of shoe. One in which traction and speed take precedence over sensitivity.
So, depending on the different footballing styles they enhance, we could talk about four types of boots:
Speed. Do you want to run like Mohammed Salah? Are you one of those wingers that every full-back prays not to cross paths within the open field? Well, speed-enhancing boots, like the Adidas Speedportal, might be the best option for you.
Touch. Players with more quality, usually in midfield, need boots that facilitate controls, touch, precision, and finesse. There, in that position where no one stands out as much as Kevin de Bruyne or Alexia Putellas, the Nike Phantom boots are the ones that both the citizen and the cule have chosen to wear.
Powerful. Kylian Mbappé, one of the most powerful and unbalancing players in the world of football, has boots adapted to his characteristics: the Nike Zoom Mercurial Superfly 9. This kind of shoe is perfect if you are one of those players who like to unbalance entire teams by tackling, running into space, challenging the opponent.
Classics. And then, finally, there are the classic shoes. For those who enjoy the traditional models, who want to transmit a sense of security, who are looking for a balance in the performance of their boot. For tough, rugged centre-backs like Virgil van Dijk or Jules Kounde, for example. Both have opted for the Nike Tiempo, one of the classics alongside the Adidas Copa Mundial.
Boots for natural grass
Then, in addition to the type of football that each player plays, we should also talk about the different types of pitches that we can find. And we'll start with the most common type of ground in football, natural grass, where we highlight two types of boots: with SG and FG soles.
Boots with SG studs (soft ground)
At one time, aluminium studs were the norm for most professional footballers and this, of course, was not without its dangers. In fact, they were responsible for some very memorable scenes, such as Diego Pablo Simeone's stomp on Julen Guerrero, or the more recent injury to Gio dos Santos. Today, however, this material is the exception, and is only present in boots with SG (soft ground) studs, either through mixed soles with rubber, or just aluminium.
What are the benefits of this type of stud? Well, above all, it provides traction and grip when the ground is wet or soft, avoiding slips while changing direction or pace. And what are the disadvantages, beyond the danger they pose? Mainly, they don't adapt well to artificial grass or carpet. So, if you are looking for a shoe for this type of terrain, forget about SG studs.
Although, in general, the use of soft ground studs has been reduced to particular moments or terrains, there are professionals who continue to rely on them in any situation. One of them is Cristiano Ronaldo, an absolute fan of aluminium studs throughout his career, and this year he will be wearing the Nike Zoom Mercurial Superfly 9 Elite SG. And the other one is Diego Godín, a classic centre-back, a devotee of the classic model with six studs made of this material, who will be wearing the Puma Ultra Ultimate SG. Here you can see both models:

SURFACE: Natural grass (wet and soft).
STUDS: 6-12 aluminum or with mixed soles (aluminum and rubber).
PURPOSE: Better grip and stability on grass.
PRICE: 60-280€
Boots with FG studs (firm ground)
But, as we said, football is evolving, and the most used types of football boots nowadays are the FG (firm ground) soles, composed of between 8 and 14 rubber studs of different lengths.
Their preferred terrain, where boots with FG soles perform at their best, is on dry natural grass pitches. There, they provide all the necessary stability without losing any of the speed that is lost with aluminium studs, which dig much deeper into the grass. In addition, the rubber studs allow these boots to be used on third-generation artificial grass pitches, especially if they are short and not laminated. The FG soles thus offer a versatility that many players (and their families) will find very useful.
Today, most of the best players in the world wear FG soles. Here are the boots of the best players of the 21st century: Leo Messi -the Adidas X Speedportal .1 FG— and Megan Rapinoe's -the Nike Mercurial Superfly 7, a tribute to her Golden ball in 2019—

SURFACE: 3rd generation natural and artificial grass.
STUDS: Between 8 and 14 rubber studs.
PURPOSE: Turning comfort and speed.
PRICE: 50-280€
Artificial grass boots
And although boots with FG soles can be adapted to synthetic pitches, especially those of the third generation, the fact is that artificial grass has its own soles. Here we outline the two types of boots that are the best option for footballers who do not play on natural grass pitches.
AG (Artificial Ground) football boots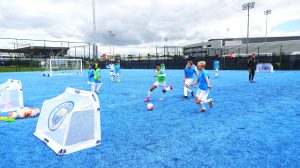 First of all, it is worth remembering that not all artificial grass pitches are the same. There are, on the one hand, the first generation, also known as carpet, on which the studs do not provide any grip. And then, the most common nowadays, the second and third generation, which are much more like natural grass. In the latter two cases, the best option is a football boot with an AG (artificial ground) sole.
AG boots have a higher number of studs than FG boots (between 13 and 21). They are made of rubber and have a conical shape, which favours cushioning and a lower risk of injury. Here are our recommendations: the New Balance Visaro 2.0 Mid Level and the Puma evoPOWER Vigor 2.
SURFACE: 2nd and 3rd generation artificial grass.
STUDS: Between 13 and 21 rubber studs.
PURPOSE: Grip on artificial grass pitches.
PRICES: 50-280€
Turf or multi-tackle football boots
Then, for carpet or dirt pitches -because there are still dirt pitches, the kind where, on rainy days, you have to get under the shower, clothes and all— there are the famous multi studs or turf boots, the most affordable footwear par excellence.
Their main feature is the multiple small rubber studs, which reduce the pressure on the footprint, something crucial in terrains where the studs do not stick. We leave you with a classic: the Munich Mundial T.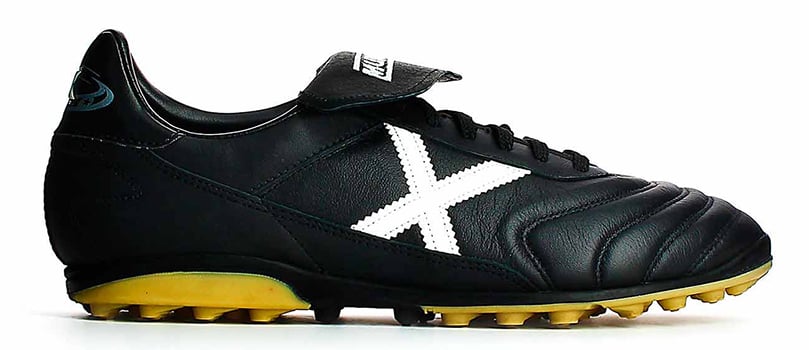 SURFACE: 1st generation artificial grass (carpet).
STUDS: Multiple short rubber studs.
PURPOSE: Grip on surfaces where the cleat does not dig in.
PRICES: 40-130€
Futsal boots
Lastly, there are futsal boots, a discipline in which the footwear has nothing to do with that of matches on natural or artificial grass. Whether you are playing on parquet or concrete, and whether you are going to have a friendly game with friends or play in professional futsal leagues, the shoe should have a plain rubber sole.
They also have an advantage: some brands, such as Munich or Adidas, have been so successful with their models that they have even become standard street shoes. A genuine two-for-one.
Here, a recommendation: the Nike Lunar Gato from the best futsal player in the world, the Portuguese Ricardinho.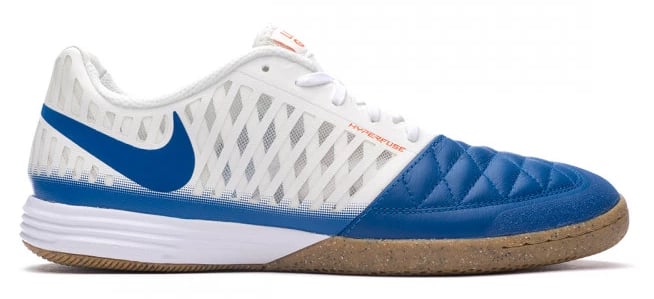 Historical evolution of football boots
And now you're wondering: how did the football world manage to get to this point, to a time when there are five different types of football boots depending on where or how you play?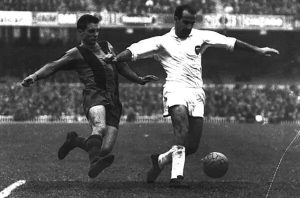 Well, it would have to be said that it all started a long time ago, perhaps back in the 16th century, with the King of England, Henry VIII. One fine day, he ordered his shoemaker to make some Spanish leather boots so that he could play his favourite sport: a British version of the old Italian calcio. Unknown to him, this anonymous shoemaker may have made the predecessor of all the boots we have today.
It is very likely that Henry VIII's boots were not very different from those used at the dawn of football, back in the first half of the 20th century: shoes with an inordinate weight, with which nobody knows, from today's perspective, how Di Stefano, Puskas, or Luis Suárez were able to play so well.
The revolution did not come until the 1954 World Cup in Switzerland. There, against a Hungarian team that was heavily favoured to win the title, Germany managed to win the World Cup thanks to the power of evolution. With aluminium studs designed by Adolf Dassler, the Germans were much better adapted to the waterlogged pitch, and were able to turn around a final that had started against them: from 0-2 down, the Germans came from behind to win the World Cup final 3-2.
Adolf Dassler himself took advantage of the momentum of his success to found Adidas, and his brother Rudolf, who had accompanied him until then, created the company Puma. This was the birth of the football boots market, which continues to this day with the incorporation of companies such as Nike —which created the first synthetic leather studs for Ronaldo in the 1998 World Cup —, Mizuno, Lotto, Umbro and, more recently, New Balance.
Today, fortunately, there is no longer any resemblance to Henry VIII's boots, not even those of the 1954 World Cup final. Years after the invention of aluminium studs in that World Cup, microfibre, breathable materials and fibreglass have arrived, bringing more comfort and sensitivity to footballers. Ankle-covering shoes have also appeared, as a way to achieve greater safety and prevent sprains. And there are even laceless shoes, which have been able to reduce the weight of the boots by a few grams.
All in order to maintain the same goal that Henry VIII's shoemaker and Adolf Hassler had in mind: to be as comfortable as possible in order to score at least one more goal than the opponent.
Conclusion
The lessons to be learned from all this are clear. On the one hand, that evolution is continuous, and only serves the interests of the player. On the other hand, although there are boots adapted to every style and terrain, the important thing remains the same as it has always been: first and foremost, the main criterion is the comfort of the player.
And if you want to know more, don't hesitate: download the FREE football boots infographic by clicking on the button below.