Many golf academies offer high-performance golf camps during the summer months which feature professional, advanced training. These camps are specially designed for dedicated young golfers who are serious about improving their skills.
High-performance golf camps differ from standard golf camps in terms of the average skill level at the camp and the amount of time the students spend training. At standard camps, golf is just one of many entertaining activities for the children. They do learn, but the main objective of a standard golf camp is to have fun and make memories with other campers. As a result, students at standard camps spend less time on the golf courts.
At high-performance golf camps, however, students train for more hours and at a more advanced level. The main focus is improvement. Students train for 6 to 8 hours a day on excellent, well-kept gold courses. At high-performance golf camps, coaches are well-qualified and have experience training young, talented players. They spend time analyzing the players' swings, and then, together, they practice different techniques to improve. Students play on 9 or 18-hole courses best suited to their handicap.
Read more about these four high-performance golf camps to decide which camp is right for you.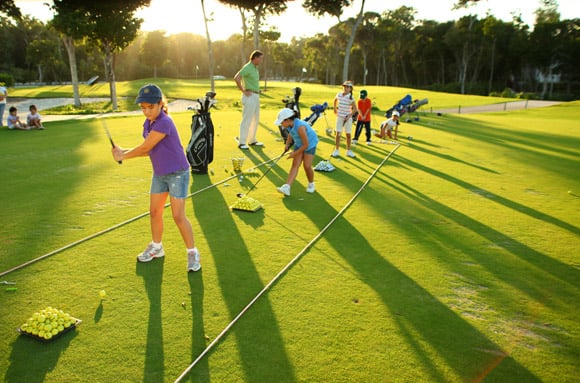 The Jason Floyd academy is located in the south of Spain in sunny Estepona, Malaga. The camp takes place in Valle Romano, one of the best resorts in the Costa del Sol. In fact, it's considered one of the best locations to practice golf in Europe.
The academy offers long-term programs for full-time students to train at an advanced level while they continue their secondary education. During the summer months, they offer high-performance golf camps for talented students who are looking to improve their skills in a short time.
The high-performance summer golf camps are for boys and girls from 12 to 23 years old. Students train for 20 hours a week in personalized programs with other students of a similar age and level. Younger students from 12 to 17 years old with a 30 handicap or less attend the Junior camp. Older students or students with a 5 handicap or less attend the Elite camp.
The Gary Gilchrist Golf Academy high-performance golf camps are located in Florida, United States. This camp is for students from 10 to 18 years old and includes 30 hours a week of training. Students practice technique, mental strength, and physical strength to improve their game.
Training takes place at the Mission Inn Resort Club which has a 36-hole golf course. Participants find accommodation at the GGGA camp which consists of high quality apartments with single and double rooms.
Participants can also visit cultural landmarks during their stay such as Disney World. Every night, camp personnel organize activities to promote a warm and friendly learning environment to keep the students happy and entertained.
As always, to help you choose from these high-performance golf camps, our team at Ertheo.com is available to answer all of your questions and offer expert advice.
Call us at (+44) 203 769 94 43 or (+34) 902 750 359.
For a complete list of all golf programs and camps we offer, click here.