Golf is a special sport and needs many resources in order to practice the game and summer camps make these available. If the camp offers a golf and Spanish program, parents like the idea even more so kids can also learn while they practice their favorite sport.
The best way to learn Spanish is to spend some time in Spain and we offer several language camps in this country so you can send your kids there and keep them safe during their stay.
Students grouped depending on their level
Something we always point out in our sports camps is that they are offered for all types of kids, those with basic training to more experienced golf players and with all Spanish levels. We ensure that your kids will learn and won´t be overwhelmed by the situation, since they are assigned by a team of professionals and trainers to a group with their level at the beginning of the camp.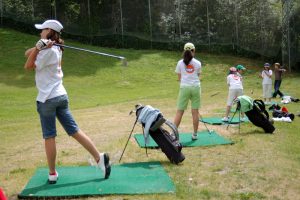 As we mentioned, the division of levels takes place during the sports training as well as during the classes and professors give kids a small level test to find out what they know.
Well-kept golf courses
To make sure kids learn, camps have well-kept golf courses and all the necessary materials (balls, clubs, golf carts, etc.) to practice the sport in the best way possible. In Spain we offer the best courses with maintained grass where your kids can enjoy the sun and an ideal temperature to practice their favorite sport.
Each camp offers different housing options and all boys and girls are supervised 24 hours a day. Some academies have housing in the same training facilities and others offer housing in hotels or near the golf complex.
Camp instructors are experienced in golf and have played the sport professionally or have been teaching kids for a long time. Students practice all types of swings improving their weak spots. Coaches also organize tournaments among the students to observe each one´s progress.
Learn Spanish a different way
Spanish classes are also different than traditional ones and are quite entertaining. They touch on all aspects related to golf, focusing on the conversational development of the language. The hours spent on classes vary from camp to camp but are usually 10 hours a week, but as we mentioned previously, this depends on if the camp offers high intensity training.
The linguistic immersion is well rounded since it takes place in Spain and coaches communicate in Spanish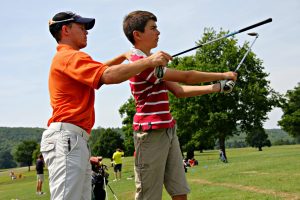 although they can speak English if the kids don´t understand them. The activities take place in and out of the camp and are in Spanish since this is the language kids must use to communicate with students from different countries.
On the weekends teachers organize field trips to nearby places so your kids can visit the city where the camp is held. Many parties are celebrated at night such as costume parties or dance competitions to end the day on a good note.
Our four camps in Spain offer Spanish classes combined with golf training so below you can find the characteristics of each one so you can get to know them better before choosing the right one for your kids.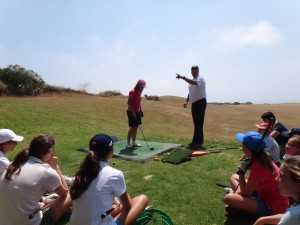 The Rota golf course is located at the Costa Ballena Golf Club, in Andalucia. This club has 27 holes and 3 different courses designed by Jose Maria Olazábal, one of the most prolific golfers in the last years. Marcelo Prieto organizes the training sessions and has been the coach of the professional golfer Azahara Muñoz. The team of trainers uses the TPI learning method, which combines the latest technology, technique, coaching and physical training.
This cam is offered to boys and girls between the ages of 8 and 17 with all kinds of levels. Regular training is 17 hours a week, although 15 more hours can be added each week in the afternoons. For 100 Euros more you can choose Spanish classes held in the afternoons totaling 15 hours a week.
The Jason Floyd Golf Academy is a high intensity training camp and is the best academy offered on our web. This camp takes place each summer and accepts a broader age group for kids 12 to 23 years of age. The program is more intense and focuses on golf classes with the option to choose Spanish classes although these are not included in the price. The camp takes place at the Valle Romano Golf & Resort and offers 20 hours of training sessions a week, but if kids wish to continue practicing more hours they can do so. These are the two options:
– Junior Camp: for boys and girls between the ages of 12 and 17 with a handicap of 30 or lower.
– Elite Camp: boys and girls ages 12 to 23 with a handicap of 5 or lower.
Now that you have seen all the options available and you want your kids to learn Spanish this summer, speak with them and choose the one that suits them best and your kids will be happy with their experience.