The training sessions are designed for boys & girls from 9-17 yrs. old and take place at four different localities in England: Clayesmore School, Oundle School, Seaford College and Worth School.
Are you interested in this program?
Download some information about this program and read it at anytime.
Overview
Location: Clayesmore School, Oundle School, Seaford College and Worth School
Ages and genders: boys & girls from 9-17 yrs. old
Language classes: English. 6 Available levels
This camp is a perfect combination of athletics and languages. Tennis enthusiasts can continue to improve their skills while getting to know their peers of many different nationalities and also attend English classes.
On weekends, they have excursions and entertainment activities that make the experience more complete and even more enjoyable.
This program is perfect for young people who have never left their country and would like to live a new experience at an international camp this year. The camp´s organizers are an excellent team of professionals that have more than 30 years of experience, and they know how to give participants an incredible experience. During the first few days, they focus on helping participants adapt to their new surroundings and are like a family for those who are far from home.
By the end of camp, participants will not only have enjoyed all the activities offered by this program, but they will have also left their comfort zone and adapted to a new environment, which helps them grow as people.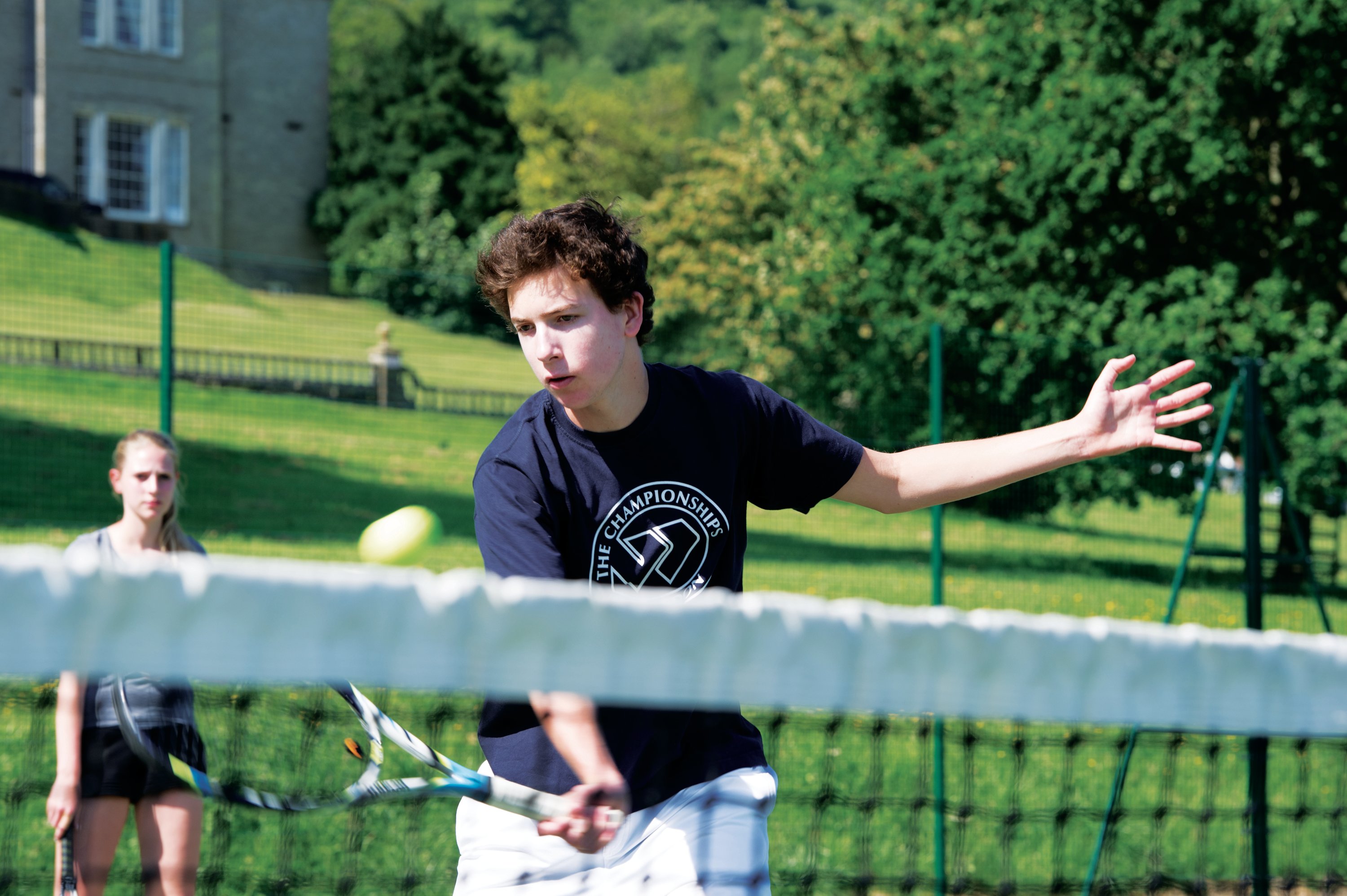 Available Programs
Tennis + English Program. UK
15 hours per week of tennis + 15 hours of English classes.
Training
Training hours: 15 hours / week
Number of children per coach: 6 children
Coaches from professional teams and tennis players of distinguished experience are responsible for designing the training program.
On Mondays, the participants are placed into a training group.  During each session (which usually lasts about 3 hours) students will improve their agility, technique, as well as increase their power and aerobic consistency.
Athletes will be challenged to participate in tournaments with other students on campus according to their individual skill level.
Language Classes
Class hours per week: 15 hours / week
Number of children per group: 15 children
One of the strengths of this camp is that it allows the child to learn and improve their level of English, since all activities are taught in this target language, independent of the language classes that are also offered as reinforcement.
The Teachers
The Head of Studies has carefully prepared a program that promotes foreign language learning in the classroom. The teacher selection process has been made based on their ability to encourage young learners and turn the English classes into a unique experience.
English classes
The classes are interactive in order to develop the participants´ communication skills, which also helps them better understand their tennis lessons and encourages their learning.
The students are divided into classes according to their English level. The lessons are taught in small groups and take place for three hours per day from Monday to Friday. For those who would like to participate, an oral exam is available to certify their spoken level of English.
Camp Schedule
Summer is also meant to be enjoyed. This is why at Exportise, activities and excursions are organized each week and always under the proper supervision. During their free time, participants can go to the pool, watch television, play ping pong or access the internet.
Recreational activities are organized each night so that the children can laugh and have a great time. These activities can include Olympic-style competitions, races, dancing, etc.
Excursions
During the weekend, staff members put together organized trips for participants to enjoy that can include visits to amusement parks or other cities in England.
Accommodation
This camp takes place at four different locations in England: Seaford College, Oundle School, Clayesmore School & Worth.  The coordinators at each location divide the male and female participants into separate shared rooms with 3-6 beds.  There are also larger rooms that accommodate between 8-10 participants.
Below you will fill additional information about the 4 venues where the England Tennis Camp is held:
Sede Seaford College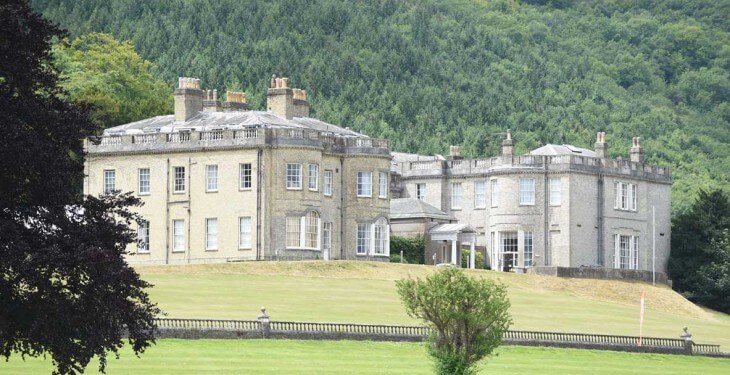 This location is available for participants between the ages of 10-16 years old.  It is a large college with the capacity to accommodate 180 students in shared rooms with 3-10 beds.  The facilities at this location also include a music studio, tennis courts, soccer fields, hockey rink, a 9-hole golf course and a sports pavillion. In addition, there is an outdoor pool where participants can go for a swim on hot summer days.
There are a variety of leisure rooms inside the residence where participants can relax, watch TV or play games during their free time.
Aside from tennis, this location is shared with participants of other camps such as:
Vocal training
Music
Dance
Golf
Soccer
Hockey
The nearest airports/stations to this location are:
London Heathrow – 75 km – 1 hour and 30 minutes
London Gatwick – 55 km – 1 hour and 15 minutes
Eurostar London – 95 km – 2 hours and 20 minutes
Clayesmore School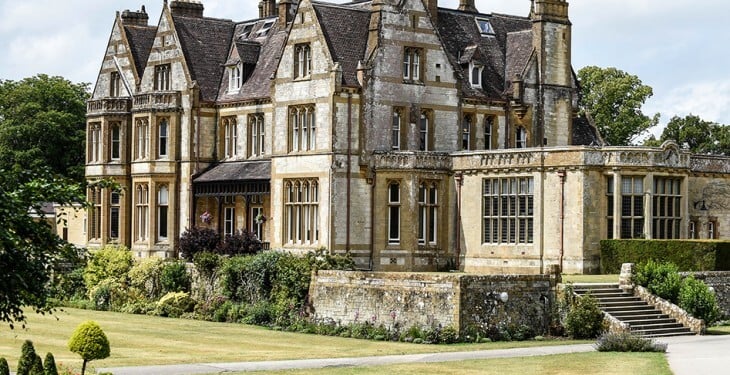 The venue at Clayesmore School is another option to choose from and is located in southwest England.  It is the location that accepts the youngest male and female participants (from 9 years old).
Like the other locations, it offers top quality & spacious facilities to ensure the comfort of the participants.  It has tennis courts, soccer and rugby fields, a theater, a sports pavillion, as well as an indoor pool.
The rooms are shared and there may be 3 to 10 participants in each.
At this venue, there are a variety of other programs taking place in addition to tennis like soccer, rugby, vocal training, dance and equestrian programs.  This diversity helps to create a wonderful multicultural atmosphere where participants can make new friends from other nationalities and cultures.
In terms of access to this venue from airports and stations, Clayesmore is situated:
London Heathrow – 160 km – 2 hours and 30 minutes
London Gatwick – 200 km – 2 hours and 30 minutes
Eurostar London – 190 km – 3 hours
The closest cities to this location are:
Blandford Forum – 12 km
Bournemouth – 42 km
Bath – 61 km
Oundle School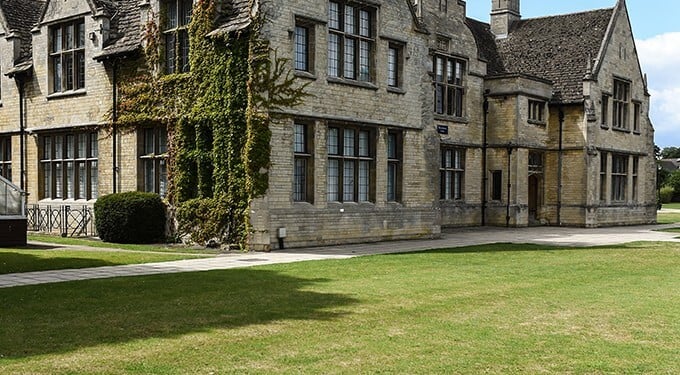 Oundle School is located in the heart of the city of Oundle, close to Peterborough in Cambridgeshire.
Oundle School is also an English college with expansive athletics fields and two sports pavillions.  There are artificial turf fields with lights, two tennis courts and an indoor swimming pool.  In addition to those participating in the tennis camp, there are also young people attending other activities such as soccer, basketball, dance, hockey or the equestrian program.
All of the sports facilities are located within the college, which is an advantage for tennis camp participants since they do not have to travel to attend the training sessions. Like the other venues mentioned so far, this location has the capacity to accommodate 180 students per week.
This camp is available to male & female participants between the ages of 11-17 years old.
Below, you will find a list of the closest airports and stations to this venue:
London Heathrow – 160 km – 2 hours and 15 minutes
London Stansted – 105 km – 1 hour and 30 minutes
Eurostar London – 140 km – 2 hours and 15 minutes
The closest cities to this location are:
Peterborough – 24 km
Cambridge – 63 km
Birmingham – 116 km
Worth School
The venue at Worth is the most recent location added for this camp and has excellent facilities for participants to enjoy.  Situated in Crawley, it is only 10 minutes from Gatwick Airport.  This beautiful location is surrounded by many acres of green meadows and forests.  It has shared rooms of 3 - 10 participants and its bathrooms are also shared.
Among the sports facilities that are available, there are several soccer fields (one being artificial turf), a golf course, tennis courts, a sports pavilion, a theater, dance and music halls and a dance studio. It also has stables for the equestrian program, and it is the only venue where the rugby camp is held. This location has the capacity for 160 participants.
The cities closest to this venue are:
Brighton - 30 minutes
London - 1 hour and 30 minutes
Nearest airports/stations:
Gatwick - 12 km - 10 minutes
Heathrow - 70 km - 1 hour
Eurostar London - 79 km -1 hour and 30 minutes
Meals
Being a camp that is focused entirely on athletes in training, the meal times and menu provided to the students are controlled by nutrition experts.
The participants will have breakfast, lunch and dinner in a large dining room that is organized cafeteria style.  When a trip is scheduled, a picnic will be prepared for participants to take along with them.
Staff
Experience and quality in teaching are some of the hallmarks of the Exportise team. The staff has been carefully selected for their professionalism, kindness, enthusiasm and academic qualifications. In addition, the center's management has verified that the monitors are qualified to work with and educate children.
Prices and Dates
These courses are subject to a registration fee of £ 85 (107 € or $ 115).
The official rate of this program is determined in POUNDS so the final amount in other currencies may vary slightly due to currency fluctuation.
Starting Dates
Tennis Clayesmore School
Tennis Oundle School
Tennis Seaford College
Tennis Worth
Improved booking conditions for all camps
This 2023 make your reservation more easily and with less risk
We´ve lowered the deposit required to reserve your camp to just 500€
Free cancellation until March 1st
Money-back guarantee within 10 days
Optional anti-covid insurance

*Please note that if a visa is required to attend camp, it will be necessary to pay the total amount of the program

*Special conditions valid for all 2023 summer camp reservations except for the Barça USA camp, which will follow the general terms and conditions.
Extra Services
You can purchase one of the extra services below at an additional cost.
Camp Insurance

We offer two insurance options based on your needs:

Cancellation and Interruption Insurance: This option allows you to get your money back if you have to cancel or interrupt the camp for any justified reason, including injury or illness of participants both before and during the camp (the policy contains 35 different causes for justified cancellations).
Travel/Medical Insurance: With this insurance policy, you will be covered for medical assistance abroad and possible expenses caused by health-related issues, as well as other contingencies such as lost luggage or an unforeseen flight change.

Download the following PDF to learn more about each insurance options terms and conditions, coverage features, and price.

Camp Insurance


Transfer Service:

There are two types of transfer services available that we´ll detail for you below:

Standard transfer service: the camp offers an optional transfer service for participants who request it from the nearest airport to the residence (or vice versa). Check with Ertheo for schedules and prices for this service.
Special transfer with additional unaccompanied minor service: participants who fly to camp alone and have contracted the unaccompanied minor service with their airline must hire this special transfer with accompaniment so that the child isn´t left alone in the airport. Check with Ertheo for schedules and prices of this service.
Contact Ertheo for prices and additional information.
Transportation to the camp (flights/trains) is not included in the price of our programs.