Whatever your motivations, the IMG Florida Tennis Camp offer boys and girls between the ages of 8 and 18 the perfect opportunity to practice and improve their skills with the help of professional tennis players and experts.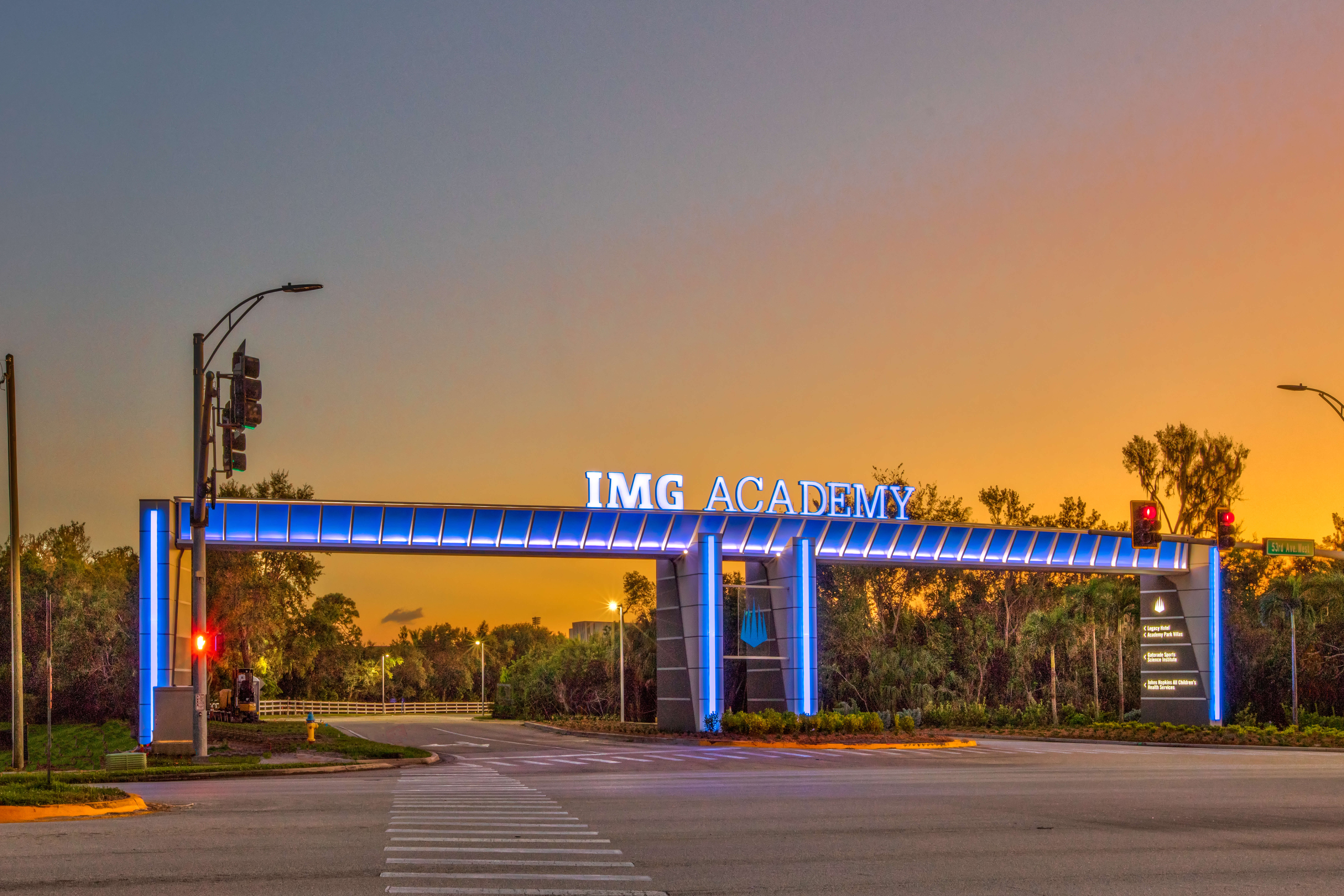 Are you interested in this program?
Download some information about this program and read it at anytime.
Overview
Location: IMG World. Bradenton
Ages and genders: Boys and girls between 8 and 18 years old
Language classes: 15 hours per week
Is your child good with a tennis racket? Are they passionate about watching tennis and would like to learn more about this sport?
The IMG World sports program covers seven sports disciplines, of which tennis is one of the most popular. The tennis program is characterized by the use the Bollettieri method, where the practice of the technique and tactics, as well as physical and mental exercise are used to master the sport.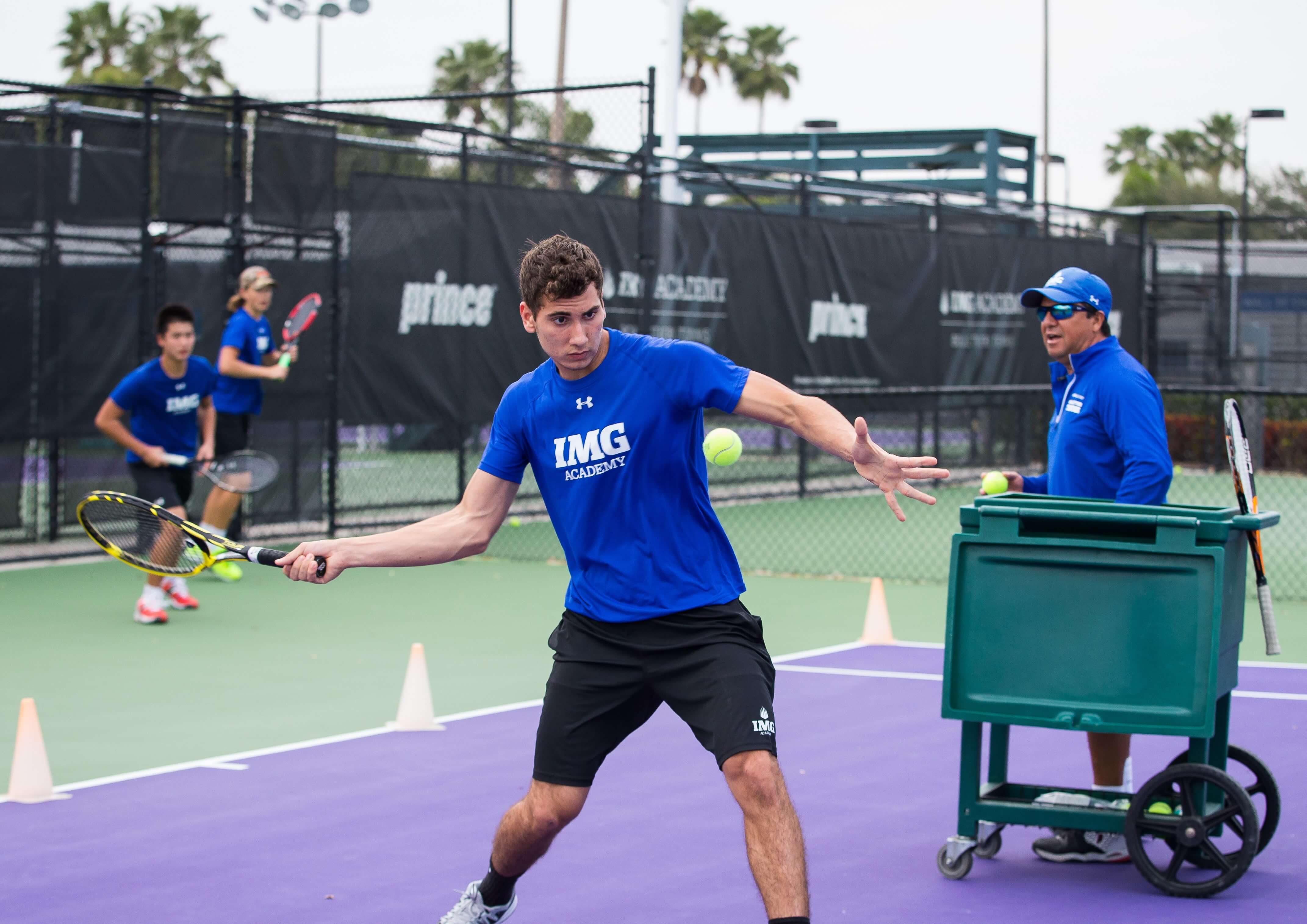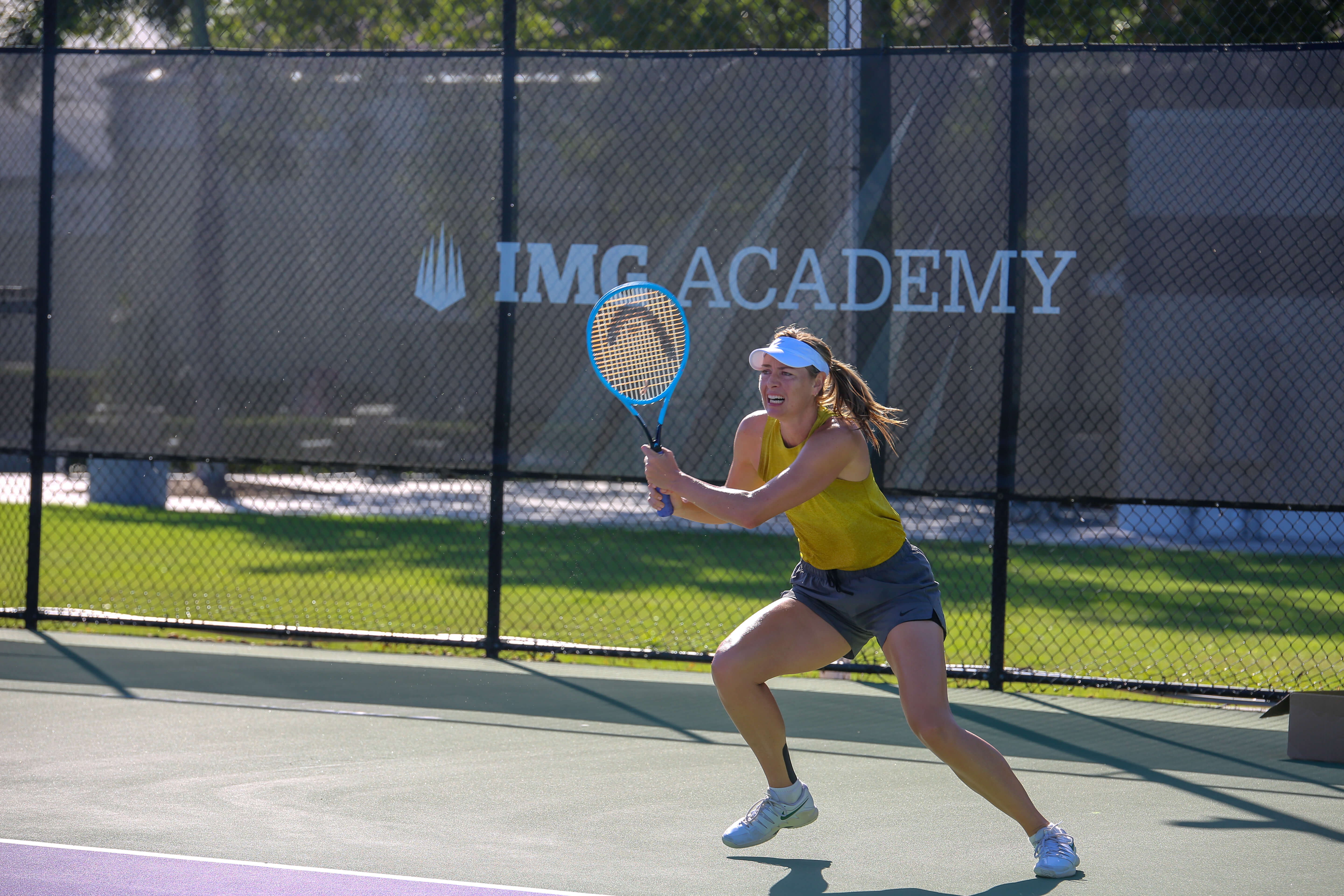 Available Programs
IMG Florida Tennis Camp
Bollettieri method based on the practice of technique, tactics and physical and mental exercise.
Training
Hours of training per week: 20 h / week
Number of children per group: 10 max.
All tennis training at the IMG Florida Tennis Academy is guided by the professional coaches at the facilities based in Bradenton.
Hours of training per week: 20 hours per week
Required age: 8 - 19 years
Languages spoken by coaches: English
MINIMUM level of Tennis to access the camp: Beginner
Levels of training offered by the camp: Advanced, intermediate, beginner
How are the groups organized? The groups are organized according to level
Number of coaches per group: 1
Number of children per group: 4
Due to the high-profile nature of the IMG World sports programs, athletes from more than 100 different countries pass through its facilities each year. The camp headquarters are located in area that enjoys excellent weather conditions all year round, making it the perfect venue for practicing any sport.
The Training
IMG Florida understands that each person is unique and that no two athletes are alike. This is why the sports academy offers personalized training programs that complement the knowledge and skills of the student. The tennis training program includes 20 hours of coaching per week.
The Coaches
At IMG Florida, professional coaches guide the athletes through the entire training process. The coaching regime covers both athletic and personal development and is designed to help the students improve both their physical and mental fitness. They training also encourages them to serve as ambassadors for the sport and to manage their personal skills both on and off the court.
Language Classes
IMG Florida gives students the option to supplement their tennis training with English lessons. A total of 13 language are spoken by the academy teaching staff, and this enables the centre to easily integrate students from all over the world.
English Language Courses
The English programs at IMG include intensive language classes to help those students who wish to continue their academic education at an American school or university.
In addition, there is also a program that helps students who want to learn English as a second language. This course helps the students with their basic language skills including their oral and aural abilities, written comprehension and grammatical capacity.
For students wishing to obtain a diploma, or an official certificate of accreditation for their competency in English, the academy can also prepare them for official TOEFL tests. This will boost their chances of obtaining good results in the exams.
Those athletes that wish to combine their tennis training with language classes will attend 15 hours of English lessons each week.
Camp Schedule
Every evening after dinner, leisure activities are planned to ensure that the students enjoy their stay as much as possible.
Each Monday, the students are evaluated on their match performance in order to determine if they should change groups due to any improvement in their game.
Excursions
Each week, the camp staff organise trips outside of the campus. The facilities are located in the city of Bradenton, making it an ideal location for trips to the beach on weekends and for attending multicultural events in and around the city. In addition, there are a wide variety of shops and restaurants in the area where the students to go out and unwind with their new friends.
Activities
The IMG World Academy is located in the city of Bradenton, Florida, which boasts numerous attractions suitable for young people. As well a fun outside of the camp, there is also plenty for the students to do on campus. The range of activities offered by the camp includes:
Trivia competitions
Night time movie sessions
Sports-related events
A typical day at the IMG Tennis Camp in Florida may consist of the following agenda:
Weekly timetable IMG Florida Tennis Camp
Schedule:
07:00-08:00: Breakfast at the residence
08:30: Physical conditioning and stretching
09:30: Tennis training
12:30: Lunch at the residence
14:00: Athletic program begins
15:00: Mental Preparation for the training sessions and subsequent tennis match
16:00: Tennis match
18:00: Dinner at the residence
Accommodation
Accommodation type: Residence
Room type: Shared by 4 participants
Bathroom type: Private
The number of children per monitor: 1/10 children
IMG Florida has extensive facilities with many luxury amenities to make their students feel at home during their summer stay.
Meals at the camp
Nutrition plays a vital role in any athletic regime, and this fact is recognised by the IMG World sports programs. Each day, the academy in Florida serves a healthy buffet-style menu for breakfast, lunch and dinner. Each menu is designed specifically to provide all the essential nutrients that an athlete requires to perform at their best level.
The campus has several cafeterias that can cater for a variety of dietary needs. All students are offered three meals a day, and personalized diet plans can be created for those with certain dietary needs.
The younger students also have access to the same buffet counters as the older athletes. There they will find a variety of healthy sandwiches, salads, pastas and other dishes.
Accommodation
Upon initial registration, three different types of accommodation are offered.
In residence
In suites - which have all kinds of extra amenities
In the west area of the campus - where there are apartments for young people
In total, the residence has 250 rooms, distributed across 5 different floors. Each room is furnished with a desk, a bed and a bathroom. In the main residence building, there are also common areas for all students including sitting rooms, recreational areas, study rooms and internet access.
Each room can accommodate up to four students per room and a cleaning service is included in the price.
Alternatively, IMG World Florida offers two other accommodation options for athletes who are seeking particular amenities. Thus, students may reside in suites equipped with a kitchen, bedroom and fully furnished bathroom, or stay in an apartment complex located in the west area of the campus.
The apartments are designed to accommodate between 6 and 10 students and feature three bedrooms, a dining room and two bathrooms, as well as phone and internet access.
Supervisors
The IMG Academy caters for young people staying during the summer as well as professional students all year round. As a result, professional instructors with experience of training at all levels are provided.
Each training program covers many aspects of the game including positional and technical training. For this reason, there are different specialists assigned to teach in each area.
The academy therefore has specialized coaches to help in the following categories:
Stretching
Speed
Mental condition
Nutrition
Communication
Planning
The coaches are responsible for preparing students in the required fields, and to ensure that they leave the academy playing at a much higher level.
Location
The IMG World headquarters is located in Bradenton, Florida. Bradenton is a coastal city located in the Gulf of Florida, one hour away from the Tampa airport and 15 minutes from the Sarasota- Bradenton Airport.
Prices and Dates
The prices of this programme vary according to a number of factors, such as the demand for places and the age of the participant. Please indicate the approximate start date you are considering and we will contact you as soon as possible with the prices and dates which are available.
Improved booking conditions for all camps
This 2024 make your reservation more easily and with less risk
We´ve lowered the deposit required to reserve your camp to just 500€
Free cancellation until March 1st
Money-back guarantee within 10 days
Optional anti-covid insurance

*Please note that if a visa is required to attend camp, it will be necessary to pay the total amount of the program

*Special conditions valid for all 2024 summer camp reservations except for the Barça USA camp, which will follow the general terms and conditions.
Extra Services
You can purchase one of the extra services below at an additional cost.
Camp Insurance

We offer two insurance options based on your needs:

Cancellation and Interruption Insurance: This option allows you to get your money back if you have to cancel or interrupt the camp for any justified reason, including injury or illness of participants both before and during the camp (the policy contains 35 different causes for justified cancellations).
Travel/Medical Insurance: With this insurance policy, you will be covered for medical assistance abroad and possible expenses caused by health-related issues, as well as other contingencies such as lost luggage or an unforeseen flight change.

Download the following PDF to learn more about each insurance options terms and conditions, coverage features, and price.

Camp Insurance


Transfer Service:

There are two types of transfer services available that we´ll detail for you below:

Standard transfer service: the camp offers an optional transfer service for participants who request it from the nearest airport to the residence (or vice versa). Check with Ertheo for schedules and prices for this service.
Special transfer with additional unaccompanied minor service: participants who fly to camp alone and have contracted the unaccompanied minor service with their airline must hire this special transfer with accompaniment so that the child isn´t left alone in the airport. Check with Ertheo for schedules and prices of this service.
Contact Ertheo for prices and additional information.
Transportation to the camp (flights/trains) is not included in the price of our programs.