Situated in Santa Coloma de Cervelló in Barcelona, this High Performance Tennis Centre is open throughout the year. During the summer season, Bruguera Tennis Academy offers a Summer Stage program to students aged between 11 and 23 years of age.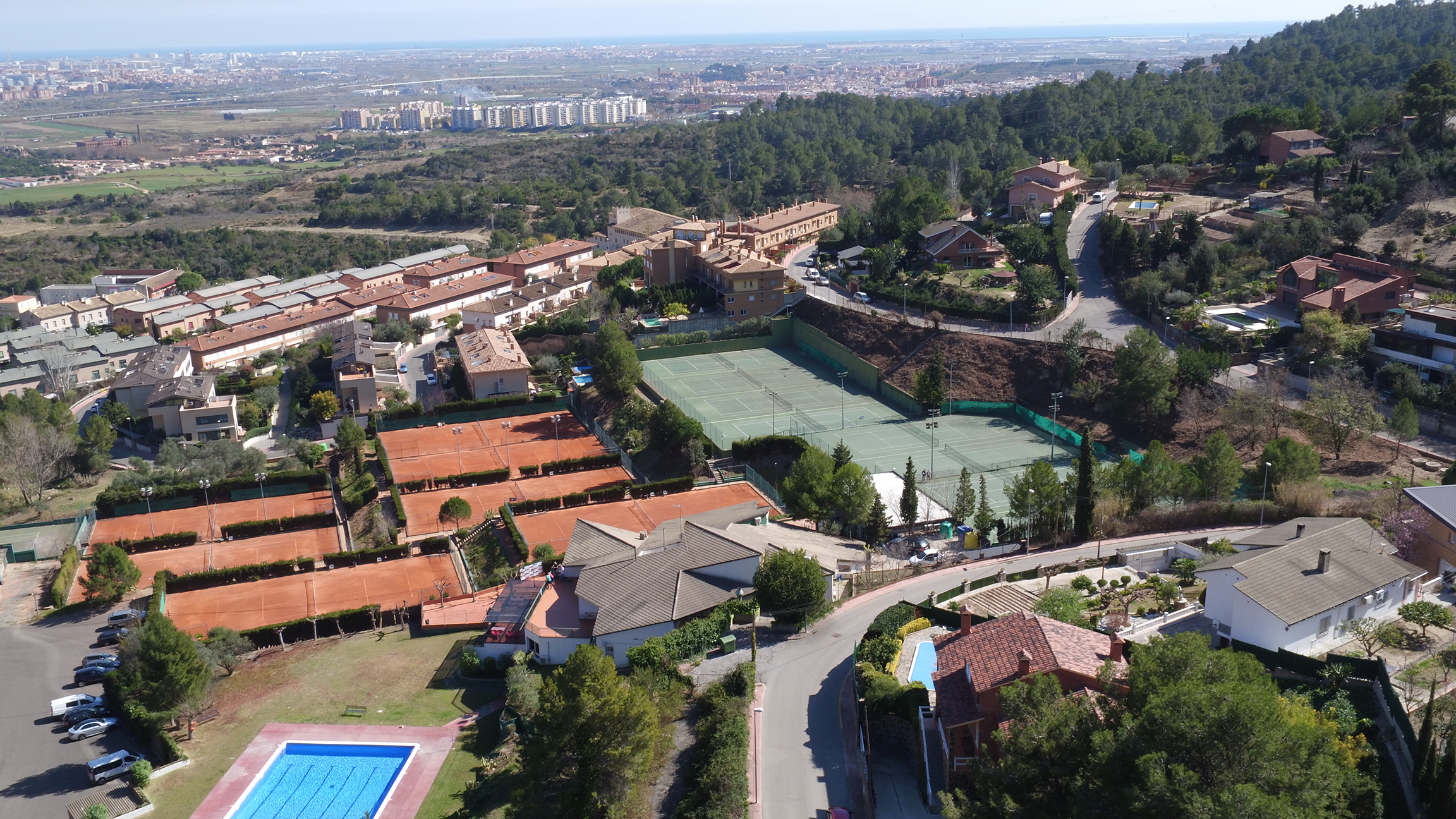 Are you interested in this program?
Download some information about this program and read it at anytime.
Overview
Location: Santa Coloma de Cervelló (Barcelona)
Ages and genders: Students between 11 and 23 years old
Language classes: Advanced, Intermediate
The course is aimed at those looking for an Intensive Tennis Training Program to help improve their all-round technique. In addition, the program can be combined with english or spanish classes and a huge range of leisure activities to ensure that the students get the most out of their stay.
Over the years, the academy has developed specialist training methods that adapt to the needs of each individual student. As a result, the Bruguera Academy has produce many top talents,  including Garbiñe Muguruza and Sara Errani.
This camp is fully-contained so students can stay in on-site accommodation where they can enjoy a fun and life-changigng experience alongside peers of many different nationalities.
If you would like more information about the annual program or other regular courses held throughout the year at the Bruguera academy, please contact us on (+34) 952 222 998
Please note that older students (19 to 23 years of age) are accommodated in apartments close to the facilities.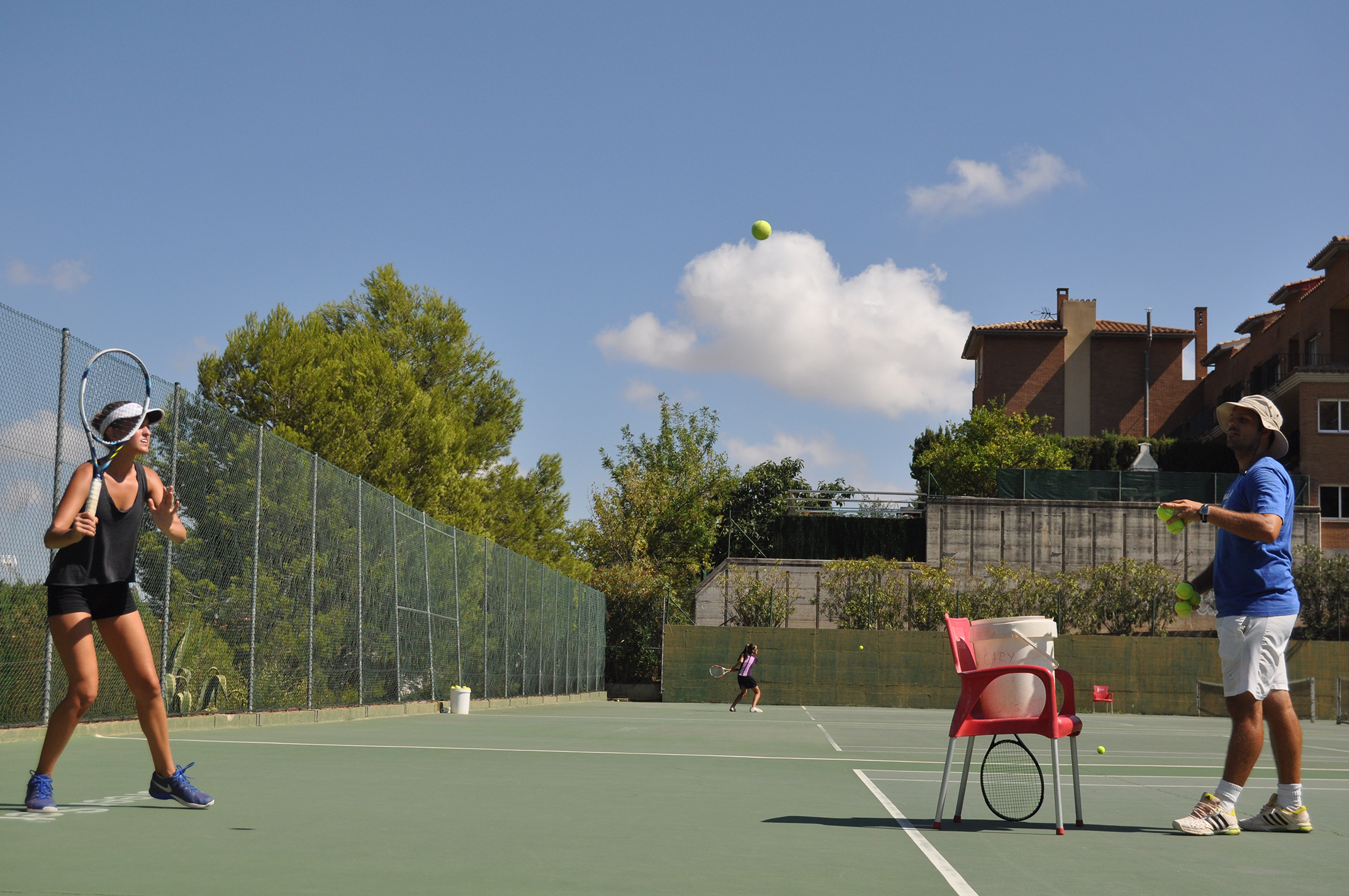 Available Programs
Bruguera high performance tennis - Barcelona
The academy was founded in 1986 by former tennis player and ex-captain of the Spanish Davis Cup team, Lluis Bruguera. His son, two-time French Open Champion Sergi Bruguera, is also a director at the academy.
Training
Hours of training per week: 30 h / week
Number of children per group: 3-5 children
All tennis training sessions at the Bruguera Tennis Academy are carried out under the supervision of professional tennis coaches based at the Santa Coloma de Cervelló installations in Barcelona.
Bruguera Tennis Academy is a high performance academy that offers programs for students of all levels. However, it should be noted that the training program is very intensive and occupies a large part of the day.
The training sessions take place from Monday to Friday between 9am and 5pm with a break for lunch. Students train for a total of 32 hours per week and the training is divided into two categories: technical and tactical training, and physical preparation.
The students are divided into groups according to their tennis ability and each group consists of 2 to 4 children under the supervision of one coach.
A custom training schedule is designed that takes into consideration the objectives of each student and the duration of their stay.
Tournament Attendance
Students also have the option to enrol in tennis tournaments where they will be accompanied by an academy technician. The staff member will be responsible for transporting the student to and from the game, and will also provide any support that the child may need before, during and after the event. All additional costs including tournament registration fees and travel expenses, are the responsibility of the player.
Participants who wish to improve the mental side of their game can register for a specially-designed psychology course that is available at the camp during the summer months.
Course of psychological practice applied to tennis:
Duration: 10 sessions held over 2 weeks
Availability: Courses are held between June and July
Languages: Spanish or English
Price: 155 € (to be paid by the player upon arrival)
Held under the supervision of licensed psychologist, Mr. Juan Carlos Monje
Language Classes
Once tennis training has finished at 5 O'clock, students will attend an hour-long class in their chosen language. Language classes are currently available in English or Spanish and students can choose which class they would prefer to attend.
The classes are suitable for students at all levels of ability and cover a range of skills including grammar and vocabulary. The teachers can also help children to prepare for any language exams that they may have in the future.
The groups are divided according to ability and each class will contain between 1 and 7 students.
Camp Schedule
During their free-time the kids can enjoy other sports such as football and swimming or they can spend time playing with their peers.
During the weekends, additional excursions are also available. These outings are optional and students wishing to attend must register at the camp. The excursions have a typical cost of around €80 (depending on the type of excursion) and are held subject to a sufficient number of registrations.
Excursions can range from a trip to the cinema, a visit to the Aquarium of Barcelona or a day at an amusement park such as Port Aventura.
Bruguera high performance tennis - Barcelona
Schedule:
08:00-09:00 Get up and have breakfast
09:00-11:00 Technical-tactical training
11:00-12:45 Physical training
12:45-14:30 Free time and Lunch
14:30-15:45 Technical-tactical training
15:45-16:45 Physical preparation
17:00-18:00 Language classes
18:00-20:00 Recreational activities
20:00-21:00 Dinner
*This is an illustrative schedule and it is subject to changes by the camp.
Accommodation
Accommodation type: Residence
Room type: Shared by 2-5 participants
Bathroom type: Shared
The Bruguera summer camp has residential facilities capable of accommodating up to 90 students. The academy provides a comfortable and safe environment so that students can fully concentrate on improving their tennis.
Each room is shared between 2 and 6 students and the residence also has a separate TV and video room where students can relax and socialise. A laundry service is also available 3 times per week.
A reception with 24 hour assistance is available and two monitors are always on campus to help the students with whatever they may need.
Facilities
The Bruguera tennis academy is a large, well-equipped complex with a large range of facilities including:
Clay tennis courts
Hard tennis courts
Swimming pool
Snack bar
Restaurant
Gym
School
Nurse's office
Halls of residence
There is also a shop that sells sports equipment and offers a racket stringing service.
Medical assistance
In case of injury, a monitor will accompany the injured student to a doctor.
If a student is suffering from an illness, they must advise the front desk. If necessary, they can arrange for a doctor to treat the child on-site (call-outs carry an additional cost of approximately 60€).
Other additional services
The camp also has a physiotherapist service based at the injury treatment centre and is available at no additional cost to the students.
The physiotherapist service includes:
Sports massage
Electro-stimulation
Follow-up during rehabilitation
Osteopathy
Injury prevention guidelines
The centre offers everything necessary to ensure fast recovery, injury prevention and readjustment to training.
Prices and Dates
| Duration (Weeks) | Bruguera Tennis Academy |
| --- | --- |
| Tennis camp | Tennis and languages |
The official rate of this program is determined in EUROS so the final amount in other currencies may vary slightly due to currency fluctuation.
Starting Dates
Improved booking conditions for all camps
This 2023 make your reservation more easily and with less risk
We´ve lowered the deposit required to reserve your camp to just 500€
Free cancellation until March 1st
Money-back guarantee within 10 days
Optional anti-covid insurance

*Please note that if a visa is required to attend camp, it will be necessary to pay the total amount of the program

*Special conditions valid for all 2023 summer camp reservations except for the Barça USA camp, which will follow the general terms and conditions.
Extra Services
You can purchase one of the extra services below at an additional cost.
Camp Insurance

We offer two insurance options based on your needs:

Cancellation and Interruption Insurance: This option allows you to get your money back if you have to cancel or interrupt the camp for any justified reason, including injury or illness of participants both before and during the camp (the policy contains 35 different causes for justified cancellations).
Travel/Medical Insurance: With this insurance policy, you will be covered for medical assistance abroad and possible expenses caused by health-related issues, as well as other contingencies such as lost luggage or an unforeseen flight change.

Download the following PDF to learn more about each insurance options terms and conditions, coverage features, and price.

Camp Insurance


Transfer Service:

There are two types of transfer services available that we´ll detail for you below:

Standard transfer service: the camp offers an optional transfer service for participants who request it from the nearest airport to the residence (or vice versa). Check with Ertheo for schedules and prices for this service.
Special transfer with additional unaccompanied minor service: participants who fly to camp alone and have contracted the unaccompanied minor service with their airline must hire this special transfer with accompaniment so that the child isn´t left alone in the airport. Check with Ertheo for schedules and prices of this service.
Contact Ertheo for prices and additional information.
Transportation to the camp (flights/trains) is not included in the price of our programs.