It is aimed at boys and girls between the ages of 6 and 16 years who want to spend between 2 and 4 weeks practicing different adventure sports.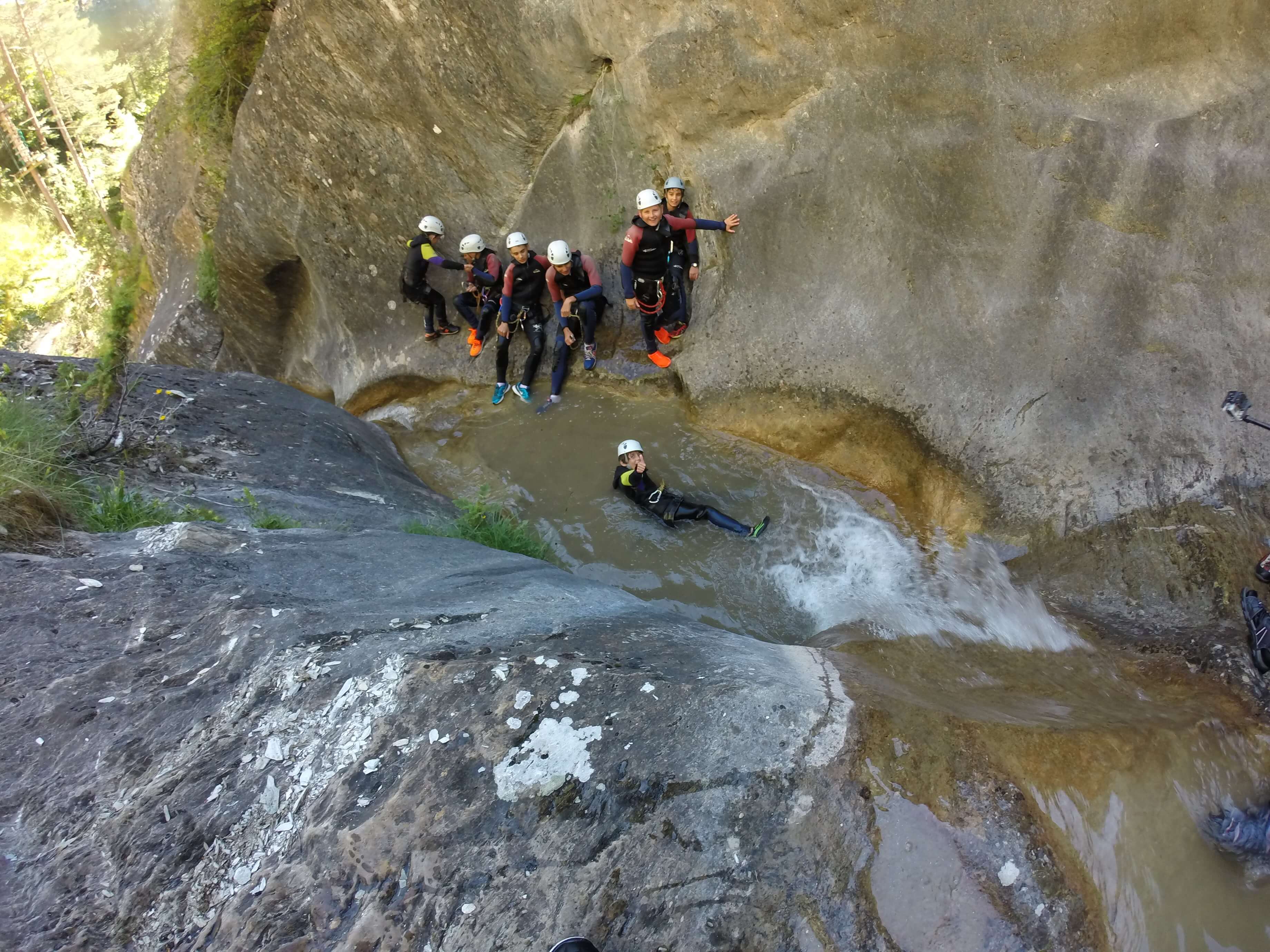 Overview
The camp, Adventure Camp by Camp Rialp takes place in the 4* Euroski hotel located in the Valle de Incles, Andorra, during the month of July. It is aimed at boys and girls between the ages of 6 and 16 years who want to spend between 2 and 4 weeks practicing different adventure sports such as rafting, canoeing, horseback riding, multi adventure, rock climbing, zip wires, river rafting, tree circuits, archery and quads. All of this in the middle of a spectacular landscape.
In addition, this camp is focused on learning English, since 15 classes of said language are given per week, apart from being the official language spoken during the rest of the camp activities. Since 30% of the participants are international, it is easy for youngsters to make friends from all over the world and improve their English in a natural way as they interact with each other.
All of this without missing out on the enjoyment, which is the primary objective of the camp.
Available Programs
Adventure sports camp in Andorra

The Camp Rialp Adventure Camp takes place at the Euroski 4 * hotel in the Incles Valley, Andorra, during the month of July.
Training
Three hours a day are dedicated to practicing adventure sports from Monday to Friday. These wonderful landscapes surrounding Camp Rialp are the ideal scenario to practice these sports: trails, rivers, ravines and mountains surround the activities of the young adventurers.
Apart from enjoying themselves and get into shape in the great outdoors, participants acquire important values such as companionship, education and respect.
Training Facilities
Most of the sports activities will be carried out outdoors, in the beautiful places that surround the hotel (Valle de Incles).
Coaches
The team of instructors is made up of experienced and professional individuals. They are in charge of the kids 24 hours a day available for whatever they may need and they accompany them and supervise all the field trips. There is a minimum of one instructor for 14 kids.
The 4*Euroski hotel (Main Road of Canillo-Soldeu, s/n AD100 Incles, Andorra) is the headquarters of the camp and is located on the Incles Valley in the Principality of Andorra. It is located 3 hours away by car from the El Prat Airport in Barcelona.
Language Classes
Three hours of classes a day are taught at the camp (15 a week) from Monday to Friday from 9:45AM to 1:00PM. The classrooms are divided by levels and age groups.
The classes are very dynamic and promote the participation of the students. During the camp, participants who wish to do so can test their level of English by taking the official exams of Trinity College London.
Camp Schedule
Thanks to the hotel´s excellent facilities, kids can practice different sports during their free time (soccer, volleyball, badminton, ping-pong, etc.).
At night they can choose from various activities: large screen movies, TV room, recreation hall, workshops, interior and exterior night games, contests, various activities, board games, etc.
Field Trips
On the weekends the camp organizes field trips to Port Aventura and/or Barcelona (Tour Barcelona Experience), as an option and the cost is: 85€ each, all included.
The kids who decide not to participate in the field trips will not be left without anything to do: various themed workshops are offered at the same time on those days: (cooking, magic, photography, makeup techniques…) so entertainment is guaranteed.
Accommodation
Students stay at the 4* Euroski Hotel, located in the Incles Valley, one of the most beautiful spots of Andorra, at the bottom of the El Tarter - Soldeu ski slopes. This location makes it ideal to enjoy sports and nature.
The rooms are double, triple or quadruple and all have a bathroom with a bathtub or shower with daily cleaning service and towel change. All the rooms have free Wi-Fi, phone, air condition and satellite TV.
The hotel also has the following facilities and services:
Buffet restaurant
Bar with solarium terrace
PlayStation and Wii room
Laundry Service (once a week)
TV and Movie room
Heated pool and Jacuzzi
Classrooms
Private dance club, soccer tables, ping-pong, etc.
Prices and Dates
These courses are subject to a registration fee of 150 € ($ 177 or £ 144).
The official rate of this program is determined in EUROS so the final amount in other currencies may vary slightly due to currency fluctuation.
Starting Dates
Improved booking conditions for all camps
This 2023 make your reservation more easily and with less risk
We´ve lowered the deposit required to reserve your camp to just 500€
Free cancellation until March 1st
Money-back guarantee within 10 days
Optional anti-covid insurance

*Please note that if a visa is required to attend camp, it will be necessary to pay the total amount of the program

*Special conditions valid for all 2023 summer camp reservations except for the Barça USA camp, which will follow the general terms and conditions.
Extra Services
You can purchase one of the extra services below at an additional cost.
Anti-Covid Insurance

We have different insurance options with special anti-covid coverage, so you can insure your camp reservation according to your needs:

Cancellation and Interruption Insurance: cancellation and interruption insurance allows you to recover your payment if you cancel or interrupt the camp for a justified cause (including illness from COVID-19 and 35 other causes)
Travel/Medical Insurance: with this insurance policy, you´ll be covered for medical assistance abroad and possible expenses caused by situations resulting from COVID-19, such as needing to extend your stay up to 40 days, as well as other general situations such as loss of luggage, unforeseen ticket changes, etc.

Download the following PDF for more information about anti-covid coverage, the general terms & conditions, and prices of each insurance policy.

Anti-Covid Insurance


Transfer Service:

There are two types of transfer services available that we´ll detail for you below:

Standard transfer service: the camp offers an optional transfer service for participants who request it from the nearest airport to the residence (or vice versa). Check with Ertheo for schedules and prices for this service.
Special transfer with additional unaccompanied minor service: participants who fly to camp alone and have contracted the unaccompanied minor service with their airline must hire this special transfer with accompaniment so that the child isn´t left alone in the airport. Check with Ertheo for schedules and prices of this service.
Contact Ertheo for prices and additional information.
Transportation to the camp (flights/trains) is not included in the price of our programs.