IMG is a high-performance tennis academy located in Bradenton, Florida. For boys and girls from 12 to 18 years old.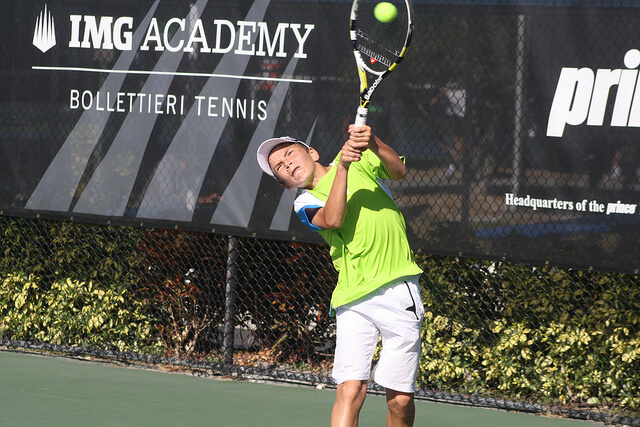 Overview
Location: Bradenton, Florida
Age and gender: Boys and girls between 12 and 18 years old
Clases de Inglés: Yes
IMG is a high performance academy located in Bradenton, Florida. Its known worldwide for training athletes in different sports, one of them being tennis and the training program is designed by Nick Bollettieri, Sports Director of the IMG academy and one of the world´s most prestigious tennis instructors.
This academy has trained great tennis players such as Kei Nishikori or Maria Sharapova and many professionals choose it each year to prepare for a tournament because of its fantastic facilities.
The annual program is for boys and girls between the ages of 12 and 19 who are looking for an intensive training program to improve their tennis level and get in shape so they can compete professionally some day.
In addition to the training, it also offers an academic program that follows the USA education program for kids who study ESO or Bachillerato, so they can continue with their education. Athletes who wish can study English to improve their level.
In addition to having fantastic facilities, IMG has its own housing for athletes as well as its own education center.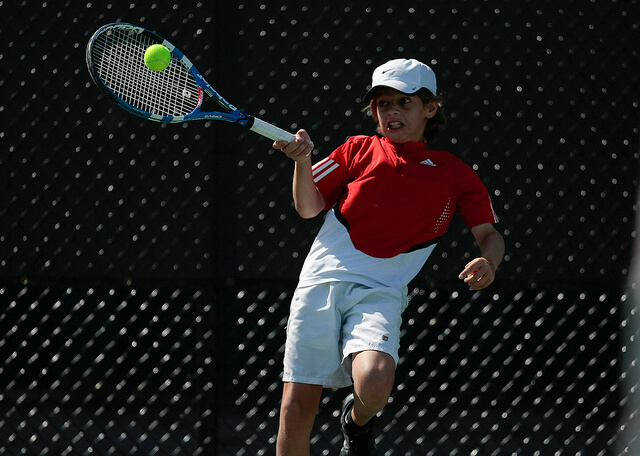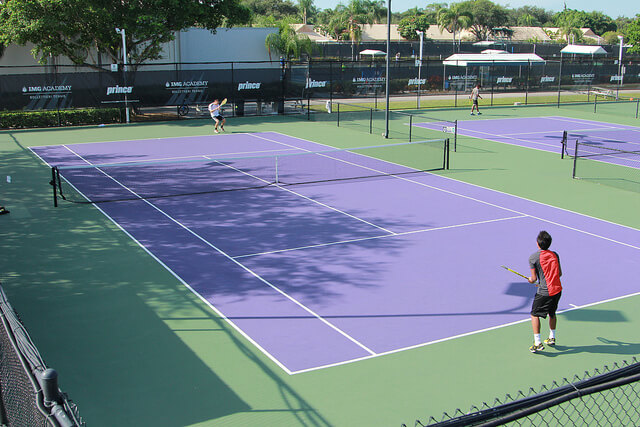 Available Programs
Annual program
Aimed at boys and girls between the ages of 12 and 19 who are looking for intensive training to perfect their tennis level.
In addition to training, it offers an academic program that follows the American educational system for boys who study ESO or Baccalaureate.
Training
Languages spoken by coaches: English
Training levels offered by the camp: Advanced, Intermediate
How are the groups organized?: Age and Level
The training program designed by Nick Bollettieri has helped a great number of youngsters improve their tennis since 1978. Great names such as Agassi, the Williams sisters, Martina Hingis or Monica Seles, have found their effective method and have become great tennis sports stars. Rohan Goetzke is the right hand of Bollettieri, technical director of the German tennis Federation and technical director of the academy.
The annual training program is divided into several areas:
Training court sessions
Several hours of daily training focuses on technique, playing matches and performing many exercises to improve all the hits and aspects of the game.
Physical preparation
Improving the physical condition of a player is very important toward becoming a great tennis player and also to avoid injuries and recuperate faster. IMG knows this and that is why its training program focuses a lot on daily exercise to improve flexibility, strength, speed, coordination and resistance convert youngsters into great athletes. To achieve this, the facility has the most modern facilities.
Mental training
Mental strength in tennis is essential to achieve results and players work with specialized psychologists who help them improve this aspect, gain confidence and reassurance in themselves on the court during critical moments of the game and maintain a correct attitude from start to finish.
Nutrition
Good nutrition is essential so an athlete can perform his/her best level of play. The technical team of the academy counts on nutritionists who are in charge of designing be best menus for each athlete.
Each player is examined regularly to track his/her evolution and reports are generated so the parents have a monitoring process of what their child is achieving.
Language Classes
Schedule: Flexible with 5 classes in the morning and 5 in the afternoon
Online platform: Available
Native teachers: No
This academy offers an education program from grade six to twelve. The base of the education is for students to foster communication and creativity. To do this, the Harkness method is used consisting in the instructor to not just presenting a concrete subject, but to ask questions to the group so they can activate their mind and reflect. Later on the opinions of the group are analyzed. Thanks to this method, critical thinking is fostered and the various forms of thinking are accepted so even the most timid students can loose their shyness and slowly speak in front of an audience and present their opinions.
The principal characteristics of this education program are the following:
Flexible Classes
A flexible schedule is offered with 5 morning and 5 afternoon classes so all the students can work around their training sessions.
Online Platform
All the subjects, exercises and homework are available on the online platform to help students learn in and out of the academy should they be away competing. Parents also have access to the platform and know what their kids are studying, how they are evolving and know their grades.
Core Subjects
3 core subjects are available: English, science and mathematics. The English classes in 11th grade focus on language arts and literature.
It's also possible to choose social science, languages (Spanish, French or Chinese) or art classes.
Tutorials
Tutors are available to help kids with questions or homework at night, once they are finished with classes and training.
Teachers are also available to offer support during competitions. If a student is away competing for more than 5 days, he/she will be accompanied by a tutor in charge of making sure homework is completed.
Camp Schedule
Students have a busy schedule from Monday to Friday. They combine their training schedule with their classes during the morning or the afternoon (depends on each case). They have more free time on the weekends although competitions are scheduled during this time in or out of the academy.
The academy also organizes entertaining activities and field trips on the weekends since a bit of fun is always great to strengthen ties of friendship, change the routine and allow the mind and body to rest for a day from the busy life of an athlete.
Accommodation
No. of tracks: 52 tracks of different surfaces
Gym: Yes
Common facilities: Yes
Sports facilities
The IMG academy is the best in the world. Its enormous extension, excellent quality facilities and advanced technology make it ideal for young tennis players who want to become elite athletes.
Regarding the tennis facilities, the academy has 52 different surface courts (fast, clay and covered courts) with video analysis technology.
The academy has a huge gymnasium where physical preparation takes place. It also has many sports fields (football, basketball, golf, baseball, track and field, etc.).
Housing
Athletes who train at this academy stay at the student housing located at the premises. The rooms are normally double standard rooms with a desk and a bathroom. Luxurious rooms are also available and offer more amenities.
Common facilities
Many common areas are also available for students such as relaxing areas, game rooms, study areas and recreational rooms, etc.
There is also a spa at the academy and several sports stores where students can buy whatever they need. A train service is available at the academy to move around from place to place (similar to tourism trains) that students use to move around in.
Prices and Dates
The prices of this programme vary according to a number of factors, such as the demand for places and the age of the participant. Please indicate the approximate start date you are considering and we will contact you as soon as possible with the prices and dates which are available.
Starting Dates
Dates
The academic year is from September to June although 2-week programs are available all year with any commencement date.
Improved booking conditions for all camps
This 2024 make your reservation more easily and with less risk
We´ve lowered the deposit required to reserve your camp to just 500€
Free cancellation until March 1st
Money-back guarantee within 10 days
Optional insurances

*Please note that if a visa is required to attend camp, it will be necessary to pay the total amount of the program

*Special conditions valid for all 2024 summer camp reservations except for the Barça USA camp, which will follow the general terms and conditions.
Extra Services
You can purchase one of the extra services below at an additional cost.
Camp Insurance

We offer two insurance options based on your needs:

Cancellation and Interruption Insurance: This option allows you to get your money back if you have to cancel or interrupt the camp for any justified reason, including injury or illness of participants both before and during the camp (the policy contains 35 different causes for justified cancellations).
Travel/Medical Insurance: With this insurance policy, you will be covered for medical assistance abroad and possible expenses caused by health-related issues, as well as other contingencies such as lost luggage or an unforeseen flight change.

Download the following PDF to learn more about each insurance options terms and conditions, coverage features, and price.

Camp Insurance


Transfer Service:

There are two types of transfer services available that we´ll detail for you below:

Standard transfer service: the camp offers an optional transfer service for participants who request it from the nearest airport to the residence (or vice versa). Check with Ertheo for schedules and prices for this service.
Special transfer with additional unaccompanied minor service: participants who fly to camp alone and have contracted the unaccompanied minor service with their airline must hire this special transfer with accompaniment so that the child isn´t left alone in the airport. Check with Ertheo for schedules and prices of this service.
Contact Ertheo for prices and additional information.
Transportation to the camp (flights/trains) is not included in the price of our programs.