The Bruguera tennis academy is located in Barcelona and offers its annual program to boys and girls between 12 and 18 years of age.
This academy has closed permanently for COVID-19 reasons. If you are looking for an academy with similar characteristics in terms of quality, training and price we recommend the Juan Carlos Ferrero Tennis Academy.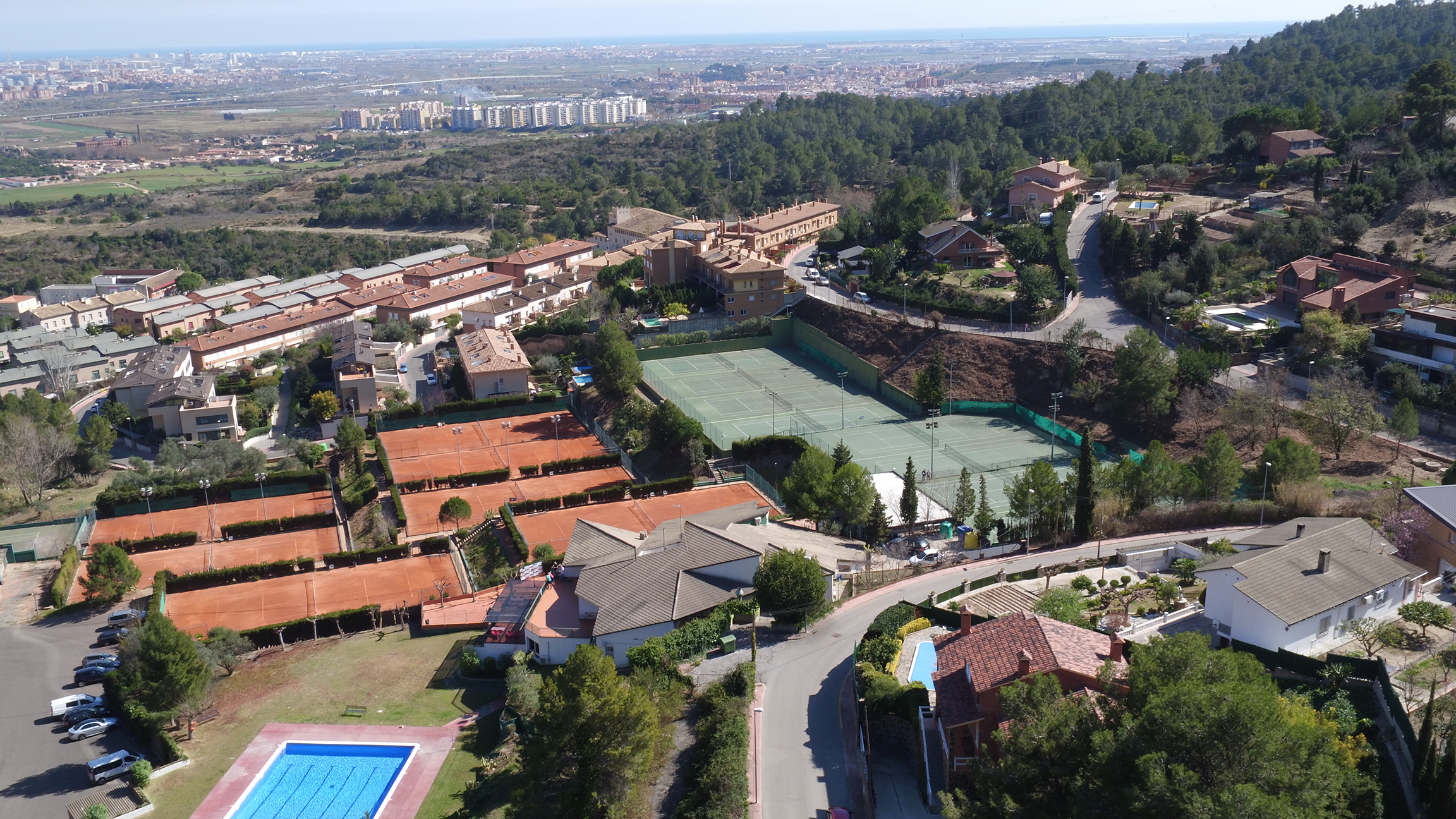 Overview
Location: Barcelona
Training: 30 h / week
English classes: 5 lessons / week
Allowed age: 11 to 23 years
The academy closed as a result of the economic effects of COVID-19. If you are looking for a good tennis academy, here are some other interesting alternatives:
| Features | Training Methodology | Infrastructure | Programmes available | Training hours per week | Price | More information |
| --- | --- | --- | --- | --- | --- | --- |
| Bruguera Tennis Academy | Comprehensive approach: technique, tactics, physical and mental development. | Multi-surface courts, modern gymnasium, accommodation. | Annual programme 10 months (from September to June). It is also possible to carry out academic studies at the academy's official centre. | 30 hours per week | Variable, but in the medium-high range. | Closed after COVID-19 |
| Juan Carlos Ferrero Tennis Academy | Focus on technique and tactics, physical development. | Clay courts, gymnasium, accommodation. | 10 month training programme. Option of ESO or Bachillerato academic studies (in Spanish or English or language classes). | Between 33 and 38 hours per week from Monday to Saturday | Medium-high cost. | Juan Carlos Ferrero Tennis Academy |
| IMG Tennis Academy | Structured programme, sports psychology, nutrition. | Courts of all surfaces, gymnasiums, auxiliary services. | Annual programme for boys and girls between 12 and 19 years of age, intensive training. Academic programme that follows the American educational system for boys and girls in ESO or Bachillerato. | 25-30 hours per week | High cost. | IMG Tennis Academy |
| Mouratoglou Tennis Academy | Comprehensive approach, emphasis on mental development. | Courts of all surfaces, modern gymnasium. | High performance programme for boys and girls aged 10 to 18. | 27 hours per week | Very high cost. | Mouratoglou Tennis Academy |
| Rafa Nadal Academy | Comprehensive approach, influenced by Rafael Nadal's techniques. | Clay and hard courts, fitness centre, accommodation. | Annual and semester programme, for young people from 12 to 18 years old. Admission process 2024 closed, all places in their residence are taken, they do not accept new students with accommodation. | 23 hours per week | Very high cost. | They do not accept new athletes with accommodation |
Bruguera is a high performance academy, specialised in developing the skills of young tennis players whose goal is to make a professional career in the sport.
Lluís Bruguera, renowned ex-tennis player and father of another ex-player Sergi Bruguera, founded the academy and designed the training programme. He has had long experience training tennis players to high level, captained the Spanish Davis Cup team and has also been technical director in a number of tennis federations, including the Spanish Tennis Federation.
The academy has its own education centre which provides secondary education and Baccalaureate (in English and Spanish). This means that students can combine academic studies with their tennis coaching.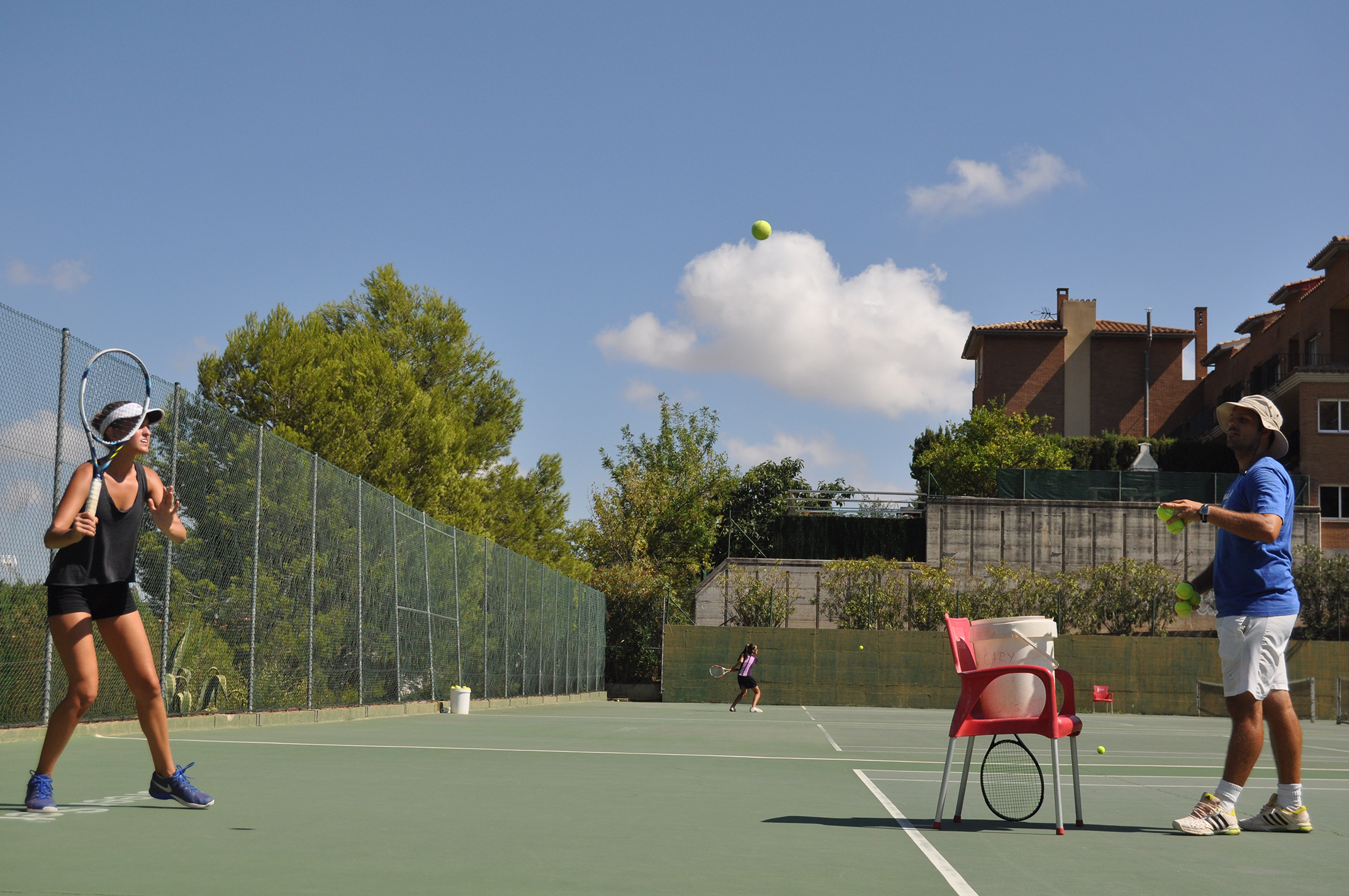 Available programmes
Annual Programme
10 months (from September to June). Students can also be enrolled into the academic study programme at the school located on the campus.
Training
Training Location: Academia Bruguera
Training hours per week: 30 h / week
Training levels offered by the camp: Advanced, Intermediate
Number of children per group: 3 - 5
The Bruguera high performance academy uses its own training method created by the founder Lluís Bruguera. The programme is aimed at optimising the performance of young tennis players to help them reach their maximum potential.
Coaching sessions take place between 9am and 5pm from Monday to Friday. On Saturdays players have the opportunity to work on particular aspects of their own game and Sunday is a rest day (on weekends when there is no tournament taking place).
The training sessions are generally divided into two parts:
There are three hours of court-based coaching dedicated to technical-tactical skills/footwork and two and a half hours of physical training.
The rest of the afternoon is devoted to academic study (secondary school/ Baccalaureate). Students attend the school located next to the academy.
Tournaments
All students who register at the academy for a period of more than two weeks will also have the chance to take part in tournaments in accordance with their age and tennis skill level. Students will always be accompanied at tournaments by their coach. The academy organises registration and transport to and from the tournaments.
The Bruguera method
This very successful method works on the sporting and personal aspects of the student within an integrated training programme. It's not just about training students in sporting skills but also facilitating their personal and academic development.
On the other hand we also work in detail on technical skills, tactical ability and mental strength. The objective is to achieve automation in the strokes and this comes about by intensive practice and drills.
This training is carried out in combination with tournament participation within and outside the academy so the participants can develop their competitive spirit. The type and number of tournaments in which players take part will depend on their age and skill level. These may take place at the academy or at a neighbouring club but we also organise participation in tournaments at a regional, national and even international level.
The coach accompanies the players and supervises them during the tournament. Another of the crucial aspects which makes the Bruguera academy so special is the atmosphere and environment. It's very important that the young people are comfortable in their surroundings and all the staff work hard to ensure students feel at home. Each year there are 40-50 students participating in the annual programme plus more taking part in the weekly courses. Academy staff know students by name and offer them care and support so that the academy feels like a big extended family.
Language Classes
Available languages: English, Spanish
Levels: 2, 3, 4, 5, 6 Levels available
Children per class: 5 children
Group division: Level
Native teachers?: Yes
Participants who want to combine tennis coaching with academic study can do this at the school which is located on the same site as the academy.
This centre offers the option of taking courses from basic secondary education to Baccalaureate and is suitable for pupils from 12 to 18 years of age.
The academy also offers the chance to enrol in a course from the American educational system.
The courses are delivered in Spanish and English. Students who don't speak Spanish will receive an intensive course in the language.
Classes are small and students receive a lot of individual attention. The sports and academic programmes are well coordinated, enabling participants to do their tennis coaching and continue with their education at the same time.
The academic study takes place in the late afternoon, from 5pm, once the daily sports coaching is finished and students have had a chance for a short meal break.
Camp Schedule
Here is an example of a typical day's academy programme from Monday to Friday:
Standard program
Schedule:
07:30H - 08:00H Wake up
08:00H - 08:45H Breakfast
08:45H - 09:00H Warm up
09:00H - 11:00H Court training
11:15H - 12:45H Fitness
13:00H - 14:00H Lunch & free time
14:15H - 15:30H Court training
15:30H - 16:45H Fitness & stretching
17:00H - 20:00H Snack & school
20:15H - 21:00H Dinner
21:00H - 23:00H Lights out
* This timetable is for guidance purposes as it may vary slightly and is subject to changes by the academy. There are sometimes competition weeks or special fitness training sessions on the beach, but the above is basically a typical day in the academy training programme.
Accommodation
Accommodation Type: Residence
Room Type: Shared. 2-5 participants
Bathroom Type: Shared
Children per monitor: 12 children
To guarantee their comfort and security during their stay, students at the academy are housed in the residence which is located next to the academy.
The residence has capacity for 90 students, who sleep in shared rooms (from 2 to 6 beds). The residence has a laundry service 3 days a week and there is 24 hours' supervision.
Students have access to free Internet connection which is available in all the areas. There is also a television/video room where students can relax during their free time.
The academy restaurant provides meals, snacks and dinner each day for students who are registered for the meals service.
Facilities
This is a large academy and has everything necessary to provide the young people with what they need on a day to day basis. The residence, where participants sleep and spend their free time, the restaurant and the sports facilities where they do their coaching are all located on one site.
Both the sports facilities and the residence are very high quality. Below you will find a list of the facilities at the Bruguera Tennis Academy:
9 green set courts
7 clay courts
Fully equipped gym and area for stretching
Physiotherapy/massage suite
Video analysis cameras on the courts
25m swimming pool
Football field
Basketball court and activity area
Table tennis (ping pong) table
Residence
School
Relaxation room (with television and video game consoles)
Study room
Restaurant - cafeteria
Shop with sports equipment and clothes (specialised in tennis)
According to their age and whether they have parental authorisation, students may leave the academy, for example to go shopping, visit a café or explore the local town (Santa Coloma de Cervelló).
Location
The academy is located in the town of Santa Coloma de Cerbelló, a suburb of Barcelona, 18 km from the centre of the city and one and a half hours from Barcelona El Prat Airport. The exact address is:
Carrer de les Orenetes - 08690 Santa Coloma de Cervelló, Barcelona
Prices and Dates
| Duration (Weeks) | Bruguera Tennis Academy |
| --- | --- |
| Tennis camp | Tennis and languages |
The official rate of this program is determined in EUROS so the final amount in other currencies may vary slightly due to currency fluctuation.
Starting Dates
Improved booking conditions for all camps
This 2024 make your reservation more easily and with less risk
We´ve lowered the deposit required to reserve your camp to just 500€
Free cancellation until March 1st
Money-back guarantee within 10 days
Optional insurances

*Please note that if a visa is required to attend camp, it will be necessary to pay the total amount of the program

*Special conditions valid for all 2024 summer camp reservations except for the Barça USA camp, which will follow the general terms and conditions.
Extra Services
You can purchase one of the extra services below at an additional cost.
Camp Insurance

We offer two insurance options based on your needs:

Cancellation and Interruption Insurance: This option allows you to get your money back if you have to cancel or interrupt the camp for any justified reason, including injury or illness of participants both before and during the camp (the policy contains 35 different causes for justified cancellations).
Travel/Medical Insurance: With this insurance policy, you will be covered for medical assistance abroad and possible expenses caused by health-related issues, as well as other contingencies such as lost luggage or an unforeseen flight change.

Download the following PDF to learn more about each insurance options terms and conditions, coverage features, and price.

Camp Insurance


Transfer Service:

There are two types of transfer services available that we´ll detail for you below:

Standard transfer service: the camp offers an optional transfer service for participants who request it from the nearest airport to the residence (or vice versa). Check with Ertheo for schedules and prices for this service.
Special transfer with additional unaccompanied minor service: participants who fly to camp alone and have contracted the unaccompanied minor service with their airline must hire this special transfer with accompaniment so that the child isn´t left alone in the airport. Check with Ertheo for schedules and prices of this service.
Contact Ertheo for prices and additional information.
Transportation to the camp (flights/trains) is not included in the price of our programs.