The Mouratoglou High Performance Tennis Academy is one of the leading tennis schools in Europe. Boys and girls from 8 to 18 years old.

Are you interested in this program?
Download some information about this program and read it at anytime.
Overview
Location: Santa Coloma de Cervelló (Barcelona)
Ages and genders: Students between 11 and 23 years old
Language classes: Advanced, Intermediate
Mouratoglou tennis academy is one of the Europe's leading schools for tennis tuition. Since 1998, more than 500 tennis players have trained at the academy, and around 4,000 young people have enjoyed their summer camp programs.
Amongst its many achievements, the academy has successfully trained many players who have gone on to receive scholarships at American Universities, where they have continued to practice the sport.
This Academy has helped to shape the careers of many high-calibre tennis players including Elina Svitolina, Jelena Dokic and Alexandre Lacroix.
During their stay at the academy, the students will learn how to improve their tennis skills through tactical awareness and strategic game-planning, as well as physical fitness.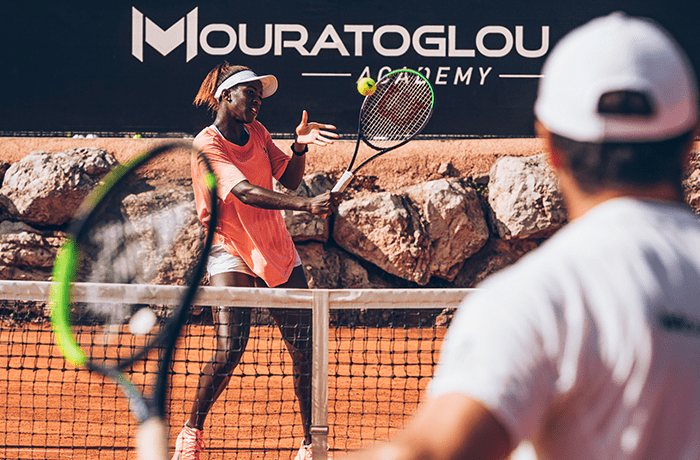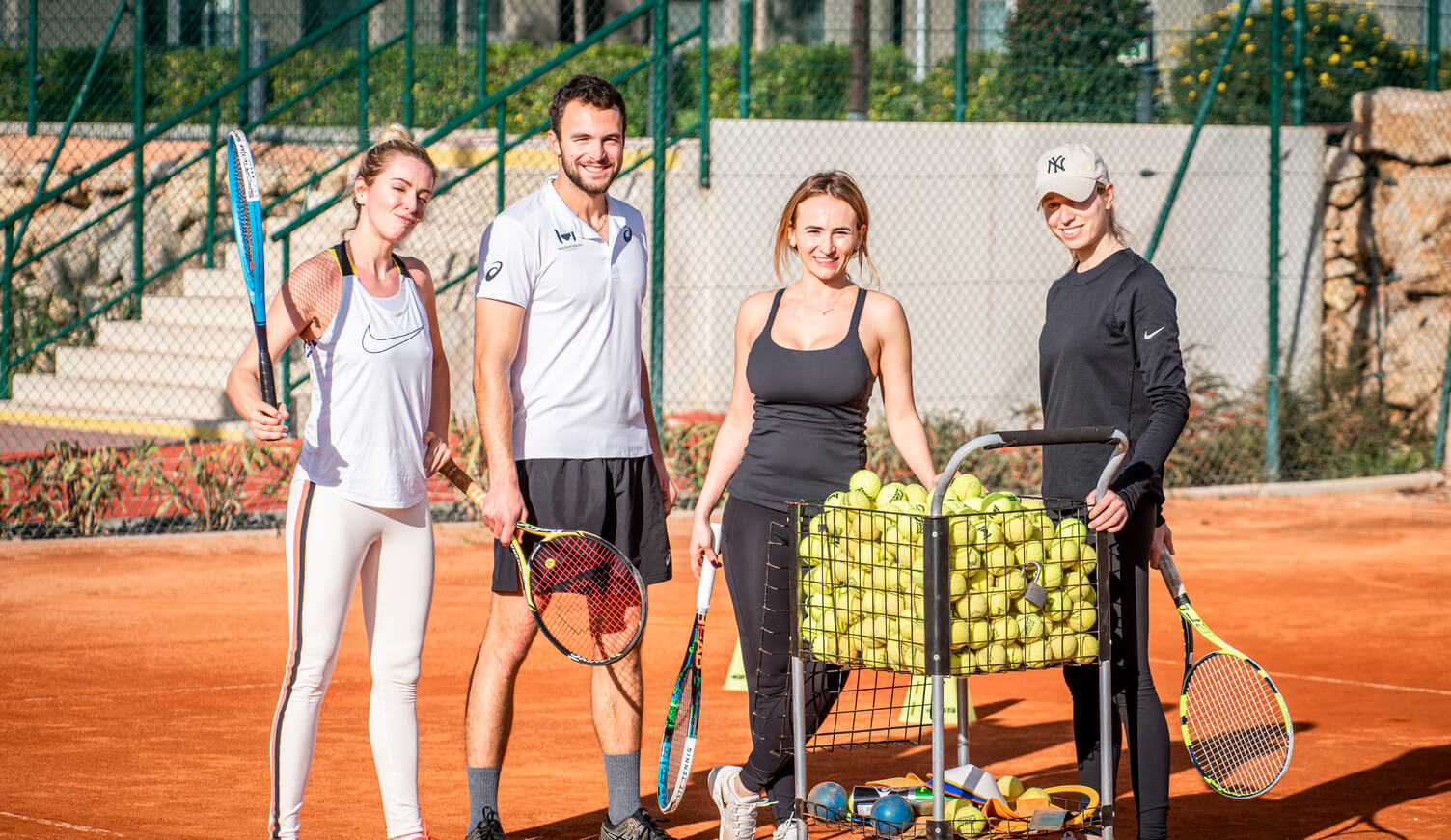 Available Programs
Mouratoglou Tennis Academy
Levels of training offered by the camp: Advanced, Intermediate, Beginner.
Training
Semi-intensive training: 2 hours of tennis and 1 hour and a half of fitness a day
Intensive training: 4 hours of tennis and 1 hour and a half of fitness, from Monday to Saturday
Number of children per group: 4 children
Before arriving at the camp, parents and children must decide what type of training is most suitable for their needs. The Mouratoglou tennis academy offers two options depending on the degree of professionalism and perfection that is desired:
Semi-intensive camp
Intensive camp
The students are distributed into groups according to the program that is chosen.
Both camps run from Monday until Saturday at noon. The semi-intensive camp includes:
Two hours of tennis training per day
One and a half hours of practical fitness training per day
The intensive camp provides a greater physical challenge for the students, while helping to improve the technical, tactical and physical aspects of their game. The program includes:
Four hours of tennis training per day
One and a half hours of fitness training per day
The Training
During the training sessions, students will learn different types of serves, how to move on the court and how to execute different shots. In addition, they will attend classes where they are taught mental techniques - for example, how to help withstand pressure at major tournaments and competitions.
As well a tennis training, there will also be several peer-to-peer tournaments organised where students can put into practice everything they have learned on a daily basis.
The weekly schedule will include:
20-40 hours of training a week
Physical and mental training
Video analysis to help correct faults
Between 12 and 15 tournaments
Periodical physical tests to check the condition and potential of each player
The Coaches
The training is directed by certified professionals who have prepared many high-profile tennis players - including Elina Svitolina, Jelena Dokic or Alexandre Lacroix - for the physical and mental challenges of the game.
The Club
The Mouratoglou Tennis Academy was established in 1998 and became the first European organization to facilitate university scholarships for young tennis players.
The training principle at the Mouratoglou Academy is based on the law of effort - that is to say, to achieve your dreams, you first have to make an effort and believe in yourself, only then can you become an artist.
To achieve this objective, the Mouratoglou organizers understand that you can not only focus on teaching tennis to the students. They also promote weekends of integration, where challenges are set in the water, in the forest or in the mountains. In addition, mental workshops, theatre classes and other creative activities are also arranged.
Language Classes
While practicing their favorite sport, the children may also learn and refine other languages, like English or French. The Mouratoglou tennis Academy promotes a program that can combine sports classes with language classes.
The characteristics of this program are not too far apart from a semi-intensive sports program to an intensive one. In both programs, classes of the language chosen are taught Monday to Saturday for 1.5 hours per day. Of course, depending on the type of program, there will be more or less hours of tennis practice.
To improve learning and individualized attention, a teacher is assigned for every 8 students. In addition, teachers have been teaching these subjects for more than a decade and will regularly inform the parents of the progress of the child.
Total language immersion
1 hour and a half of French or English daily
Teachers with more than 10 years of experience in teaching
A teacher for every 8 students
Monitoring the study and reporting to the parents
Tests to review progress
Camp Schedule
The word "boredom" cannot be associated with the Mouratoglou Tennis Academy. When there are no tennis training sessions or language classes, there is always some other scheduled activity to keep the students entertained.
The camp managers organize a variety of field trips and games to amuse and stimulate the children during the weekend. In the summer, they may take them to the beach, or pay a visit to Lake St. Cassien. In addition, many sports competitions are organized at the camp.
During the week, when there is no class, the students can make use of wide range of facilities at the camp. They can go for a swim in the pool, watch TV, read books or use their computer to contact their family. They can also enjoy the games room where there are numerous entertainment options.
Activities
Entertainment activities may include:
Visits to places of interest
Trip to the beach
A day at the lake
Swimming
Ping pong
Pool
Watching TV
Sports competitions
Activities in the forest or mountains
Weekly timetable Mouratoglou Tennis Academy
Schedule:
07:30 AM Wake up and wash up
07:30 AM-09:00 AM Tennis and fitness training) / International School
09:00 AM-12:30 PM Escuela Internacional
12:30 PM-1:30 PM Lunch
1:45 PM-6:00 PM Cross-track training + resistance
6:00 PM-8:00 PM Rest and dinner
8:00 PM-9:00 PM Directed Studies
9:00 PM-10:00 PM Break
10:00 PM Sleep
Accommodation
Accommodation type: Residence
Room type: Single, double and triple rooms
Bathroom type: Private
The number of children per monitor: 1/12 children
The academy boasts unbeatable facilities where students can learn to become better tennis players under the guidance of expert Coaches.
The Mouratoglou headquarters are located in the heart of the French Riviera, near Cannes and Nice, and just 10 minutes from the beach. The area boasts an exceptional climate throughout the year that is conducive to sport training.
Accommodation facilities
The students are housed in the campus residences of CIV (Centre International de Valbonne), located just 5 minutes away from the training centre. The players are transported by bus and supervised at all times.
Students can practice their favourite sport on any of the 34 tennis courts at the academy (including grass and clay surfaces as well as eight indoor courts). In addition, the Mouratoglou camp has a swimming pool, golf course, fitness room and a spa. Students can also enjoy beach volleyball at a location just 10 minutes away.
Meals at the camp
The camp offers full board, and the price includes all meals, from the Sunday night when the players arrive, until the Saturday morning when they leave.
A group of nutritionists are responsible for designing a daily menu that provides all the nutritional value that is required by athletes involved in a daily training program. Therefore, you can be sure that your child will benefit from a healthy and balanced diet during their stay at the Mouratoglou tennis academy.
Supervisors
Languages spoken by monitors: French, Spanish, English
Number of children per monitor: 1/12
A group of 19 people are responsible for training and supervising the children during the stay at the Mouratoglou France Tennis Academy. The tennis coaches are professional players who have competed in tournaments at ATP and WTA level. Their experience and training techniques are conducive to the rapid development of young players.
In addition to the coaches, the facilities also employ eight monitors who ensure that the children are supervised 24 hours a day during their stay on campus.
The monitors are fully-trained and well-prepared to supervise children.
A summary of the benefits of choosing the Mouratoglou France Academy:
Coaching from former professional tennis players
Top level English and French language professors
Experienced professionals in physical therapy, nutrition and child health
How to get there:
By plane - Nice airport is only a 20 minute car journey from the academy, and provides services to most major cities in the world.
By car - The academy has two facilities: The Sophia Country Club, where the tennis courts and other sports facilities are located (3550 Route des Dolines, 06410 Biot, France) and the CIV, which hosts the accommodation (190 Rue de Frédéric Mistral, 06560 Valbonne, France).
Prices and Dates
Duration (Weeks)
Mouratoglou Tennis Academy
Tennis and languages
The official rate of this program is determined in EUROS so the final amount in other currencies may vary slightly due to currency fluctuation.
Starting Dates
Tennis and languages
Improved booking conditions for all camps
This 2024 make your reservation more easily and with less risk
We´ve lowered the deposit required to reserve your camp to just 500€
Free cancellation until March 1st
Money-back guarantee within 10 days
Optional insurances

*Please note that if a visa is required to attend camp, it will be necessary to pay the total amount of the program

*Special conditions valid for all 2024 summer camp reservations except for the Barça USA camp, which will follow the general terms and conditions.
Extra Services
You can purchase one of the extra services below at an additional cost.
Camp Insurance

We offer two insurance options based on your needs:

Cancellation and Interruption Insurance: This option allows you to get your money back if you have to cancel or interrupt the camp for any justified reason, including injury or illness of participants both before and during the camp (the policy contains 35 different causes for justified cancellations).
Travel/Medical Insurance: With this insurance policy, you will be covered for medical assistance abroad and possible expenses caused by health-related issues, as well as other contingencies such as lost luggage or an unforeseen flight change.

Download the following PDF to learn more about each insurance options terms and conditions, coverage features, and price.

Camp Insurance


Transfer Service:

There are two types of transfer services available that we´ll detail for you below:

Standard transfer service: the camp offers an optional transfer service for participants who request it from the nearest airport to the residence (or vice versa). Check with Ertheo for schedules and prices for this service.
Special transfer with additional unaccompanied minor service: participants who fly to camp alone and have contracted the unaccompanied minor service with their airline must hire this special transfer with accompaniment so that the child isn´t left alone in the airport. Check with Ertheo for schedules and prices of this service.
Contact Ertheo for prices and additional information.
Transportation to the camp (flights/trains) is not included in the price of our programs.