The world is changing at breakneck speed, and the sidelines of a football pitch are no different. Long gone are the days when all a coach did was harangue his players, tell them to go out there and give it their all, put their feet up, and little else. Today, whether in professional teams, high performance football academies or even in football camps, the job of coaching requires extensive knowledge, daily preparation, tactical concepts, psychology… and technological resources. Therefore, in this article we are going to present what, in our opinion, are the best computer applications for football coaches.
And be careful, because these apps are not a geeky thing, as many fans of the classics might think. And no, you don't need to be Pep Guardiola, Jürgen Klopp, or Luis Enrique, and you don't need to have a big club or federation behind you to cover the costs in order to be able to access them. Many of these software applications for football coaches are free and, if there is a monthly fee, it is usually quite affordable.
So don't hesitate and discover here, from our hand, the ones that could help you the most in your work as a coach.
TRAINING DRILL DESIGN
Let's start with one of the main areas where there is a large demand for football apps, that of exercise and play design. In this respect, we highlight three apps:
Soccer Coach Pro
If what you are looking for as a coach is a simple, intuitive and easy to use application, with which it is possible to design plays and exercises, perhaps your best option is Soccer Coach Pro. This app has a very basic design, and the important part of its offer lies in the ease of drawing systems, movements, passes, formations, etc. In addition, you can export and share the designs on any device.
The price is very affordable: 1.99 euros. What are its main drawbacks? Well, the fact that it is only compatible with iOS systems, and that it may be too basic for teams or coaches of a certain level.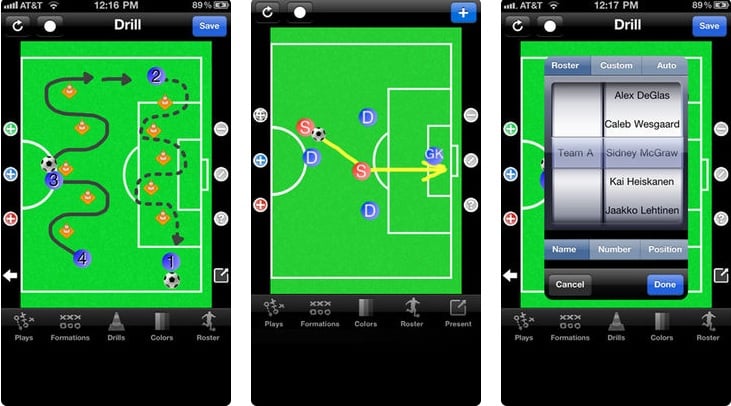 Tactical Pad
If the previous app appears to be too basic, not very complex, your option may be TacticalPad: a truly innovative, dynamic and complete computer application for football coaches. It allows you to carry out almost any task related to the strategic approach to matches, tactical deployment and analysis, training exercises, particular movements of the players in different situations and even the study of the opponent. It also includes a database of exercises that have already been created.
Although the interface is very understandable and easy to use, the 3D vision of the programme brings a realism which other apps do not have, and which makes TacticalPad, beyond any shadow of a doubt, one of our favourites. It is not for nothing that big teams such as the Brazilian national football team, Athletic Club Bilbao, Tottenham Hotspur, or Corinthians rely on TacticalPad as the perfect tool for their coaching staff.
This application offers three different membership plans:
Full subscription (59 euros per year): which gives access to two licences, one for PC/Mac and one for Android/iOS.
PC/Mac subscription (37 euros per year).
Subscription for Android/iOS (26 euros per year).
The Coaching Manual
As with Tactical Pad, The Coaching Manual app for football coaches is a very well-rounded product, and it would be unfair to describe it solely as a training design app. In a certain sense, The Coaching Manual is almost a bible for coaches, with a huge database of training sessions designed by professionals – David Moyes, former manager of Manchester United, Everton and Real Sociedad, among others, is a contributor to the project – and which also offers the possibility of organising your own sessions. Even, note, plans for a whole season.
Premier League club Southampton is one of the professional clubs working with this app, which has several versions: one free, and two paid versions, each with different plans. It should be said that they are all worthwhile and are available for both Android and iOS.
FOOTBALL BLACKBOARDS
What could be more classic for a coach than a blackboard, and what would a coach be without a blackboard to paint on the pitch? Well, you no longer need to carry chalk or marker pens around with you, because nowadays you have some wonderful electronic football whiteboards.
Here are two of our favourites:
Football Dood (soccer)
If you are looking for a simple whiteboard that offers you all the facilities of the classic models -painting plays quickly, not being overloaded with elements or animations- but which, at the same time, allows you to represent plays in movement and changes of formation, Football Dood is the best option on the market.
Another positive aspect of Football Dood is that it is compatible with both iOS and Android, and that it is completely free.
Remember, though, that you must download Football Dood (soccer). Otherwise, you'll be using an American football app. And you don't want any of your players to start tackling on the field. Or do you. Well, that depends on your style of football but, in principle, you're better off using the one we recommend.

Coach Tactic Board: Soccer
A bit along the same lines as the previous one, we find the Coach Tactit Board: Soccer, a perfect electronic board for those who don't want to stray too far from the classic coaching boards. This free football app's main value is that it allows you to create plays and tactics, as well as the possibility of drawing on the 47 different tactics it stores in its database.
It is available for both Android and iOS.


CLUB MANAGEMENT
And what happens, you might ask, when you are not so much interested in designing plays or drills, or whiteboards, but rather in a more global perspective of the organisation of a club, with its performance statistics, training sessions, game notes and so on.
It happens that there are also football apps for coaches with which they can manage the day-to-day running of a team. Here are some of them:
Wyscout
There is no doubt that Luis Enrique, Spain's senior men's coach, is often one of the main introducers of innovative methods among Spanish coaches. There was his invention of the scaffold, or the walkie-talkies. One of the applications for football coaches that also gained notoriety in Spain thanks to the Asturian coach is Wyscout, undoubtedly one of the most fashionable apps in the professional world.
Aimed at any professional in the field of football – from coaches, managers, and players' representatives, to journalists, or bookmakers – Wyscout is a very comprehensive football software that has complete match analysis, big data statistics on the specific performance of players, or a huge database with tactics from different coaches. All in all, an app with everything a coach could ask for.
There are customised plans, but the price of Wyscout usually ranges between 270 and 648 euros per year.
SportEasy
If you are looking for a simpler application that can offer you many of the same possibilities as Wyscout, perhaps your option is the SportEasy football app. Because, although with a less profuse approach, SportEasy allows you to create a space with all the data of your team, organise the activities and matches of the calendar, manage the casualties of injured players, be in constant communication with all the members and players of the club, and create your own database with the statistics of the team's matches.
In Spain, football teams such as Levante UD and clubs from other disciplines – Unión Esportiva Santboiana, or Club Judo Sant Jordi – use SportEasy to manage their day-to-day activities. Besides, it has a full version in Spanish, is compatible with Android and iOS, and has both free and paid plans.


Sport Member
Unlike the previous ones, Sport Member is an application oriented towards clubs of any sport and with a less professional character. This, however, does not mean that it does not have features that make it a great application for football coaches, quite the contrary. Because Sport Member offers the possibility to keep track of all club events in a calendar, register players for payment of fees, record basic statistics, and create tactics and line-ups.
Because of all this, the fact that it is available on both Android and iOS and because it has very affordable plans (free or costing around 0.15 euros per month per member) Sport Member is a great option for amateur or semi-professional clubs.


Sportlyzer
And if Sport Member was a great option for amateur or semi-professional clubs, Sportlyzer should be the preferred choice for all football managers and coaches in youth football.
Why? Because it has a system to manage the billing of club fees, because it allows you to add the parents of the players to the system, and because it has systems to manage the messages that the club wants to convey to its members – with matches, meetings, trips, etc… Moreover, this is not to the detriment of more professional functions, such as GPS performance data storage, individual progression analysis, statistics, tactical management, etc.
There is a free version and a paid version, depending on the size of the club. For example, for a club of 126-150 players, the price of Sportlyzer is 53.40 euros per month (or 448.56 euros in a single annual payment, which represents a 30% saving on the fee).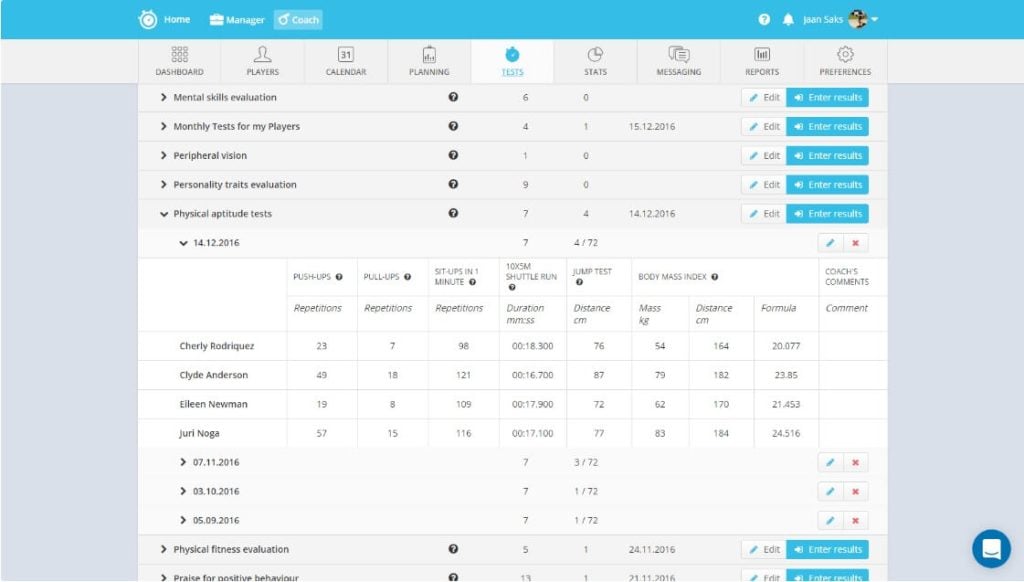 Soccer Dad
Finally, more focused on the management of children's teams, junior teams, or youngsters, Soccer Dad football software. It allows training schedules to be organised and communicated to families, simple formations to be saved, and a profile to be created for each player.
On the downside, Soccer Dad is only available for iOS. Its price is very affordable: around 5 euros.

RECORDING OF STATISTICS
Let's move on to another key aspect, the recording of statistics, both individual and collective, of football teams. An increasingly important aspect, key in modern football, and where we have decided to stick with two options:
Mis estadísticas de fútbol
Mis Estadísticas de Fútbol is a free football application that offers everything an amateur or semi-professional football coach is looking for in a tool of this kind. Without falling into the overload of data typical of more professional and paid apps, Mis Estadísticas de Fútbol offers the possibility of recording the statistical performance of your team -and your opponent- in real time during matches and being able to access it whenever you want.
One of its strong points is that it not only adapts to 11-a-side football, but also has modes for futsal and 7-a-side football, making it ideal for lower categories as well. Its design is simple and helps to understand it at the first time, without the need to invest a lot of time in understanding how it works.
You can download it for free from the Google Play Store.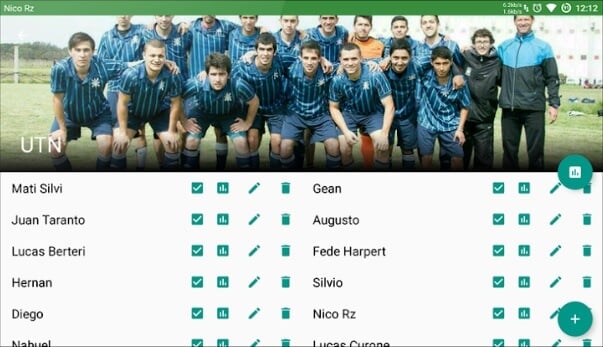 Soccer Pulse
If you want to go a step further in recording statistics and team control, your choice may have to be the Soccer Pulse football coaching software application.
What does Soccer Pulse offer? Well, a total monitoring of player performance, both in matches and training sessions, which allows you to keep track of the physical condition of an entire squad, injuries, individual progression in different areas and the form of the team as a whole. In addition, this football app allows players to provide feedback to the system, which is really important in terms of injuries and convalescence.
Soccer Pulse is an app developed in the United States, so it still has more appeal among coaches in North America – both at university level and in professional teams, such as the Portland Timbers of the MLS – although some European teams, such as Panathinaikos, have already adopted it.
In addition to offering a very specific study of each player's performance, Soccer Pulse has the advantage of being very intuitive, is available for both iOS and Android and offers a first month free trial.

EXERCISE DATABASES
Now, let's move on to exercise training databases. Because it never hurts, as a coach, to have somewhere to get some inspiration from.
Soccer Specific
Soccer Specific is an application developed by Anthony Latronica and Mick MacDermott, renowned coaches with international experience and American universities, who came up with the idea of creating an exercise database for football coaches. The idea couldn't have worked out better and, today, Soccer Specific offers a whole range of training methods, adapted to different ages and levels. Not only that, but it also has an exercise creator so you can develop your own methodology.
Soccer Specific is recommended by various international professional football figures and, in fact, is one of the applications used by the coaching staffs of the US Soccer Federation. It is mainly web-based, and has a single plan, which is $10 per month, or $100 per year.
My Personal Football Coach
Saul Isaksson-Hurst is another coach who has decided to share his methodologies on a website and, in doing so, has done reasonably well. Isaksson-Hurst, a former Chelsea and Tottenham youth coach, does so through My Personal Football Coach, a portal with video courses, where you can find different methodologies and types of training depending on your objective.
The purchase of the different courses – aimed at coaches, players and parents – is established around packages, whose price ranges between 40 and 100 euros, approximately. In addition, My Personal Football Coach offers an app compatible with iOS and Android.
I-Drills
The football app I-Drills combines two of the functionalities that some of the apps mentioned above also offer: a database with different exercises (for many sports, not only football) and a creator to design your own workouts.
The biggest advantages of I-Drills over its competitors is that it is very intuitive and easy to use. In addition, it is very reasonably priced: around one euro for the download of its football platform.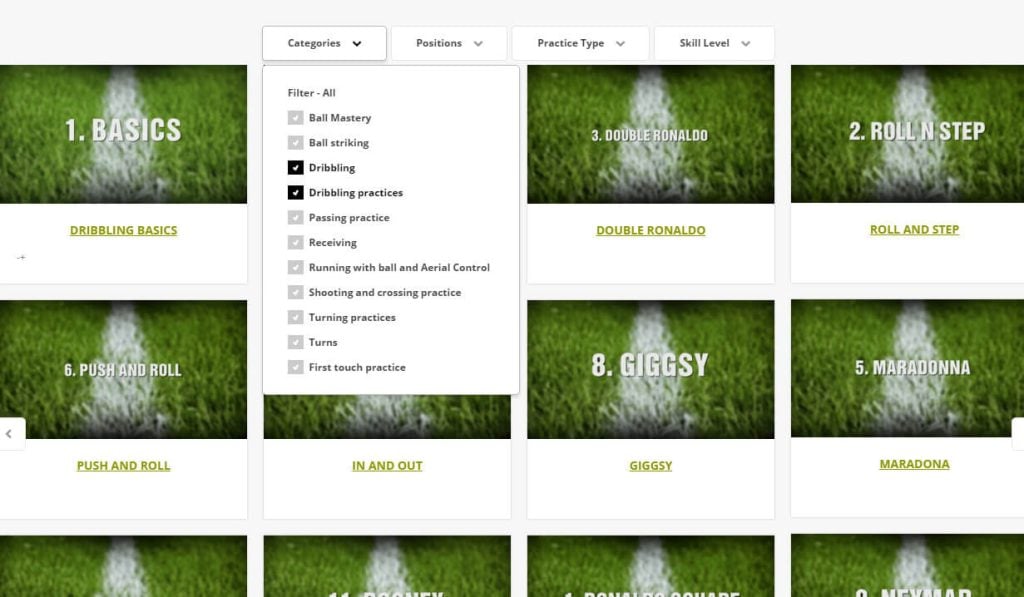 GOALKEEPER TRAINING
And, of course, we could not close this article without talking about football apps for goalkeeper training. We have two of them:
Goalkeeper Planner
Goalkeeper Planner was born as an attempt by the creators of the online magazine Mi Portería to create a software for football coaches focused on goalkeeping training. The plan succeeded and, according to the app's website, teams such as Barcelona, Espanyol, Celta, Valencia, Tottenham and Bayer Leverkusen use it on a daily basis.
Goalkeeper Planner has two types of membership, one for 49 euros (which gives you access to the magazine for a year) and the other for 85 euros (which gives you access to the contents of the magazine and the use of the app for a year).
Goalkeeper Training
The Goalkeeper Training app has a disadvantage compared to the previous one, at least in the Spanish market: it is only available in English, although it is true that in many of its videos it is possible to understand the content just with the images.
A bit like Goalkeeper Planner, Goalkeeper Training is a training app for goalkeepers with a number of different materials. Its main difference is that the content is organised for dissemination in a quite different way: 53 of its exercises are free, while the other 333 are paid.
The app is suitable for both app and tablet use, and most of the exercises and videos have been created by Alexander Vencel, who has a career spanning more than 20 years as a goalkeeping coach at Le Havre and Racing Club Strasbourg.

TRANSFERS AND PLAYER VALUE
Finally, let's go to two classic products from the world of football which, although they are not applications in themselves, do offer a priceless service for professionals in the world of football.
Transfermarkt
Transfermarkt is the oracle of the football world when it comes to transfers, rumours, and player value. Few websites have the extensive database of this project born in Germany, and it is the site that every professional in the world goes to in order to find out the approximate market value of a footballer.
An obligatory reference site for fans, journalists, managers and, of course, coaches.
Football Manager (videojuego)
And finally, of course, we must talk about the legendary video game Football Manager. Because no, the stories about clubs that have signed through this football simulation game are not myths. Thanks to an extensive network of partners around the world, Football Manager was partly responsible for the signings of Luka Modric and Dimitar Berbatov, or the incredible promotion of Toulouse to Ligue 1 in the summer of 2022.
His price is around 30/40 euros. And the best thing is, if you don't want it for work, you can also use it for leisure.