The Jason Floyd High Performance Golf Academy is located in Estepona and brings together unique qualities for young golfers who want to improve their golfing skills.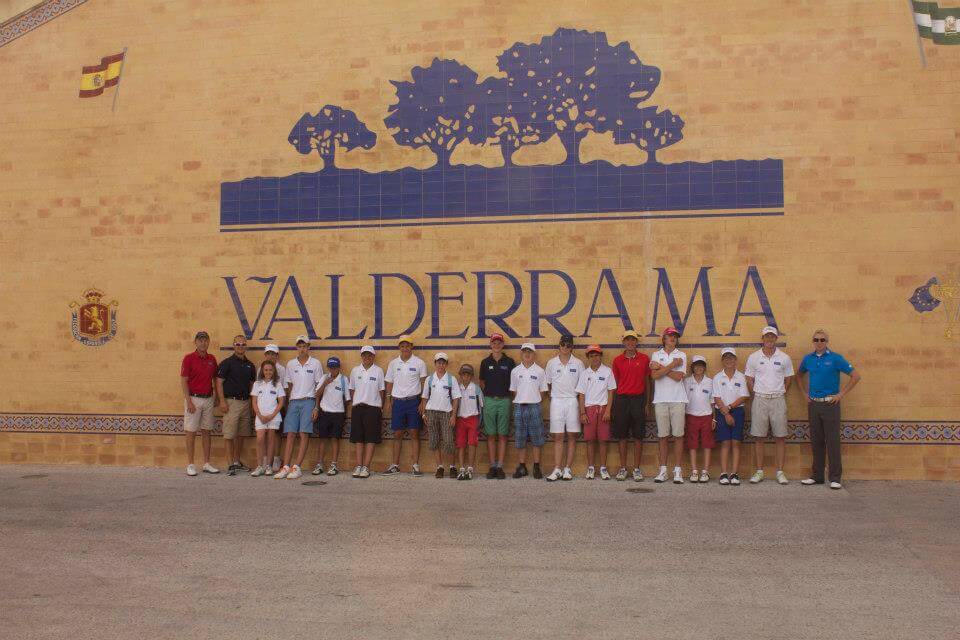 Overview
Training: 15 h / week
English Classes: Yes
Required Age: 12 - 23 years
Lodging: Single or double
It's a serious and professional academy aimed exclusively at young people who really take their golf seriously and want to do some intensive training to improve their level.
Its advanced technology, the professionalism of its team, the magnificent facilities and wonderful geographical location make it one of the best options for a long term training programme where your son or daughter can work on perfecting their technique and develop as a sports person who can reach their maximum potential as a golfer.
There are two programmes available: one which enables participants to continue their academic studies alongside their golf training and another comprising the golf coaching only.
In the first programme, the Junior Course, the participants are enrolled into an academic programme at the Colegio Internacional de Sotogrande (Sotogrande International School). They stay at the college residence and in the afternoons attend their academy training sessions.
In the second, the Elite Programme, students don't have school lessons, therefore they attend golf coaching in the morning and in the afternoon do further practice. They are accommodated in the hotel located two minutes' walk away from the academy.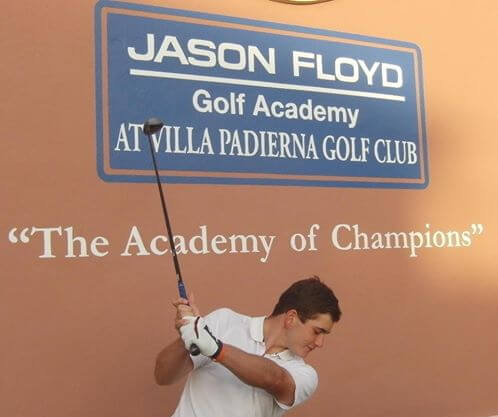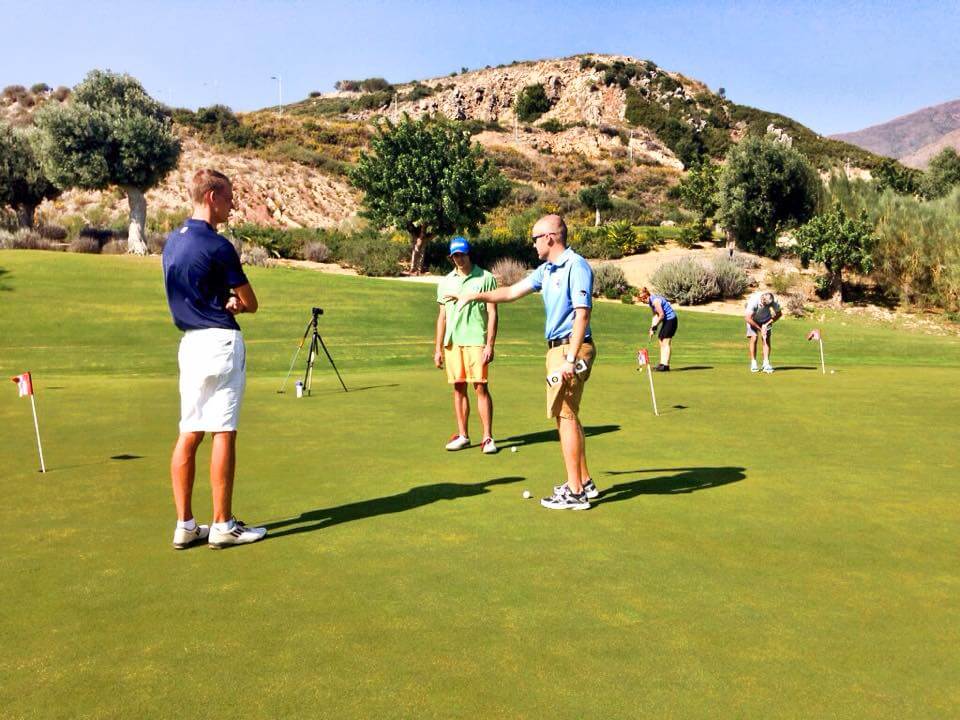 Available Programs
Junior annual course (September-June)
Training + International school education (optional) + Full board accommodation for boys and girls from 10 to 17 years old.
Elite annual course
Training + Accommodation in full board + For boys and girls from 17 to 23 years old.
Tailor-made courses
Of different duration (from two weeks), based on the structure of the annual program - if you want more information about these courses, please contact us.
* It is also possible to hire only training at the academy (without accommodation).
Training
Training location: Jason Floyd Academy
Hours of training per week: 15 h / week
Training Languages: English, Spanish
Levels of training offered by the camp: Advanced, Intermediate
How are the groups organized?: Age and Level
Number of children per group: 10 - 12
Training surface: Natural grass
The academy has an excellent team of professionals who develop training programmes tailored specifically to each student's aims and requirements.
Apart from the golf coaches, the academy has a sports director, fitness instructor, nutritionist and a sports psychologist, so participants will not only improve their golf technique but will also benefit from a comprehensive learning experience and personal and professional development.
Once a week, participants receive a visit from the sports psychologist.
Training groups can have up to 6 students but each student receives personalised attention tailored to their level and the areas they want to work on. At various times during the week, participants have individual training with the coach assigned to them, who will guide them through the whole programme.
Participants in the Junior programme (attending school) train every afternoon from Monday to Friday from 4.30pm to 7.30pm as well as two Saturday mornings per month. Students on the Elite programme train in the mornings and practise in the afternoons.
The annual coaching programme is divided into a number of stages:
ASSESSMENT STAGE
Every student begins with a preliminary assessment stage where every aspect of their game will be examined and a tailored training plan created adapted to their objectives and requirements.
ASSIMILATION OF CONCEPTS AND ELIMINATION OF PHYSICAL LIMITATIONS
During this stage the particular areas that the student needs to work on will be identified and examined in order to understand better the causes of these. In line with this a general improvement plan will be developed. Students will also work on reducing their physical limitations.
STRENGTHENING AND DEVELOPMENT STAGE
Once areas of weaknesses and physical limitations have been improved, work will then start on attaining the level of fitness required by the sport as well as on developing new habits and incorporating these into the golfer's swing.
ASSESSMENT STAGE
In this phase, coaches work on the power of the turn and the speed and patterns of movement required to increase the golfer's strength. Once they have acquired the power, they work on building speed into the patterns of movement.
SPECIFIC STAGE
Once the player has attained improvements in their power and speed, the following step is to implement this into their swing. With the combination of these improvements in their technique and confidence the player will be ready for competition.
PERFECTING AND MAINTENANCE STAGE
This is about learning to take the right action at the right time and maintaining a high level of play consistently, thus becoming a complete golfer.
TOURNAMENTS
The JFGA Junior Tour, a tournament organised by the academy, has been created to provide participants with a magnificent competitive experience.
During the year a total of 18 tournaments are held in the towns of La Reserva, Valderrama, San Roque and Aloha, among others. In these tournaments there are young golfers from more than 20 countries and the event is a wonderful learning experience for the students.
Training Facilities
Swimming pool: 25 metre swimming pool
Other instalations: Multi-sport pitch
Athletics track: Yes
The Jason Floyd Academy is located in a fantastic resort and has an 18 hole golf course designed by the prestigious Cabel B Robinson. It also has a high tech room with facilities for golf swing analysis, a range of greens and 'short game' areas.
Language Classes
Available languages: English, Spanish
Children per group: 10 - 12
Group Division: Level, Age
Native teachers: Yes
There is an opportunity for the young people to continue their academic study while on the golf programme by enrolling in the excellent Colegio Internacional de Sotogrande (Sotogrande International School), located 25 minutes away from the academy. All classes are delivered in English and offer study programmes from ESO to baccalaureate, including a special programme for elite sports students.
Depending on the age and objectives of each student, the school will recommend the study programme which is considered most appropriate in each case and will provide all the guidance necessary.
There are girls and boys from over 40 nationalities in the school and it has the following excellent facilities:
Fully equipped theatre
Multimedia library
Two IT suites
Art studio
Sports hall
25 metre swimming pool
Multi-sport pitch
Athletics track
The school's philosophy is that for every student there is an appropriate learning path and the goal is to enable each student to reach their maximum potential by developing their particular strengths and talents.
With regard to the logistics of attending classes, the academy staff collect participants from the school entrance each day and take them back for their training sessions.
Camp Schedule
The Jason Floyd Academy includes in its annual programme a series of outings and excursions throughout the year, enabling the participants to see some of the region of Andalucia.
Some of the places covered by the excursions are:
Ronda
Tarifa
Bolonia
Sotogrande
Casares
There are also other activities such as:
Shopping trips
Visits to theme parks
Cultural visits
Other sports
Visit to the zoo
Accommodation
Accommodation type: Residence
Room type: Single or double
Bathroom type: Private
The number of children per monitor: 1:12
The type of programme the student opts for determines where they are accommodated. Those in the Junior Programme who study at the Colegio de Sotogrande, are accommodated in the student residence at the college.
The residence has large individual or double rooms with private bathroom and WiFi connection, as well as extensive common facilities as follows:
Swimming pool
Gym
Dance studio
Library
Study rooms
Music room
Kitchen for students
TV rooms
Table tennis
Multi-sport pitches
Athletics track
The residence has large individual or double rooms with private bathroom and WiFi connection, as well as extensive common facilities as follows:
Swimming pool
Gym
Dance studio
Library
Study rooms
Music room
Kitchen for students
TV rooms
Table tennis
Multi-sport pitches
Athletics track
The academy also offers accommodation in the Hotel Tryp Estepona apartments in Valle Romano for the students on the Elite programme. The apartments are fully equipped and situated very close (on foot) from the golf course where the coaching takes place. There is a WiFi connection and TV with international channels.
Apartments have two rooms, two bathrooms, living room and kitchen. Students can use the facilities at the academy in their free time, for example mini tennis courts.
Prices and Dates
These courses are subject to a registration fee of 95 € ( $106 ) .
Starting Dates
Improved booking conditions for all camps
This 2022 make your reservation more easily and with less risk
We´ve lowered the deposit required to reserve your camp to just 500€
Free cancellation until May 1st
Money-back guarantee within 10 days
Optional anti-covid insurance

*Please note that if a visa is required to attend camp, it will be necessary to pay the total amount of the program

*Special conditions valid for all 2022 summer camp reservations except for the Barça USA camp, which will follow the general terms and conditions.
Extra Services
You can purchase one of the extra services below at an additional cost.
Anti-Covid Insurance

We have different insurance options with special anti-covid coverage, so you can insure your camp reservation according to your needs:

Cancellation and Interruption Insurance: cancellation and interruption insurance allows you to recover your payment if you cancel or interrupt the camp for a justified cause (including illness from COVID-19 and 35 other causes)
Travel/Medical Insurance: with this insurance policy, you´ll be covered for medical assistance abroad and possible expenses caused by situations resulting from COVID-19, such as needing to extend your stay up to 40 days, as well as other general situations such as loss of luggage, unforeseen ticket changes, etc.

Download the following PDF for more information about anti-covid coverage, the general terms & conditions, and prices of each insurance policy.

Anti-Covid Insurance


Transfer Service:

There are two types of transfer services available that we´ll detail for you below:

Standard transfer service: the camp offers an optional transfer service for participants who request it from the nearest airport to the residence (or vice versa). Check with Ertheo for schedules and prices for this service.
Special transfer with additional unaccompanied minor service: participants who fly to camp alone and have contracted the unaccompanied minor service with their airline must hire this special transfer with accompaniment so that the child isn´t left alone in the airport. Check with Ertheo for schedules and prices of this service.
Contact Ertheo for prices and additional information.
Transportation to the camp (flights/trains) is not included in the price of our programs.