Ready for a fun vacation? Reserve one of our summer soccer camps
Each year we get a countless number of boys and girls who spend one of the best experiences of their lives at our summer soccer camps, where they improve their game and enjoy practicing their favorite sport with new friends in excellent facilities.
Learn to play soccer with the best
You love soccer and practice the sport regularly and need to improve the game. If we have just described your situation, why not join us at one of the summer soccer camps we offer? We have more than 15 camps in different parts of the world and you can find the perfect one for you. You can even take advantage of this and learn a new language during our stay at one of our academies!
Our soccer camps offer aspiring professionals and enthusiasts the opportunity to get trained by leading experts and professionals from some of the largest clubs in the world, such as the Real Madrid, Barcelona, Manchester City or Arsenal.
Why choose our summer soccer camps?
After the end of the school year comes summer and from Ertheo we believe the best way to take advantage of time is spending it practicing your favorite sport: soccer. Summer is a great time to train! Even if you don´t want to become a professional player and are looking to spend a few weeks training, our camps can offer a unique social and cultural experience that can change your life.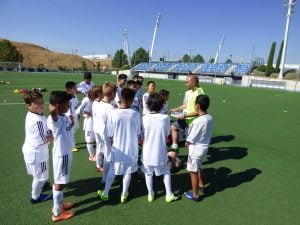 When you sign up for one of our programs you are sure to train with well-prepared coaches from some of the best teams in the world. The facilities are state of the art, specifically built for housing, a wide variety of activities or to learn new cultures and that is what is waiting for you at any of our camps. And as we mentioned above, you can also take advantage of your stay at a camp by learning or improving a language, such as English.
Training Quality
All of our soccer academies offer quality training to all the players. Students are grouped by ages, from 8 to 18 and the coaches make sure all boys and girls are with the same level of players. Now it´s your turn to decide on the available options from great world clubs.
Follow your dreams
For many boys and girls, becoming a soccer professional is a dream. And even though not all players wish to reach maximum levels of play, those who achieve it have received their training at high intensity soccer schools. If you want to develop a career in soccer, our summer camps can be what you need to embark on a road toward success. A course at the academy can help you become a better player and concentrate on your objectives.
Life lessons
It´s clear that not all students who participate in our programs wish to become professional soccer players. Many students simply want a new experience and enjoy soccer, although for them, a campus can help them grow as individuals. When kids spend time away from home with like-minded colleagues, they can develop social skills and learn to be more independent.
Soccer, languages, culture and much more!
As expected, soccer is the central point of our courses, but not everything has to do with moving around the playing field. Our programs are designed to help kids take advantage of their stay, by offering them varied cultural and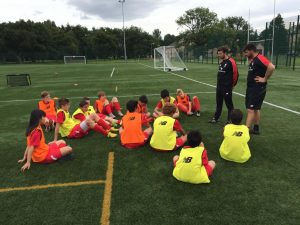 social activities.
We offer field trips to nearby cities and fun historic sites at theme parks so there are many fun options to choose from besides the grass. By attending these activities, kids learn to understand the importance team sports plays in teamwork. Many of our students decide to sign up for a cultural experience by taking our language courses.
The selections are available for students of any level and language they choose. When kids learn basic communication skills, they feel more independent and many times choose to continue learning what they started at the camp.
Our camps
At Ertheo we offer summer soccer camps in several locations in Spain, United Kingdom, United States. Italy and France. All of them focus on soccer, some with advanced training and others place importance on languages. Here you can take a look at all the camps available, many of them under the umbrella of great clubs.
Soccer camps at other locations
What our summer soccer camps offer
Soccer and languages in 15 worldwide locations.
The opportunity to train in affiliated academies of great teams.
Professional training with experienced coaches.
10 to 25 hours of high level soccer training a week.
Language course option.
Courses for students from ages 8 to 18
Full board with 24-hour supervision.
Free time activities.
What are you doing this summer?
Travel, play soccer, improve skills, make new friends, learn a new language and discover the full potential in people who have similar interests. Doesn´t this sound great? If you are ready to live the best soccer experience of your life, take a look at these soccer camps available at Ertheo. To solve whatever question you may have, please contact us by email or call us at (+34) 952 222 998.