It's not easy to make a living as a professional soccer player. Competition is fierce, and players must work hard to receive the soccer training necessary to meet various objectives on the path to becoming a professional soccer player. Football trials can be an opportunity to get your foot in the door with a professional football club. However, high performance soccer academies might be a safer option for beginning your journey to become a professional soccer player.
High performance academies are boarding schools for students who have the potential to become professional soccer players. Students live, train, and study at these academies, and most importantly, receive realistic advice about all their possibilities to play professionally, a service that football trials with professional clubs does not provide. Nevertheless, some lucky players do start their professional careers at football trials, and they're at least worth learning about. Below, you can read about the primary football trials that take place in various countries.
Here's a list of the most important football trials in 2022 for men's teams:
Soccer Schools
trials / tryouts
More information about trials and tryouts at high performance football academies:

 
Would you like to read more detailed information about trials at football academies?
Football clubs in La Liga have great reputations around the world, and many young children attempt to gain recognition from these clubs by attending their football trials. Trial days tend to take place as the season comes to a close in April and June. Many football trials for clubs in La Liga require players to fill out a registration form prior to participating in a trial.
It's important to keep in mind that it's extremely rare to be accepted onto a club team as a result of attending the club's football trial. For example, 8,000 children attend Real Madrid's football trials per year, but only 1% of those children are accepted to form part of Real Madrid's youth reserve team "La Fábrica."
Football trials in England
The English Premier League is also well-known around the world and is supported by many fans and followers making it another attractive option for young players who'd like to begin their journey to becoming a professional soccer player in England.
Currently, only two teams offer official football trials. However, agencies can help to organize training sessions with different clubs so they can assess young players' talents and perhaps accept them on their reserve teams.
Soccer Schools
trials / tryouts in UK
Read more about the prestigious high performance soccer academy in the UK:

 
Would you like to read more detailed information about trials at football academies?
Football trials for girls
Women's soccer in Spain has seen great progress in recent years. As a result, many clubs are looking for the best female players for their youth reserve teams to secure their future success in the women's league.
Girls football trials in Spain are a great opportunity for female players who want to compete and reach their full potential as soccer players.
Female players also have opportunities to play professionally in the UK. The girls English league is becoming more popular and more successful. Various teams in the English league organize events to recruit players. Check out some great options below:
The girls football trials in England offer a chance for exceptional female players to play in a country where football is almost a religion. Moreover, women's football clubs in England are gaining fans and support, and female soccer players are experiencing more opportunities to improve on the pitch.
What are football trials like?
Football trials vary according to the teams that organize them. However, they tend to follow the same general plan and duration which allows coaches to evaluate players as well as possible in a short amount of time.
Warm up
To avoid injury and activate the players' muscles, the clubs typically organize short, classic warm ups with stretches and short runs to kick off the trials. It's important for players to take the warm up seriously not only to properly activate their muscles but also to make a good first impression on the coaches.
Individual exercises and matches
Here is where the football trials really begin. Coaches test the players' speed, technique, dribbling, and shooting. Players often begin to feel nervous and afraid of making mistakes in front of the coaches. It's important to remain calm and composed. Coaches are not only evaluating players' skills but also their ability to remain calm under pressure.
After individual trials, players participate in match play. Match play is extremely competitive, and it's often difficult for players to really show off their skills. This is becuase players who are placed on the same team are still competing with each other for coaches' attention. Players might be less inclined to pass the ball to other players who they view as competition for example.
Additionally, players don't always get to play in their usual positions. It's difficult for a striker to show their ability to score goals if they're placed on the pitch as a right back.
In the end, players need luck on their side in order to be successful at football trials with professional clubs. There are too many factors that work against the players, and it's difficult for them to be properly evaluated.
Cool down
While some football trials end directly after match play, other football trials end with a series of cool down exercises designed to allow the body to gradually transition from intense activity to a state of rest.
Evaluating the negative aspects of football trials with professional clubs
Football clubs do their best to organize trials which allow them to scout the best talent around. However, there are some negative aspects of football trials that are simply beyond the clubs' control. It's important that both parents and players are aware of these flaws before attending a football trial so that they're not overly disappointed and discouraged at the outcome.
Few possibilities to stand out among so many players
Football is the world's most popular sport and many children want to grow up to be like their idols on the pitch. The idea that one can play football as a job excites many young children. Young soccer players from all around the world attend these football trials in the hopes that they'll be recruited by professional clubs.
It's important to understand and remember that only one to two percent of all these players is recuited. Many players (and parents) attend these trials thinking that they'll be recruited by professional clubs. When they're not, theyre devasted, and they're dreams are shattered. Out of 8,000 young soccer players, will they be in the top 80? If they're not, should they be devasted that they're not good enough?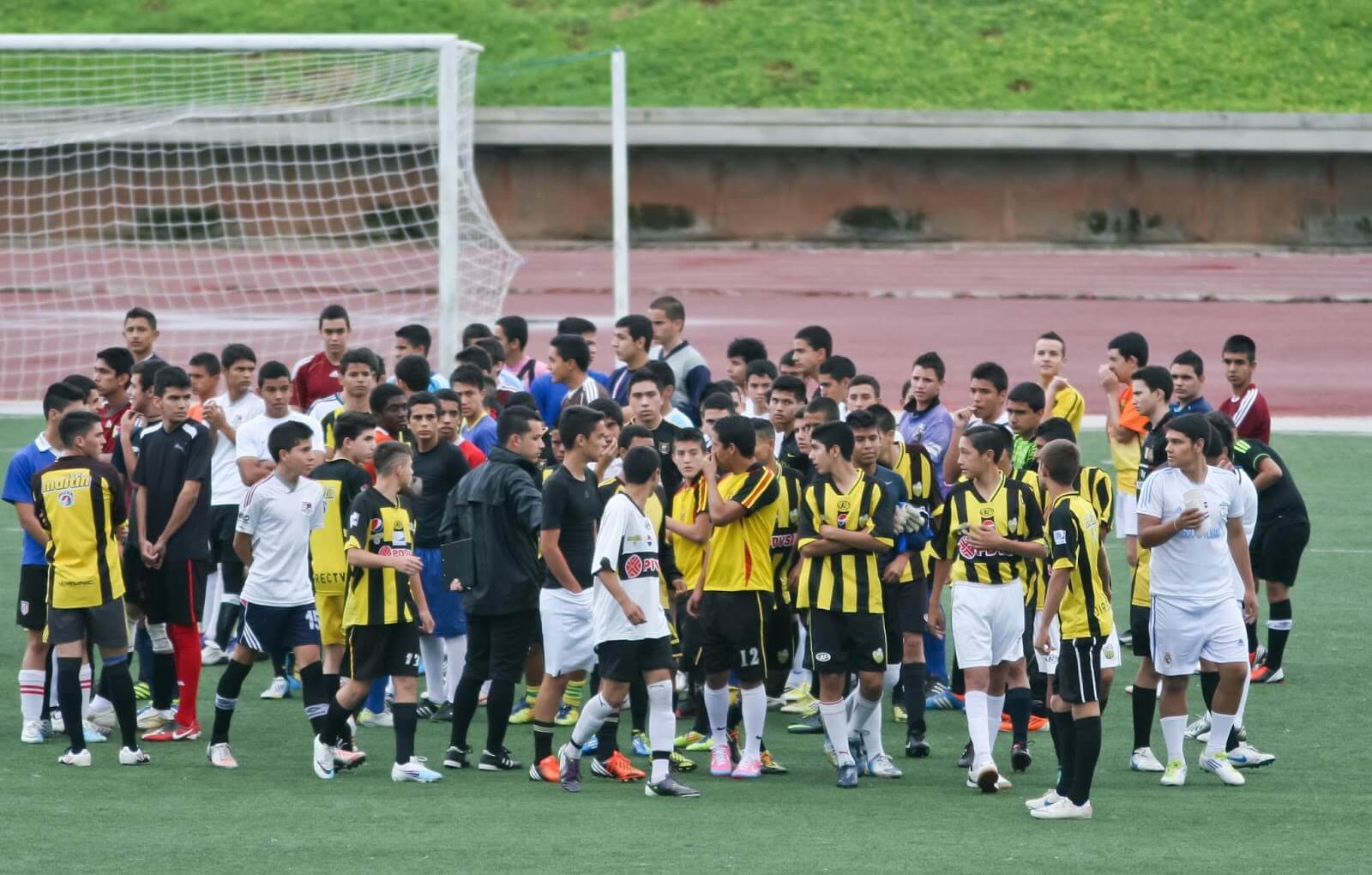 Handling failure, handling pressure
Many children of all ages attend football trials thinking that they'll be recruited or at least that they have a good chance. But these children have fragile egos, and their dreams are shattered easily. Many children leave trials devastated.
Additionally, young players experience immense pressure before and during the trials, terrified of making a mistake in front of the coaches. This pressure often hurts their performance, and many players are extremely hard on themselves when reflecting upon their performance.
Inaccurate evaluation of players' skills
Football trials only last for a couple of hours and coaches have to evualate a large quantity of young players during that time. This means that each player really only has a few minutes to impress the coaches and earn a spot on their radar.
Not to mention, the other players at a tryout are extremely competitive as well, and everyone is trying to impress the coaches. This means, a player might hardly receive the ball during match play. Coaches aren't going to stop the match and demand that players share the ball. Instead, players who don't receive the ball simply go unnoticed. Meanwhile, they might not receive the ball because they are better than the other players, and the other players know it.
Additionally, it's extremely difficult to make sure that all players play in their usual positions. Players often have to impress the coaches while playing in an unfamiliar position. Remember, their chances are already quite low at one percent. It'll be even more difficult to stand out in an unfamiliar position.
At the end of the day, considering the competition, the pressure, the fact that players often play out of position, etc., it's difficult for coaches at football trials to accurately evaluate the players. If extremely talented players don't impress the coaches in a matter of minutes, they could easily be overlooked.
Daily life on youth reserve team of a professional football club
If you've been lucky enough to earn a spot on the youth reserve team of a professional club, maybe you're wondering what life is like as a player on a youth reserve team. Unfortunately, having passed the football trials does not guarantee that you'll make it to the top. Most players on youth reserve teams never make it to the first division and end up being released.
Less than 1% of soccer players who attend football trials are selected to play on the youth reserve team of a professional football club.

The students must meet both athletic and academic demands while on the youth reserve teams, and the players barely get a chance to rest while they try to balance their training and their studies. Often, teachers and coaches overly tolerate poor academic performance so that players can focus more on their improvement on the pitch.
This raises another problem. What happens to players who neglect their studies while playing on the youth reserve team and don't end up making it as professionals? These players aren't prepared for a life outside of football and many players in this situation become depressed as they try to figure out how to get back on track academically.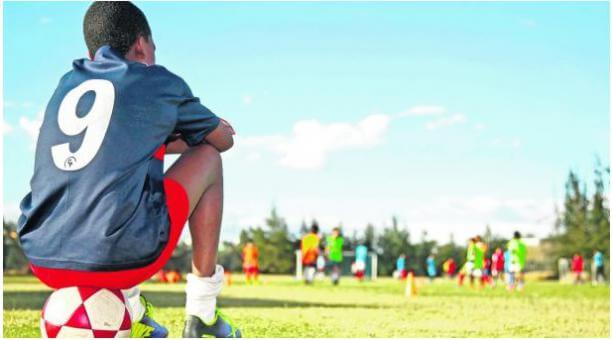 We've discussed the importance of mental toughness at football trials. At trials, players must face competition among teammates and the possibility of rejection from coaches. Life on a youth reserve team requires even more mental toughness as the pressure of performing up to coaches' standards continues from week to week.
And, competition among teammates remains, especially when new players arrive. Players immediately begin to think that the new addition to the team could be their replacement. New players could be treated poorly or not receive the ball during matches for a time until they earn the respect and trust of their teammates. Of course, such respect is not guaranteed.
What are football academies? Why could they be a better option for becoming a professional footballer?
Although it might seem otherwise, football academies are not the same as youth reserve teams for official football clubs. Players must tryout for football academies just as they must tryout for youth reserve teams. However, football trials at football academies are conducted differently and give players a better chance to show their skills and be evalutated fairly.
Different options for football trials at high performance football academies include:
Summer camps: The high performance academies offer summer camps that serve as tryouts for soccer players who'd like to attend a full-year program at the academy. They last for two weeks during the summer and give chances enough time to truly evaluate players while giving players enough time to decide if they'd really like to attend the academy full time.
Trial weeks: The academies also offer talented footballers the opportunity to train with the other full-time students at the academy for a few weeks during the academic year. This gives players the perfect opportunity to get to know EXACTLY what life would be like as a full-time student at the academy. Meanwhile, just as in summer camps, coaches evaluate the player's performance to determine if they'll be accepted by the academy.
Trial days: Lastly, certain football academies allow players to tryout during just one day of training at the facilities while coaches evaluate their skills. Other academies accept videos of players during match play with recommendation letters attached as a way of evaluating the players.
What advantages do high performance academies offer?
What's life like at a football academy?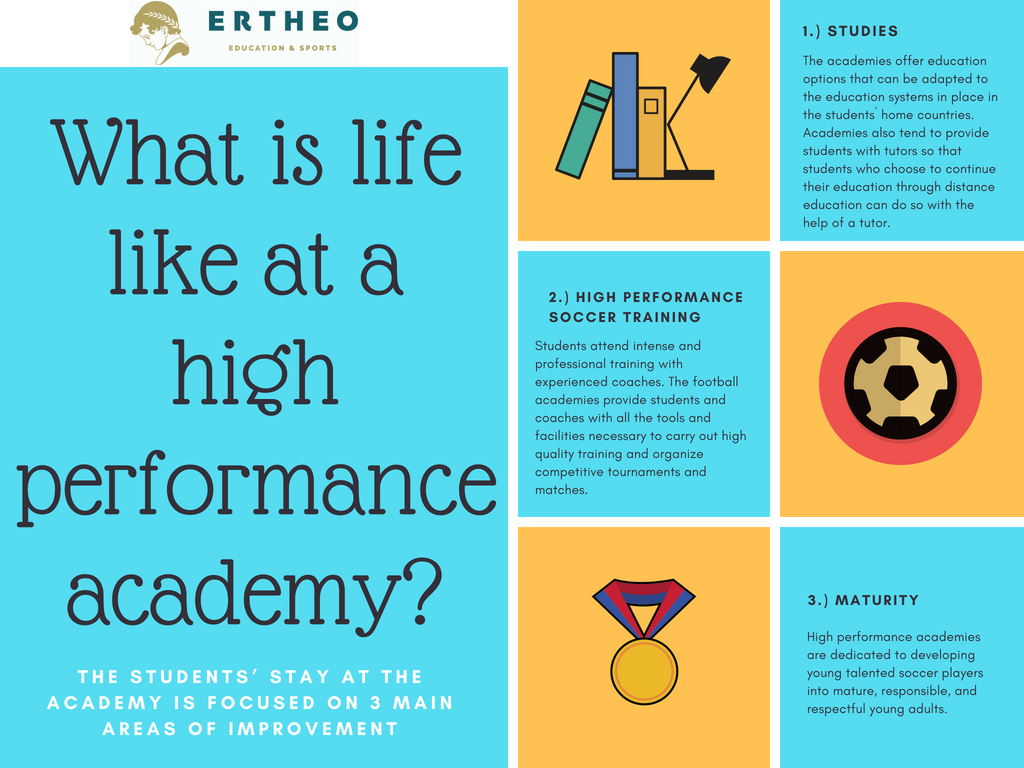 Aside from high quality professional training sessions, high performance academies offer many benefits to their students. Check out some additional benefits below:
Teamwork: Students at football academies and even coaches included work together as a team during trainings. Students are expected to treat each other with respect and help each other when needed.
Positive environment: Since day one, coaches foster a healthy learning environment where students can enjoy as they improve both on the pitch and in the classroom.
Importance of academic study: Contrarily to youth reserve teams, football academies highly value education. Regardless of player's stand out performance on the pitch, their studies are not to be neglected. Additionally, academies offer all the extra help necessary for players to pass their exams and receive a top-of-the-line education.
Different education programs: The academies offer education options that can be adapted to the education systems in place in the students' home countries. Academies also tend to provide students with tutors so that students who choose to continue their education through distance education can do so with the help of a tutor.
International environment: Students from all over the world attend these academies. They live together, train together, dine together, and study together. This gives students the opportunity to get to know other cultures and practice understanding and accepting cultural differences.
We've discussed two different options for beginning your path to becoming a professional footballer. Now it's up to you to decide which direction you'd like to go. If you're interested in attending a football academy and would like to attend a trial, you can contact us by email at [email protected] or you can give us a call at (+34) 902 750 359.