Elite Football Training Drills Carried out by Pros
Ever wondered how professional players train? Do you imagine the football training drills carried out by the elite clubsare much different to those at youth level? We take a look at some training sessions carried out by coaches at some of Europe's top clubs to find out what it takes to get the best players prepared for action.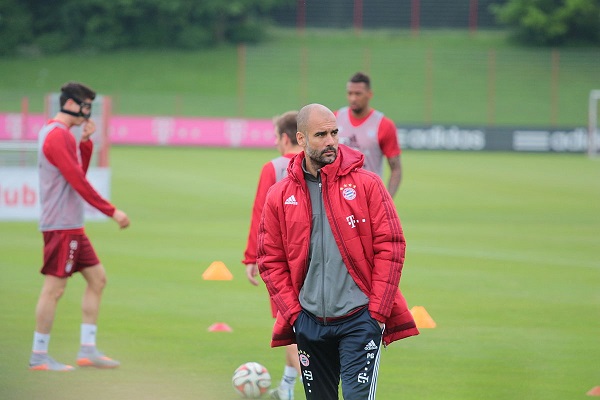 Philosophy
Every coach has their own coaching method and preferred formation or system. However, there are some coaches who are more flexible and adapt their methods to suit the players at their disposal, while others have their own distinctive style that they drill into their players.
In film making, a director who imposes so much of their style onto a film that it clearly stands out at their own work is known as an auteur. A similar phrase is also used in Spain to describe a style of football that is clearly attached to a certain coach (or even player). This is known as 'Futbol de Autor'.
In some cases, the club itself may have its own style of football that it tries to implement from the lowest youth levels right through to the first team – FC Barcelona being a prime example. Clubs that follow this method will often recruit coaches that have previously played at the club and have a close understanding of the philosophy.
Therefore, the type of football training drills that are implemented at professional sessions may vary depending on the club, the coach and the players involved.
Pre-match training
Football training drills performed at the training ground will normally be very different to those practised in the stadium before a game. At this point most of the tactical work will have been done and the sessions are designed to sharpen the players up ahead of kick off.
In the following video, you can watch how Real Madrid prepare for their 2017 Champions League Final against Juventus.
And in the next video, you can see how their opponents Juventus prepare for the same game:
Pre-season training
Pre-season training can take many forms. At this stage, coaches want to get their players fit, sharpen their skills as well as cover any other technical and tactical aspects of the game. At this stage, new players may be arriving in the team and existing players may be working together for the first time in a couple of months.
Pre-season usually starts with a combination of warm-up exercises, stretching, jogging seasons and some small-sided games to get players up and running again. Of course, every coach has a different approach and sessions may vary greatly from club to club.
Many elite clubs conduct their pre-season training on tour and in the following video, you can see how Liverpool boss Jurgen Klopp uses a triangle training system during a session in Stanford USA:
On the training ground
Back at the club's training ground is where the football training drills really start to get serious. This is where coaches can truly start to communicate their methods to their players. The club's training ground offers a comfortable and controlled environment where the coach has everything at his disposal to get their team playing the way they want.
Some coaches have transformed their training grounds into training laboratories where technology plays a huge part in the sessions. Recently, certain coaches have started to use drones to gain a new perspective when analysing training sessions, while others use tablets, computers and highly advanced software to ensure that every detail is covered. In this type of environment, the modern elite footballer really has nowhere to hide and every part of their individual performance can be scrutinised.
The picture below shows a video wall that has been installed at German club TSG 1899 Hoffenheim's training ground by Coach Julian Nagelsmann.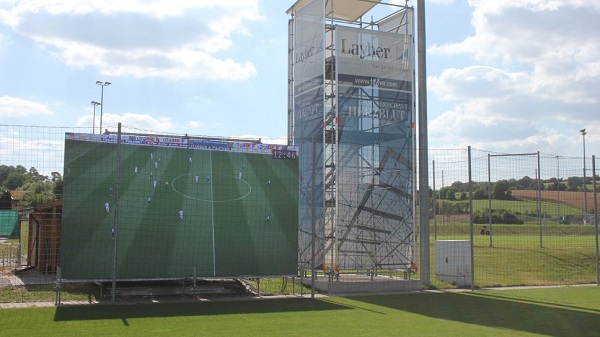 The screen allows him to instantly rewind and analyse a moment in the training session. He uses a tablet to control the video and can draw lines where he wants the players to move etc.
And in the following video, you can see how Nagelsmann uses a very narrow pitch to train his players to break down a tight block. This is the kind of training session that you will see on a daily basis behind the closed doors of the elite clubs.
From the brilliant mind of Julian Nagelsmann… Hoffenheim training on a VERY narrow pitch trying to break down a narrow block of players! pic.twitter.com/qtdgGoqSR4

— SoccerPulse (@SoccerPulseApp) August 17, 2017
The Coach's Coach
One of the most influential coaches in the modern game has been Marcelo Bielsa. The former Argentina, Chile, Athletic Bilbao, Marseilles and Lille coach is renowned for his intense training methods and unorthodox tactics, often employing a 3-3-3-1 formation.
He has inspired many of today's most successful coaches including Pep Guardiola, Jorge Sampaoli and Mauricio Pochettino, as well as some of the best up and coming coaches such as Matías Almeyda and Marcelo Gallardo. What's more, Bielsa also remains an active coach himself.
The follow video is a full training session carried out during his time at Athletic Club de Bilbao. The session is nearly an hour and a half long and covers everything from warm-ups to tactical and technical work. Any aspiring young player can gain motivation from watching sessions guided by such masters of the game.
Coaching is an obsession
One thing that all the great coaches have in common is that they totally immerse themselves in the game. Marcelo Bielsa reportedly has a video library of tens of thousands of matches that he uses to constantly educate himself about the game and to learn about his players.
As a player, Pep Guardiola once owned a restaurant and had other business interests outside of football. But following a lecture about his commitment to the game from his Coach and mentor Johan Cruyff, he ditched his other interests and totally dedicated himself to football, a move that not only improved him as a player but also led him on the path to become one of the world's greatest ever Coaches.
We hope you enjoyed our article about elite football training drills carried out by pros!
Young players who want to dedicate themselves to soccer and benefit from expert coaching might want to consider attending a soccer camp.
We offer a range of camps around the world to suit players of all ages and our team of expert advisors are always on hand to help you choose the right one for you.
Just give us a call today on (+44) 203 769 94 43 or (+34) 902 750 359. You can also contact us via email: info@ertheo.com.