Tips for choosing the best annual soccer academy
The experience boys or girls undergo at a soccer summer camp is the best of their lives. They learn other cultures, practice their favorite sport and can even learn a new language in order to have more opportunities in the future. For those looking for an intense training and to improve their soccer level with different training methodologies, can find that a few weeks of summer are not enough. An annual soccer academy exists for them where they can spend one year training and receiving an education so they can improve their quality and level of play.
We guarantee that long camps are the perfect option for these types of clients who wish to get the most out of this experience based on the success the two-week soccer camps offer. For those who are interested in a soccer academy, they can find below what Ertheo offers as well as some suggestions on how to choose the right camp for their needs. In our web they can find programs in Spain, England and the United States with several destinations and different characteristics.
Sevilla´s soccer academy is for young players above the age of 15 who need a closer training professional soccer relationship. From the first day, they are introduced to the semi professional federated team discipline, the AD Nervion, the third best soccer city team in Sevilla FC and the Real Betis Soccer team. Once they are part of the team they have the option to compete in the Spanish schedule. All the training sessions are performed by endorsed technicians of the UEFA and with experience in the Spanish League.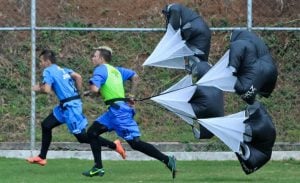 The players can also use the best health center and gymnasium, O2 Wellness located near the academy. The Sevilla academy organizes different programs:
Youth Program (annual, quarterly or semi-annually): For boys and girls from 15 to 19 years of age and includes training, education, lodging in student housing, activities and field trips.
Pro Program (annual, semi-annually): This other option is for those over the age of 18. This program is different than the Youth program since it offers training and competition in a semi-professional club, lodging in student housing, 10 hours of Spanish class a week, activities and field trips. In order to access this Pro program, participants need to be competing in a club in their city of residence.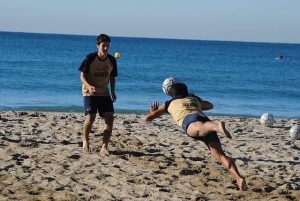 The other soccer academy located in Spain is in Barcelona, offering programs for boys and girls from 8 to 22 years of age. The training sessions at this academy are high in intensity in order to achieve the student´s potential. The facilities used for the programs belong to the UD Cornella, one of the most important teams in Cataluña and has an extensive technical staff. The High Intensity Barcelona Academy offers players a diverse training in order to achieve a better individual technique to soccer players so they establish their own intelligent strategies.
And all of this takes place in Barcelona, one of the most important soccer cities in the world. The soccer academy in Barcelona offers three programs to the players:
Full time player: Includes training, full board and lodging and academic studies. This option is the best in order to immerse completely in the academy.
External player: This program offers training, half board and academic studies.
Just soccer: Only soccer training is offered here.
The IMG academy has trained athletes for 40 years and the academy has become one of the best in the world, known for its facilities and training. Among all the annual programs, they have time for soccer, a sport that is becoming quite popular in the United States. IMG has their own campus for students enrolled in their program and is located in Bradenton, Florida, with 20 soccer fields, 50 tennis courts and a stadium for 5,000 people. Here is a video of the IMG Florida academy facilities:
The academy is specialized in combining high intensity training with an excellent academic program to educate first level students-athletes. Soccer training at IMG is quite intense and focuses on technique and physical, mental and strategy training. The philosophy of this academy is self-discipline, commitment, passion and dedication. IMG offers two different programs, although you can choose different types of training for both. These are the options:
6 month program: Soccer training, education and optional language classes.
Full academic year program: The same as the above program but this one lasts one year.
Our last soccer academy is Manchester, one of the most traditional soccer cities around. This academy offers an 8 hours a week training program combining soccer exercises, a high intensity physical program, and games on the weekend to practice all that is learned during the training sessions.
The optimal level to participate in the Manchester academy must be intermediate or advanced, which basically means that you must practice soccer often. The famous Berlitz academy is in charge of the English classes, a very important part of all the programs. The Berlitz professors offer 15 hours of English classes a week and provide students with a complete language immersion that can be added to staying with English families or at the housing with many international students. With regards to soccer, the academy has one dozen fields of different sizes and huge facilities.
Each academy offers a different level of experience and education and all of them work hard to make sure your child receives a complete physical and educational development during the year. The academy not only has great training facilities, it also offers recreational activities and other learning opportunities in addition to the sport, so clients enjoy some of the best training and educational facilities in the world.
Choosing the right academy is difficult since distance, facilities or training are key factors. In order to help you, here are some suggestions to choose the right one for you.
What type of soccer academy are you looking for?
We offer a huge variety to choose from. Deciding which one best adapts to your child´s interests depends on a series of important factors that can make the experience fun and varied. As we have previously explained, we offer four different academies, each one of them focused on different levels of play and located in different parts of the world. All of them have excellent sports facilities, and in some cases, they also offer private schools for their students. To choose between one or the other can be difficult and that is why we offer some important factors to consider.
Destination
The location of the academy is one of the most important factors. Our academies are located in destinations with a long history of soccer such as Spain, United Kingdom and the United States. Each location offers an attractive appeal thanks to the language and culture. So, any option is a good one if what you are looking for is a new and fun experience. They only thing to consider here is whether you prefer Spanish or English.
Housing
The smaller academies offer housing and living with a local family, with the advantage here to completely immerse in the culture and the language and to learn about all types of customs and way of thinking. All the families that participate in this type of housing are put through a thorough evaluation and undergo a series of tests by the academy. The largest academies, such as IMG Florida, offer as a main option, the courses with housing included in their facilities. This type of housing provides students with the opportunity to live in the camp with their colleagues 24 hours a day.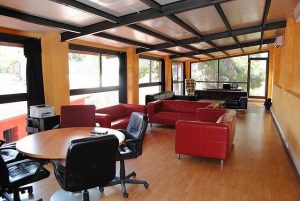 Soccer and fitness training
The levels of training intensity and frequency are different in each facility. The smaller academies tend to focus more on team formation and working as a group, while the larger ones offer intensive training programs to help train youngsters who want to become elite. Other academies offer the possibility to create specific groups for youngsters who are beginners in the sport or even adapt the level of the teams requisite for the participants.
Soccer and fitness training
In addition to the soccer and physical training, at Ertheo we believe the academic formation is as important as the language development. One of the greatest benefits of having academies in different parts of the world is the possibility of learning new languages in order to improve your child´s English. The academies have diverse programs and offer a great learning and academic progression environment in general, and offer different types of enrollments in local public schools or in private schools located inside the soccer academies.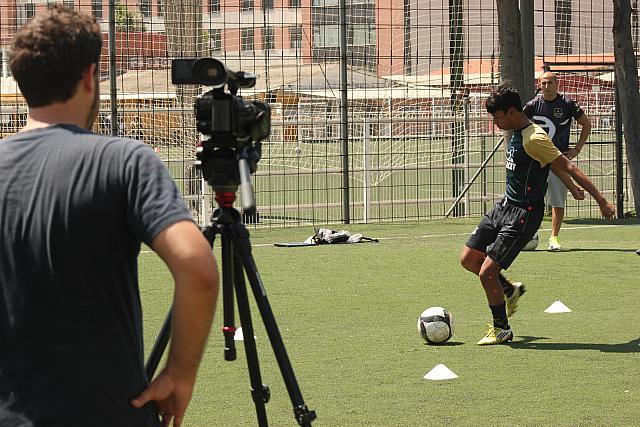 For example, the Sevilla academy offers enrollment in a public school, perfect for those who look for complete culture integration, white the IMG Florida academy has a private school with outstanding professors and coaches. That is why our team considers equally important the time spent inside and out of the field providing a complete experience all year long.
Prices
The full year courses for these academies vary in price from 15.000€ to 70.000€ a year. There are many factors that apply to the evaluation of each academy, such as the location, the academy´s reputation, the coaching experience and the type of housing you choose. Without a doubt, the prices for our courses are quite competitive.
With all this information, we are sure you will sign up for one of our academies. For any doubts or questions please feel free to contact us by email or by calling us at (+34) 952 222 998.